Outdoor gas grilling is a great way to get the beauty of barbecue at home, quickly and easily. These are the best gas grills on the market for all budgets, tastes, and needs.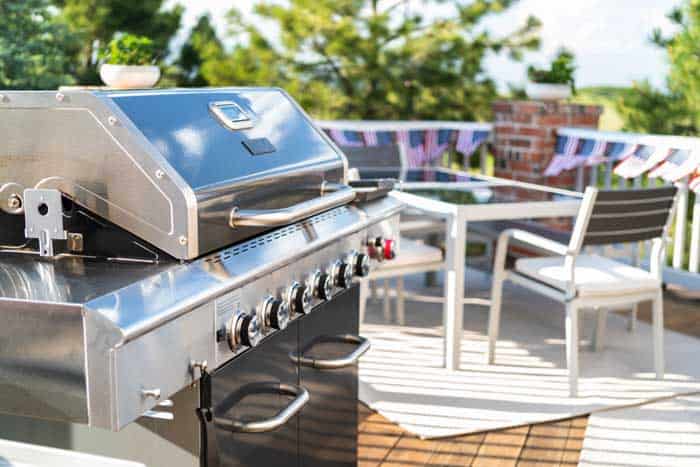 Propane gas grills are the perfect starting point for barbecue grilling fans. The backyard cooker offers quick ignition, easy temperature control, and plenty of space to cook for a crowd.
They are the perfect addition to any patio or backyard space, and are available in portable models for camping and tailgating. Brands like Weber, Napoleon, and Royal Gourmet have produced high-quality gas grills with a range of BTUs, burners, and cooking space.
We've picked eleven of the best gas grills available today so you can make the right choice. We've broken down all the features and add-ons you need to know about for buying your next grill. Let's get into it.
Weber Genesis II E-310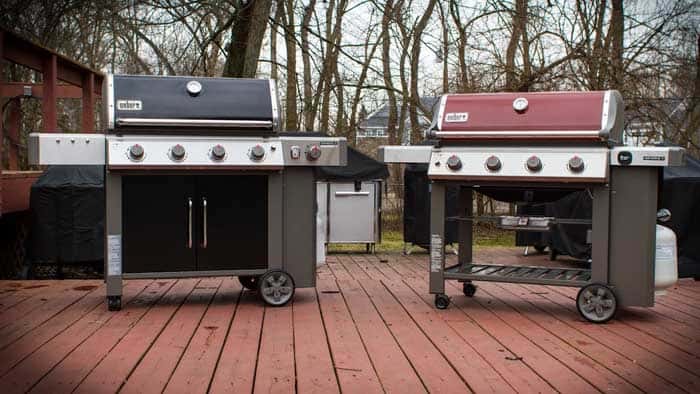 The Weber Genesis II E-310 is a beauty. It's big, it's sleek, and it's sturdy. This glorious gas grill comes as either propane or natural gas. If you want to switch from propane to natural gas, you can use Weber's conversion kit.
The Genesis has three burners, giving you a decent temperature range for cooking. This gives you a lot of flexibility in one station. Whether it's advanced techniques like 2-zone cooking, or just or high-heat searing.
Weber's signature flavorizer bars help vaporize any run-off, which helps infuse your cooked meat with more juice. They funnel drippings that haven't been vaporized into the drip tray for you to remove after cooking.
The E-310's heat deflectors help reduce flare-ups and ensure consistent cooking temperatures. Meanwhile, the grill's flavorizer bars and porcelain-coated grates ensure superb heat retention. All these features combine to form a high-performance grill that doesn't suffer from hot-spots or heat leakage like its competitors. Propane costs can be high in the longterm, but this grill is fuel-efficient enough to give you significant savings.
Weber Spirit II E-310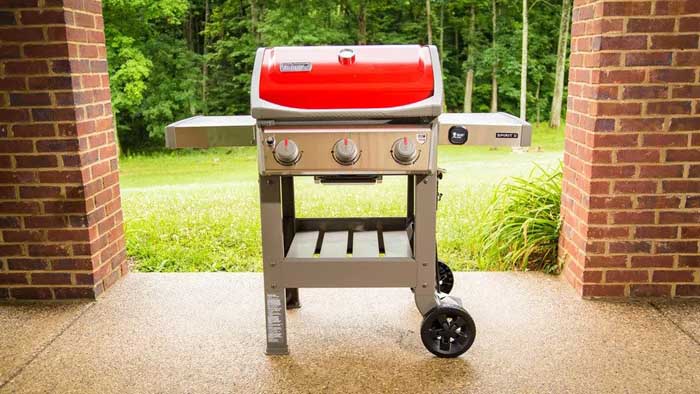 Weber's Spirit range aims to offer similar features as Genesis but at a more affordable price. The good news is that the Weber Spirit E-310 grill's performance and quality hold up impressively well.
The Weber Spirit boasts 30,000 BTUs across its cooking surface, giving you more than enough power to work with. It's built upon three high-grade burners to allow you excellent grilling flexibility, while it also has the same flavorizer bars to help enhance your food and keep the chamber clean.
The Spirit E-310 feels as robust as elite models, thanks to its stainless steel frame construction. Weber has always been known for durable builds, and this affordable grill is no different.
The more recent models are also iGrill3 compliant, which is Weber's own brand smart thermometer system.
It doesn't have a side burner for searing, which is a shame because side burners are becoming increasingly commonplace for a lot of modern gas grills. However you can easily set up your main grill for searing as a workaround, so it's not a huge loss.
Char-Broil Performance 300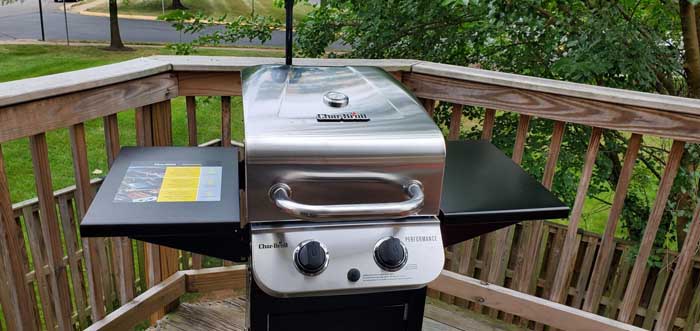 Char-Broil has perfectly toed the line between affordable and high-quality for years. It's what they've built their success upon, and there aren't many brands out there who do it as well as they do. If you're shopping on a budget then the Char-Broil Performance 300 could be the perfect fit.
Despite its price, the grill hood is built with stainless steel and the cooking surface features beautiful porcelain-enameled cast-iron grates. The cooking surface is built for excellent performance and maximum durability.
There's also a lot to be said for the placement of its ignition button, which sits perfectly between the burner control knobs. Nothing like a bit of symmetry to satisfy my obsessive need for aesthetics.
The grill only has two burners, which is what explains the budget entry point. However, two burners are still workable for creating dual heat zones and should be more than up to the job for newcomers or casual grillers.
It features a removable drip bowl to help with easy cleaning, and it has storage and resting space by the bucketload.
Weber Spirit II E-210
Demand for large garden space is huge, but the reality is that a lot of us have a small outdoor space to work with. In some cases, this only goes as far as an apartment balcony.
Thankfully, grill manufacturers do offer smaller options that allow you to get the very most out of whatever outdoor space you have.
Compact-sized 2-burner grills are perfect for this. They can easily fit in smaller spaces but still, give you enough to work with for good grilling. The Weber Spirit E-210 is one of the best for this.
It's a no-frills, stripped-back cooker that simply gives you exactly what you need: A strong gas grill that doesn't dominate your living space.
Despite being more modest in build, it still makes the best of what it does have to give you a really good BBQ grill.
Its grill grates retain and transfer heat really well and has the temperature range to allow you to sear steaks and burgers to your liking.
Its main body is enameled steel, which isn't as robust as stainless steel but is still up to the job.
Royal Gourmet GG2101 2-Burner
This is one of the best value-for-money grills out there at the moment. It's another stripped-back 2-burner gas grill that helps save on space, but with 24,000 BTUs it offers a bit more kick to it.
Unlike a lot of other similar models, it also has a 96-square-inch warming rack to help provide more cooking space for you to work with.
Its coated cast iron is remarkably strong, making it not just durable but ridiculously easy to clean.
Napoleon Prestige 500
The Napoleon Prestige 500 is a great cooker for people who want a high-end North American product that's built to last and packed full of raw grilling power.
I love almost everything Napoleon produces. They just ooze class but are durable and powerful enough to show that they are not just style over substance.
It's a fantastic 4-burner grill that comes with infrared burners, a side burner, and rotisserie to give you plenty of options when it's time for you to cook.
The backlit controls on the Napoleon Prestige let you know which burners are on, making the grill both easier and safer to use
What really sets Napoleon apart is its unique wave-like grate design. These are designed to help spread cooking temperatures more effectively and reduce the appearance of any unwanted sear marks (don't worry if you like these marks – that's what the side burner is for).
Its control dashboard is backlit, so you know which burners are in use at all times.
The Napoleon Prestige's grates are in a wave pattern to help improve heat distribution and cooking efficiency.
Napoleon grills are built to last, and this is proved with the incredible 10-year warranty offered by the brand. If the brand is that confident in the Prestige, you should be too.
Char-Broil Signature TRU-Infrared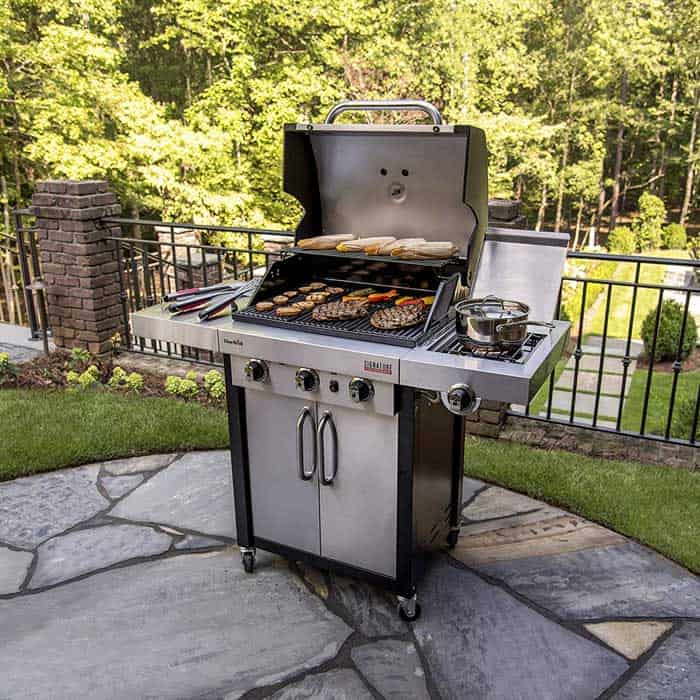 Also available as a 4-burner model and also available with an added side burner. Long-time fans of Char-Broil might remember the Quantum series, which this is a much-needed update on.
The Tru-Infrared series has gotten rid of the weak burners and unreliable cooking grates and instead replaced them with sleek infrared bars and a much more robust porcelain coated grill area.
Between the two of these updates alone, the grill burns far more efficiently and evenly. The bars have practically eliminated the cold spots we saw with the Quantum, and the porcelain enamel holds and transfers heat at a far great rate.
So what exactly does this propane unit offer? It has three main 8,500 BTU burners, giving a total of 25,500 BTUs of maximum main grilling power.
If this sounds weak, it might be when compared to more elite models, but I wouldn't be too concerned. When in an enclosed grill setting and in the form of infrared burners, these actually create an excellent level of heat.
These sit beneath a cooking area of 525 square inches, which, when coupled with the side burner, totals about 725 square inches of total cooking space.
All of this is cased within a stainless-steel and painted steel hybrid construction.
Because of how infrared burners are set up, the grill will require a little more maintenance than others.
Another frustrating point is that it can take a little while to preheat, given its more timid burner power. It's certainly a more efficient grill than previous models, but perhaps not one that burns hotter.
Char-Broil Performance 4-Burner
Another entry from Char-Broil, this 4-burner propane grill offers a solid amount of power within its modestly sized frame. So how does this budget-friendly grill compared to the others on this list?
The Char-Broil Performance has 36,000 BTUs of power across its four main burners, all of which sit beneath a 425-square-inch cooking space.
For me personally, this cooking space is a little bit disappointing. We see larger spaces afforded to grills with fewer burners (see Char Broil's own Tru Infrared 3-Burner as an example).
This by no means is to say that you'll be short on space, but it's hard to shake the feeling that this was a missed opportunity for Char-Broil.
Its construction also feels a little bit cheap. While the main casing of the grill is constructed in stainless steel build, the rest of the grill can feel flimsy at the best of times.
That said, its actual performance is excellent. And this is perhaps what justifies its smaller build, as it can concentrate its cooking heat within its frame at greater effect. It manages to generate and maintain cooking temperatures impressively. Not only this, but its ability to keep flare-ups at a minimum is equally impressive.
Any bonuses? It comes with a 10,000 BTU side burner, which is a nice touch for a budget propane grill.
Weber Genesis II S-435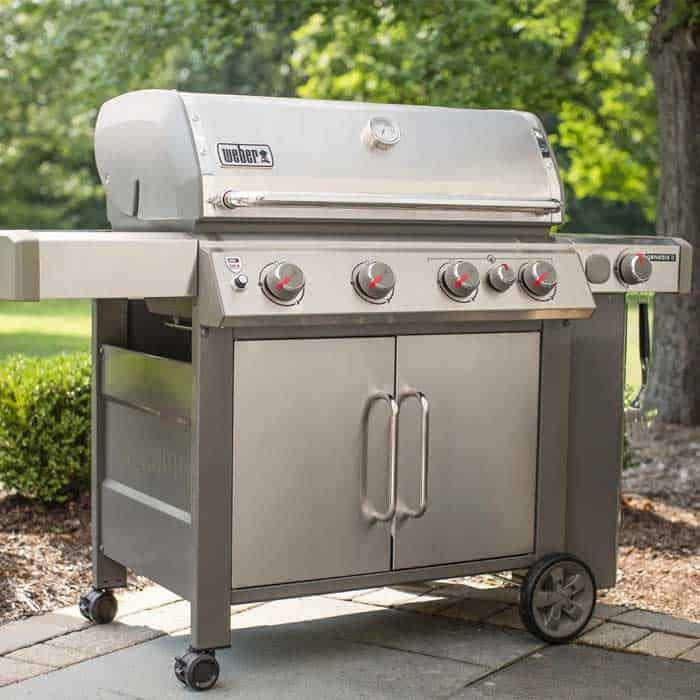 Weber's Genesis II is perfect for people wanting a stylish, classic grill from an iconic BBQ brand.
With Genesis II, they've upgraded the range and have built it to be compatible with their iGrill temperature control series.
Weber's flame tamers help spread cooking temperature evenly and protect your food from concentrated hotspots.
Like all their current rage of propane grills, the Weber Genesis II S-435 has the brand's trusted Weber Cooking System, which acts to distribute heat evenly across its cooking surface while also minimizing the risk of flare-ups.
The burners are thinner towards the rear of the cooking surface, which is a design that helps guarantee more consistent heat across the grill, as higher temperatures tend to naturally linger towards the rear of your grill's cooking area.
Its cooking grates are porcelain-enameled, which is always the finish I look for on grill grates. It practically guarantees a nice even cook without any weird cold spots. The flavorizer bars help catch run-off from your food and recycle it into smoke, which adds a brilliant, nuanced level of flavor to your meat.
Weber Genesis II has a choice of 3 or 4 burners, each with a BTU of 12,000 BTUs
The Genesis comes in a 3-burner model and also a 4-burner offering. Each burner has about 12,000 BTUs of cooking power.
Something that I've found concerning, and is a common problem with Weber's outdoor propane grills, is that its maximum BTU output is lower than a lot of its rivals. As a result, maximum temperature levels are quite low for a gas grill.
This shouldn't be a problem in most scenarios, but you might find it frustrating if you start to experiment with searing your food.
And don't worry if the silver finish isn't to your liking. The grill comes in black, crimson, and copper color too.
Dyna-Glo Smart Space 3-Burner
This grill is great for anyone looking to make the most out of their apartment balcony or small garden. It's modestly sized but still packs excellent Performance and flexibility for most types of grilling.
It has three 12,000 BTU burners, giving you a total raw cooking power of 36,000 BTUs. These sit beneath 390 inches of grilling space, with a 117-square inch warming rack sitting above.
While this isn't massive, the cooking power that this sits above is impressive, given the compact size of the grill.
Dyna-Glo's 390-square-inch grill grates are cast iron and porcelain-coated for excellent performance and durability.
Broil King Regal S590
Broil King's Regal range is great for anyone wanting American-made grills that are packed full of added features, but all at an affordable price.
The Regal range joins Broil King's Imperial series as the brand's most top of the line offering.
Broil King's Regal has dual burners that help distribute cooking heat evenly and efficiently.
Despite this, both ranges have continued to sit within an affordable price range.
The Broil King Regal fits in an awful lot considering this. From side burners and extra rotisseries to control knob lights and pull-out tank drawers, the grill has the feeling of a utility belt in barbecue form.
But central to the grill's success is its performance. It has high BTU dual-tube burners underneath its cooking grates. Sharing the heat power across two lines of burners helps the grill cook more evenly and efficiently and helps reduce the presence of hot spots or flare-ups.
The Regal has Broil King's Flav-R-Wave flame tamers that help shield the grill grates from the raw flame of the burners while also helping to spread cooking temperatures evenly.
The grill comes in the choice of four, five, or six-burner options.
---
What Are BTUs?
British Thermal Units (BTU) are used to express heat power. In the context of grilling, they denote the maximum power output of a BBQ grill. Each propane burner in a grill has a BTU number, and a gas grill's overall power is expressed as the total of each burner's BTU output. So broadly speaking, the higher the BTU on a grill, the more powerful it is.
This doesn't always mean better performance, however. A grill's ability to retain and distribute is just as important.
After all, a high BTU is worthless if your grill can't retain heat.
It's also imperative that heat levels are maintained consistently. A high BTU count is no good if your grill practically hemorrhages heat.
A good rule of thumb for seeking out a BTU unit for you is to go by 80-100 BTUs per square inch of space. Anything over that is a waste of energy and money and could even ruin your food.
Anything less than this means that your grill will far longer preheat and dry your food out by cooking it for longer periods.
What Are Infrared Burners?
Infrared burners are becoming increasingly commonplace among propane gas grills thanks to their searing capacity and heat distribution.
They're widely recognized as helping to encourage the Maillard Reaction, which is a process that helps the sugars and proteins on the surface of meat brown and create greater flavor and aroma. They can also start up quickly, sometimes even registering 600°F in as little as 4 minutes.
Infrared burners create more radiant heat, whereby rather than warming the air, they create heat waves through the grill chamber. This helps keep temperatures more consistent but also helps the meat retain its moisture.
Where 'hot spots' were a common complaint with older models of the grill, infrared burners help reduce these by cooking far more evenly.
Older models have spots that differ in temperature by up to 50°F, infrared burners have minimized this to a variance of close to 10°F.
They also use much less energy and can reduce cooking times by up to 50%, with only one-third of the same amount of propane fuel.
Usability
​The thing that makes charcoal grilling so daunting to newbies is undoubtedly the skill required to do it.
There's a very steep learning curve from airflow control to getting to grips with temperature fluctuations to even lighting the thing.
While many users love the challenge involved (and more power to you), it's understandable that a lot of people want to cut through that and get on with the grilling.
Gas grills offer an easy way in. One-touch ignition systems allow you to get going right away, and burners make it far easier to tweak temperatures to your needs.
Propane Fuel Cost
The ongoing costs of propane grills tend to be cheaper than charcoal in the long run. While you do still need to buy new fuel, a 20-pound propane tank will last far longer than a bag of lump charcoal.
Accurate Temperature Control
Good barbecue is all about proper temperature control. Many people go wrong by failing to keep on top of factors that can disrupt the heat levels in their grill chamber.
It's a significant factor in what makes charcoal grilling so tricky.
Gas grills do away with this challenge, though, and allow you to easily tweak the grill's temperatures in line with what you want.
You just press the ignition button and then set it to cook at your target temperature.
This responsive and accurate design makes it far easier to adapt to any temperature fluctuations and operate your grill in a similar way to a conventional oven.
Propane vs. Natural Gas
While gas grills are often lumped into one broad category, they tend to actually come under two sub-categories: Propane and natural gas.
Propane grills tend to run off a 20-pound gas canister that needs to be either replaced or refilled frequently.
Natural gas is linked up to a gas source and runs off that. This makes natural gas far more cost-efficient in the long term.
It is possible to convert propane grills to natural gas with a conversion kit, however for peace of mind, I always recommend buying a purpose-built natural gas grill.
How to Use a Gas Grill
While the main benefit of propane grills is their convenience, there are still some best practices you should adhere to when using your gas grill.
Start by setting up the connection from your propane tank to your grill. Make sure to secure the hose onto the tank properly and then tighten the knob by hand.
Grill burners will not always burn at the right heat, and in some cases, you may need to adjust them. Find the air adjuster on the triangle-shaped ones by moving the plate slightly after loosening the screw. Make sure always to have a serviced fire extinguisher close to the grill whenever you cook. If you can, clean the grill, lid, and grates after every cook to avoid the build-up of dirt and grate residue. Take time to ensure that your food doesn't have excess marinade or fat that can drip on the grill.
Preheating the grill helps you avoid food sticking to the grill and helps avoid unsightly grill marks. It is advisable to preheat the grill on the highest setting for about 10 to 15 minutes. The flame will ignite because of the gas being released after the gas is flowing through the pipes.
Last update on 2023-12-02 / Affiliate links / Images from Amazon Product Advertising API