Grill baskets are the go-to tool for all grilled fish and vegetable lovers. They keep fragile food intact and stop them falling between the gaps on your grill. In this guide we'll look at the best grill baskets the barbecue world has to offer, and what features to look out for.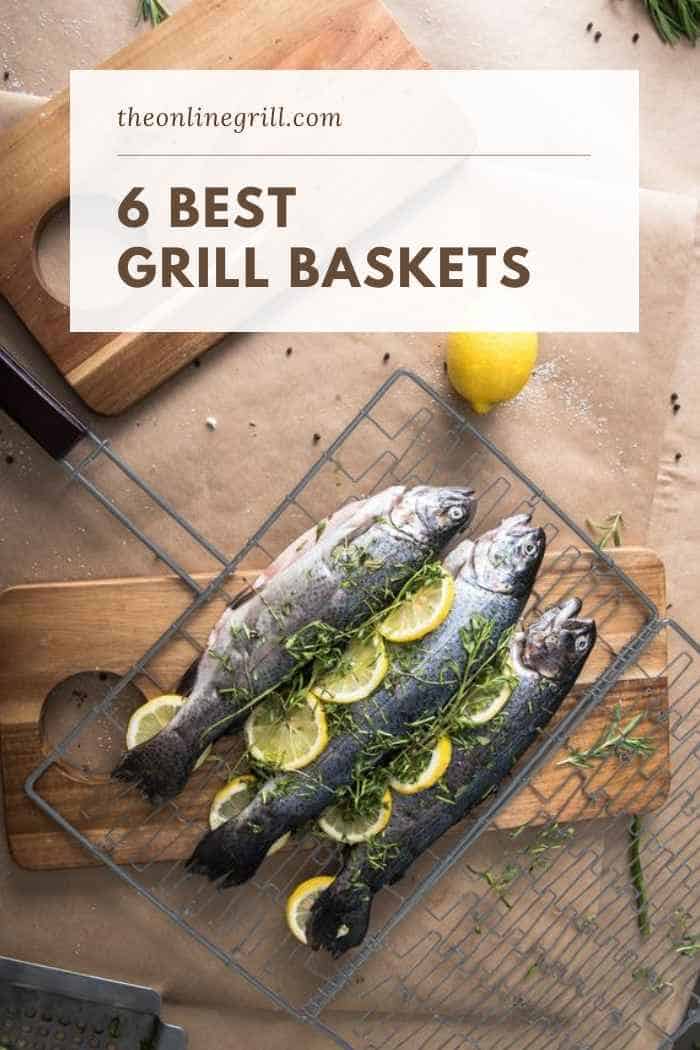 If you've ever had the problem of grilled chicken sticking to your grill, then you'll know what a pain in the you-know-what it can be to get around.
Thankfully, good grill baskets have made their mark on the barbecue world and have become widely available.
The best of them make it easy to cook fish, veg or chicken without allowing them to adhere to the cooking surface. Other also allow you to cook in marinade or liquids to further improve the flavors of your food.
Not sure where to start? Here are six of the best, as well as features and bonus add-ons to look out for.
Let's get into it!
Weber Original Stainless-Steel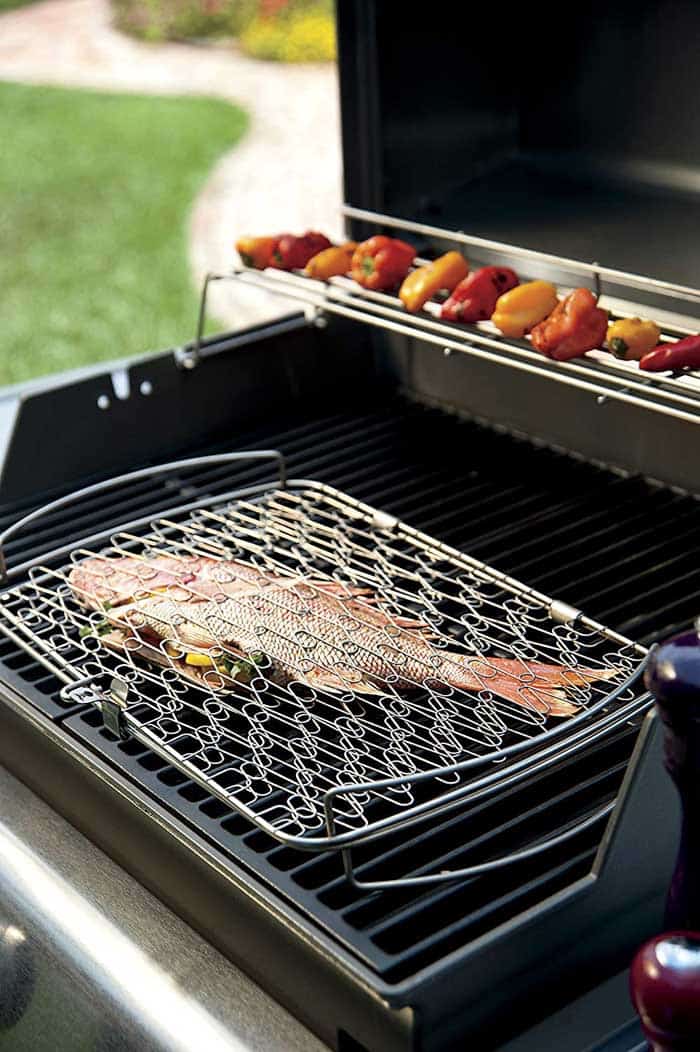 While Weber did initially release this basket to be used specifically on their Q300 and Q320 grill range, the truth is that it can be used on pretty much any small grill.
Weber's grill basket is 18 inches wide, which is more than enough for six fillets of fish, and has a spring-like mesh casing to keep your food firmly in place while it cooks.
The mesh also means that the basket is really light and effortless to flip when you need to turn the fish over.
The basket is quite shallow, but the benefit of this is that it can sit on your grill surface with the chamber lid closed. This allows you to make good use of sauces and juices for barbecue smoking, while cooking low and slow.​​​​
The mesh does make the basket a bit more challenging to clean, as it's not uncommon to find shreds of meat caught in it. This can happen even if you do use cooking spray to try it guard it against sticking.
One minor point also is that the mesh doesn't create those iconic grilled marks we all love on barbecued food. Not a big deal, but something worth mentioning in case it's important to you.
The grill doesn't have handles, so it will need to be handled carefully with BBQ gloves.
Final Verdict
Weber's Original grill basket is great for both smoking and grilling, and is one of the largest that we've used. It's lightweight and strong, but its steel mesh can be tricky to clean.
Sale
Companion Stainless Fish Grilling Basket
The Charcoal Companion range has produced a superb fish basket that's just as handy on the road as it is cooking back at home.
The basket is comprised of stainless steel grates, which means that the basket is protected against the long term effects of rust. This also makes it easy to clean and wipe down after every use, even if you only use soap and a bristle brush.
At 14 inches wide, it's big enough to hold about four average sized fillets of fish, or two larger cuts if you're feeling a bit greedier.
Its coil spring mechanism creates a hinge on one side, and when open it provides about one inch of clearance. This is enough for smoking an entire trout, so it's safe to say that this basket has the capacity most people are after.
The basket then has a sliding metal loop on its opening side that you can use to fasten it shut while you cook.
Sometimes the simplest mechanisms are the best.
SMAID Professional-Grade
This wok-like vegetable basket functions a bit differently in that it doesn't have a lid or sealable side on it. Instead, this is more like a rectangular bowl that you can pile food into. It then has holes cast into its sides to help release any run-off that surfaces while you grill.
This design is much more efficient at holding vegetables, and won't allow them to fall into your flames.At 13 inches wide, it's a bit narrower than some of the other options on this list, but it provides a lot more depth so you can pile a lot more vegetables on top.
This added depth and volume allows extra juice to sit in its basin, effectively letting your food cook in its own juices.
I probably don't have to tell how amazing this way of cooking will make your taste.
Smaid Vegetable Grill Basket - Large Stainless...
BEST GRILL BASKET - Grill Basket is ideal for barbecuing small foods such as onions, mushrooms,...
EASY TO CARRY: Raised edges keep food safely inside the topper. Handles let you easily...
EASY TO USE - The curved handles enable carrying the grill basket with ease, in addition the...
Weber Style 6434 Professional-Grade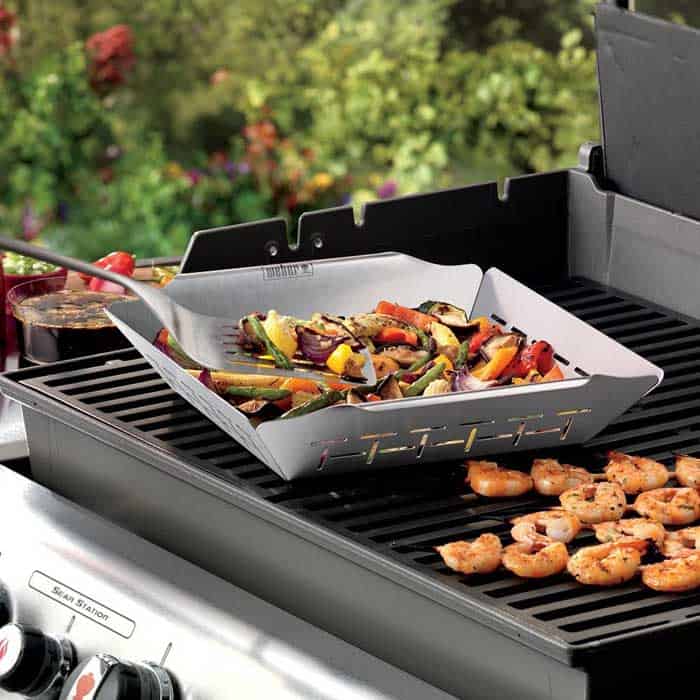 This vegetable basket proves that Weber know what they're doing beyond just grills.
It almost acts as part bowl and part pan. Its stainless steel construction makes it extremely heat efficient and rust-proof, while also easy to clean.
Its bowl-like shape ensures that it safely holds the smallest sliced and diced veggies, while allowing smoky flavors through and flames to sear the vegetables.
Sale
Weber Deluxe Grilling Basket
Weber Style Vegetable Grill Basket
Just the right tool to grill veggies that would otherwise fall through the cooking grate
Made of stainless steel
Charcoal Companion Non-Stick Rectangle
This basket from Charcoal Companion is perfectly design for camping, although it's perfectly fine to use at home too.
Its crate is made with a non-stick coating, ensuring that none of it binds to your cooking surface. It also makes it far easier to clean up after use.
It has a long wooden handle made from rosewood as a grip, for more comfortable everyday use.
​I love how simple this thing is to use. You just remove the top half to load the thing, and then you can tweak its adjustable grips to cater to the food you're cooking. If you need more capacity, then the basket can adjust to take up to a couple of inches of vertical space.
One drawback though that I found a little difficult to get my head around was that one end of the basket seems to be higher than the other. Perhaps just a little manufacturing quirk but I can see this potentially leading to uneven cooking, which would undermine the purpose of using a basket.
What we like
Has a non-stick coating that helps with clean up
Handles food up to 2 inches thick
What we don't like
You need to hand wash only
Because of the design, one side is always closer to the grill than the other.
WolfWise 430 Stainless Steel
If you're after something with a bit more volume, then this WolfWise basket might be the one for you. At 2.5 inches in height, it's built to take on thicker cuts of meat than its contemporaries.
Not just that, but more ambitious foods like corn on the cob or even lobster tails.
Its upper cage can be adjusted to three different preset heights, so you can clamp on smaller meats or accommodated large ones as you see fit. Its largest setting is even big enough to take on monster cuts like smoked spatchcock chicken.
I really like its detachable handle, which you can clamp on and off as you need. This is a great safety feature as it means your handle can stay cool while the contents of your basket cooks.
On the flip side, this is where I encountered a problem. The attach mechanism can be a bit stubborn and tricky to use without touching the basket.
Its made with 430 grade stainless steel, making it dishwasher safe. Perfect for someone who struggles with piles of washing up – like me.
What we like
Professional grade 430-stainless steel for excellent durability
Dishwasher safe
The deepest closeable basket
A detachable handle provides versatility. You can use inside of a smaller grill or smoker
What we don't like
There is the potential for losing your food if the handle is not attached correctly
Stainless steel sticks no matter how much cooking spray you use
The latch is not as secure as it could be.
WolfWise Portable Grilling Basket BBQ Barbecue...
Premium Construction - Professional 430 grade stainless steel for long-lasting use and...
Foldable Handle & grid-gap - Convenient folding handle makes storage and carries easy. The grid...
Large Cooking Surface - The grill basket provides a generous cooking surface of 12.6 x 8.5 x...
---
Timing is everything when it comes to grilling. Losing track of it doesn't just mean that your food will be served at different times, but it can also hamper the quality of the food itself.
Grill baskets have become the grillmaster's ace up the sleeve.
By allowing you to cook side dishes in bulk, these practical BBQ accessories help give you one less thing to worry about while you slave over the grill.
Here's everything you need to know to help you pick the right one.
What exactly is a grill basket?
Broadly speaking, grill baskets fall into one of two categories.
One is a mesh cage, which functions almost like a clamp. It can usually hold about half a dozen pieces of fish, chicken, or vegetables. It has a gripped handle at one end which allows you to flip or manoeuvre it easily.
The other is a bowl-shaped basket, often called a grill wok. These stainless steel baskets hold food like any deep dish would. These tend to be able to hold more food at once, but don't allow the same exposure to heat that cages do.
Cages offer better direct exposure to heat, which makes them great for grilling meat. Excess oil or juices can run off from the meat while it cooks, which can help leave you with just the good stuff.
Bowls on the other hand can cook food in liquid, which can enrich otherwise boring vegetables in added flavor.
Each of these types has slightly different uses, but can offer essentially the same function. Both are designed to help you save time by cooking more food in batches, while keeping everything organized.
Grill basket benefits
Think of a grill basket as an extension of your own hands. This means it helps to reduce to clutter while also reducing the risk of burning your hands.
The best grill baskets are sturdy, and can hold a decent serving size for four to six people. This helps to keep things organized, and allows you to cook in batches.
But the benefits go far beyond just simple practicality. It also helps the thing we call care about most: Flavor
The ridge in the cage help produce a charr and sear on your ingredients, while bowl-shaped baskets can hold sauce and juices to really elevate the taste of your food.
Cage baskets can also be used over a grill, or just oven an open flame, making them extremely versatile and cost-efficient.
They're also extremely easy to use. With all your food held in a basket, you can simply turn them by the handle of your basket. This means you don't need to go through the tedious process of turning each ingredient individually.
What basket features to look out for
Personal preferences can vary, but there are a few criteria that should always ring true when picking a grilling cage or basket. Look out for these signals of a good, solid item that's worth the investment.
Stainless steel material
It goes without saying that a good grill basket will need to be able to stand up to the high temperatures coming from your barbecue. So pay close attention to build material, and make sure that you go for something made with durable thick metal.
Further to this, try to make sure that your basket is finished with a non-toxic coating.
Modestly-sized holes
This might sound peculiar, but there's a fine line between gaps that allow good airflow through your food, and holes that are just glorified trapdoors for your food.
Look out for baskets with holes that will do the job without letting food drop out into the flames.
As a side note, pay attention to the texture of the material around the gaps. Steer clear of anything too rough as it'll risk scraping or roughing up your grub.
Handles
If you are going for a dish basket, then I recommend going for something with gripped handles. This will protect your hands from touching scorching hot metal, and is just a more ergonomic means of handling cooking equipment.
What can you cook with a grill basket?
One of the best things about grill baskets is how flexible they are. You can throw in a range of different ingredients, just as long as they all fit!
Chicken
Mesh cage baskets are great for chicken, as you can flip them regularly until done – all while giving them a beautiful charred finish on both sides.
Fish
Likewise fish is a great choice for these types of baskets. Fish is notorious for falling apart on the grill as it loses moisture, but baskets reduce the chances of this. They're kept clamped in and held in place while they cook. Using them has transformed my grilled fish tacos.
Skewers
Satay kebabs or skewers are always a favorite on the grill, and can be replicated pretty well in a grill basket.
Unlike with a grill, where you risk them sticking or burning to a crisp, holding them in a mesh cage can help to reduce the risk of this.
Burgers
Yep, you didn't read that wrong. Burgers are great in a basket too.
If you've got a big batch of hamburgers to work through, ​using a basket can help you do it all at once.
You should be able to get between four and six burgers into a basket at once. Perfect for grilling sliders in one go, rather than staggering them.
Just be sure that the burgers are the same size and thickness, so that they all need the same amount of time on the grill.
Last update on 2023-12-02 / Affiliate links / Images from Amazon Product Advertising API