Need the perfect grill for your next camping or tailgating grilling adventure? Here's everything you need to know to help you find the best portable grill for your RV.
Every camping party or tailgating party needs a good outdoor grill to go with it. The great outdoors is best experienced with barbecue, and this is best done with a portable BBQ unit that is reliable enough to depend on when you're on the move.
In today's post I'll be looking at three of the very best RV grills, and outline everything you need to look for when making your choice.
The 11 grills for RVs we'll be looking at are:
Weber Q1000 Liquid Propane Grill
It wouldn't be a list of the best grills without a Weber on it, so it should come as no surprise that this grill features.
This modern grill has simplicity and practicality at its heart, making it perfect for taking on the go on your RV.
It has an easy ignition button to help you get going quickly, and has just under 200 square inches of space to help make enough room for a small party.
It has porcelain enamelled cast iron grates, making it extremely heat and power efficient. It also has a durable cast aluminum build making it heat efficient and durable in equal measure.
It has 8,500 BTUs, which is excellent for a portable grill. This makes it more than up to the task for burgers and large steaks, while not to much that it will rattle through your propane supply.
It weighs a surprising 28 pounds, making it easy to take on the go. It also comes fully assembled so it's good to go the moment your open it.
A superb portable grill from a superb brand.
Cuisinart CGG-180 Gourmet Portable Propane Grill
I feel like Cuisinart are underrepresented in a lot of best of lists but believe me, they know what they're doing with small scale grills like the CGG-180.
This little unit is light, weighing only 17 pounds. This is as portable as they come.
Despite its modest size, it has porcelain enameled grates, making its use of heat fantastic. It has 5,500 BTUs of burner capacity, but because of its excellent heat retention and dsiribution, it uses this power much more efficiently than higher power models.
Are there any downsides to its easy portability? Its cooking surface is certainly a bit smaller than some others, measuring at 145 square inches. However this is still more than enough for cooking a few pieces of solid meat cuts on it.
If your priority is portability and ease for your RV, then this is an excellent model to consider.
Traeger Bronson 20 Portable Wood Pellet Grill
This is a braver entry as it's not gas powered, but rather wood pellet.
For the uninitiated, wood pellets are growing in popularity due to their fantastic heat capabilities, as well as the meat they produce being of superior quality.
You do get what you pay for, so wood pellets do tend to cost more. Is it worth it though?
Ultimately we want fantastic tasting food, and here the Bronson doesn't fail to deliver. The food off it tastes incredible.
It has the smokey flavors that we associate with good BBQ, with a woody taste that will feel right at home while eating by your RV.
Wood pellets might seem intimidating, but they're actually fantastically easy to use. You simply apply the wood pellets, turn it on and set the temperature. It's just as easy as gas while remaining much more faithful to 'real' barbecue.
You might have to refill the wood pellets during cooking, but that is a minor inconvenience compared to what you get in return.
It isn't as light as gas models, but if you're simply loading and unloading it onto the RV then this shouldn't be a problem. It's extremely durable and boasts enough cooking space to suit any small party.
A truly excellent grill.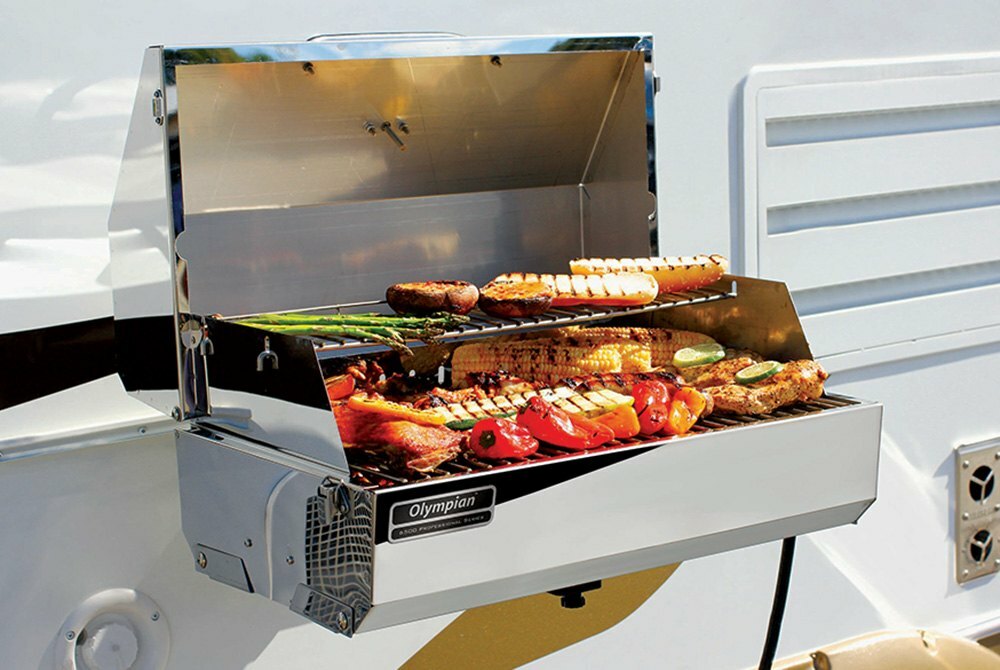 Camco Olympian 5500
This compact grill is built with portability in mind, but manages to toe the line perfectly between convenience and good performance.
It's designed to be compatible with your RV, with it able to connect to any low-pressure quick-connect propane outlet via the provided quick-connect hose. Within minutes you'll have a fully functioning RV mounted grill.
Don't worry if your RV doesn't have this though. It can still be hooked up to a regular 5lb or 20lb propane cylinder.
Coleman RoadTrip LXE
Despite its modest size, Coleman's RoadTrip LXE still manages to offer up an impressive 20,000 BTUs, making it one of the most powerful grills on this list.
Built on its own wheels and foldable stand, this grill doesn't need a table surface and can be taken with you anywhere.
Solid enough cooking area, and will be more than enough for your RV or camping crew.
Gas, charcoal or electric?
When it comes to grills of all sizes, whether they be small portable ones you can take on the go, or large units to build into your garden, the first choice you need to make is whether you want to go electric, gas, or charcoal.
I would argue that for portable grilling, convenience and speed is key, so both gas and electric might be more appealing.
This isn't to say that charcoal doesn't have its place, so if you're happy to wait 30 minutes for it to get going then you will enjoy the authenticity that the best charcoal grills provide.
How to install RV grill mounting rail?
Mount rail installation can vary wildly from brand to brand. Broadly speaking though, they tend to be simple to apply.
Any mount rail you buy should come with instructions, so always be sure to follow them as closely as possible. If you stray from this then you not only risk damaging your rail or grill, but also your RV.
​
How many BTUs do I need?
British Thermal Units (BTUs) are the amount of maximum power a gas grill can produce per burner (source). More often than not, these are given as a total between the grill's burners.
BTUs are important not just to show off about the amount of power that your grill can emit, but are also a good indicator or how fast your grill takes to heat up, and also the range of temperature it can produce. If it has a good temperature range then it will give you greater flexibility in what you can produce, as well as be easier to use.
For a portable grill, don't expect these to be too high in comparison to home grills, which tend to be between forty and eighty thousand units in total. Also keep in mind that a high BTU will mean that you burn through gas or propane faster, driving up your fuel costs.
However don't sell yourself short, and also keep an eye out for whether the unit is being expressed per burner, or as a total.
As a rule of thumb, try to aim for between 80 and 100 BTUs per square inch of cooking surface on your grill. This should strike a good balance between power and fuel efficiency.
The importance of grill build
Temperature consistency is key when it comes to all forms of barbecue. Uneven peaks and dips in temperature can harm your food, and in the case of meat even make it unsafe.
In my experience, two main factors can be at play for poor temperature consistency.
One is a poor chamber build. This can come in the form of either a thin shell, or leaks. Either can allow heat to escape, or cold air to come in, and disrupt the heat levels within your temperature.
The other is the grill surface itself. This is particularly common in gas grills, where the distribution of burners can result in flare ups and uneven temperatures across the surface of your grill grates.
Keep an eye out of porcelain enamelled grates. These are fantastic at transferring the heat from the burners more evenly across the grill grates (source), and have become more and more common place among modern barbecue grills.
Also look out for infrared burners. These tend to work in the form of a metallic sheet between the grates and burners, and work by absorbing the heat from the burners and heating your meat from there (source). It's a fantastic system that helps avoid dreaded flare-ups from the burners.
What grill surface area do I need?
Cooking surface size is where a lot of people can go wrong. They either overshoot and end up wasting money on unnecessary room, or underestimate what they need resulting in slower grilling as they can't cook as much in one go.
As a guide, roughly 200 square inches will accommodate a dozen burger patties, allowing enough space between them to cook properly.
This same amount of space should allow room for three to four 10 ounce steaks.
Ultimately, about 100 square inches per person is a good guide to go by.