Find out everything you need to know about one of the best Weber propane gas grills out there today. We give the lowdown on the backyard cooker's BTU power, features and more with our Weber Genesis II S-435 review.
Weber's Genesis II series has been one of the their most successful to date. At the forefront of this, has been the S-435 4-burner model. As propane grills go, this has style, power and fuel efficiency in abundance.
Guaranteed to last with its stainless-steel finish you can sleep peacefully at night knowing that you have made a substantial investment that will be with you for years to come. Weber has put everything they have into making this a premium product. To back that up they even offer you a 10-year warranty when you purchase the Genesis II. That is quite a vote of confidence that they have shown in this product so it must be worth a try.
Weber Genesis II S-435 4-Burner Liquid Propane...
GS4 high performance grilling system featuring infinity ignition, high-performance burners,...
4 stainless steel high-performance burners, 1 side burner and 1 sear station burner deliver up...
7mm diameter solid stainless steel rod cooking grates provide superior heat retention
Weber is one of the top grill manufacturers in the industry today. They are well known for producing quality grills. If they trust a product this much, then it must be worth considering. It comes with an extraordinary amount of space for you to grill. That is for the party hosts who like to ensure their guests leave with no leftover space in their bellies. I say this because it is massive. Often, you will find that big BBQ systems are bulky and appear to be built simply for purpose, but this Genesis II stands out stylishly.
Seeing as it is a premium grill, it comes at a premium price. Therefore, before you decide to buy one, you may want to know more. In this article, we are going to look at a few of the features together to help you make up your mind.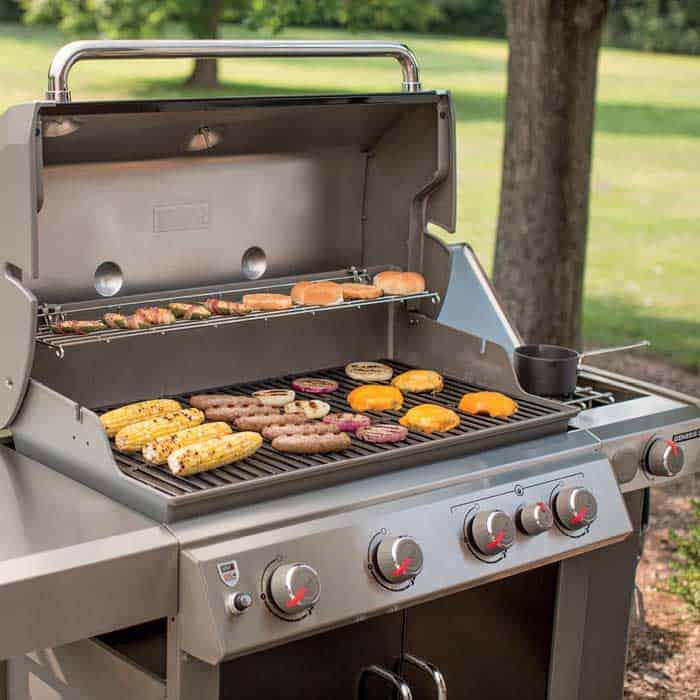 First impressions
Straight out of the box, it's clear that this grill means business. It comes with a presence right from the moment you meet it. It comes in a spectacular shiny silver finish with some parts having a matte silver. Most of the grill is made from hardened stainless steel. It is not likely that this machine will rust anytime whilst you own it.
The design of the grill is in the form of a cart having two sides and four all-weather wheels. These will allow you to manoeuvre the grill without too much hassle easily.
The grill comes with a handy two-door cupboard under the grill which will no doubt be handy for keeping utensils, saucers and plates. When Weber says that it does it all, they mean it. The lid can be opened and closed as per need, meaning that you can maintain the temperature efficiently, allowing your food to be well cooked inside and out.
Features
Sear station
The main reason why people buy a grill is to cook food on it. This grill would not be as excellent as it claims to be if it did not nail this section because otherwise what would be the point of owning it?
To allow the buyer maximum control of the grill, this model comes with six different ignition knobs meaning you can cook food as precisely as you want to. Weber calls it a sear station. Combining this with the inbuilt gourmet BBQ system, and you are given the ability to prove to all your friends that you could have been a chef if you wanted to.
The idea is control. All the management of such a powerful machine is directly vested in your hands. That is different from standard grills, where one switch powers everything up and what you get is what you get. No. With this grill, you can control specific areas to cook meats at a different temperature from veggies. Top class.
iGrill3 app compatiblity
It is the technology side of the grill. Should you want to relax and have a chat with someone, then your mind can be at ease with the iGrill 3 app. It will monitor the temperature and state of your food alerting you as and when there are updates. It is a convenient feature that sends notifications to your phone in case you forget that you're the designated grill master.
Storage
With this model, you won't need to make continuous trips into the house to get things because it has everything prepared for you. It is a handy machine that works hard to keep everything centralised to its location. It comes with well-placed tool hooks on the side of the grill.
This means that you can store your tong, forks, and other tools. You will not have to put them on the floor or close to the grill. Instead, they are always friendly and close. You will also have an entire cabinet in the grill, meaning that you can keep plates, food, or even drinks if you like. When done cooking a meal, you do not even have to take it off the grill because there is a rack explicitly designed to hold meat to keep it warm for any late guests.
Specifications
The Genesis II Series was made as to the flagship product in the Weber grill catalogue. It is a very majestic and powerful grill as the specifications will show you.
| | |
| --- | --- |
| MAIN BURNERS: KW | 14.07 |
| DIMENSIONS | 158CM H X 166CM W X 79CM D |
| STAINLESS STEEL BURNERS | 4 |
| RUST-RESISTANT ALUMINIUM DAMPERS | 1 |
| FUEL TYPE | LIQUID PETROLEUM GAS (REFILLABLE CYLINDER SOLD SEPARATELY) |
| TUCK-AWAY WARMING RACK AREA (CENTIMETRES) | 84cm x 15cm |
| DURABLE ALL-WEATHER WHEELS | 2 |
| BATTERY TYPE | AA |
| BATTERIES | 1 |
The Weber Genesis II S-435 grill is a little different kind of beast. Not only is it cheaper than the Napoleon LEX gas grill, but it also has a few distinctive features.
Well, S-435 is not exactly cheap, but it costs a few hundred dollars less than most natural gas grills.
Perhaps the highlight of this model is the flavorizer bars. Designed by Weber back in the 1980s, these bars' purpose is to catch drippings, vaporize them, and send them back to the food for extra flavor.
Apart from that, the S-435 grill is compatible with the Weber iGrill 3 app. This app can take readings from up to 4 meat probes and allows you to monitor the grilling process remotely from start to finish.
With that said, the app requires you to purchase the iGrill 3 device separately, and it costs about $100. It may be worth the money, but your budget needs to bigger to afford the grill AND the device.
The integrated sear station is also notable. It is designed to deliver heat to the searing rack quickly to give you those meat sear marks.
When it comes to the cooking capacity, the Genesis II S-435 natural gas grill isn't too far off the Napoleon grill – it has a total cooking area of if 844 square inches, 646 in the primary rack and 198 in the warming rack. As you could have noticed, the primary rack in this unit is a little larger than in the Napoleon grill, which may matter to some people.
The number of primary burners in this grill is 4, with their heat output being 48,000 BTUs. Although this grill has no fancy features like infrared burners, its heat capacity should be enough for the size.
Like the Napoleon natural gas grill, the Weber S-435 grill has two side tables. The right table is again equipped with a side burner, but there are no integrated coolers in the other table. Still, you are getting ample tabletop space for food preparation, as well as a few utensil hooks.
We also like the oversized front wheels in the Weber grill. They should make this grill easier to move around than the Napoleon unit.
As for downsides, the S-435 grill has one – it's pretty difficult to assemble. It comes with a lot of parts, but the manual at least seems decent enough to somewhat alleviate the challenging assembly.
Pros
Cooking area of 844 square inches.
6 burners with 69,000BTU output.
Integrated side burner and sear station.
Extra flavor with flavorizer bars.
Side tables with tool hooks.
Compatible with the iGrill 3 app.
Cons
Final Verdict
In the end, this grill is everything one could ever hope for in a grill. It has prepared everything you didn't even know you needed. From the moment you buy this grill, you will be satisfied with what it can do from its beautiful, stylish stainless-steel design to its powerful food searing abilities. This grill really can do it all, and if you can afford it, I would not waste my time looking at other grills.
Weber Genesis II S-435 4-Burner Liquid Propane...
GS4 high performance grilling system featuring infinity ignition, high-performance burners,...
4 stainless steel high-performance burners, 1 side burner and 1 sear station burner deliver up...
7mm diameter solid stainless steel rod cooking grates provide superior heat retention
---
FAQ
I know that it is big, but how big?
It is the flagship product among the Weber catalogue for a reason. It is meant for big things. This grill comes with 86cm x 48cm of cooking space.
How long is the warranty?
A whopping ten years!
Any Negatives?
Honestly speaking this product comes at a premium price. Compared to many of the other products you can buy from this manufacturer, this one is almost triple the price of all of them. They went all out for it, which is why it is understandable that it costs so much but that doesn't mean most people easily afford it.
Last update on 2023-12-02 / Affiliate links / Images from Amazon Product Advertising API