There's nothing quite like homemade jerky. Learn how to make it from scratch with our easy electric smoked beef jerky recipe.
How to Prepare Beef for Jerky
To prepare beef round for the electric smoker, you will need to trim it down and slice it to form the raw strips of beef.
Start by trimming off any sinew or obvious excess fat on the round. It's unlikely to contain much, but it's important to look out for it.
Also remove the silverskin, if it has any. This can turn hard when smoked and will deform the beef as it cooks. Do this by gliding a blunt table knife under the skin, and use a dry paper towel to get purchase on it and pull away. With any luck it will come away in one go, but if not you will need to repeat this until it has all been removed.
Slice the trimmed round against the grain to create quarter-inch slices. It's important to slice the beef against the grain to avoid your final jerky being too tough to chew.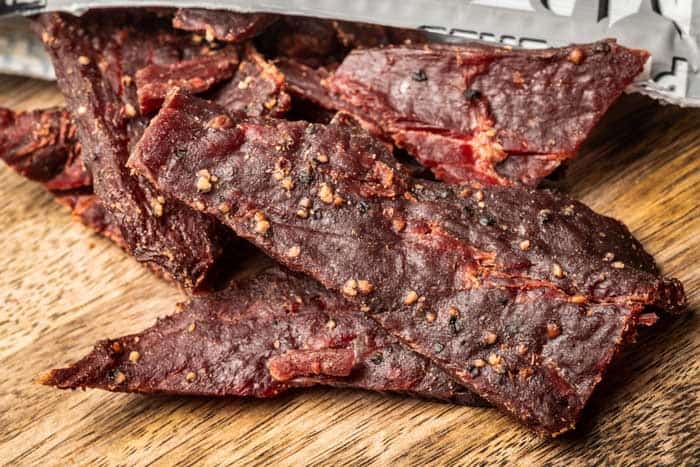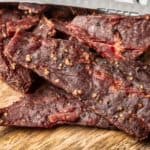 Electric Smoker Beef Jerky
There's nothing quite like homemade jerky. Learn how to make it from scratch with our easy electric smoked beef jerky recipe.
Print Recipe
Pin Recipe
Ingredients
Marinade
¼

cup

soy sauce

¼

cup

honey

¼

cup

Worcestershire sauce

1

tbsp

red pepper flakes

¼

cup

brown sugar

2

tsp

garlic powder

2

tsp

onion powder

1

tsp

kosher salt
Instructions
Trim any excess fat off the beef round. If the membrane or silverskin is still on the meat, remove that with a table knife and paper towel.

Slice the beef round into ¼ inch slices. Ensure they are sliced unformly for the best results when smoking.

In a small saucepan over low heat, combine all the marinade ingredients. Allow to cool and transfer beef slices to marinade, covering thoroughly.

Transfer slices to a large Ziploc bag or airtight container. Pour remaining marinade over meat. Place container or bag in yourrigerator and leave to marinate overnight, or for at least 12 hours.

Line a baking sheet with paper towel. Remove meat from refrigerator and transfer to lined baking sheet. Leave to dry.

Fire up your electric smoker to 165°F (74°C). Add wood chips to tray.

Place beef strips on smoker grates and close chamber door. Smoke for 3 hours.

Check the jerky every hour to make sure the pieces are not cooking unevenly. If they are, rearrange them accordingly.

After three hours, remove the jerky from the smoker and leave to cool on cooling rack. The jerky will be done when it is dry and tough, but can bend without breaking.

When completely cooled, store in airtight container in the refrigerator. It can be stored for up to two weeks, but is best enjoyed within four days.