Wood pellet smoker grills are now one of the world's best types of barbecue cooker. Competition veterans and newcomers alike are able to smoke low and slow perfectly on them, and now you can too with our dedicated hub to backyard pellet cooking. Find out everything you need to become a pellet pro with our how-to guides, easy recipes, and in-depth gear reviews.
---
---
REVIEWS
Get pellet smoking and grilling right with our essential gear guides. Elevate those meat juices and flavors with the best smokers, grills and tools, and upgrade your smoker with the best wood pellets for the job.
Pellet smokers offer incredible cooking versatility unlike any other type of barbecue. With wood-fuelled fire and motorized control, they offer BBQ fans convenience and versatility in equal measure. Our guide is here to show you 11 of the best pellet smokers to help take your outdoor cooking to the next level.
The SmokePro DLX aims to offer premium pellet grill features at an affordable price. So how does it compare to the its peers? Our in-depth review puts it to the test.
The Pit Boss 700FB is one of the most impressive pellet smoker grills out there today. It packs in generous cooking space, and at a cost that's great value for money.
Are you in the market for a new grill and wondering what you should get? Perhaps you've heard great things about the Pit Boss Austin XL and are looking for a comprehensive review. Let us take you through all that you can expect to get with this state of the art grill.
The Traeger Silverton 620 is a special edition pellet grill from the brand that has been at the forefront of modern day pellet grilling for years. It's difficult to find, but is it worth the extra expense and effort to uncover? Our review takes a closer look at what the unit has to offer.
The Traegar Renegate Elite pellet grill is a great entry to pellet cooking. Find out everything you need to know with our review and free guide.
Tailgate grills need to be portable and easy to use, without being weak or flimsy. How does Traeger compare? Does this entry to the tailgate scene enough to make fans switch to wood? Let's take a deep dive in our Traeger Tailgater Pellet Grill review.
Vertical pellet smokers offer a whole new barbecue experience. They provide a larger cooking space and better airflow than many of their contemporaries, while still providing the high temperatures and fuel efficiency of standard wood pellet models. Here are 5 of the best vertical pellet smokers to help take your BBQ smoking to the next level.
Pellet grills offer the best of worlds in convenience and authentic smokey grilling. Luckily, the price barrier is a lot lower than it used to be, and there are plenty of good budget-friendly grill options out there for newcomers. Here are 5 of the best pellet grills under $500 to help you make that first step towards pellet grilling.
Barbecue smoker tubes offer an easy way to upgrade the performance of your pellet smoker, or even transform your charcoal grill into a backyard smoker. Upgrade your patio cooker today with our guide to the best pellet smoker tubes.
Today's guide walks you through the best wood pellets for smoking, to help you match the right kind of wood with the right kind of food.
The Savannah Stoker is a BBQ temperature controller that has proved difficult to get hold of, but is widely revered among pellet heads. In this review well take a look at what sets this apart from the competition, and why it should be the next controller for your pellet smoker or grill.
The Outdoor Gourmet Triton XL offers barbecue beginners an affordable entry point to pellet grilling. But how does it compare to its peers? Find out everything you need to know with our pellet grill review.
With eight smoking racks and over 33,000 BTUs of power, there is a lot to love about Camp Chef's vertical pellet smoker. But how does it compare to other budget pellet grills? Find out everything you need to know with our Camp Chef XXL review.
Monument's budget pellet grill has a lot to offer to compete with more established wood cooking rivals. Find out everything you need to know with our Monument 89679 review.
Large cooking space and a modern PID controller make the Camp Chef PG 24 pellet grill stand out. How does it compare to our favorite backyard cookers?
Pellet barbecue grills don't come much better than Traeger. With a fantastic temperature range, a solid steel construction, and an intuitive LED controller, there's plenty to love with this BBQ system. Get the lowdown with our Traeger Eastwood 22 review.
Traeger's barbecue pellet grills have long been held up as the gold standard of backyard wood cookers. But how does this iteration of the brand's Pro Series compare to its peers? Find out everything you need to know with our Traeger Pro Series 34 review.
The Camp Chef Woodwind has been one of the brand's feature pellet grill for years. But does it still stand out among its competition today? Find out everything you need to know with our in-depth wood pellet smoker review.
Vertical smokers offer a form of barbecue unlike any other. How does this cooker from Louisiana Grills compare? Find out everything you need to know with our in-depth vertical smoker review.
The Traeger brand needs no introduction, but do their modern pellet grills still hold up? Find out everything you need to know with our Traeger Pro 22 review.
The Traeger Bronson pellet grill offers incredible versatility with pinpoint temperature control, putting it above many of its competitors. Find out everything you need to know with our Traeger Bronson 20 review.
The Big Horn pellet grill offers a stripped-back and affordable entry to wood-fueled barbecue for newcomers. Is it worth the money? Find out everything you need to know with our pellet smoker grill review.
The Traeger Ironwood 885 offers a significant step up for pellet cooking fans, with efficient temperature performance, easy WiFi control, and incredible insulation.
The Recteq RT-1250 pellet grill offers excellent convenience and impressive control. Rather than having to adjust the fuel constantly to get the right temperature, the Recteq 1250 truly lets you set and forget when it comes to smoking and slow 2-zone cooking.
The Traeger Ironwood 650 pellet grill offers efficient temperature performance, easy WiFi control, and exceptional insulation.
GUIDES AND TIPS
Pellet smoked meat needs to be prepared perfectly for the best results. From pellet grill tips and tricks, to DIY projects, here's everything you need to know to get the most out of your backyard cooker.
Whether you're new to meat smoking, or are a seasoned pro who wants to take on the ultimate DIY challenge, here's how to build your own pellet smoker.
There are actually a few ways you can do this, so let's take a look at each one and walk you through the steps for how to do it.
For wood pellet newcomers, pellet grills and smokers are an excellent way to get into barbecue. Learn how to get the best out of your wood cooker with our step-by-step guide to using a pellet smoker grill.
Upgrade your Traeger today with these easy pellet grill hacks. Including smoker tubes, pellet fuel enhancements, and smoker tweaks.
Natural wood pellets are one of the best fuels for delicious barbecue, but what's the best way to store them? Here's how to store wood pellets for smoking.
A common concern with all types of barbecue is if the fuel we're using is toxic. With charcoal grilling it's been the debate over the presence of carcinogens in the smoke; with propane it's been the danger of inhalation; and with wood pellets it's around if the fuel is dangerous.
Are BBQ wood pellets toxic? And if so, to what degree? Does the risk outweigh the reward? Let's take a deep look in this article.
Wood pellet cooking and charcoal grilling have a lot of differences. From temperature ranges to fuel costs, there's a lot to consider. We're here to make that investment a little bit easier. Here's everything you need to know about the differences between pellet grills and charcoal grills.
The best pellet grill accessories to take your backyard cooking to the next level. From tongs and spatulas to the best wood pellets, these essential tools and equipment will take your pellet grilling to the next level.
Do you need a water pan in a pellet smoker? Find out if the simple barbecue hack could take your pellet cooking to the next level.
Take care of your barbecue grill, and it will take care of you. Learn how to clean your pellet smoker grill the right way with our step-by-step guide.
RECIPES
Get straight into smoking the best cuts of BBQ meat with our classic pellet grill recipes.
Turkey is the ultimate smoked meat. Find out smoking times, temperatures, and best woods for this delicious pellet smoker turkey.
You will love the smoked beef brisket you make with your pellet grill. Incredibly chewy and rich in beef flavor, this barbecue classic is perfect for feeding a crowd.
Delicious chicken thighs smoked low and slow on your Traeger or favorite pellet grill. This barbecue smoked chicken classic is tender, juicy, and packed full of flavor.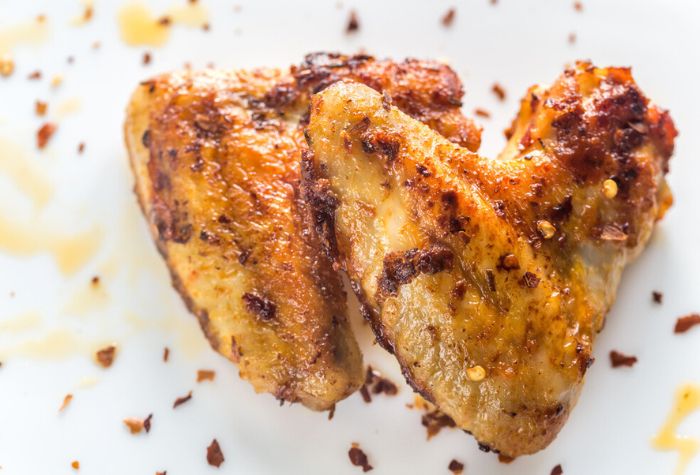 Easy BBQ smoked chicken wings cooked low and slow on your pellet grill. Prepared with smoky dry rub seasoning, these smoked chicken wings are loaded with flavor and finished with the perfect crispy sear.
Grilled steak seared over high heat on your backyard pellet grill. Find out how to cook the perfect steak every time with our easy pellet grill recipe and steak prep guide.
Easy pellet grill smoked chicken breast. Prepared with a simple dry rub before cooked low and slow over applewood, this easy pellet grill recipe is perfect for quick weeknight dinners.