The Recteq RT-1250 pellet grill boasts an impressive temperature range and huge 40lb hopper. But how does it compare to other backyard cookers? Our Recteq 1250 review finds out.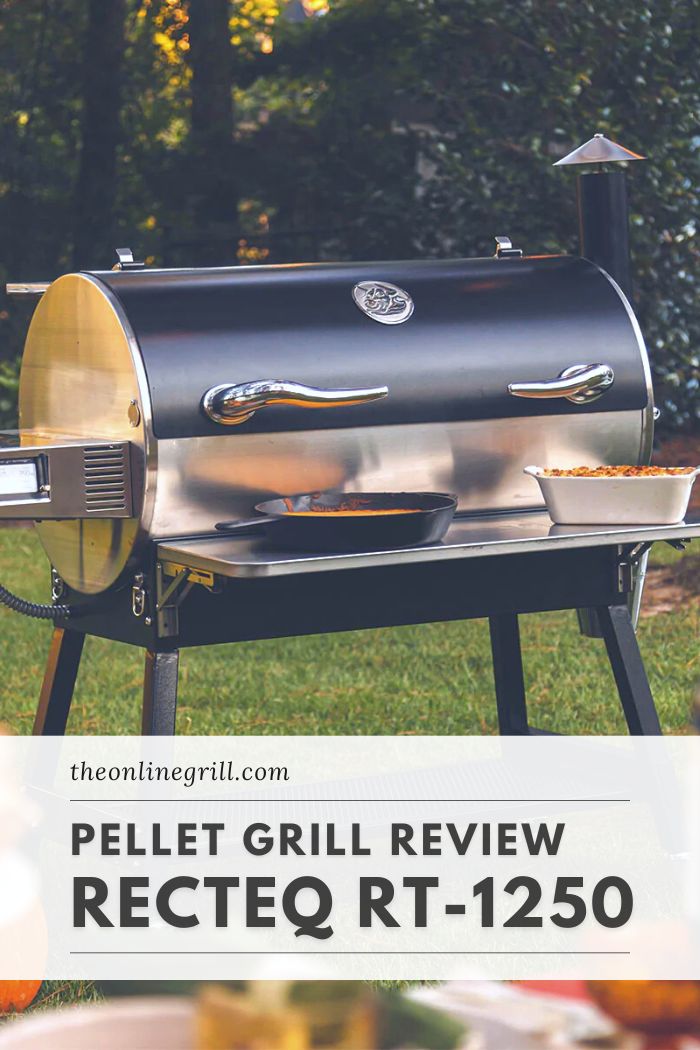 Recteq has set out to offer users the classic taste of wood-fuelled cooking with a whole lot of modern convenience. Their Recteq 1250 grill even has its own app that you can use to control your cooking.
For those in the market for a pellet grill, this model promises a lot, including an extremely wide range of cooking temperatures allowing you to cook low and slow or quickly whip up some burgers or steaks.
In this guide, we explore whether the Recteq 1250 provides all it has promised.
Quick Verdict
The Recteq RT-1250 pellet grill offers excellent convenience, a long warranty to protect your purchase, and impressive control. Rather than having to adjust the fuel constantly to get the right temperature, the Recteq 1250 truly lets you set and forget when it comes to smoking and slow 2-zone cooking.
Sale
Recteq RT-1250 Pellet Grill
LARGE PELLET SMOKER GRILL: This pellet grill boasts 1250 sq. in. of cook space and includes the…
COOK LOW AND SLOW FOR HOURS: The RT-1250 has a 40lb hopper, providing up to 40 hours of…
WIDE TEMPERATURE RANGE & CONSISTENT IGNITION: Enjoy cooking low and slow or high and fast, with…
Features
Key features of the Recteq 1250 include:
The Recteq app lets you control the grill remotely from your phone. Set timers, adjust the temperature, turn the grill on or off and much more, all without having to move from the couch.
Its PID Smart Grill Technology regulates the fuel and other variables to ensure the temperature stays exactly where you set it. It's like turning the oven on.
The removable sliding rack provides a secondary grilling or warming space, and let you adjust the grill to suit that day's cooking.
1250 square inches of grilling space
Huge temperature range from 180°F all the way up to 700°F
Generous six-year warranty
Ignition
The ignition of the grill is push-button, whether that means physically pressing the button on the grill or simply using your phone. The HotFlash Ignition System is ceramic and it is made to last more than 100,000 lighting cycles. In all likelihood, it will last for as long as the grill does.
Temperature Range
The temperature range starts at a low cooking heat of 180°F and goes up to 700°F, with the unique selling point of the grill being the fact that it is controllable and accurate, unlike plenty of other grills. You can cook something like pork ribs low and slow or you can choose to sear a steak nice and quickly. The temperature may actually go slightly above 700°F, and this can cause some of the components to mark or become damaged, so be cautious when going to the very top of the range.
Build Quality
You don't usually get a six-year warranty on a grill unless the manufacturer is pretty happy with the build quality.
The cooking chamber itself, as well as the folding shelf, grates, and the drip pan are made out of 304 rated stainless steel. The quality of the design and materials is also what enables the grill to reach such stunningly high temperatures. The cast-iron deflector helps massively with the ability of the 1250 to deal with super hot temperatures.
It's lightweight compared to some other models such as Pitts and Spitts grills, which are welded rather than glued and bolted. It isn't elite when it comes to build quality when you stack it up against the very best on the market, but for the money it performs well and is far from flimsy.
Cooking Performance
How does it cook? The ultimate test for the pellet grill! We've compared both the smoking capabilities and the grilling and searing functionality.
Smoking
If you love low and slow and smoking then this grill can certainly make your life easier. The stability it offers for temperatures means you can cook with oven-like accuracy, and by experimenting with the pellets and rubs you can create some great smoky flavors. The manufacturer recommends its own Ultimate Blend Wood Pellets but finding your own and imparting some hickory or applewood is part of the fun.
You can monitor the smoke via the app on your phone, and with a huge 40 lb hopper you don't have to worry about running out of fuel either. It's great for those who want to leave it to cook and go about the rest of their day.
Grilling
The reason the Recteq 1250 stands out for grilling is partially its ability to reach those incredibly high temperatures, but this isn't always necessary.
The design of the grill plate means that it heats evenly across the bottom shelf, which is the easiest place for cooking your steaks, burgers, or chicken.
Cooking Space
You won't be short of cooking space with this grill, especially if you make use of the sliding secondary grate (which is optional).
1250 square inches (you can see where the grill got its name) means that you can cook for big gatherings with no problems. For reference, that's about 10-12 chickens or four whole beef briskets.
If you don't plan to use the added grate then you still get about 700 square inches of cooking space. It's enough for a large family, and that is being extremely generous with your portions.
Pros
Much more stable heat than a lot of the competing models.
Inbuilt WiFi as standard, connect to your phone or tablet and control remotely, with no extra cost for the privilege like many competing grills.
Huge hopper can facilitate multiple cooks with no need to replace the pellets.
Cons
No interior light, something that featured in the Recteq 700 (its preceding model).
Uses glue and bolts for connections rather than welding.
Final Verdict
The Recteq 1250 is most easily compared to the Maverick 1250 from Pitts and Spitts, and while the build quality on the Pitts and Spitts model is slightly higher, there is a significant saving if you invest in the Recteq. On top of that, you also get the awesome WiFi features as standard, without paying extra.
The main word that springs to mind? Convenience. The Recteq 1250 gives that extra level of temperature control for both quick and slow cooking. It's also very reliable and easy to experiment with different techniques and pellets. Let your imagination run away with you, knowing it is pretty hard to screw things up with the Recteq 1250.
Sale
Recteq RT-1250 Pellet Grill
LARGE PELLET SMOKER GRILL: This pellet grill boasts 1250 sq. in. of cook space and includes the…
COOK LOW AND SLOW FOR HOURS: The RT-1250 has a 40lb hopper, providing up to 40 hours of…
WIDE TEMPERATURE RANGE & CONSISTENT IGNITION: Enjoy cooking low and slow or high and fast, with…
Last update on 2023-12-02 / Affiliate links / Images from Amazon Product Advertising API