Char-Griller's gravity-fed 980 charcoal smoker aims to bring charcoal cooking to the 21st century with digital temperature control and Wi-Fi integration.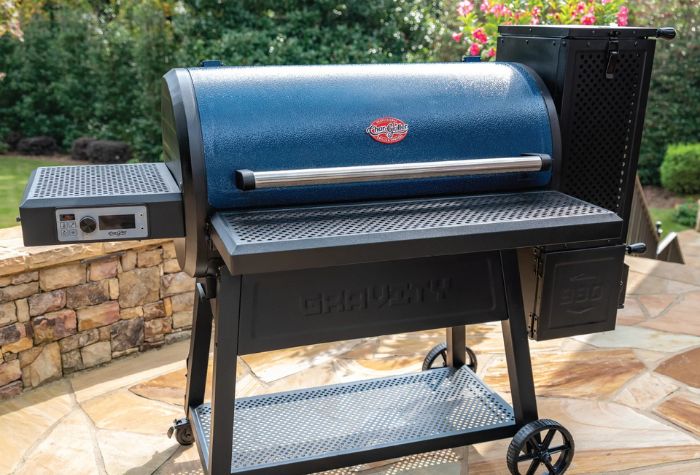 There's no denying that pellet grills have started to influence other kinds of grilling equipment. This is evident in the Char-Griller Gravity Fed 980 charcoal grill.
The idea is similar, with digital control over a grill that includes a gravity-fed fuel source. In this case, charcoal. But does it deliver the "unmatched flavor" that the manufacturer promises?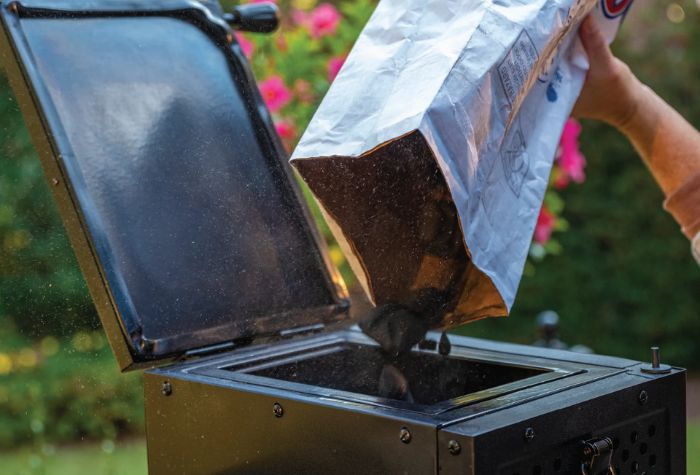 Quick Review
The Char-Griller 980 doesn't quite have the level of reliability we'd hope for, though it can be a good option for adding control compared to analog grills without digital temperature control. The gravity-fed fuel source is good for setting and forgetting, but a few aspects of the grill let it down, including an app that is less than reliable.
★★★☆☆
Features Summary
Lots of cooking space, with 980 square inches in total, including the secondary shelf
Comes with a meat probe to check your food
Easy dump ash pan makes it easier to get rid of the ash after cooking
Generous gravity-fed hopper that can hold 16 lbs of charcoal
LCD controller and control panel
Ignition
Ignition is not as easy as some of the other grills on the market. Some pellet grills don't even need you to add any sort of fire starter. This isn't the case with the Char-Griller 980, you need to put a food-safe starter into a specific slot at the bottom of the grate, and light it. Then you leave it for a few minutes.
Eventually when you can see the charcoal is lit you can close the hopper lid and the ash door to close up the hopper. Then, it's time to turn on the control panel. The control panel lets you set the temperature you want, and the grill then cleverly pulls air in as needed to reach the desired temperature.
The steps for using the control panel are:
Push the power button for 1 second to activate the panel
Set the temperature you want to cook at by rotating the dial, push the dial in when you select the temperature
Let the grill do the rest!
Temperature Range
The Gravity 980 grill has the capacity to cook at 200°F which is pretty good for low and slow, though doesn't give the same low range as some pellet grills. It reaches an impressive 600°F for those looking to grill and sear and need plenty of heat to get started.
Build Quality
Build quality is one of the areas that we have to say lets this grill down a little bit. It's not terrible, but many users have reported running into problems with the flap on the fan specifically, which seems to get burned and even melt for a lot of people.
Some people's fan issues have also led to an "ERF code" on the display which means that sensors are detecting an open door, even when it is closed, and it won't let you grill. This is very frustrating, as you can imagine.
Some of the components seem a little cheap and this isn't the kind of grill you're likely to get 20 years of use out of. It's not super expensive though, so there is always a trade off to consider.
There is also only a one-year warranty, so you don't get the most protection if something goes wrong.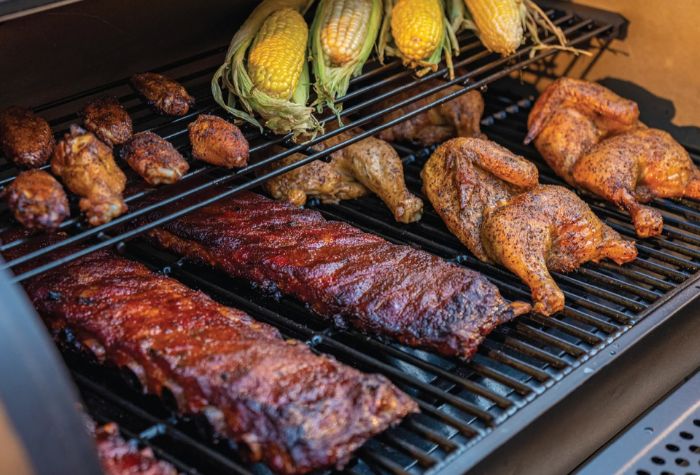 Cooking Performance
Let's explore how the Char-Griller 980 performs for the different types of grilling and cooking.
Smoking
Smoking is one of the big plus points of this grill, especially if you like to use charcoal to smoke. The gravity-fed hopper means you don't have to keep adding fuel and dealing with the difficulties this can provide such as keeping your temperature steady. The digital temperature control may not be perfect but it does keep the grill at a level that allows you to smoke, especially with the more forgiving cuts of meat.
You can add some wood chips in the grill if you want to impart some of that woody flavor, but there is no obvious place to do so.
Grilling
This is a good option for grilling, as it can reach high temperatures relatively quickly, so you can sear and grill with ease, and usually avoid the unstable temperatures that cause burning. There have been some instances where we find the charcoal does get carried away, so to speak. Just because the air level coming into the grill is being controlled, it doesn't mean it is perfect, and you may still need to keep an eye on it when cooking at high temperatures.
Cooking Space
The cooking space is great for most families, with enough room for roughly seven shoulders or six briskets of beef. Whether you are slow cooking meat or quickly cooking some steaks, burgers, or vegetables, you've got the space to cook for a large family with the Char-Griller 980.
Pros
Good for smoking and cooking "low and slow" cuts like briskets, pork butt, etc.
Reaches high temperatures which is great for searing
Gravity hopper means you don't have to keep adding fuel and trying to control the temperature
Cons
The app that this links to for supposed controlling remotely is really clunky and unreliable
Some of the parts are cheap and plenty of users have had to replace parts within a few months of use
Regular error codes on the display and some even prevent use
Final Verdict
The Char-Griller 980 may be a good option for those looking for a relatively low-budget option that has the benefit of gravity control on the grill. The main benefit is slowly smoking without having to tend to the fuel supply at all, thanks to the clever hopper and air-controlling technology.
However, proceed with caution. A lot of the hiccups with the grill are very frustrating, especially if you don't know how to repair them yourself. This is not the most reliable grill we've had the pleasure of using.