Best combo grills for your backyard cooking. Features including propane gas burners and charcoal pits, electric ignition, and generous cooking space, all within one unit. Find your new favorite grill today.
Gas charcoal combo grills have emerged as game-changers in the world of barbecue, offering the best of both gas and charcoal grilling in just one backyard cooker. These versatile grills combine the easy temperature control of gas grills with the smoky, rich flavor of charcoal-charred food, making them the perfect choice for grill fans who want the best of both worlds.
These 2-in-1 grills feature robust construction, solid heat distribution, and generous cooking space. But with such a versatile unit, there are a lot of options to weigh up. From grills with multiple burners and adjustable heat controls to models with bonus features like side burners or smoker boxes, choosing the right combo grill can seem daunting for any barbecue enthusiast.
We're here to help. Discover the joy of dual fuel grilling with our guide to the best gas charcoal combo grills available today.
Smoke Hollow 4-in-1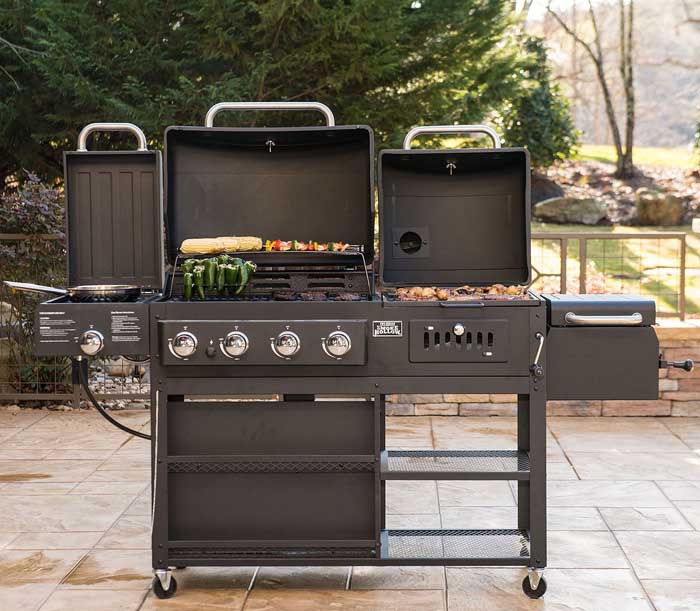 Usually combo grills are listed as a combination between a charcoal and a gas grill. Not so with the Smoke Hollow. This unit is listed as a combination of an incredible FOUR types of BBQ: Propane, Charcoal, Smoker, and Infrared Searing Burner.
This fantastic grill offers a massive 860 square inches of cooking space. Across this large space is 30,000 BTUs of power.
The infrared burner is a great addition. While gas grills often have side burners, the one provided here is ceramic, which you often see with high-end infrared grill models. Ceramic is a great material for efficient heat distribution, which means you can heat food properly with less energy or heat leakage.
It also packs in cast iron grates across both its charcoal and propane grill elements, which ensures durability. It also features temperature gauges (although personally I recommend getting your own thermometer or meat probe for accurate temperature reading).
At 168 pounds, it's a heavy unit, but it's easy to move around. Besides, when it comes to outdoor grills, I like to bit of heft.
Just like any good smoker, it also has top and bottom dampers so that you can start properly experimenting with BBQ smoking techniques.
Check out my guide on how to regulate smoker temperatures for a full guide on how to get the very most out of these vents.
Char-Griller Duo Model 5050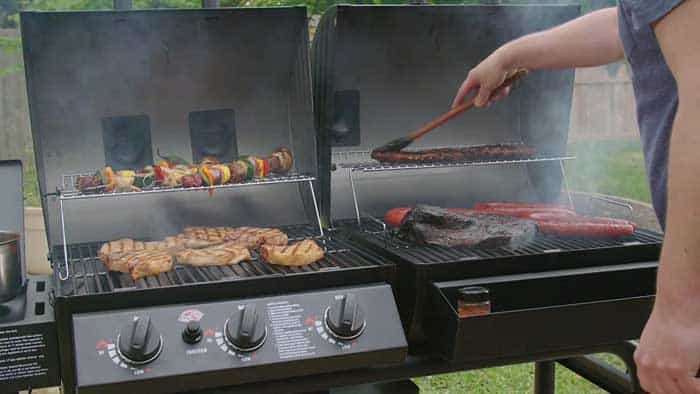 The Char-Griller Duo is a streamlined model that does away with infrared burners and smoking components. Instead, the grill boasts a propane and gas unit that is seriously impressive.
First things first: This is one heck of a big grill. This size makes it extremely versatile, allowing you to use each of its features separately without any crossover.
It has a mightily impressive 1260 square inches of cooking space between its charcoal and propane areas. Across these 1260 square inches it has an amazing 40,800 BTUs of power. Not only this, but it also has a side burner that packs in 12,000 BTUs of additional power.
It's big and it's powerful.
It's great for large families or even for those of us who like to show off a bit with our home equipment.
Just like other models it has cast iron grates, which help ensure durability and also makes it easy to clean.
Char-Broil Gas2Coal 3-Burner Gas and Charcoal Grill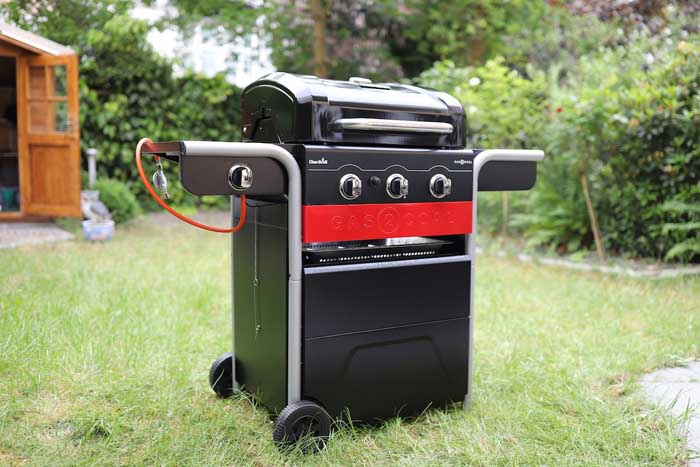 This combo grill from Char Broil sits at the smaller end of the scale, offering 540 square inches of cooking space. It streamlines its charcoal and gas capabilities into just one grill, which is why it's far smaller than size than other types of combo grill.
This doesn't mean poor performance, as the Char Broil offers fantastic gas and charcoal grilling. Its BTU power for its propane element sits at a very impressive 40,000 across 3 burners. These sit under cast iron grates, which means that very little of this heat power is wasted, with it being spread efficiently across your grill grate surface.
The grill's charcoal element takes the form of a tray which you then fit under the grill's grates. You simply fill this tray with your coals, and then place it back into the grill. It hardly takes a minute and couldn't be simpler. When you're not using it, the tray then just fits into a compartment on the side of the grill.
It then also has a side burner, which alone offers about 12,000 of BTUs. I like that this is separate to the charcoal and gas element, so if you want to do some low and slow cooking over charcoal, followed by a quick sear over the side burner then Char Broil have made this very easy for you.
Dyna-Glo DGB730SNB-D Dual Fuel Grill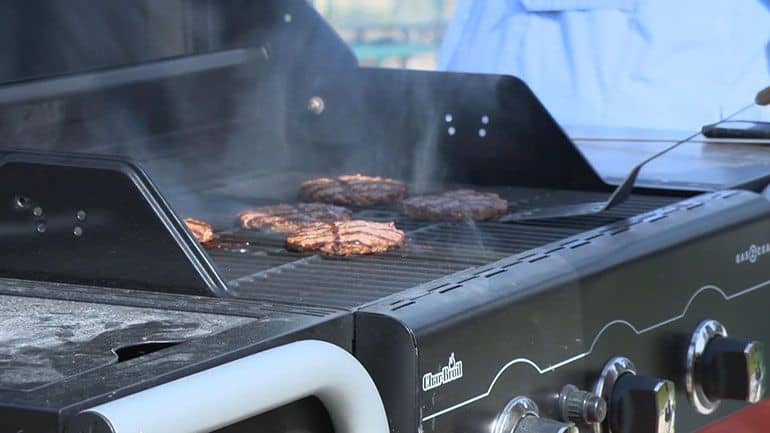 Despite its relatively low price, it still boasts commercial-grade burners and a huge 940 square inches of cooking grate area. It has cast iron grates for longevity and durability, and large shelves and food preparation areas.
On the downside, it only has 24,000 BTUs of power, which doesn't compare well to the other combo grills on this list. For a grill of this size in particular, it means that the overall heat distributed heat impact across the grill will be quite low.
Char-Broil Gas and Charcoal Combo Grill Deluxe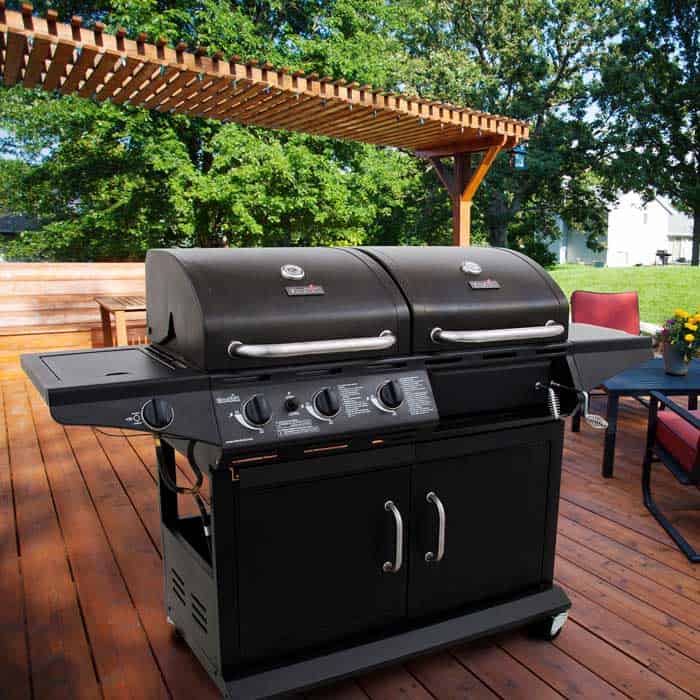 This is one of the smallest grills on the list, with a cooking area size of only 505 square inches. However what I would add here is that compared to a lot of other types of grill, this is still adequate size to work with.
This small size also has its own advantages. Obviously maintenance is one, but also it makes it extremely fast to cook on as the heat is more concentrated.
It has three burners that combine to create 36,000 BTUs of power.
Just like all the other grills on this list, it has cast iron grates that help ensure durability and also good heat distribution across the cooking grate area.
On its charcoal element, it's naturally slower (as is the case with all charcoal grills when compared to propane), but it does heat up just as quickly as the other charcoal elements on this list.
What I would add though is that, when compared to its propane element, the charcoal grill here just feels… a bit… cheap. It's an odd quality imbalance here, as you would assume that the gas grill would be more demanding to design and assemble, but for some reason it's the charcoal grill that lets this model down. However, if you're mostly after a gas grill but with the option of charcoal grilling, then this is a great option to have.
Its charcoal grill has an ash catcher, which is a great addition to have. Far too few charcoal grills have these, when I consider them as necessary as the grates themselves.
Smoke Hollow 4-in-1 PS9900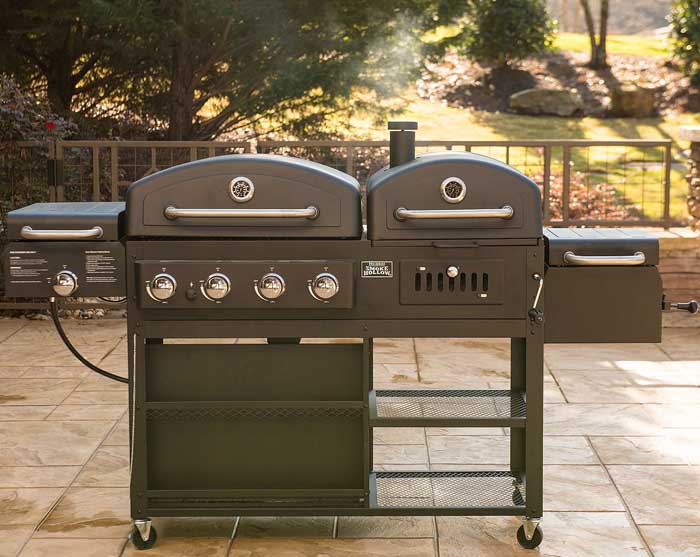 I mean, where do we start here? This thing is an animal of a grill.
It has a whopping 860 square inches of cooking space, which is incredible compared to almost any other grill or smoker we've seen.
Across this cooking area it has a 3-burner gas grill, an offset smoker, a charcoal grill, and a side burner for searing. Between these three, it has all aspects of BBQ cooking all taken care of.
It has two separate temperature gauges, so you can be across different cooking activities all at once.
It has beautiful porcelain enamel coated iron grates, which make it extremely good at maintaining even cooking temperatures across its surface. Not only this, but that makes it very easy to clean.
This does all come at a price though, which makes one of the most expensive items in this list. However, it is worth every penny.
Oklahoma Joe's Charcoal/Gas Combo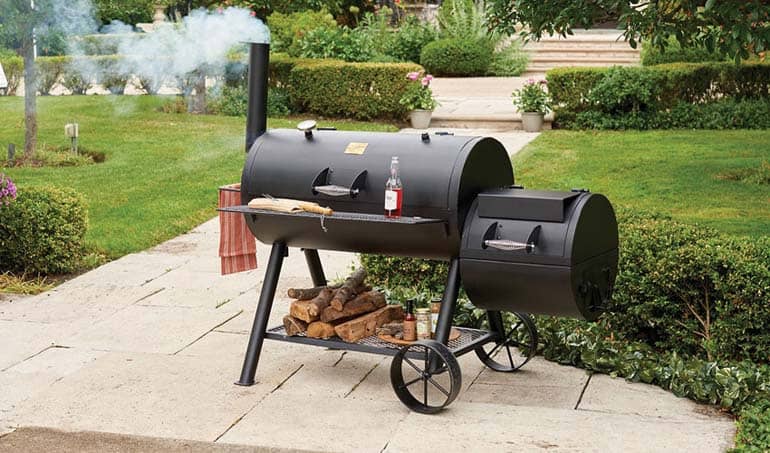 The Oklahoma Joe series has stood strong for years, and with a range this powerful it's not hard to see why.
The Oklahoma Joe Combo is one of the highlights of the series, and manages to combine the best of smoking and grilling in one beautiful unit.
This is a beast, and boasts separate chambers for charcoal smoking and gas grilling, as well as a propane side burner and offset firebox.
Other features are its instant electronic ignition, easy firebox access, porcelain-coated cast-iron grills, and an airflow regulator.
To find out more check out our Oklahoma Joe review.
Weber Performer Deluxe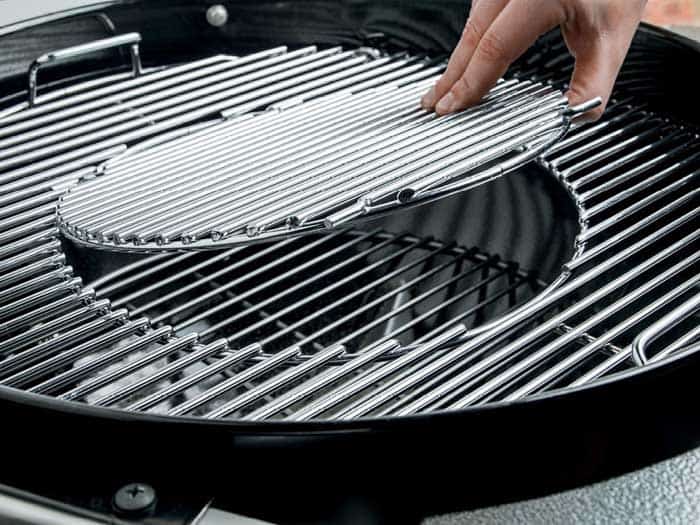 No grill list would be complete without Weber, and this mid-range option from the brand doesn't disappoint.
The amount of features it offers considering its mid-range price is remarkable, making it one of the best budget combo grills out there today.
It boasts huge cooking space over an elite-level porcelain cooking grate, and pairs this with digital controls and propane ignition. This makes it powerful, high-quality, and easy to use.
See our full Weber Performer Deluxe review
Backyard Grill 3-Burner Gas/Charcoal Hybrid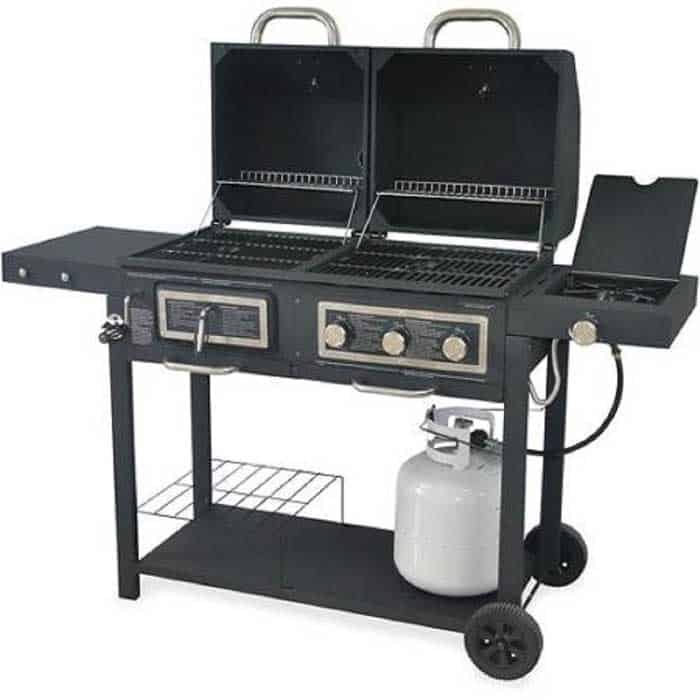 Despite being a budget-friendly combo grill, the Backyard still offers an impressive 36,000 total BTUs.
It doesn't shy away from providing good cooking surface either. Between its two main cooking surface, it offers a total of 557 square inches of grill area for you to make use of.
Be warned: The gas component of the grill can't be hooked up to natural gas, so you will need to stock up on propane.
Char-Griller Dual 2 Burner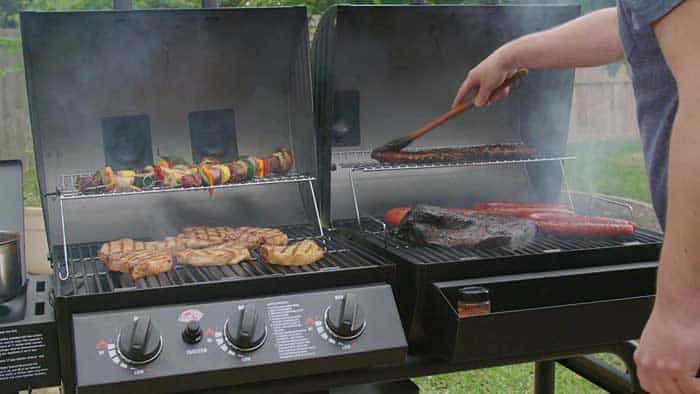 Strictly speaking, this is a gas and charcoal combined grill, but it has the type of chamber that makes it perfect for barbecue smoking too.
Incredibly it has 1260 square inches of room across its cooking surfaces, and its 3-burner gas grill component has 40,800 BTUs.
This is a beast.
It's not just about power though, this is a brilliantly efficient grill too. It features porcelain enamel grates, which help distribute heat evenly.
It has an electronic ignition feature, making it easy to get this thing up and running in mere seconds
On the charcoal smoker side, it has 580 square inches of space, as well as a warming rack and ash bucket for easy ash removal.
Not only that, but its durable insulated, making its heat retention outstanding.
Royal Gourmet ZH3002-S 3-Burner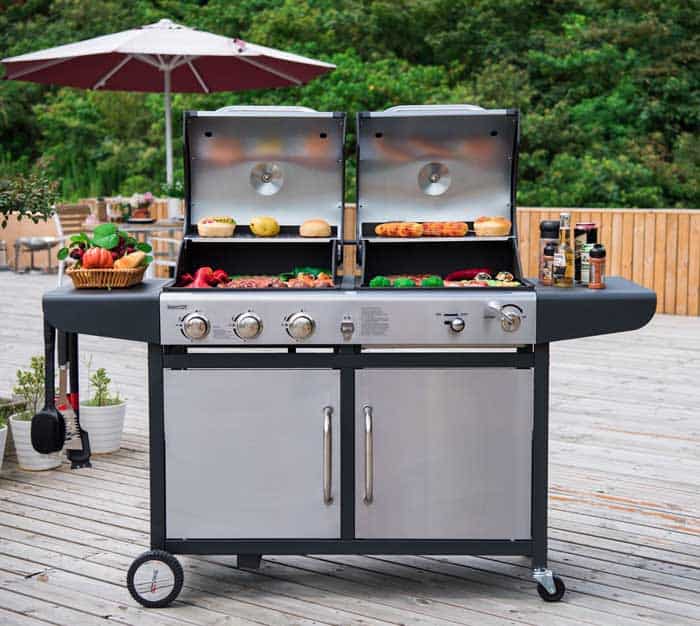 Royal Gourmet has a history of producing attractive grills, and this 3-burner combo is no different.
It's fired by 27,000 BTUs of power over 810 square inches of total cooking space, and has a charcoal component to match.
The Royal Gourmet's charcoal firebox is impressive. It features dual air vents to maintain good grilling heat, making it easy to operate as a smoker as well.
It's a grill that does dominate space, but with its high heat output it's a truly impressive unit.
---
Why Buy a Propane-Charcoal Grill Combo?
The manufacturing costs for these types of grills are quite high, which means that these are a bit more expensive to purchase than single purpose grills.
You won't have to compromise at all in favor of getting gas over charcoal or vice versa. These grills are just how they sound: The convenience of gas lighting, with the authentic tastes and aromas that charcoal gives you.
Furthermore, having both doesn't interfere with your cooking space. The best gas-charcoal hybrids offer you the very best of both worlds.
Where some people invest in one charcoal grill as well as a corresponding gas model, combo grills reduce the waste of cost and space that this brings and streamline everything into one.
Save Space
Cooking and grilling appliances are fun, but they quickly pile up and dominate your kitchen and patio area. The mess this creates is not only impractical, but can also lead to unnecessary stress.
Streamlining your appliances from two grill to one simply by investing in a hybrid is a great way to stay organized, time-efficient, and clear-headed.
Combo grills are a fantastic way to keep everything contained into one modern appliance, and is far more than just a quick gimmick.
You Can Grill More Food
Instead of spreading yourself thin over two appliances, you and dedicate your time and energy on just one.
Combo grills tend to be generously sized, with some on the list above offering two separate cooking spaces to cook over. This allows you to be extremely time-efficient, cooking larger batches of food at once.
Cost-Efficient
While I'm undoubtedly a grill and smoker nut, small investments quickly add up and it's easy to have amassed needless costs between different grills.
Hybrids help to cut through that with just one upfront cost. The initial outlay may be more than that of a charcoal grill, but the saving will be seen once you start to add gas grills to the mix too.
On average I'd expect you to save about 30% when investing in one simple gas-charcoal combo grill.
What to Look Out For
If this is your first foray into the gas-charcoal hybrid world, it can be a bit daunting trying to cut through the noise and find exactly what you need.
Here's my guide to what to look out for when finding the best one for you.
Does It Make Use of Other Fuel Sources?
Gas and charcoal is the number one priority here, but some models also add wood pellets as an added third fuel source.
Wood pellet smokers and grills have grown in popularity over the past few years due to their 'cleaner' burning, and significant fuel savings in comparison to charcoal.
Personally, I tend to steer clear of these. While having everything streamlined into one unit is convenient, and they undoubtedly provide excellent versatility, there comes a point where the cooking quality of each facet of the grill begins to suffer once you add fuel source upon fuel source.
Potential Food Yield
The majority of dual-purpose grill combos are built with generous food yield in mind. Most are able to churn out enough food for up to ten people in one go.
For some people this is plenty, and for some this isn't enough. Take a look at each grill's cooking grate size (usually expressed in square inches) and consider if this will be enough.
As a rule, 400 square inches should be enough to cook about 12-16 burger patties in one go.
Construction Build
High performance is one thing, but if the thing falls apart after only a handful of uses then the grill clearly up to the job.
There are three two things I look out for with modern day grills:
Porcelain enamel cast iron cooking grates: The cast iron component here ensures excellent durability for your grates (source), with them likely to be exposed to very high temperatures repeatedly. The porcelain enamel helps provide even heat distribution across the grill surface, helping to prevent dreaded cold spots of flare-ups.
Infrared burners: These burners are built to spread heat evenly beneath the actual cooking grates (source). They're a relatively new innovation in the grilling world, but are quickly become standard across all modern grills with a gas component.
Infrared burners aren't always offered in conjunction with porcelain enamel grates, but if your grill has either of them then you're onto a winner.
Power Output
Gas grill power is expressed in BTUs (British Thermal Units) and is usually calculated as a total of the BTUs across all the grill's burners (source).
In broad terms the higher the BTU number, the more powerful the grill.
There are some caveats here, particularly if the grill has more burners. For example, if a grill has an average BTU number but a high number of burners, then this actually means that the grill is quite weak ​per burner​.
Also, if a grill is poor and retaining heat then any added power is effectively useless.
As a rule, I would always go for a lower BTU if the unit is excellent and maintaining consistent heat levels with very little temperature fluctuation.
Air Vents or Dampers
While the temperatures in the gas unit can be fairly easily controlled, charcoal can often be a whole different animal.
Key to good charcoal grill is air dampers or vents. Most charcoal grill chambers have two, with one (the intake damper) located towards the bottom of the chamber, and the other (the exhaust damper) located near the top. These help maintain good airflow through the grill, feeding your coals with a good air flow and helping to maintain good temperature levels.
Learn how to use charcoal grill vents in my guide
Frustratingly, not all hybrids have dampers and will instead have a different airflow system. I have yet to find a setup for charcoal grilling that works as well as dampers, so I recommend only getting a model that has these in place.
Easy Access to Charcoal
Unlike gas, charcoal needs replacing as you cook. As a result, it's important that you have quick and easy access to your charcoal so you can empty and replace it.
If you don't have access to this your grill could burn out, or you could be forced to replace it unsafely.
Easy access to coals tends to be standard in simple charcoal grills, but this isn't always the case with combo grills. Having a lot of different components can compromise some features, and this is often charcoal tray or bin.
The ideal grill will offer quick simple access through a charcoal tray.
---
FAQ
Can You Put Charcoal in a Gas Grill?
No, you can't use charcoal fuel in a standard gas or propane grill. Gas grills are not designed to take on other fuels besides propane gas.
You can use charcoal in a combo grill, but only in the charcoal component of that grill.
What's a Good BTU for Gas Grills?
A good number is between 75 and 100 BTUs per square inch of cooking space. This will ensure that your grill can heat up quickly, while also maintaining good cooking power.
If you have an infrared grill, you can allow a slightly lower BTU level. This is because infrared burners are more energy efficient and can distribute cooking heat well.