Need something low cost and portable without compromising on cook quality? Here are 5 of the best flat top grills to get you going on less.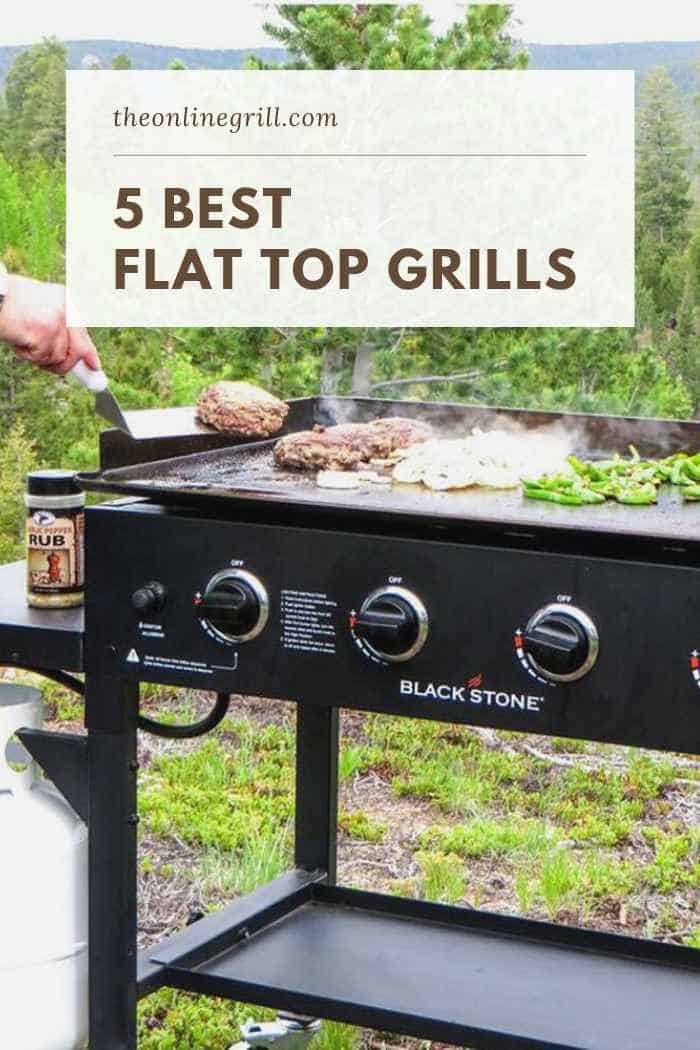 Long popular with camping and tailgating fans, flat top grills are a great way to bring the fun of high-heat cooking with you on the go. They're perfect for cooking for a crowd thanks to their large cooking area, and are able to replicate almost any style of cooking.
Available in various sizes and with a plethora of features, there's a perfect flat top grill for every outdoor chef. From auto-ignition systems to multiple burners, the choices are vast.
Find the right portable cooker for you with our breakdown of the best flat top grills out there today.
Camp Chef Flat Top Grill 600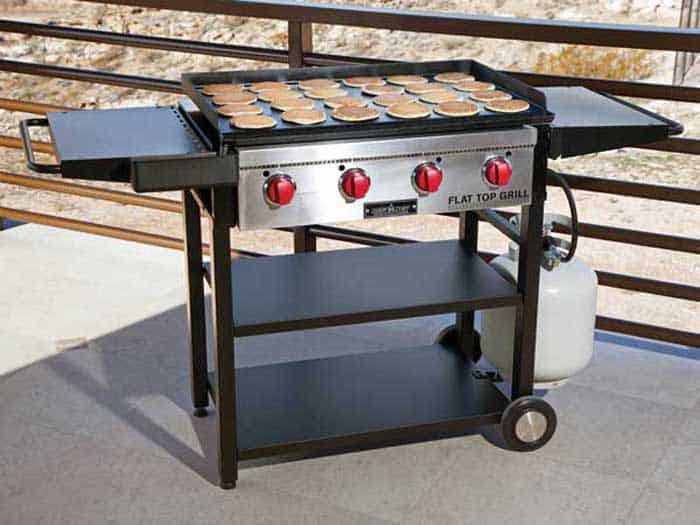 Are you looking for a versatile flat top grill? Want a grill option suitable for a variety of cooking techniques?
If yes, the option on top of our list of will surely fulfill all your requirements. With the griddle surface of 604 in² and grill surface of 501 in², the amount of cooking space which it provides is virtually unparalleled.
You can either use it as a griddle or a grill depending on the cooking technique you want to use and the area you need.
A feature which eases up its use is the auto-ignition. You will not have to struggle with starting it or heating it. Additionally, it consists of 4 burners offering 12,000 Btu of heat. With independent control knobs, you can control the heat setting with ease.
The burners use stainless steel which means that you will not have to worry about durability or wear and tear.
A feature which adds even more convenience to this grill is the fact that it comes with two large side shelves. When you do not require them, you can fold them, which make it more compact.
Do you want to move it around? No problem. It has two wheels on its side which help you in moving it around with ease. It comes along with the weather-resistant cover, which ensures that when not in use, you can cover it and store it in a small space.
Along with it, you also get the interchangeable flat top grill. It means that you can use it for cooking a wide variety of delicacies with ease.
What more can a flat top grill offer?
The whole host of features makes it one of the best options available.
Camp Chef Portable Flat Top Grill, True Seasoned...
Includes huge, cold-rolled steel flat top griddle, True Seasoned Surface, non-stick & ready to...
Four 12,000 BTU/hr. stainless steel burners, Matchless ignition system
Grease management system for easy clean up
Blackstone 28-inch Outdoor Flat-Top Gas Grill Griddle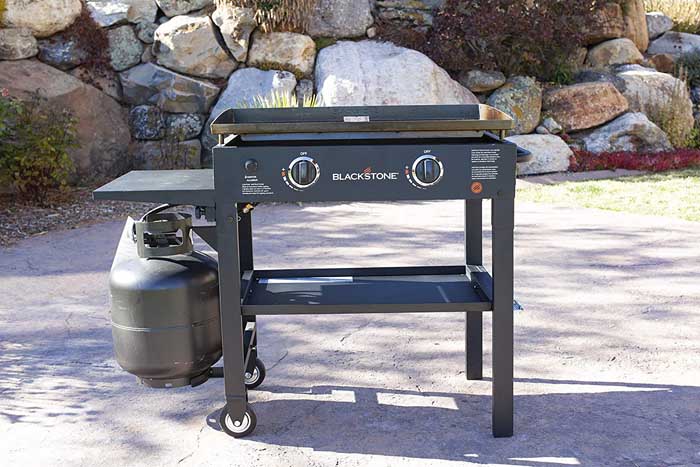 The USP of this Blackstone grill is its versatility. You can use it for cooking meals and a variety of delicacies like grilled cheese, potatoes, steak, pancakes, eggs and more.
The cooking area of 470 in² means that there will be no shortage of cooking space to cook your favorite delicacies. With the help of a bottom shelf, storing the utensils and the condiments is a cinch.
Additionally, it consists of 2 side shelves as well, which can help you prepare the ingredients and the delicacies.
With pushbutton ignition and propane-powered mechanism, using it is quite easy. You will not have to deal with kerosene, charcoal, or a lighter.
Are you worried about moving it around?
Well, there is nothing to worry when it comes to portability. It has two wheels on one side which means that you can move it in your backyard with ease.
The legs are foldable as well, which ensures that if you want to store it, you can do so as well.
The powder-coated steel frame ensures that it can stand the test of time. The stainless steel burners on offer increase the durability. With cold-rolled steel cooktop, wear and tear will never be a problem either. The two burners cumulatively offer 30,000 Btu and allow you to control them with the knobs independently. That is why; controlling the heat is quite easy.
With the help of 20 lbs propane tank, you need not replenish the fuel again and again. These features and the versatility of grill make it a worthy contender.
Blackstone Flat Top Gas Grill Griddle 2 Burner...
RESTAURANT STYLE COOKING - With 470sq inches of flat top grilling, This griddle is perfect for...
REPLACE YOUR STANDARD GRILL - Replace your grill or BBQ with a Blackstone griddle and never...
TRANSPORT WITH EASE - Easily wheel Around your yard or transport from your backyard to the...
Cuisinart CGG-306 Professional Tabletop Gas Grill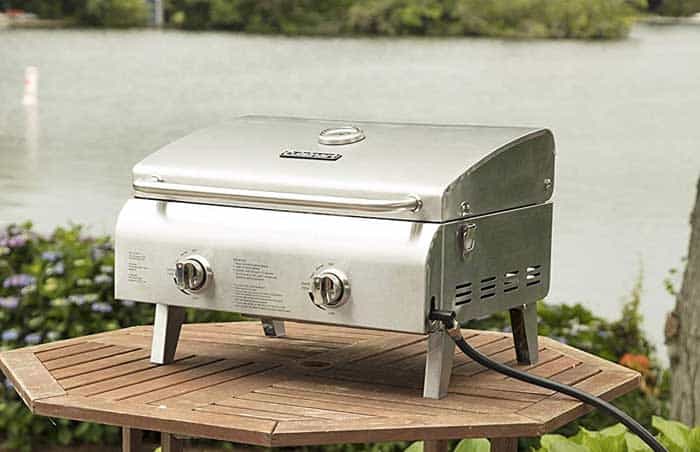 Looking for a more compact option?
The Cuisinart CGG-306 tabletop gas grill is the right choice then. In spite of the small size, it offers a cooking space of 276.75 in². The cooking space is well heated using two stainless steel burners. Cumulatively, both the burners can provide 20,000 Btu of heat.
With electric ignition and a knob for each burner, you cannot go wrong with this one. The stainless steel grill can help you cook the food evenly. The two burners system ensures that there is proper heat distribution across the entire cooking area.
The USP of this grill is its portability and lightweight. With the weight of 22 lbs, you can move it around with ease. It comes with the locking cover and folding legs. There is a handle on one side to help you carry it like a briefcase. It means that you can store it in the trunk of your car and move it around with ease.
A built-in thermometer ensures that you can monitor the temperature with ease. In spite of the small size, it can heat up to 700F, which means that you can cook large chunks of meat quickly. It works very well for various cooking techniques like roasting, searing, baking, and warming.
The fact that it is has compact size but offers all the features of a full-fledged flat top grill makes it an ideal choice.
Camp Chef Flat Top Grill
The nonstick cooking surface of this grill makes it convenient to use. Apart from this feature, it also incorporates three burners which can offer 12,000 Btu each. That is why; getting proper heat is not a problem.
With the help of electric ignition, you will not have to search for the matchbox. You can control the heat with the help of 3 different modes. On the side, there are two shelves which make it easy for you to prep your favorite delicacies before putting them onto the grill.
With a proper grease management mechanism, you can be sure that cleaning this flat top grill after use is not a problem either. It incorporates two shelves at the bottom as well, which means that there will be no shortage of space.
When it comes to portability, it consists of two casters on one side and adjustable leg levelers on the other side. That is why not only you can move it around with ease, but also you can stabilize it on any surface. It means that using it on the patio or in your backyard or the lawn is possible and easy.
The cooking space of 468 in² ensures that you can cook simultaneously for the entire family. Also, with the help of propane tank holder on the site, it is easier than ever to attach the tank and start cooking. The assembling required is easy to accomplish, and the guide can help you with the same.
So, if you're searching for the best flat top grills, this one with the large cooking area and the high portability is an excellent option.
Blackstone 1554 36-Inch Outdoor Propane Gas Griddle
Are you looking for a larger cooking area? Want to buy a flat top grill for parties and get-togethers?
If yes, this one with a cooking surface of 720 in² is the best option for you. It consists of 4 independent burners which mean that controlling the heat is not a problem at all.
Each burner can provide up to 15,000 Btu of heat. It implies that cumulatively, you can generate up to 60,000 Btu of heat. Also, you will not struggle with turning on the burners.
The grill offers pushbutton ignition mechanism, which means that you can generate the heat within seconds. This feature is highly useful, especially when you're looking to cook food in bulk.
When cooking a significant quantity of food, of course, you will need storage space and preparation area. The flat top grill which we are discussing now caters to both these requirements. It consists of 2 side shelves which mean that prepping the ingredients is not a problem. Below the cooking surface, there is a shelf as well, which will allow you to store the utensils and condiments.
You might be thinking what about the cleaning mechanism?
It offers you an efficient cleaning mechanism as well. Once it cools down, you can wipe the Blackstone griddle clean. When it comes to the grease, there is a grease can which comes along with a handle. That is why, instead of cleaning the entire grill, you need to empty the grease can, and you're good to go.
The design of the flat top grill is such that it is highly portable. It consists of 4 wheels at the bottom, two of which are lockable. That is why; keeping it in place is not an issue at all.
The stainless steel finish makes the grill aesthetically pleasing. Additionally, the sturdy construction ensures that you can use it on the balcony or patio. While it requires some assembling, but since it comes along with the detailed instructions, assembling is not a problem at all.
If you're looking for a large cooking area, this is undoubtedly one of the best flat top grills which you can consider buying.
Sale
Blackstone 36 Inch Gas Griddle Cooking Station 4...
INNOVATIVE REAR GREASE MANAGEMENT SYSTEM: If you plan on cooking bacon or any other juicy meat,...
Replace your standard grill - replace your grill or BBQ with a Blackstone griddle and never...
Restaurant style cooking - with 720sq inches of flat top grilling, This griddle is perfect for...
---
Important features
Grills will differ from one manufacturer to the other. They also differ according to purpose and size. All the same, there are certain features that you will need to look out for that will make your grilling experience that much more enjoyable on a flat grill. Let's take a look at some of those features.
Cooking area
One of the reasons why the flat top grill is popular is because it is built to resemble a griddle, but it is wired differently. Instead of the heating element stretching across, it moves in a circular direction. As such, it evenly heats the entire cooking area. The heat radiates circularly, and this reaches all corners of the cooking area. As such, you can utilize every square inch.
Also, a flat top grill is made of heavier steel than what you would typically find on a griddle. The different sizes will allow you to cater to various sizes of gatherings. For instance, a 600 square inch grill can feed 50 to 100 people every hour. However, if you are looking to cook for a small family, then a grill of 400 square inches or less will be enough.
Because the cooking area is flat, you can use it for cooking just about anything, including dishes that are batter-like such as pancakes. There aren't any grates for the batter to seep through. And since the heat is dispersed evenly, you can fit more food on it. It is versatile and convenient, as well as easy to clean.
Is it pre-seasoned?
In most cases, flat grills will not come pre-seasoned. However, it is an important step. It is what assists you in cooking food and not having it stick to the cooking surface. It also helps infuse more flavor in the food that you will be making. If it is pre-seasoned, it means that the manufacturer has already put a layer of oil.
If a flat grill may come pre-seasoned with cooking oil, this is done solely to avoid rust on the cooking surface. When you unpack the grill, you will need to make sure that you wash the grill properly and remove chemicals on the grill from the manufacturing process. It is essential to know whether or not it is pre-seasoned to know what the next step for you should be.
You can then season it yourself to get the right flavors as and when you cook and avoid your food from sticking to the cooking surface. Remember that, just like with a cast iron pot, a flat grill gets better with time. The more you cook with it, the more the surface is seasoned.
Power
Flat top grills can be powered by electricity or gas. When it comes to gas, it can either be natural gas or propane. Generally, gas grills are cheaper than electric grills. However, it also depends on the manufacturer. Gas is often favored because it heats up much faster than electric grills. The burners are placed directly under the cooking top.
How to season a new flat top grill
Seasoning a flat top grill is pretty simple and also beneficial. The way you season it depends whether it is the first time or not.
Wipe down the surface of your flat top with a damp cloth
Switch the grill on and leave it on high for about 15 minutes
Then dip paper towels in cooking oil, and use tongs to clasp them as you wipe across the surface. The point is to cover the entire cooking surface with a coat of cooking oil.
Allow the oil to "cook."
When it seems like it has all disappeared, repeat the process about three times.
Once this is done, you can begin cooking. The cooking surface should be sufficiently seasoned. This process is for a brand new, never been used grill. As you cook, the juices from the food will continue to coat the surface, and as such, you may find the flavor of the same meal will mature the more you use it.
Grill vs. griddle: What's the difference?
One of the main differences between a regular grill (not a flat top) and a skillet is that griddles are flat, while grills usually have grates. A grill is made of raised edges, while a griddle is a flat cooking surface similar to a pan. The ridges allow juices from the food to seep down on a grill, giving a more smoky flavor.
The griddle's flat surface will allow you to cook more delicate foods such as an omelet, a pancake, or food that needs a flat surface. Also, grills are usually operated at much higher temperatures than griddles. A griddle will produce food that looks like it has been baked or slow-roasted, while a grill will give you food that is cooked at a much higher temperature and may have grill marks. To sum it up, here are the main differences:
Flat tops griddles
Can make pancakes or other delicate foods
Cooks on low temperatures
Bakes and roasts
Do not give a smoky flavor
Grills
Can not make delicate foods like pancakes
Cooks at high temperatures
Scorches
Gives a smoky flavor
What's the best oil for a flat top grill?
Cooking oil is a great way to season your flat top grill. But not all oils are created equal. The best oil needs to have a high smoke point.
You can use vegetable oil, canola oil, avocado oil, coconut oil, or olive oil. You will need an oil that has a high smoke point because grilling requires high temperatures. You also want to make sure that it has a high amount of fatty acids. They bond easier to the cooking surface.
The best oil should also match your dietary needs and add the right flavor to your food.
Last update on 2023-11-28 / Affiliate links / Images from Amazon Product Advertising API