Tailgate grilling is best when kept simple. Meat and beer are often all you need, and choosing the right grill for the occasion shouldn't be any different. Whether you want a portable charcoal grill, a propane model, or a mini smoker, our guide to the best tailgate grills has something for everyone.
Bringing the party this fall? Here are eight of the very best tailgate grill reviews to help you get the very most out of tailgating season.
Tailgating season is truly upon us, and if you want to be the center of the party then you'll need a grill that's up to the task.
Best Tailgate Grill: Weber Jumbo Joe
Proof that the classics never go out of style. A stripped-back charcoal grill that's perfect for tailgate fire cooking.
Runner-Up: Broil King Keg 5000
Premium high-quality cooker that's just as portable as it is powerful. If low and slow smoking is your game, this is the grill for you.
Best Budget Cooker: Nexgrill 2-Burner
Dependable 2-burner propane grill that delivers everything you could need from a gas cooker. Comes with rig attachments and 16,000 BTUs of cooking power.
In short, you need something powerful and portable, all without breaking the bank. I've got your back. My guide will show you everything to look out for, as well as my top recommendations.
Weber Jumbo Joe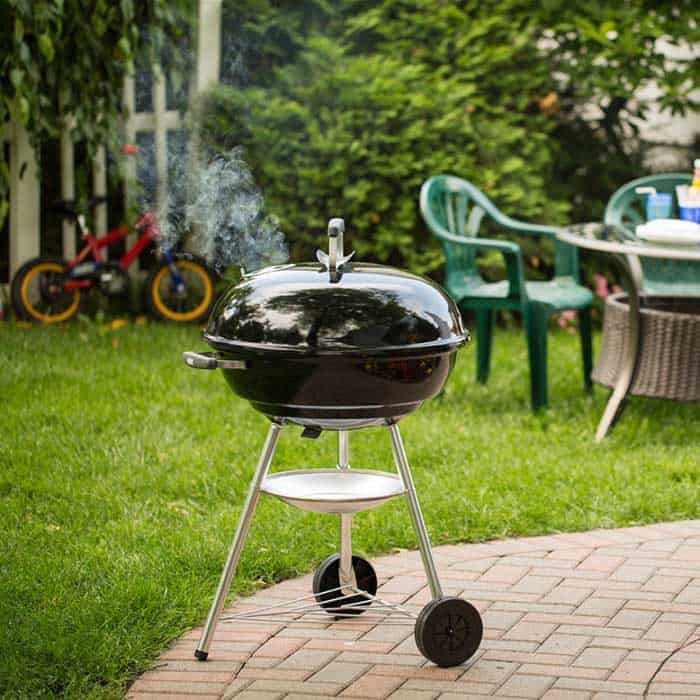 No top grill list would be complete without an entry from Weber, and no tailgate list would be complete without the Jumbo Joe.
Weber are practically synonymous with grilling, and with the Jumbo Joe it's not hard to see why. This is one of the true iconic grills.
At 18 inches in grill surface width, it's more than generously sized enough to cook for any party, but doesn't sacrifice portability or ease of use as a result.
With exactly the identical cooking grate as the full-sized charcoal grill, the Jumbo Joe is large enough to get a proper cookout, but in a mobile container.
It weighs just 22 pounds for easy maneuverability, and will easily accommodate a good crowd of people.
Check out our full Weber Jumbo Joe review.
Sale
Weber Jumbo Joe Charcoal Grill 18 Inch Black
Travel with taste, or grill up a quick meal on your patio with the Jumbo Joe portable charcoal...
Holds up to eight burgers made with a Weber burger press
Compact and lightweight for grilling on the go
Broil King Steel Keg
The Broil King Steel Keg is indeed closely modeled on the dimensions and contour of this Big Green Egg that grates and accessories are synonymous, yet this metallic variant has some genuinely impressive advanced features and layout.
Capable of hitting quite significant temperatures while remaining cool on the exterior with fantastic temperature controller, this grill is in fact an wonderful unit.
You can also mount it on your trailer hitch and choose it tailgating, something you'd have difficulty doing with comparable ceramic kamado cookers.
As a fantastic grilling grill, there are a number of tiny issues with the layout which may provide you issues.
Broil King 911470 Keg 5000 Kamado Grill, 18.5-IN...
DESIGNED FOR DURABILITY AND PERFORMANCE - the Keg features an insulated double-walled steel...
COOK MORE, USE LESS CHARCOAL - with its insulated steel design, cast iron top damper, aluminum...
QUICK & EASY CLEAN UP - a removable steel ash catcher makes it quick and easy to clean out...
Solaire Anywhere Portable Infrared
Imagine the ability of an infrared grill in a mobile. This 14,000 BTU infrared grill packs more heat than any other mobile grill and in 20 lbs you can take it virtually everywhere.
It also has a rail bracket so that you can turn it into the perfect boat grill.
155 square inches of grilling space. Uses either disposable propane containers or could be converted into a complete 20-pound tank as well as natural gas.
Solaire SOL-IR17BWR Anywhere Portable Infrared...
Real Infrared ceramic and Stainless Steel burner with electronic push-button ignition
140 Square inches of grilling area that fits six 4-inch burgers on special v-grate that...
Use made by 100-plus Year old family business
Nexgrill 2-Burner Portable Propane Grill
This grill makes it effortless to take your celebration on the street, with foldable legs which spare space in storage and transport, then unfold readily to maintain the grill secure for cooking.
After the celebration is finished, the lid locks shut so it's possible to include any clutter on the way home. This weighs only 20 lbs, so it is light enough to move it where you need it.The grids are made from stainless steel that's easy to clean and will not rust or stain, regardless of what you cook. The body of this grill can be stainless, which means you don't need to be concerned about leaving this outside for yearlong use.
It's two burners that each has its own hands, which can be great once you need to sear steaks on a single portion of this grill as you finish cooking them in a lower temperature on the opposing side.
This supplies a total of 16,000 BTUs of cooking power plus a entire cooking area of 184 square inches. It may be utilized with 20-lb. LP tanks for extended cooking sessions or you could convert it (using an adapter kit( sold individually ) to utilize 1-lb.
Sale
Weber Q-2200 Portable Grill
The Weber Q2200 portable grill is a master of style. It packs up to be less than 32 inches, yet it is seven-inch lid signifies this grill is large enough to cook a whole grain.
It utilizes conventional 14-ounce propane tanks (not included) and includes a 280 square-inch porcelain-enameled cast-iron cooking grate that is almost big enough to be known as a full sized grill.
Not only a fantastic grill to cook , it is cool looking also.
Orion Cooker
Describing exactly what The Orion Cooker is could be the toughest thing about it. Essentially, this is really a charcoal fired toaster.
The fully enclosed cooking room completely divides the fire from the meals. This doesn't necessarily mean you can't include smoke taste and it doesn't necessarily mean this isn't any better than your toaster at cooking everything out of racks of ribs (8 at a time) into entire turkeys.
This really is a good"cooker" for big dishes, tailgating and for obtaining foods cooked fast (a 20 pound turkey at 2 1/2 hours). So although maybe not a grill or a smoker, it's unquestionably a fantastic cooker.
Lodge Cast Iron Hibachi Grill
Of the heavy duty cast iron hibachi grills available on the marketplace this is most likely the very best.
Movable however heavy and capable of some truly fantastic grilling. As a hibachi you do not get a lid, indirect grilling, rotisserie or anything similar to this. What you do get is large, extreme heat which sears and grills great.
This is the ideal apartment grill, particularly for the school student who will catch it and mind anywhere with this particular unit.
Coleman Road Trip Propane Portable Grill LXE
The collapsible design of the drill makes it ideal for storage in tiny spaces, including the back of your car if you choose it to the street. When it is set up, big wheels make it easy to roll into the ideal place for grilling.
Afterward, when cooking is completed, it folds down fast and those big wheels allow you to roll it away instead of having to carrying it out.It has 285 square inches of grilling area, and you may swap the typical grilling grates to get a cast-iron griddle or chrome-plated steel stove grate, each sold separately.
With this grill, you're going to find a total of 20,000 BTUs of cooking power plus 2 burners that function independently, which means that you can cook on high heat on one side as you lightly toast buns on the opposing side. The grates are porcelain-coated cast iron to get specialist looking grill marks and effortless cleaning.
---
Know someone with a tailgating addiction? Check out our guide to the best tailgating gifts for some inspiration!
Important features
Not sure where to start? Here's our list of important features to help you narrow down your final choice.
Trailer Hitch
Tailgate grills come with accessories that make them easier to use. A trailer hitch is a way to fix a grill onto your tailgate. It allows you to have a sturdy hold on your grill. It can range between $60 and $100.
Fuel – Propane, Charcoal, or Pellets?
Different types of fuel can be used for tailgate grills. As you go out looking for a new grill, it is important to consider the type of fuel you will use. Otherwise, you may end up with a grill that is not as functional as you need it to be. The type of fuel will dictate several things.
The fuel largely determines the efficiency of a grill. It is often measured in BTUs. These are British Thermal Units. They are the measurement of heat needed to raise one pound of water to one degree Fahrenheit. This is how you get to know how much heat a particular fuel has. It is important to choose the right fuel for your grill with the right features for a tailgate grill.
The gas that you choose needs to give you a level of convenience. Gas usually falls in this category. Propane is often used for grills because it is clean and easy to use as long as you are careful enough to make sure that you carefully close the valve. It is convenient and easy to use in that once it is connected, just simply turn it on and switch the grill on. It will not take time to get the grill going when you use gas.
Also, propane is clean and will not leave marks or soot. Also, propane gas burns hot. In one hour, it can generate about 15 000BTUs. Propane gas tanks are also portable, which is one reason why it is favored by many. However, the downside is that as much as it is portable, the tanks are heavy. But you can always choose the right size for you.
The other disadvantage is that propane gas grills will not give you the same smokey flavor when you use pellets or charcoal.
Your other option for tailgate gas fuel would be to use charcoal. The advantage is that it has a smokey flavor. If that's what you are going for, it will be an advantage for you. If this is a non-factor, then you can move on. Another advantage is that coal is easy to transport. In most cases, it is considered safe because it is not as explosive as gas. Also, charcoal is a cheaper fuel to use.
The disadvantages of charcoal include being messy. Just handling it can leave your hands needing a thorough clean. Also, the grill itself is left quite dirty after you use charcoal. It also takes longer to heat up, especially when compared with the amount of time needed by a gas grill to fire up and start grilling. The other issue is that there is a possibility that you could add ash to your food produced by the coals.
Another option for fuel that you could use is pellets. They help infuse a smokey flavor as well as the taste of the pellets. So you need to make sure that you choose a flavor that you are comfortable with. Another advantage of pellet grills is that they produce less acidic smoke, but it's still more than that produced by a gas grill. The issue with pellet grills is that they usually don't get as hot as other fuels.
Portability
The portability of a tailgate grill is highly important. You want to make sure the grill is small enough to be attached to your tailgate. Otherwise, it becomes hard to set up. You also want to make sure that it is small enough to fit in your car as you transport it to and fro. Look for features that will make it easier to move, such as wheels. These should make it easy to roll the grill.
Also, a handle will help you move it about. Some grills will have handles that allow you to hold the grill safely without getting burnt. When tailgating, you want a grill that is easy to take out of the car and set it up quickly. This is also affected by how heavy the grill is. The lighter it is, the better. Portability also includes the ability to fold the grill. You want something big enough for all the food and yet compact enough to ferry.
Construction Materials
The material that a tailgating grill is made of is a huge factor. The most commonly used materials include cast iron, stainless steel, and enameled porcelain. Cast iron is extremely durable, but it is heavy. It is also a good heat conductor and will quickly heat up. It is also a very durable material. Other advantages of cast iron include versatility, easy maintenance,
Stainless steel is lighter and also easier to clean even after a long day of cooking. First, it is shiny and looks good. It is also amongst the materials that are said to be durable. Also, food will maintain its natural flavor. It also holds its own against harsh weather that could potentially corrode weak materials.
Enameled porcelain is well known for being scratch-resistant. As such, it is great for outdoor cookware such as grills. It is also heat resistant. It will withstand high temperatures, reaching up to 1 000˚F. Also, it is resistant to acidic chemicals. Another advantage is that it is easy to clean.
To sum it up, cast iron is the best bet amongst all the materials because it handles heat and its versatility.
Cooking Capacity
A grill that is between 100 and 200 square inches will offer enough cooking space and, at the same time, still be compact enough for tailgating. Some can go up to 300square inches, fitting about two burners.
Tailgate Grilling Safety
We all love tailgating, but it can be easy for a tailgate party to turn dangerous after a day in the sun and after a few too many beers.
Here are some safety tips to keep in mind to make sure you have the best time possible.
Always try to grill at a distance
I get it: Space can often be at a premium when you've been crammed into a parking lot. You can be left fighting for room when everyone has an opinion on how you should be grilling.
Despite this, it's important that you try to keep your grill at least five meters from your vehicle (or at least the front of you vehicle). Fire and car engines have never been a good combination.
Keep your grill clean before and after use
This isn't just about cleanliness, it's also about safety. A dirty grill can be prone to flare-ups and hot spots, which is never a good idea. Reduce the amount of accumulated fat and oil as a habit, and this will help avoid excess fuel on the fire.
Keep hydrated
More of a general point, but keep water nearby at all times. BBQ and beer all day can get in the way of drinking water, which can in turn lead to a trip to the hospital.
Get a fire extinguisher
This might seem like overdoing the safety lecture, but accidents happen and a parking lot full of grills, motors and gas can easily get messy. Best to observe caution.

What is tailgating?
While originally in reference to driving too close behind another driver, tailgating now refers to the large social gatherings that take place around football games up and down the country. Largely based out the back of vans or cars (hence 'tailgating') these parties mostly involve barbecue and beer. Lots of beer.
How to tailgate?
Being a party, the rules here aren't hard and fast, and you can certainly abide by any rules that you see fit. However there are a few good principles that I recommend adhering to if you want to make sure you and your friends have a great time.
Only bring meat that can be cooked at high or medium heat fairly quickly. This isn't the time to be working on a 12-hour brisket.
Steer clear of using too much lighter fluid. In fact, try to avoid it altogether.
Plan ahead, and be sure to designate any food or drink buying to friends if you're not able to provide everything. Make sure you show up early – at least 2-3 hours prior to the game – to make sure you get a good spot. Bring your own drinks, but also make sure you pace yourself. Set up a couple of garbage bags or cans. Finally, keep pick up games to a minimum to make sure you don't risk ruining anyone else's time by throwing a stray ball.
What do I need to bring for tailgating?
Beyond good food, drinks and a grill, you'll need to make sure you have a group flag, a small gazebo or umbrella, a portable propane generator, extra power cords (just in case), grill covers, a good soft-sided cooler, trash bags, and toilet paper (you never know).
What are the best tailgate recipes?
Name any classic BBQ favorite and you're along the right lines for good tailgate recipes. Beyond the usual feast of burgers, nachos and hot dogs, I like to make things like pulled pork cups, apple pies, spicy chicken wings, chicken skewers, and pizza tarts.
Last update on 2023-10-04 / Affiliate links / Images from Amazon Product Advertising API