The Weber Jumbo Joe features excellent heat control and retention within its compact frame, making it one of the best portable charcoal grills that the barbecue world has to offer. Find out why BBQ enthusiasts love it with our backyard grill review.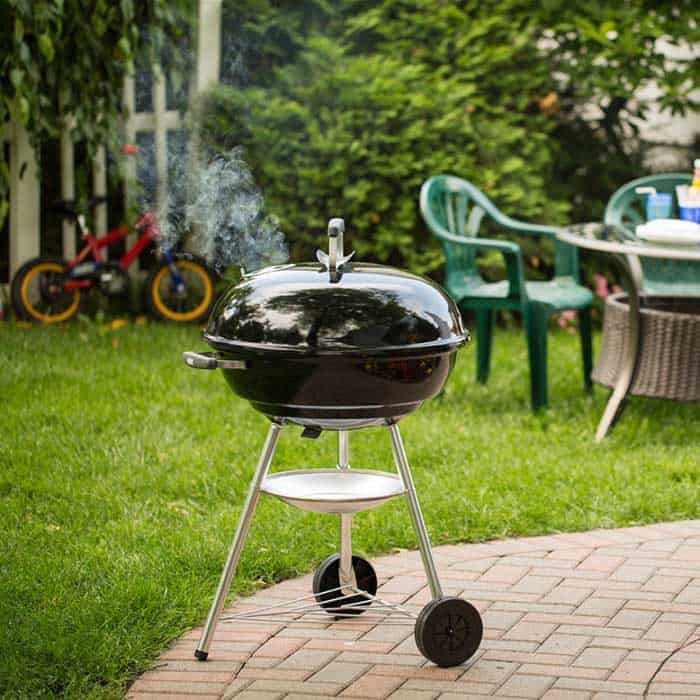 Quick Review
The Weber Jumbo Joe remains one of the barbecue world's best portable charcoal grills. Despite being an affordable and compact cooker, the high-quality build on show ensures excellent heat retention and durability. If you need a reliable charcoal cooker for your next tailgate or camping trip, this is the grill for you. We just wish it was (a little) bigger.
★★★★☆
The Jumbo Joe has remained one of Weber's most popular grills ever since its release in 2006 (it evolved from the Weber Smokey Joe). Since then, the portable charcoal grill has been a best-selling tailgate and camping grill.
Between its mobile design and excellent durability, it's been the easy default choice for barbecue newcomers and experts alike. It's simple, great value for money, and offers enough flexibility for high-heat grilling and smoking.
If you have been looking for a simple charcoal grill, this could be your perfect outdoor companion.
Sale
Weber Jumbo Joe Charcoal Grill 18 Inch Black
Travel with taste, or grill up a quick meal on your patio with the Jumbo Joe portable charcoal...
Holds up to eight burgers made with a Weber burger press
Compact and lightweight for grilling on the go
The Weber Jumbo Joe is compact, lightweight, and boasts an easy lockable lid. This makes it quick and easy to pack away without creating any spillage of dust or grease inside your car or RV, while also keeping kids and animals safe.
Despite its low price, the Jumbo Joe offers excellent heat retention, helping you to keep consistent temperatures for effective barbecue.
Is this still one of the barbecue world's best charcoal grill? How does it compare to rival brands? Find out all you need to know with our Weber Jumbo Joe review.
Specifications
What's in the box?
Assembly Guide
Grill User Manual
Ash Catcher
Legs
Pack of nuts and bolts
Handle
Two Grates
Lid
Base
Cooking Space
The Jumbo Joe features 240 square inches of cooking space and 18-inch diameter, which is about average for a portable charcoal grill. It's a decent amount of space that allows you to cook a few servings of meat and vegetables, although some users might wish that it offered a little more.
If you want a grill only for home use, you might find that this is too small, in which case you should buy something around the 400 to 500-square-inch mark. For a portable grill, however, it's the right size.
Bear in mind that this will also be beneficial when carrying the grill around because space is saved in your car trunk. The grill is also not very tall. It is designed to be portable; therefore, when cooking, you will have to put it on a reliable counter. It does not come with a stand to make it taller. The benefit of this is that you are likely not to kick it if it is on a counter.
An added benefit of the compact size of the grill is that the smaller chamber makes the Weber far quicker to light and bring to temperature. With a charcoal chimney and our air vents set to open, we had this thing up and running and at 225°F in about 15 minutes. This is exceptionally quick for a charcoal grill, with the average warm-up time usually being between 20 and 30 minutes.
Similarly, it cools down quickly too. This is especially useful in campsites, where fire safety adherence is crucial. Thanks to its small size, if you put the charcoal grill out and allow it to cool with the vents shut, it should only take 30 minutes.
Assembly
If you are one of those people who like DIY but not too much DIY, then this product will work for you. It comes with a manual that provides you with a step by step instruction on how to construct this grill. It is not so overwhelming that you will have too much trouble putting it together. Construction will mainly consist of screwing in nails.
As far as durability is concerned, this product is designed to last you many years. It comes made from heavy-gauge steel that is guaranteed not to rust regardless of the heat applied. The ash catcher at the bottom is made from aluminum which makes it durable but light enough to carry when disposing of ash. The cooking grate is made from plated steel. That will mean that food will not stick easily to the grill.
Portability
This grill has been designed to be an adventure travel companion. It is small enough to carry with you when you decide to go out into the wild for a fun camping trip. Allowing you to cook healthy gourmet meals anywhere you are. The product has a lid lock that will be very convenient for carrying around.
No more ash, dust or sludge will be falling on your backseats while you drive. It will also be beneficial in the case that any animals come sniffing for food leftover on the grill. The size of the grill is also widely appreciated by the customers who have reviewed it. It is not overwhelmingly difficult to carry, meaning both men and women can enjoy this product. The lid of the grill is 100% heatproof. It will protect your children from burning their hands should they try and sneak away some meat whilst you have your back turned away.
Heat Retention
The lock that is found on the porcelain-enameled lid is one of the best features on the grill. When you are grilling, you can lock the grill to enable a consistent temperature within the grill. This will ensure that your food is cooked steadily and at the correct pace. When this is done, you are more likely to get food that is a juicer and not lost too much of its inherent fluids. This will allow your vegetables to be fully cooked meaning they are healthier. With some grills, you might come back to find that some parts of the meal are cooked whilst others are still raw because the heat is not spread equally across the grill. With this grill, you are not likely to experience that.
Bonus Features
Unsurprisingly for a small portable grill, the Jumbo Joe doesn't offer too much beyond its main cooking grate and stainless steel chamber. It does feature a storage rack underneath so you have somewhere to put your tools while you cook (a nice feature to fall back on when grilling on the road).
Weber has also built in an additional space underneath the grill grates, giving you the opportunity to insert a steel plate and effectively double the cooking area inside the grill. This can get a little awkward though and shield the food above from heat. It's a nice idea in theory, but we wish we had a little bit more space across one grate instead.
It boasts rust-resistant aluminum dampers, with both an intake damper at the bottom of the chamber and an exhaust damper at the top. This venting system helps maintain good airflow through the grill, and are perfectly positioned for solid heat control.
Similarly, it has an ash catcher at the bottom of the chamber to help you keep everything clean, and to prevent ash trails inside your car or RV.
What We Don't Like
The Jumbo Joe isn't without its flaws. While we wish it was a little bigger, we also think the grill is crying out for the addition of a drip tray. This would help to catch the fatty run-off from any large meat that's cooked low and slow. We'd also like to see it come with a bag. Despite being lightweight and small, it can still prove to be an inconvenience for carrying around a campsite or on the beach.
Final Verdict
With its compact size and excellent heat retention, the Weber Jumbo Joe is an excellent grill to take on the road. It's quick to bring to barbecue temperatures, while small enough to use away from home. Quite simply one of the best portable tailgate and camping grills out there today.
Sale
Weber Jumbo Joe Charcoal Grill 18 Inch Black
Travel with taste, or grill up a quick meal on your patio with the Jumbo Joe portable charcoal...
Holds up to eight burgers made with a Weber burger press
Compact and lightweight for grilling on the go
Last update on 2023-10-01 / Affiliate links / Images from Amazon Product Advertising API