Longing for that unique charcoal-grill taste? Wanting to grill steak or hold a barbecue party at your backyard? Planning to buy a grill but could not choose from all the outdoor gourmet grills in the market? Well, search no more as this Weber Jumbo Joe review will tell you exactly what you need for all your outdoor grilling needs.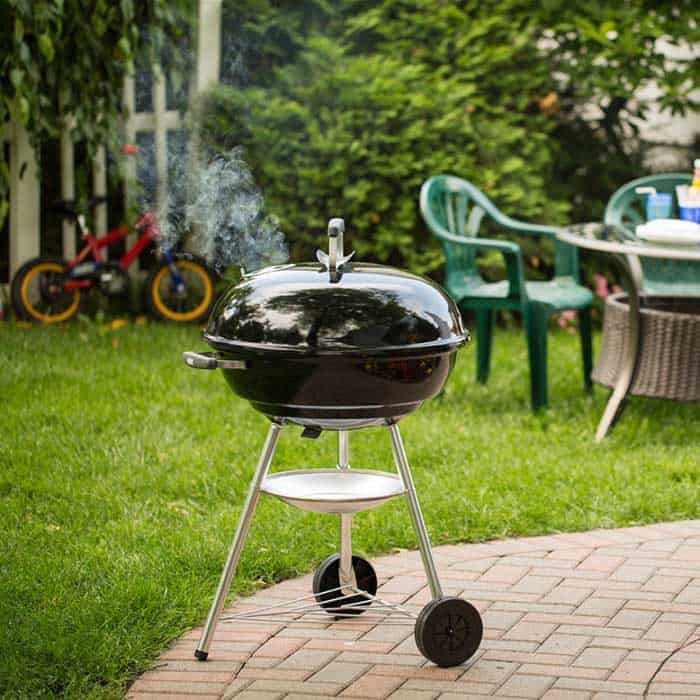 240 square inches and a beautiful steel construction come together to form one of the world's best charcoal grills.
So what makes this grill different from traditional grills? What makes it unique among all outdoor grills in the market? Well, the Weber Jumbo Joe Gold Charcoal Grill boasts the following features:
A porcelain-enameled bowl and lid with a 240-square inch cooking area. It is perfect for cooking meat cuts and other skewered dishes at the same time.
You no longer have to wait for one cut to cook before popping in the next one.18.5-inch diameter plated steel cooking grate. This grill is guaranteed to be durable—perfect for outdoor barbecue.
Rust-resistant aluminum dampers and ash catcher. You do not have to worry about leaving the grill outside your tent when going camping. Also, you no longer have to worry about ash trails all over your backyard when holding your barbecue party.
Compact design. This grill has assembled dimensions of only 19.75-inch by 20.5-inch by 19.75-inch. Whether it is for building an outdoor kitchen or for camping, this grill is for you.
Weber Jumbo Joe ReviewIn terms of performance, the Weber Jumbo Joe is a winner, especially when compared with other top rated gas grills. For one, its design allows meat to cook evenly so that they are beautifully grilled outside and perfectly tender inside.
There is also plenty of room for chops, burgers, and roasts. Also, its diameter provides multi-item capacity and enough room for reverse-searing.
It is also a must-have for campers not only because of its compact design (it is large enough for cooking multiple items at the same time but compact enough to tuck away in your trunk) but also since it cools down within a short period of time, even when all the vents are shut.
It has a spill-free latch that holds the lid during transport. Another plus factor of this grill is that it is very durable and is very easy to assemble—all you need is 15 to 20 minutes and you are good to go.
One thing that could still be improved about the grill, however, is enough room for a drip pan, especially when grilling large cuts of meat. While there is enough space for a small drip pan, there isn't enough room for one large enough for cooking thicker cuts. Also, rather unfortunately, this grill does not come with a bag, which is quite an inconvenience for carrying it around, especially in campsites.
While there are a lot of outdoor grill reviews are there, to the point of being confusing, you wouldn't really know what it is like to have a good outdoor grill until you get your very own Jumbo Joe.
A versatile grill that's just as good at low and slow cooking as it is high temperature searing.
240 square inches and a beautiful steel construction come together to form one of the world's best charcoal grills.