Outdoor charcoal grilling is a great way to get the beauty of barbecue at home, without losing the beautiful traditional tastes we all associate with grilling. Here are 11 of the very best charcoal grills for all budgets, tastes, and needs.
Charcoal grills bring the authentic flavor of smoky barbecue grilling straight to your backyard. These classic grills are the go-to choice for BBQ purists, offering the authentic smoky-charred flavor we all love, as well as a hands-on cooking experience that other types of grill can't provide.
This is cooking in its purest and simplest form. Elevate your grilling game with our breakdown of the best charcoal grills out there today.
Weber Original Kettle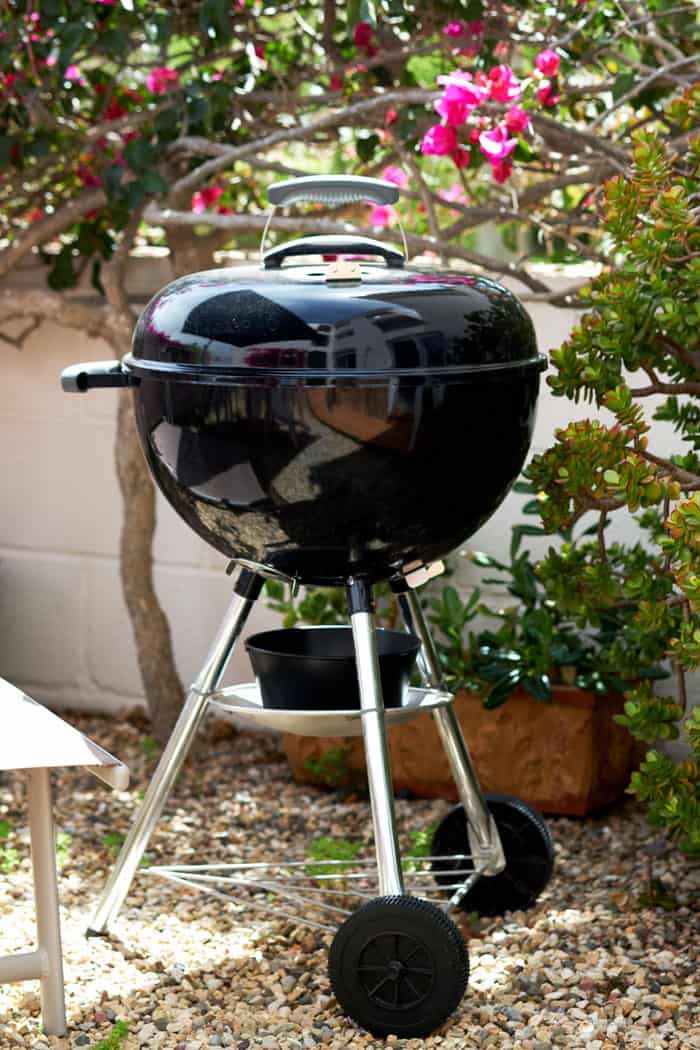 Where else would we start this list than with one of the all-American classic grills?
Charcoal grills are at their very best when kept simple. Without the need for heavy-duty burners or propane tanks, a charcoal unit just needs to have a strong build and large enough chamber to build a roaring fire within.
Weber's Original Kettle has exactly this.
What really sets the Kettle apart from the rest through is its vents. Also called dampers, these vents sit both at the bottom and the top of the grill chamber. They control airflow through the grill, allowing you to easily manage the cooking temperatures of your Kettle.
The Kettle's vents also help provide another function: It can double up as a BBQ smoker.
The air vents are one thing but what also helps the Kettle's excellent performance is it shape. It has an almost spherical build, which helps allow for perfect convection. Without getting too bogged down in the science of this, the shape allows near perfect heat distribution while also reducing flare-ups.
The Weber Kettle's simple build might be off-putting to people who prefer something that has a bit more heft and boasts more features, but it delivers exactly what it needs to.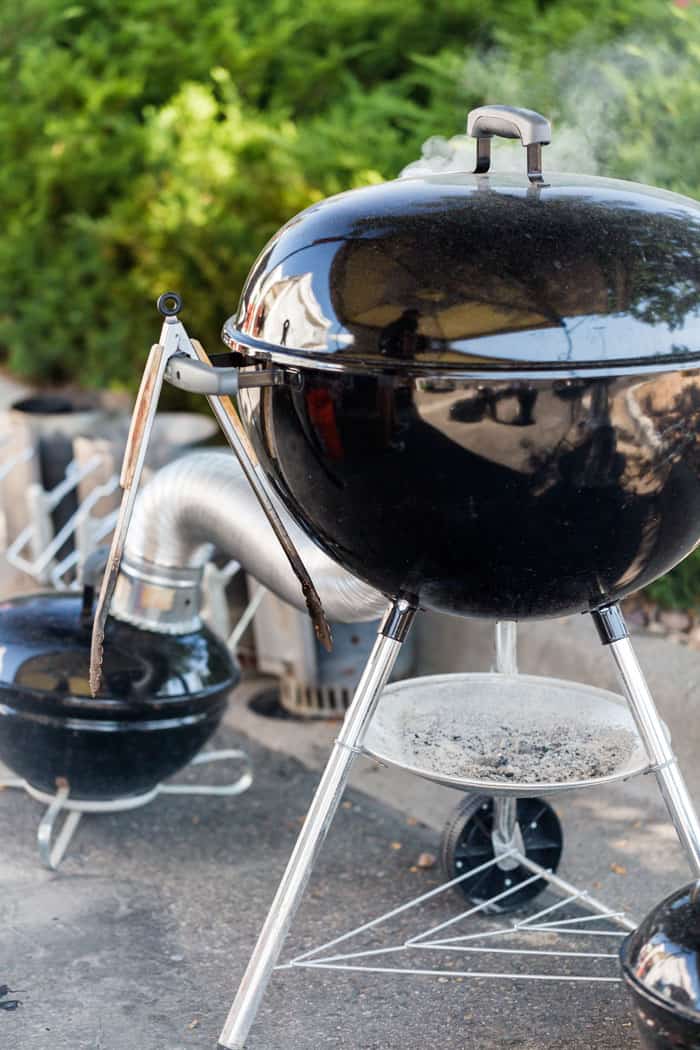 For others, its design is a classic, and its lighter weight (not an indicator of poor quality) and wheels makes it perfect for taking on the road camping or to a tailgate. For this reason we've even listed as among our best tailgate grills.
Let's get into details. Its 22-inch width gives you a 363-square inch cooking surface to work with, which is more than enough for a portable unit like this.
Easy charcoal access is a key factor when looking for a good grill. You need to be able to replace coals as they burn out, and also when it comes to cleaning up after you cook.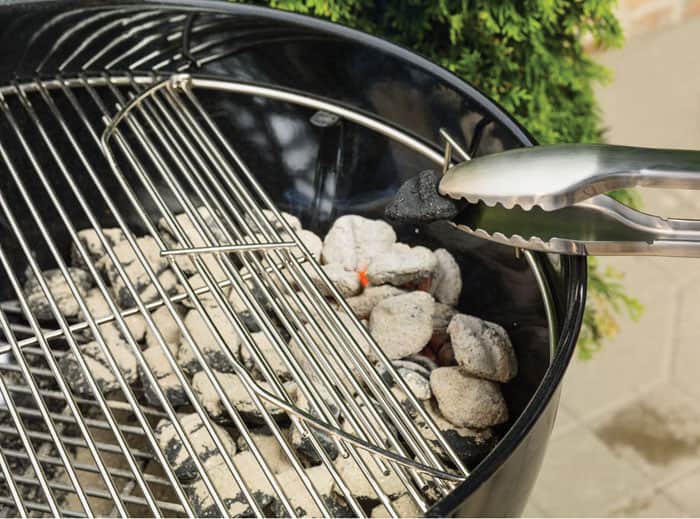 The Kettle's foldable hinged cooking grates making it easy to replace charcoal as it burns out.
The Weber Kettle offers exactly this, with its hinged cooking grates. If your coals are on the verge of burning out, you can quickly and easily swap them out.
It also has an ash catcher built into the bottom of the Kettle's drum, which collects ash as it cooks. You then remove it after grilling and you're good to go again. No nasty build-up, and no stressful clean-up operation needed between uses.
The Weber Kettle does have a built-in thermometer, but I always recommend just getting your own to ensure maximum accuracy and reliability for temperature reading.
If you are new to charcoal cooking then this classic grill is the perfect place to start.
Sale
Weber 14401001 Original Kettle Premium
Holds up to 13 burgers made with a Weber burger press; Built-in lid thermometer. Rust-resistant...
One-Touch cleaning system with high-capacity ash catcher provides hassle-free ash cleanup
Porcelain-enameled lid and bowl retain heat, and won't rust or peel
Royal Gourmet CC1830F-C
A close runner-up is this heavy-duty entry from Royal Gourmet.
We're a big believer in sturdy and strong builds being an indicator of good quality and high performance, and the Royal Gourmet does not disappoint here.
The chamber itself sits upon a rigid cart and enlarged metal base shelf. This holds everything in place and never feels at all shaky.
What really makes this grill stand out is its offset smoker function too.
For the unfamiliar, offset smokers are built with a side smoker (or 'offset', if you will) that houses the coals while it cooks. The smoke is then drawn through the main chamber, cooking and submerging your food slowly and evenly.
This isn't just a gimmick though, and the Royal Gourmet is just as strong a grill as it is a smoker.
Its main cooking grates are porcelain-enameled, which helps to retain heat as well as distribute it. This is always a key feature I look out for on modern grills as its helps to reduce uneven cooking temperatures.
Also added is a good sized warming rack, and charcoal pan to allow you to give your food a good sear.
It's a great performer and has a large enough chamber and grate area to take on a lot of food.
Although primarily a hybrid cooker, it's still a great charcoal grill. If you adjust the pan to cook at the lower end of its heat range then it can still cook great grilled food.
Just like a lot of modern charcoal grills, it has an ashtray to help speed up cleaning. It's big enough to take on quite a lot, so you shouldn't have to empty it too frequently.
A small gripe of mine is that although the main chamber is well built, the smoker box is constructed with what appears to be quite a thin metal. There shouldn't be any key issues because the chamber seems solid enough, but the built of the smoker box is a little concerning.
If the flexibility to BBQ smoke is important to you then this smoker combo is definitely worth considering. However, if you're only interested in a grill at this stage then there's a lot here that is probably unnecessary for you.
Sale
Royal Gourmet CC1830F-C
Easy to assemble. 393 square inches for cooking grates, porcelain enamel steel wiring, 205...
Heavy duty Lid-Mounted Temperature Gauge design, with stainless steel handle, two fixed side...
Easy-lift charcoal pan adjustment system for heat control and cooking flexibility, pull-out...
Kamado Joe Classic III
Let's address the egg-shaped elephant in the room here: The Kamado Joe's appearance.
The first thing that will strike you here is its appearance, and for this reason the Kamado Joe divides a lot of people.
Whichever side of that fence you sit, its performance can't be questioned. Its innovative design has a thick-walled ceramic case that makes it fantastic at searing and smoking.
With features such as the Airlift Hinge for simple opening and closure, the 'Divide and Conquer Flexible Cooking System' which provides you unparalleled flexibility to cook with distinct grate configurations, along with also the 'Kontrol Tower Top Vent' for optimum precision and control when handling heat.
Additionally, it is a top choice if you prefer to grill different foods at precisely the exact same time due to the innovative flexibility of its Divide and Conquer multi-level and heat-deflection system.
If your grilling customs are more clear-cut and you are not juggling numerous meals at precisely the exact same period, the Kamado Joe Classic III may just be a lot of barbecue for you.
Where do I begin! I must confess to a particular gluttonous love of updates and extras. I adore the grills I have but can not help maintaining a covetous watch on anything smart fresh things are coming down the pipeline. Well, Kamado Joe has lots, and they have undoubtedly produced a Mercedes Benz with the Timeless II. Flexible and versatile, it truly makes it possible to control just what foods are getting various levels of warmth.
I really like the Airlift Hinge since I almost always have something different in my palms and to have the ability to lift that heavy lid with a single finger and have it remain in virtually any place, well it only about defies physics! It would certainly create the work of grilling a great deal simpler.
I love too the stainless-steel and cable mesh fiberglass gasket since these are the things which guarantee a tight seal, so when I am smoking I understand all that goodness is remaining beneath the hood rather than escaping, in addition to keeping temperatures wrapped down.
That is a hefty grill. We really enjoy this, since it reveals quality n substance utilized, thermal mass, and also contrasts to temperature equilibrium. But it is not one you are likely to wheel gently around your lawn. When it is in, it is in. So just consider where you need it before you bring it all home! This grill will pay you back significant time with several years of fantastic grilling!
Just how much do I really like it? I actually have the first Kamado Joe Classic, I really like it, and it is my favorite grill and smoker. I'll be updating to their second version as I think the Kamado Joe Classic II is a huge improvement on the original Classic.
I am only awaiting permission from the boss' (my spouse ) to invest more money in my obsession!In my view, if you're trying to find an awe-inspiring piece of heavy-duty engineering with high-quality materials and construction excellence, then you have found it at the Kamado Joe Classic II.
This is a layout before others, along with a great deal of thought, has become smart techniques to win against the goblins of grilling (cracked fireboxes, peeling paint, rusting bolts). The Kamado Joe Classic II climbs gracefully over it and delivers on every front. Find it and begin!
Kamado Joe Classic III
Premium 18″ ceramic grill with heavy-duty galvanized steel rolling cart with locking wheels.
Patent pending SlōRoller Hyperbolic Smoke Chamber - The first of its kind, the revolutionary...
3-Tier Divide & Conquer - Divide & Conquer Flexible Cooking System transforms the humble...
Landmann 560212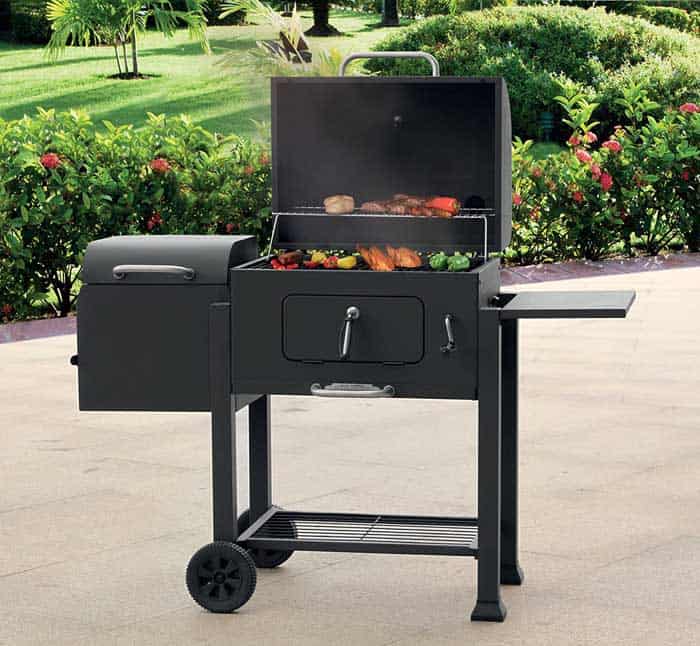 This is another unit with an offset smoker built to its side, allowing you to smoke meat as well as grill it.
It has more than just a smoker though. With a 733-square-inch cooking grate, it offers very generous cooking space, as well as an additional warming rack.
Its cooking grates are porcelain-coated, which ensures fantastic heat retention and distribution during cooking. No cold spots, no flare-ups. Porcelain enamel is also very durable and robust against peeling, so the grates are unlikely to degrade over the first few years of use.
It has an inbuilt temperature gauge, although I do always recommend getting your own grill thermometer for the best and most accurate results. In any case, the gauge helps you monitor internal temperatures without having to lift the lid and disrupt the cooking temperatures in your grill chamber.
If you want an offset smoker function with your charcoal cooker this is a great entry level option that comes at a very reasonable price.
Landmann 560212
Large grilling capacity with porcelain coated cast iron grates
Charcoal pan adjusts to multiple positions
Chrome plated steel warming rack provides 201 sq. in of secondary grilling space
Weber Performer Deluxe
While predominantly a charcoal model, the Weber Performer Deluxe does have some gas elements built into it. None of this takes away from its charcoal performance, but rather are including to make achieving a high sear that little bit easier.
Included is Weber's now standard Gourmet BBQ System, as well as a gas-powered charcoal lighter to help make start up times much quicker.
It comes with 363 square inches of cooking space across its porcelain coated grates, as well as an aluminum ash catcher for easy clean-up.
For anyone who has struggled with starting or lighting coals in the past, this might well be the one for you. Its one-touch 'Touch-N-Go' ignition systems helps you light it in a simple bush of a button.
Its build isn't quite as heavy duty as some of the other models on this list, but this is very much a charcoal grill built with convenience in mind.
It's a great mid-range option for relatively new grill heads looking to stay loyal to traditional charcoal flavors without compromising on ease of use.
Sale
Weber Performer Deluxe
Electronic Touch-N-Go with Propane Gas powered ignition system (propane tank not included)
Dimensions - Lid Closed: 43.5"H x 48"W x 30"D | Weight: 91 lbs
22-inch diameter porcelain-enameled bowl and lid with a cooking area of 363 square inch
Weber Jumbo Joe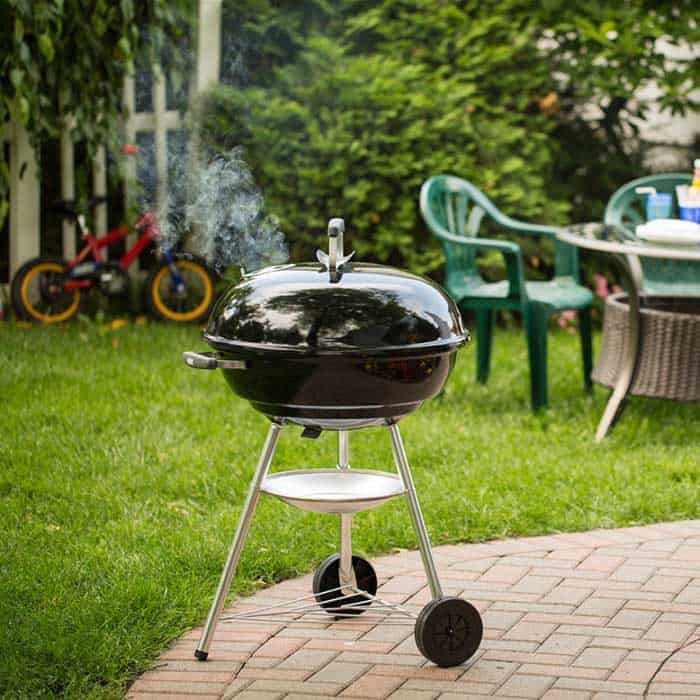 Weber has done a great job of catering for newcomers with the Jumbo Joe, as well as offering a great option for people who just want a simple and reliable tailgate or RV grill.
It's cased in a porcelain enamel bowl to help heat retention and distribution. This helps maintain even cooking temperatures while also reducing the risk of leaking as you cook.
With a 240-square-inch cooking surface, it's one of the smaller units on this list but if you're after something compact and easy to take on the road with you then this is one of the best portable charcoal grills out there today.
Read our full Weber Jumbo Joe review
Sale
Weber Jumbo Joe
Travel with taste, or grill up a quick meal on your patio with the Jumbo Joe portable charcoal...
Holds up to eight burgers made with a Weber burger press
Compact and lightweight for grilling on the go
Char-Griller Outlaw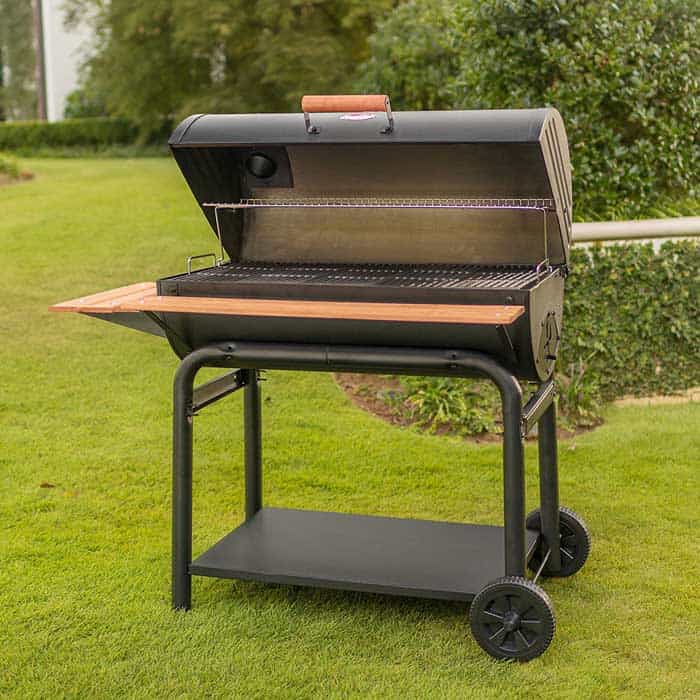 The grill is generously sized, with 725 square inches of primary of main cooking space and 338 square inches of secondary cooking space in the form of a warming rack.
The chamber is made of heavy-duty steel, and will stand up to the elements for years to come.
Char-Griller Outlaw
PREMIUM CHARCOAL GRILL - Barrel style Charcoal BBQ Grill & Smoker with heavy-duty steel...
XXL COOKING AREA - Massive 950 square inch total cooking area fits 38 burgers: 725 square inch...
BARBECUE GRILL FEATURES - Cast Iron Cooking Grates, Adjustable Fire Grate, Bottom Storage...
Weber Performer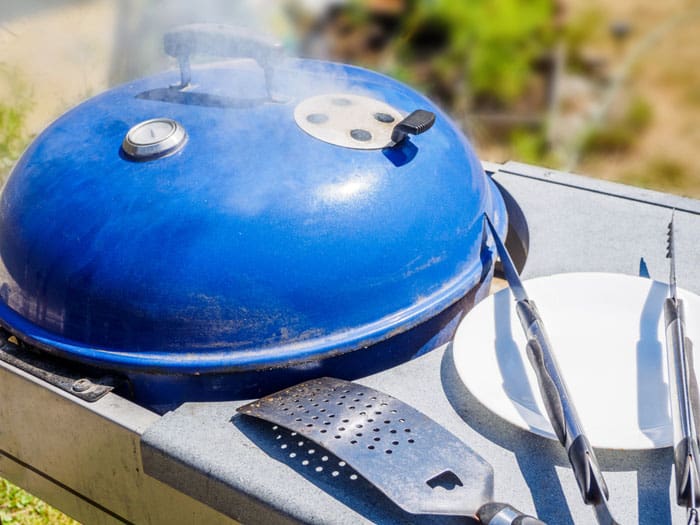 The Weber Performer offers more cooking space to work with, as well as more add-ons than their standard-issue charcoal grills
What makes the Weber Performer stand out from a lot of charcoal grills is its removable cleaning tray placed at the underside of the grill chamber. This acts by collecting ash and grease as your cook, allowing you to simply remove the tray after grilling so you can empty it. Clean-up is a big drawback with charcoal grilling, so the tray is a very welcome addition.
Weber Performer
The powerful performance and convenient features of the Performer charcoal grill is your excuse...
Dimensions - Lid Closed: 43.5"H x 42"W x 29"D | Total cooking area: 363 sq. inch
Holds up to 13 burgers made with a Weber burger press (sold separately)
Dyna-Glo Heavy Duty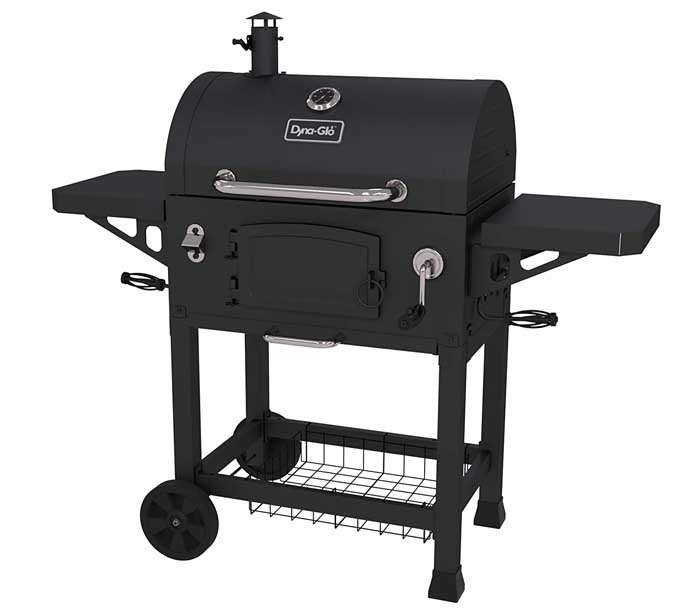 At the more affordable end of the scale sits this budget-friendly grill from Dyna-Glo, but there's actually enough here to satisfy a lot of users.
Its 686 square inches of cooking space sits upon porcelain enameled grill grates. This is a great addition considering the price of the grill, and helps to ensure good heat distribution and retention, while also reducing the risk of flare-ups or cold spots.
Dyna-Glo Heavy Duty
Charcoal tray adjustment system for fine-tuning heat control and cooking flexibility
3 Heavy-duty, hi-gloss porcelain enameled, cast-iron cooking grates retain heat for searing...
Heavy duty cart with side shelves, storage basket and 8-inch resin wheels for maneuverability
Expert Grill Heavy Duty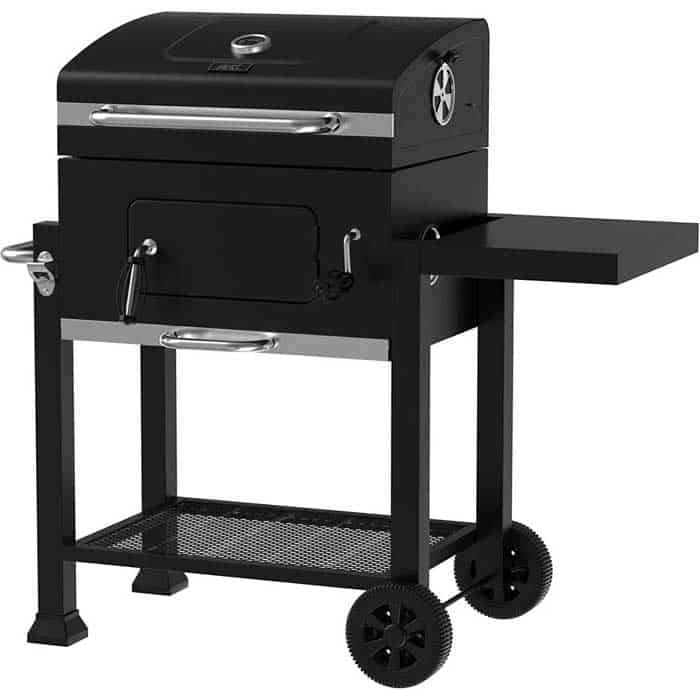 This grill is deceptively large. Fresh out the box it doesn't look like much, but across its main surface and warming rack, it offers plenty of space to work with.
Its charcoal tray is adjustable, giving you much more control over cooking temperatures.
It features an ash dump tray at its base that you can remove and empty, helping you to keep your grill clean.
Char-Griller Akorn Kamado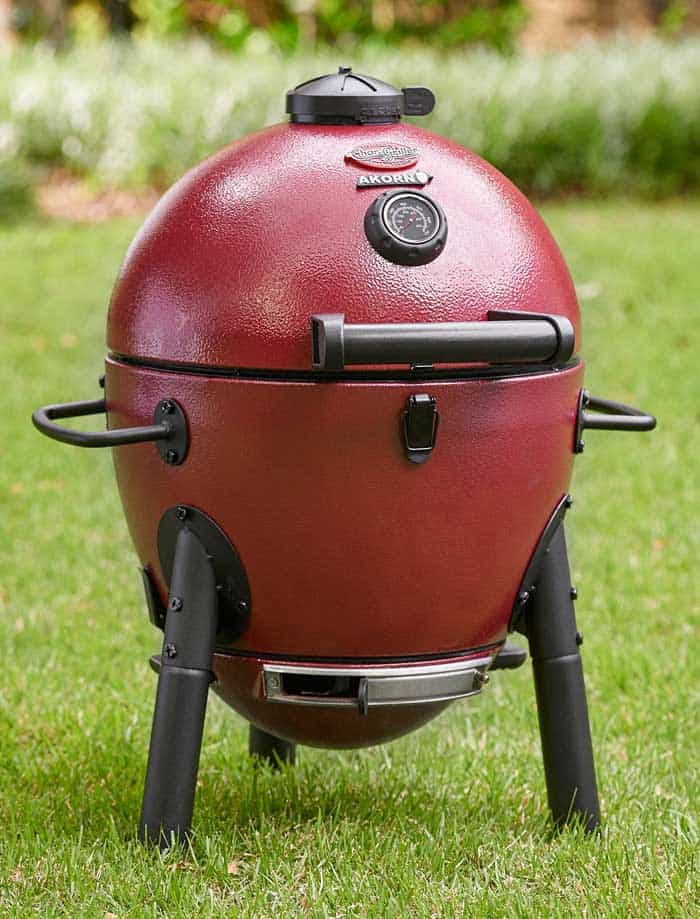 I love the Char Griller Akorn Kamado grill (which is why we listed it as one of our favorite Kamado grills).
A lot of Kamado-style grills are built with ceramic, however the Char Griller is built with double walled stainless steel to improve durability.
Like a lot of Kamado grills, its grill set-up is layered. This means that rather than offer just one main grill area, it has two smaller ones that sit on top of one another.
This means that you might have to compromise on searing or high temperature grilling in bulk, but does make it great for BBQ smoking.
Char-Griller E06614 Akorn Kamado
PORTABLE CHARCOAL GRILL - Kamado style Portable BBQ Grill & Smoker perfect for both high heat...
GRILL ANYWHERE - Grilling on-the-go has never been easier thanks to the convenient handles and...
BEST IN CLASS FEATURES - Insulated design with locking lid traps smoke, heat, and moisture like...
---
What are the advantages of a charcoal grill?
There is a lot to be said for the convenience and ease that gas and electric grills provide, but the authentic experience of charcoal is simply unmatched.
The dry, white-hot warmth of charcoal sears meat quickly. This helps to create a crackly, caramelized exterior, all while leaving you with a lush pink, tender inside to meats like steak.
Not only this but charcoal cooking gives you a far smokier taste than can be created with most gas grills. Largely because of higher cooking temperatures, but also because you can use charcoal and wood chips.
Additionally, as your meat warms it up releases drippings. These are filled with tasty fats, proteins, oils, and sugars, which strike the flames of your grill, combust, vaporize and grow to coat and be consumed back into the meat.
It's a beautiful process and is what gives charcoal-grilled meat the extraordinary flavors which make us mad for more.
​Cooking skill
One of the factors that draws so many people to charcoal grilling is the authenticity around it. Not just with the flavors, but the skill and learning curve required to cook with it.
Unlike BBQ smoking, or even gas grilling to a certain extent, charcoal isn't a set-and-forget style of cooking. It requires to be on hand at all times. You need to monitor surface temperatures, meat internal temperatures, and to ward off any appearances of cold spots or flare ups.
While this might put some people off, it's also what has drawn so many people (including us!) to the beautiful cooking art form.
Features to look out for
Now that you're firmly on board with charcoal cooking, let's have a look at what to search for in a fantastic charcoal grill that is likely to stand up to repeated blasts of extreme heat through recent years.
But continue reading afterward, because we have done the research and published a fantastic short-list of the top grills on the market, at price points to match every wallet.
Construction build
The substances used, and the way they stand up to heavy usage and extreme heat will establish the caliber of a charcoal grill. Not searching for high end at a high cost? Porcelain-coated and chrome-plated will perform the job for less, but these thinner substances won't always stand up to intensive usage over time.
Unit size & cooking area
Consider how much space you want on the grill for cooking and how much distance you need to shop and run a restaurant.
If you too little, you may sometimes struggle to feed large amounts. But should you purchase too large unnecessarily, then you may use more gas.
Temperature control & efficiency
If you are a pro at taming the fire, great. It's possible to manage quirks and inconsistencies with fever. However, for many, assurance that the grill will react to your signature and keep steady heat when needed is a massive bonus.
The plan of a few grills will provide you more help for this than others. And lots of models feature an integrated thermometer.
Ease of use
Vents that available readily, grill racks which sit, hoods that hang conveniently around the side — It is the little stuff that may make the difference between a smooth and agreeable gliding experience, and frustration or perhaps burnt fingers!
If that is important to you, start looking for good-sized ash pans and convenient levers to return and forth, which will drain ash out of the grill body. Again, consider your personal use. If you grill regularly, go for demanding build substances, like cast iron and also heavy-gauge steel.
Last update on 2023-12-03 / Affiliate links / Images from Amazon Product Advertising API