Ceramic grills offer incredible cooking temperatures for any patio or backyard kitchen. Their unique egg-like build is unlike any other kind of cooker, ensuring an incredible experience and excellent results. From Kamado Joe, to Weber, to the Big Green Egg, here are 11 of the best Kamado grills to help take your outdoor cooking to the next level.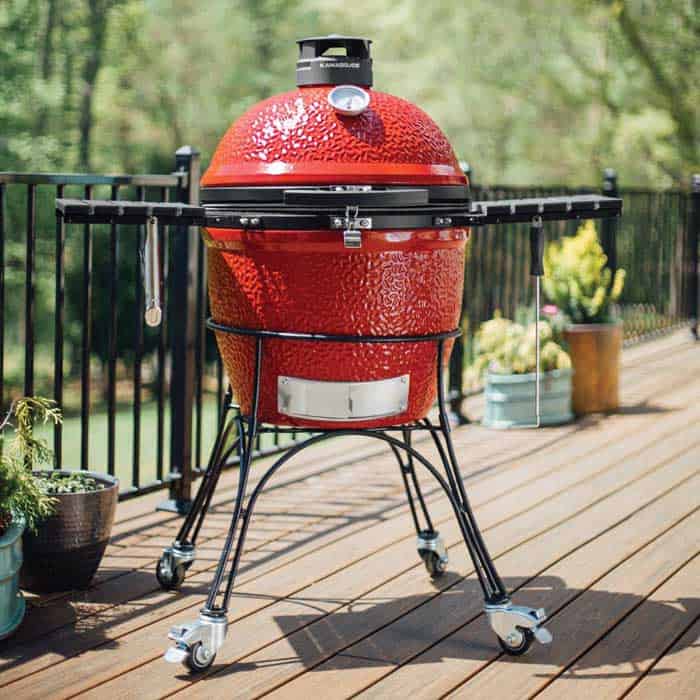 Want a compact grill that boasts outrageous cooking temperatures?
Ceramic Kamado grills give you maximum heat in a small space. They're one of the best ways to take your outdoor cooking and barbecue to the next level.
Here's our breakdown of the best Kamado grills out there today, as well as what to look out for so you can get the best one for your needs.
At a glance: Our Top 3 Picks
This guide is on hand to help you get the best kamado grill possible. We'll give you the lowdown on everything to look out for, what to avoid, and some tips to get your BBQ off the ground.
Lets' get into it.
Kamado Joe Classic
We kick off our list with the best of the best. There's plenty here to unpack, with lots of standout features that show just why it's our pick of the bunch.
This isn't the first release from Kamado Joe, but an impressive upgrade on one of their most popular grills with the Classic II.
At its core it's constructed with a thick heat-resistant ceramic shell. This does a great job at lock in smoke, moisture and, more importantly, heat.
This excellent heat retention means that it offers a mightily impressive cooking range of up to 750°F.
One of the biggest complaints with Kamados is that they're so heavy-duty that they're too heavy to move around. Even down to opening their (ridiculously) heavy lids.
Not so with the Kamado Joe Classic. They've created a lid that they've named the Air Lift Hinge. This hydraulic system means that the lid is far easier to lift and shut. Not only this but it will stay just where you left it… even half shut.
This hydraulic system means that the lid has in effect become 96% lighter. This means no slamming shut and no painful accidents.
It has an impressive 406 square inches of total cooking space. This is excellent for a kamado.
Smokers of all kinds are prone to being exposed to the elements, but the Kamado Joe has a fantastic top vent that helps to eliminate some of this risk. It has a wind and rain-proof design that helps keep your vent settings just how you want.
A special mention should go to its Divide and Conquer system. This setup creates two different cooking environments at the same time, allowing you to combine direct and indirect cooking all at once. This gives you so much more flexibility while you smoke, and is an impressive addition.
All in all this is an exceptional piece of gear that anyone of any skill level would be happy to own. It's reliable, durable, and effective at cooking food in the traditional kamado way. An excellent kamado grill.
Primo Oval XL
Cooking area is a big concern for people looking to make the leap from traditional gas or charcoal barbecue. Luckily, Primo have come up with a fantastic compromise.
Instead of sticking to a traditional circle-shaped surface area, Primo have made an oval cooking grate. This gives you greater width across the cooking surface, offering you far more room to work with.
Sure, it means that you can fit in much more food. But what I really love is that it also lets you get to grips with different cooking zones. Two-zone cooking is the key to good BBQ, and the larger the zones the better.
You can place your coals under one half of your grill grates to provide direct heat, and then have none below the other to create non-direct heat. This is fantastic for using the ambient temperature of the grill to cook meat like you would with an oven, before then searing it above direct heat to give it that unmistakable barbecue finish and flavor.
If the oval cooking grate wasn't enough, Primo's in-built racks are stacked to give you even more room to play with. This simple extra rack takes your cooking space from just 300 square inches to an impressive 495.
It's not all about the cooking space though. The grill is made with heavy-duty ceramic, giving you a smoker chamber that boasts excellent heat retention. The downside of this is that it does make the grill heavy. But, hey, if we wanted something lightweight then we wouldn't get a kamado.
The Primo Oval XL is a worthy runner-up. It offers an amount of space that borders on insane, and a heavy-duty shell to give you excellent insulation. It's a serious bit of cooking equipment that even the most seasoned of cooks will love using.
Weber Summit Charcoal Center
Weber has long been held as the gold standard for charcoal grilling. They have made reliable and high-quality grills again and again. So we're glad to say that one of their first attempts at kamado cooking doesn't disappoint.
One of the first things that will strike you is the appearance of the Summit. It looks far more like one Weber's own gas grills than an egg-shaped ceramic one.
However, this packs in more than enough to warrant a place among kamado grills.
Weber have built the Summit with convenience in mind, and as such have provided a gas-fired igniter. Instead of laboring over trying to ignite your coals, you simply push the ignition button and the Summit gets going instantly.
Some people might like the authenticity of the struggle of fighting with chimney starters, fire lighters, or even fluid, but for those of us who just want to cut out the fuss this is a welcome feature.
In terms of cooking space, the Weber Summit compares well. It has an excellent 452 square inches of space to work with, meaning that you can pack in a lot more than just a few burgers.
What's even more impressive is that Weber have made this to be only 110 pounds in weight. While traditionalists might prefer a heavy duty tank sat in the corner of their grill, for more casual fans it's great that a portable option like this exists.
What's the catch? Well, rather than made of ceramic the Weber Summit is constructed with porcelain enameled stainless steel. While still a solid enough material, this isn't as heavy duty as the ceramic we see in other kamados.
The compromise here then is are you willing to take good grill size and portability over more heavyweight materials?
Regardless of build material, this is an excellent cooker. The gas-fire ignition system might put purists off, but for the rest of us there's plenty to love here. If you want something convenient and user-friendly, this could be the right grill for you.
Broil King Keg 5000
Deciding between build material is important. You can go for either heavy-duty ceramic or lightweight steel. Both have their pros and cons.
But what if you want something durable as well as portable?
Broil King has managed to weld the two together. They've coated the inside of their chamber with ceramic and built the exterior of the shell made of steel.
By merging these two together, the Broil King Keg 5000 gives us the best of both worlds. The inner shell guarantees excellent heat retention, while the light exterior gives you great mobility.
This means you get a grill that's just 126 pounds (ca. 57 kg) in weight, without compromising on heat retention.
Broil King have made portability their priority, so the cooking area size does suffer. It provides 280 square inches of cooking space. However with tailgating and camping being such an obvious primary focus of this grill, I think this area size is more than adequate enough.
What it also has going for it is its price. It's much more affordable than of the more well established kamados on this list, making it perfect entry point for beginners or newcomers to kamado cooking.
Char-Griller E16620 Akorn
Another entry-level grill with newcomers in mind, the Kamado Kooker aims to provide all the joys of kamado cooking at an affordable price.
Part of its savings can be seen in its build. Char-Griller have made a shell that, instead of ceramic, is made of double wall insulated steel. This does make it lighter and cheaper than ceramic, but it still holds up well.
I've had a funny relationship with Char-Griller over the years. They're undoubtedly a brand that aim to make grills that are cheap to buy for newcomers or people adhering to a budget. Sometimes they do this and create something excellent, and sometimes they make something that is as cheap in its application as it is in its price.
I'm happy to say that I don't have such misgivings with the Kamado Kooker.
Yes it's not ceramic, but despite this its durability and heat retention is on a par with so many more traditional types of ceramic kamado grill.
All while doing so at a fraction of the cost.
With a lighter material comes easier portability, making this another excellent option for tailgating or camping.
What I really like about this grill however when compared to other more lightweight options is that it looks like a kamado.
Other low budget models have tried to reinvent the wheel almost as a means of distracting users from the fact it's not a ceramic grill. Char-Griller have done away with that and created a sincere grill that looks every bit as authentic as it cooks.
It has 314 square inches of primary cooking space which, again, is truly impressive for a budget grill of this kind. This means that you have a good amount of room to set up 2-zone cooking
Its chamber has one-inch thick insulation, which makes it almost unparalleled when compared to other cheaper varieties of kamado. This helps the grill reach its maximum temperature of 700°F which, while not as high as true ceramic models, is still very strong and more than hot enough to cook your choice of food with.
It also features calibrated dampers for efficient heat flow, as well as a removable ash drawer for easy clean up (the bane of every BBQ user's life).
Any down sides? It has a few added features that I think are a bit cheap. So cheap that they're effectively worthless. For example, it has a thermometer built into its lid. It's garbage though, so I'd recommend getting rid of it and investing in your own grill thermometer.
The importance of proper heat gauging can't be overstated, so do yourself a favor and get a good two probe grill thermometer.
All in all this kamado is a surprising addition to the kamado world, but one that I think is greater for it. For an entry level grill this is excellent value for the price and well worth the attention of any beginner.
Char-Griller E06614 AKORN Jr
Char Griller's Akorn Junior range offers all the benefits of the kamado grilling, but at a much smaller size. This makes it a great beginner grill, as well as a great grill for taking on the road, for tailgating, or on apartment balconies.
Char-Griller E56720 AKORN Kamado
This budget kamado grill is a great beginner entry cooker, but some people might find its limited size off putting.
There's no getting around the fact that its 314-square-inch cooking surface is on the small side, but there's definitely more than meets the eye with this modestly sized grill.
Putting its size to one side, its actual build is pretty impressive. Cased within its 22 gauge steel frame, it has. a porcelain coated interior and powder coated exterior. This are welded together to form double insulation, which helps to keep the grill chamber almost airtight and able to retain and move air along nicely.
It's also easy to use. Part of this is by virtue of the fact that it's quite small, but Char Griller have also built it with foldable shelves to help ensure that you're not falling over yourself when trying to rearrange coals or food. It's a small touch, but we're big fans of that.
It also has an easy remove ashtray (it's criminal how few kamado grills actually offer this) and a temperature gauge.
Its limited cooking area might frustrate some people, but as an entry level grill there aren't many better options than the Char Griller Akorn Kamado.
Pit Boss 71220
Pit Boss have made their mark on the smoking world, and one of their first ventures into Kamado grilling has been a resounding success.
This grill's a great option for users who want something a bit friendlier on their wallet, and is offers more than enough for people who can't quite justify the outlay needed for a Kamado Joe​.
The Pit Boss has everything you would want from a quality kamado. A sturdy heavy-duty ceramic build and excellent heat retention make it this a more than apt performer.Its temperature range can comfortably hit the 700°F mark, making it great for all types of cooking, from low and slow to high temperature searing.
Heat control through the vents is made easy with its cats iron tamper found at the top of the chamber.It has a tiered grill build, which combined offer about 662 square inches of cooking space.
Viemoi Mini
Diminutive in size but a strong performer, this is a great tabletop grill that will suit outdoor dinner parties or small gatherings.
Despite its modest size, the Viemoi grill still boasts exceptionally thick walls and fantastic airflow.
Sometimes grill this size can struggle to generate enough heat to get a solid and consistent sear going, but this grill doesn't seem to have that problem. It can be easily dialled up to a strong enough temperature for a sear. Likewise, it can be dialled down for a good, slow smoke.
Any downsides? It can be a little awkward to use. Its stainless steel grates are notorious for having food stick to it, and its deceptively heavy to move. So be careful lifting it up to or off tabletops!
---
What is a Kamado grill?
Kamado grills are truly unique. It's a curious quirk that they're seen as a recent innovation, yet kamado cooking is in fact one of the world's oldest forms of barbecue.
Kamado-like ovens have been around for thousands of years, and can be traced back to ancient China and Japan. They weren't just used to cook meat, but also traditional staples like rice.
Japan is where it started to take the name that we recognize now, named 'mushikamado'. Kamado in Japanese translated to 'stove'.
It's not too dissimilar to a tandoor, which finds its roots in Central and Western Asia, and very possibly might even share similar origins.
The Japanese design caught the eye of Americans in the wake of the Second World War, and has been adapted in the West. It's evolved over the years to include lids and vents to improve its barbecue performance
It's evolved to ceramic instead of clay, and has given way to the most famous kamado grill out there: The Big Green Egg.
​How does a Kamado grill work?
The bottom half of the egg-shaped chamber is where the coals sit, burning beneath the grill grates in the chamber. An intake vent at the bottom takes in air to feed the coals. Its domed lid has an exhaust vent sitting in the lid to allow air out.
The intake and exhaust vents (also called dampers) work together to regulate air flow through the grill. This gives you flames a regular supply of oxygen for as long as you need.
Check out our guide to the best kamado grill accessories
Kamado grills' are well-known for locking in heat. When the lid is shut, they're perfectly designed to keep heat in, while their reflective interior is designed to distribute temperatures evenly through the chamber.
A common complaint with charcoal grills is that it's easy for hot spots to emerge across the cooking surface, even when using indirect grilling. This tends not to be the case with kamados because they're built with distribution in mind.
Kamado works best with lump wood charcoal. I'd always avoid using briquettes regardless of whatever type of grill you're using, but for me this is particularly true with kamados. Briquettes burn too quickly and dirty, giving you a nasty cooking environment that will only harm your food. Lump wood charcoal burns much more efficiently and cleanly, and is great for the oven-like cooking that kamado grills can generate.
If you want to use your grill for smoking then it's equally easy to set it up for this by adding wood to the charcoal. Smoking wood often comes in different flavors and aromas. Popular woods are oak, hickory and mesquite, while varieties like cider and apple wood are great if you're feeling more adventurous and want to add hints of fruit to your barbecued meat.
What are the benefits of Kamado grills?
Kamados are about so much more than just an egg-shaped oven in your garden. While they might seem like glorified expensive fire pits, what you get in return justifies the added cost.
They're very well put together machines that are durable enough to last you for years, making them an excellent investment.
But one of the kamado's greatest assets is how versatile it is. While grills tend to be best for searing, and smokers best for longer cooking, a kamado can do both easily. It can generate scorching temperatures for grilling meat quickly, while also mastering the stable temperatures that you need for smoking meat over several hours.
This makes it just as capable at cooking pizza and fish as it is burgers or steaks. Yep, even pizza.
Are there any limitations to Kamado grills?
There are perhaps a few things you should take into consideration before making the leap to kamado.
One is that kamados do tend to be more limited in size than other types of grills or smokers. This isn't always a big deal, but if you're aiming to cook a large batch of food then the limited grill space might force you into cooking food in rounds or stages, which isn't ideal particularly with long form cooking.
Limited heat zones
Big part of grilling for a lot of people is creating two heat zones across the cooking surface area, one which allows you to cook at a stable temperature, while the other allows you to sear directly over high heat and get those iconic grill marks we all know and love.
Kamado's strength mostly lies in creating one heat zone, not two. It can do either very well, but both.
What should be said though is that some kamados now have special inserts that you can use to do indirect grilling, which does mean that in theory you can do both, but it'll be a little more work.
The weight
There's no getting around the fact that kamado grills are heavy duty. Unfortunately, the durable and robust builds come at a price, with them weighing the best part of 150 pounds.
This is not necessarily a bad thing though, and just ensures that it's a durable and sturdy build.
If maneuverability is important to you then I recommend looking into getting a stand with study casters. These will help you transport it around your garden should you need to.
They take practice
Learning how to use Kamado grills can difficult, and there is a steep learning curve involved. This can put a lot of users off.
Mastering temperature control in non-gas grills can take a lot of getting used to, with the intake and exhaust dampers often difficult to master.
What features should you look out for?What should you like out for to know what marks the very best out from the rest?
Build Quality
I've mentioned durability a lot so far in this guide, so it makes sense to mention the important of build quality first on this list of features.
If a kamado isn't built well then there's absolutely no point in spending anything on it. As soon a kamado is shown to be cheap, it loses all of its ability to retain or generate heat, which contradicts everything a good grill should be able to do.
While cheap prices might be tempting, if it breaks within a few months compared to a few years, then that extra couple of hundred would have been a sensible expense.
Look out for a given grill's ability to retain a stable and constant cooking temperature, as well as potential areas for air leakage, and cheap metal fittings.
Within build quality, the construction material is a really key consideration. The majority of Kamados are made of ceramic, although a good number also feature enamel coated stainless steel.
I would personally always opt for ceramic. It retains heat superbly, which is what kamado grills are all about.
Stainless steel isn't a bad choice as such, but it just doesn't have the same guarantee of heat retention. However it being enamel coated does help distribute heat wonderfully, which is fantastic for ensuring even, low and slow cooking.
Size
I'm sure that all of us would love a hefty sized cooker in our yard if money were no object. There are a lot of smaller grills that prove that good things come in small packages.
Kamado grills are small by default when compared to regular gas or charcoal varieties. Because of this, they already have a more limited cooking size.
So if you choose a small kamado grill then you might be limiting yourself even further. Pay close attention to the cooking surface on offer when choosing your grill.
Last update on 2023-10-04 / Affiliate links / Images from Amazon Product Advertising API