Kamado grilling is best known for its versatility, and this is best seen in the choice of add-ons at your disposal. From temperature controllers to griddle inserts, we've got it all covered. In this guide, we break down nine of the best Kamado grill accessories, tools, and inserts to help you get you the very most out of your ceramic cooker.
Kamado grilling is truly unique and unlike any other type of grilling. One of the things that keeps the popularity of the ceramic cookers on the rise is their flexibility, and this is largely down to the amount of add-ons and accessories you can get for your grill.
In this post we take a look at the 9 best accessories for your favorite Kamado grill, and recommend our favorites.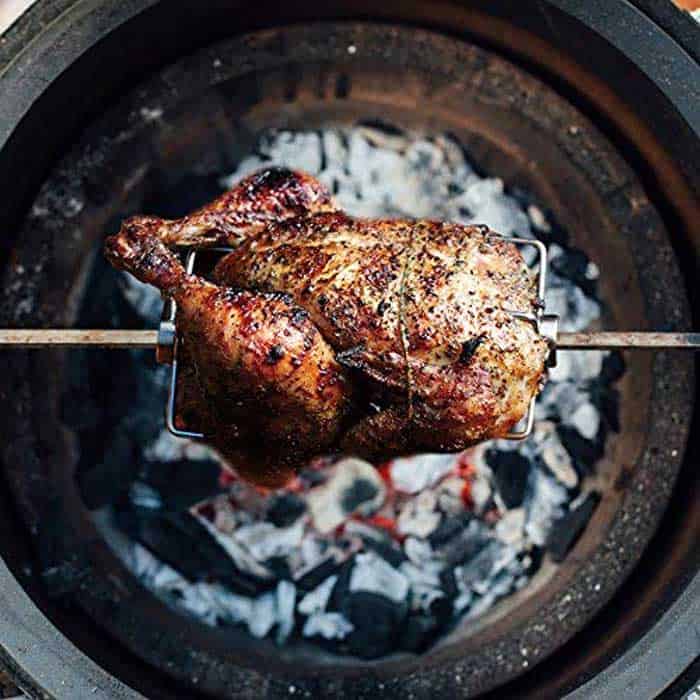 Best Kamado rotisserie
Whole chickens or turkeys are notoriously awkward to grill, but with the introduction of the rotisserie kit this is now no longer the case.
A good rotisserie kit will be built to endure long exposure to heat, and will be able to firmly grip the meat as well as slot easily into place without creating any air or temperature leakages.
Our recommendation: Kamado Joe JoeTisserie
The rotisserie motor is strong enough to handle up to 40 pounds of meat. Key to this is its rings at either end that provide a tight seal, keeping it in place in your grill while you cook. The seal also ensures that no air is lost while cooking, locking in your chamber's heat.
The JoTisserie can easily slot into all 18-inch ceramic kamado designs. Its 304 stainless steel spit has adjustable forks to lock into your poultry, meaning that no bird will be too awkwardly shaped for the rotisserie kit.
Best temperature controller
The key to kamado cooking – and all grilling and cooking in fact – is being able to maintain target cooking temperatures throughout cooking. Fluctuations in heat levels can cook your meat unevenly, and even make it unsafe to eat.
Mastering the airflow in kamado grills can be difficult, so the introduction of temperature controllers to the market is a very welcome introduction to the grilling world.
A good automatic temperature controller can fit easily on each air damper and adapt quickly to control the passing of air both in through the intake damper, and out through the exhaust damper.
Our recommendation: Flame Boss
The Flame Boss is one of my favorite temperature controllers for all smoker types, and the same goes for kamados.
It has a variable speed blower that adapts to wind and temperature fluctuations to help reach and maintain the temperature that you need in your kamado grill.
It has a temperature display so you know exactly what's going on, and see how your food is progressing. We're all obsessive about meat temperature, and the Flame Boss helps put our collective minds at rest.
It has a built in speed blower to help enhance air flow further, and has a built-in meat probe so you know the exact internal temperature of your food.
It's programmed to be able to detect any sudden temperature fluctuations that do happen from time-to-time when cooking outside. It's then able to react quickly by either pausing or speed up the fan to give your fire the chance to catch up.

Flame Boss 500 Universal
DOES NOT FIT Big Green Egg, Ceramic, or Kamado style smokers, gas grills or electric ovens*...
EASY TO USE - Simple device configuration coupled with unparalleled customer support guarantees...
LATEST TECHNOLOGY - Patented software and variable speed blower produce precise temp control....
Best electric starter
While we always prefer to do everything as organically as possible, sometimes we could all do with a little help.
Electric starters are a great fallback option should you be struggling to get your coals going.
I always recommend never using lighter fluid to start your grill, and electric starters are a clean way to do it.
Our recommendation: Kamado Joe KJ-ES
Its three-loop design creates more surface area and contact points, helping to light your coals faster and more easily.
When plugged in this starter can generate 600 watts of power to help produce hot coals in mere minutes.
Its design is done with compact spaces in mind, so it is angled perfectly to ensure that it can work inside a kamado grill.
Best Kamado chimney cap
While Kamado Joe grills come with a chimney cap included, this isn't the case with all kamado grills so I've put it on the list just in case.
While simple in build, a good chimney cap will help regulate the air flow out of your grill efficiently while also preventing any wind or rain causing any problems.
Our recommendation: Smokeware Vented Chimney Cap
Its solid build ensures it won't rust or break, and is sturdy enough to stay firmly in place on top of your kamado chimney.
Its design allows for far better control or low temperature cooking, while shielding the exhaust damper from exposure to rain, wind or snow.
It'll stick to its vent setting so that even if you open the lid, the vent setting won't come loose or reset.
Smokeware Vented Chimney Cap
UPGRADE YOUR BIG GREEN EGG: Stainless Steel (304 Grade) replacement for your daisy wheel and...
ALL-WEATHER CAP: Resistant to rusting and breakage; Confidently cook in the rain or snow
PRECISE TEMPERATURE REGULATION: Maintains vent settings when grill is opened and closed; Three...
Kamado grill cover
Every kind of grill needs a cover, and the best kamado grill covers can offer a lot more than just shelter from the wind and rain.
A good cover will have an undercoat that protects the paint on your grill, while it'll be coated to help prevent rust.
It might seem like a simple item, but a good grill cover could be the difference between an extra few years' worth of use out of your kamado.
Our recommendation: Kamado Joe Updated Classic Grill Cover
This dark taupe polyester fabric cover protects your grill from the elements with fantastic waterproof covering, and helps keep the grill hidden from view.
This cover has UV-stabilizing coating to help prevent rust, while its PVC undercoat keeps the grill safe from water exposure.
It has clickable closing straps to keep it firmly covered all over, and won't blow up should the wind kick in.
Sale
Best charcoal starters
If you're not interested in using an electric starter, then charcoal chimneys or starters can be a natural way to get things going.
Natural starters are similar to fire lighters, but are all natural with no chemical additives at all. These means a cleaner fire, without the risk of any harmful chemicals or odors making their way onto your food.
Look out for starters that are made with natural recycled sawdust. They're eco-friendly and a natural way to light your coals.
Our recommendation: Aura Outdoor Products All Natural Starters
These brilliant natural starters are easily usable on all kamado grills. They light quickly, and are the exact kind of reliability you need when you're all set to get your grill going.
They're made from natural recycled sawdust and paraffin, and don't leave any odor on your food.
Simply use them by using one or two at a time to light your coals. Nestle them evenly across your coals and light them. Your coals should be burning within 10-15 minutes.
Best Kamado grill grates
Kamado grills will come with a standard cooking grate, but half moon designs help you better set up your kamado for indirect 2-zone cooking, as well as make the most of your limited cooking space by creating several layers of racks.
Our recommendation: Kamado Joe Big Half Moon
The half moon design helps makes the most out of indirect grilling, while its stainless steel build helps prevent rusting and staining.

Kamado Joe Big Half Moon
Durable cast-iron cooking grate
Retains heat for the perfect sear
Includes cast iron lifting tool for installation and to lift the grid when hot
Pizza stone
Pizzas might not be the first thing you think of when considering a kamado grill, but ceramic pizza stone inserts allow you to make the most of kamado's oven-like design and create beautiful, smoky pizzas that can rival the traditional wood-fired ovens of Italy.
Our recommendation: Unicook ceramic pizza stone
This 15-inch pizza stone slots perfectly into most kamado grills, and its cordierite stone build is built to last and withstand the high temperatures that your grill will throw at it.

It's built with micro-pores to absorb and distribute heat, meaning your pizza will be cooked evenly through across its base.

Sale
Unicook Ceramic Pizza Stone
【Durable Construction】 Unicook pizza stone is made of all natural Cordierite, sintered in...
【Secret of Super Crisp Crust Pizza】Full of invisible micro-pores which draw out moisture...
【Multi-functional Pizza Stone】15 inch round pizza stone measures 15" by 15", golden...
Kamado griddle insert
Different to the standard grilling grate insert, a griddle insert gives you much more cooking flexibility by allowing you to griddle your food.
Look out for griddle inserts that are in half moon designs, as they will allow you to set up to maximize space as well as make the most of indirect grilling. They're also easy to remove, and can help to make cleaning your Kamado grill much easier.
Our recommendation: Kamado Joe Griddle Half Moon Insert
This insert matches perfectly with the standard Kamado Joe and can be flipped to give you a flat top grill surface as well as its griddle surface.
It's built solidly and will be more than up to the job of searing your food over years of use.
Thinking about upgrading your Kamado grill? Find out everything you need to know about the differences between the Kamado Joe Classic and Classic II.
Kamado Joe Griddle Half Moon Insert
Double sided griddle offers a smooth surface and a ribbed surface
Cast iron delivers excellent heat retention and is very sturdy
For use with the Divide & Conquer Flexible Cooking System
Last update on 2023-10-04 / Affiliate links / Images from Amazon Product Advertising API