The Weber Summit E6 offers dual-walled insulation and efficient cooking design. How does this new entry from the famous BBQ brand compare to other Kamado-style grills?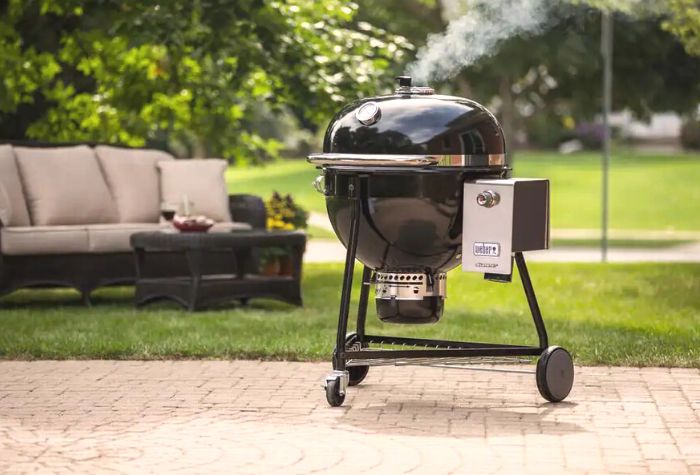 The Weber Summit Kamado grill sees the world-famous barbecue brand take a new leap into kamado cooking.
Kamado grills are incredibly popular in the world of barbecue thanks to their efficient ceramic design, and a huge community of kamado enthusiasts sharing recipes and techniques. Who knew that a type of ceramic grill invented around 3,000 years ago could still be so effective today?
The Kamado E6 doesn't come cheaply, so how do the features live up to expectations? Find out everything you need to know with our Weber Summit Kamado E6 review.
Quick Verdict
The Weber Summit Kamado E6 is on the upper end of the market for price, but it is still more affordable than similar models from Kamado Joe. The dual-walled insulated steel design makes it a very good grill for temperature stability, and the designers at Weber have clearly used their experience to add some excellent features such as a simplified One-Touch cleaning system. The grill's insulated ceramic design helps to retain heat and with its superb airflow control, you can adjust temperatures as required.
★★★★★
Best Features
Adjustable fuel grate and clever damper system help with temperature control
Made using steel with a porcelain-enameled finish, meaning it should last decades if looked after
One-Touch cleaning system for simple cleanup after use
Excellent insulation means temperatures stay consistent and reduce fuel use
Compatible with many different Weber accessories including a Rib Rack to make space for more ribs, and the Rapidfire chimney starter
Dual-position fuel grate means you can adjust how direct the heat is on the grill
Weber Summit Kamado E6
Dual-walled insulation for precise, quick temperature changes
Steel construction and porcelain-enameled finish for durability
RapidFire lid damper boosts air flow to quickly reach high heat
Ignition
Lighting your Kamado E6 is a manual job. It's a good idea to use a chimney-style starter, and a few firelighters in the chamber to get the fire going before stacking up with your charcoal of choice.
The ignition is pretty simple, and the damper and ceramic design give plenty of control, though you can't set a specific temperature like you would on a pellet grill.
Temperature Range
It is fair to say that the temperature range figures quoted are not as exact as some of the other models on the market. Weber explains that their grills are designed to max out at around 500-550°F which is plenty for searing and grilling. It is not quite as hot as some of the other options on the market which can reach 750°F, but this sort of heat isn't really necessary. Some pizza ovens reach these high temperatures but it is not essential for searing meat. 500-550°F is enough.
A lot of people choose the Kamado E6 for smoking, and it can quite happily chug along at a solid smoking temperature of around 225°F to 250°F. The Rapidfire Lid Damper is a huge plus point. It allows you to control the airflow and therefore the temperature.
Build Quality
The build quality of the cooking chamber is excellent, comparing favorably to many other ceramic kamado grills. The use of ceramic, steel, and clever insulation means that it stays hot and should last a long time if you take good care of your grill. 
The coating uses enamel to prevent rust or peeling, meaning that your grill also keeps its shiny new look for longer.
One small downside is that the castors (wheels) are not the highest build quality, and the stand could maybe also be a little bit sturdier in an ideal world. If you plan to move your grill around a lot and use it in different locations this might be a consideration.
Cooking Performance
How does the Kamado E6 stack up when it comes to different forms of cooking and grilling? Before we dive into both, it is worth explaining that the fuel system can be raised to provide more direct heat for grilling and lowered for smoking, maximizing the potential for both forms of cooking.
Smoking
The Kamado E6 is excellent for smoking. Though it doesn't have the precise control you might get from some other forms of modern grill (pellet smokers can allow you to control the temperature to within a few degrees) it is easy to control the temperature. This is achieved via dampers and the clever heat retention system that Kamado grills are famous for.
The design also helps to keep all that smoke sealed in and impart a delicious, smoky flavor to your meat.
Grilling
The advantages of the Weber Summit Kamado E6 when it comes to grilling include the fact that it can reach the desired high temperatures pretty quickly. The dual-walled insulation of the design also means it is good at keeping temperatures high without burning too much fuel, which is another big plus point.
Cooking Space
With the Summit Kamado E6 you will get a cooking space of 452 square inches. This is all set on one level. This is plenty of space for smoking and grilling, meaning room for multiple briskets or pork butts, and plenty of room for grilling burgers, steaks, vegetables, and more.
Pros
Efficient grilling. The excellent design of the Kamado grill helps to keep the temperature in and means less fuel is used
Control of the temperature using the clever damper system
Easy cleanup with the innovative One-Touch cleaning system
Fuel grate can be moved higher for grilling and lower for smoking
Cons
The stand, legs, and castors (wheels) could be higher quality
This is quite an expensive grill, consider whether it is in your price range before you purchase
Final Verdict
The Weber Summit range has provided us with some impressive grills with plenty of quality, and this is no exception.
We liked the fact that the damper offers so much control over the temperature. For long smoking sessions, not being able to control this could easily ruin your meat, so having that extra control is a big plus point.
There are only a couple of downsides, as the stand and legs could let you down in the long run. However, if your grill tends to stay in one place this won't affect you much, and the excellent features and clever cleanup make the Kamado E6 a good choice for both smoking and grilling.
Last update on 2023-11-28 / Affiliate links / Images from Amazon Product Advertising API