Outdoor grilling allows BBQ fans the perfect way to enjoy their favorite barbecue at home. Whether you're after a simple charcoal grill or a fancy gas model packed full of features, we've got the definitive list of the best grills for beginners this year.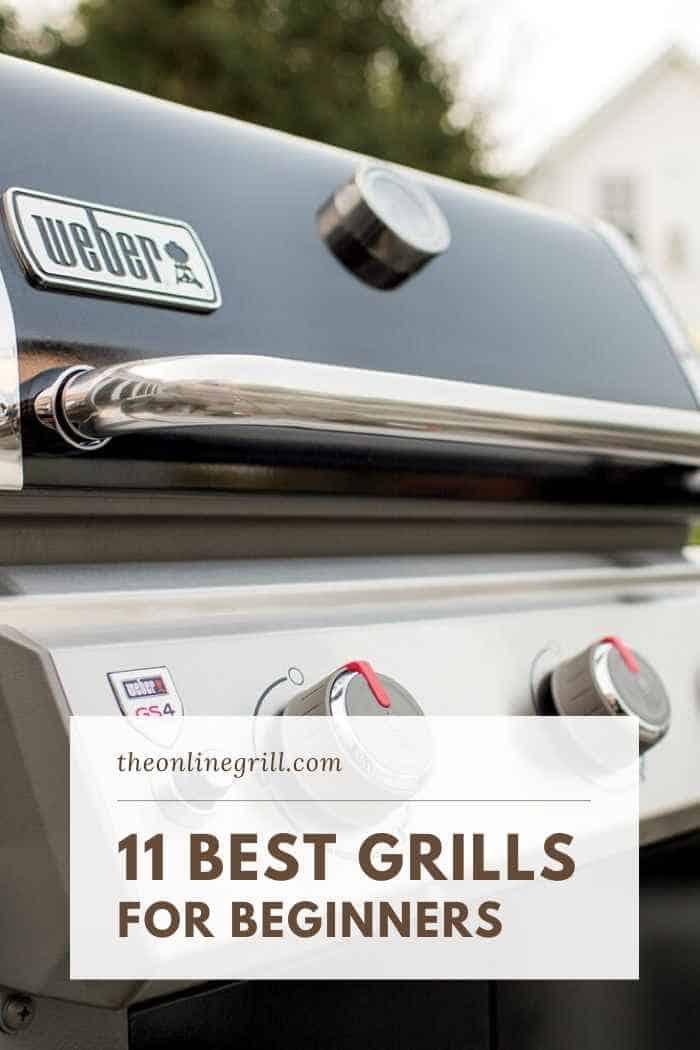 If you're making your first steps into the world of BBQ grilling, the sheer number of grill choices out there can be equally exciting and overwhelming. Do you go with charcoal, gas, or pellets? How much grill space is enough? And what exactly is a burner, anyway?
We're here to cut through all the noise and help you budding grill masters. We've worked our way through the options out there and whittled them down to this shortlist of the best backyard cookers for newcomers to outdoor cooking. From simple charcoal grills and propane cookers to more advanced pellet-fuelled barbecue models, these are the best grills for beginners out there today.
Best Small Grill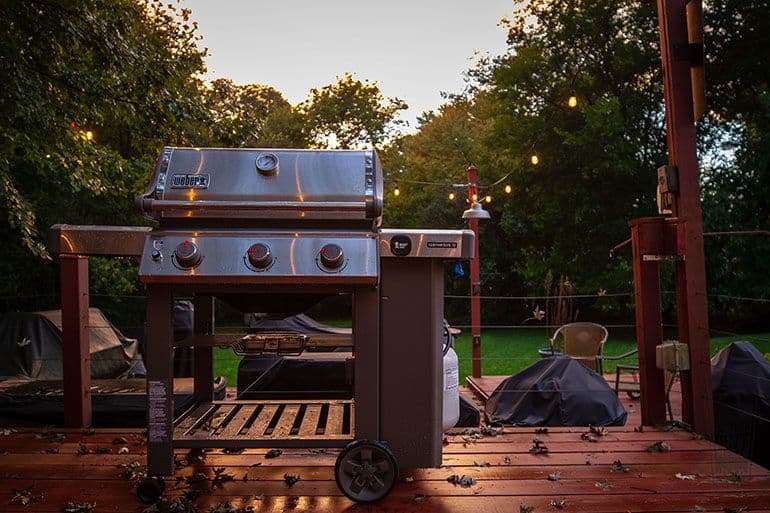 Not all of us are blessed with a generously sized garden or patio area, but luckily this is no longer an issue these days. There's now a huge variety of more modestly sized grills to fit on balconies or small terraces that are more than up to the task.
When it comes to barbecue, the Weber brand is a hallmark of quality. They're one of the longest-serving BBQ brands out there and no wonder. They've long produced excellent, durable and dependable grills for years, and are loved by BBQ devotees the world over.
Luckily for those of us with limited garden or patio space, they also have produced one of the best small grills on the market.
While this is one of their smallest, Weber has still managed to cram in many of their larger grills' features seamlessly into the design for this much tinier model.
Impressively, the Weber E-210 still offers 380 square inches of cooking space. It also boasts a warming rack to the side, meaning that you're never struggling for space.
Its Infinity Ignition system makes it quick and easy to start, and its porcelain enamel grates also make it simple to clean afterward. It also folds down effortlessly to help you save on space when not in use.
Finally, a feature I love is that it comes with an iGrill digital thermometer that syncs up with the Weber app on your phone, making it really straightforward to monitor the internal temperature of your food throughout barbecuing.
Highlights
Simple to store away
Quick to start up and finish down
Incredible grate space given its modest overall size
Specification
Brand: Weber
Model: Genesis II E-210
Cooking Size: 380 in²
Weight: 140 lbs
Best Budget Grill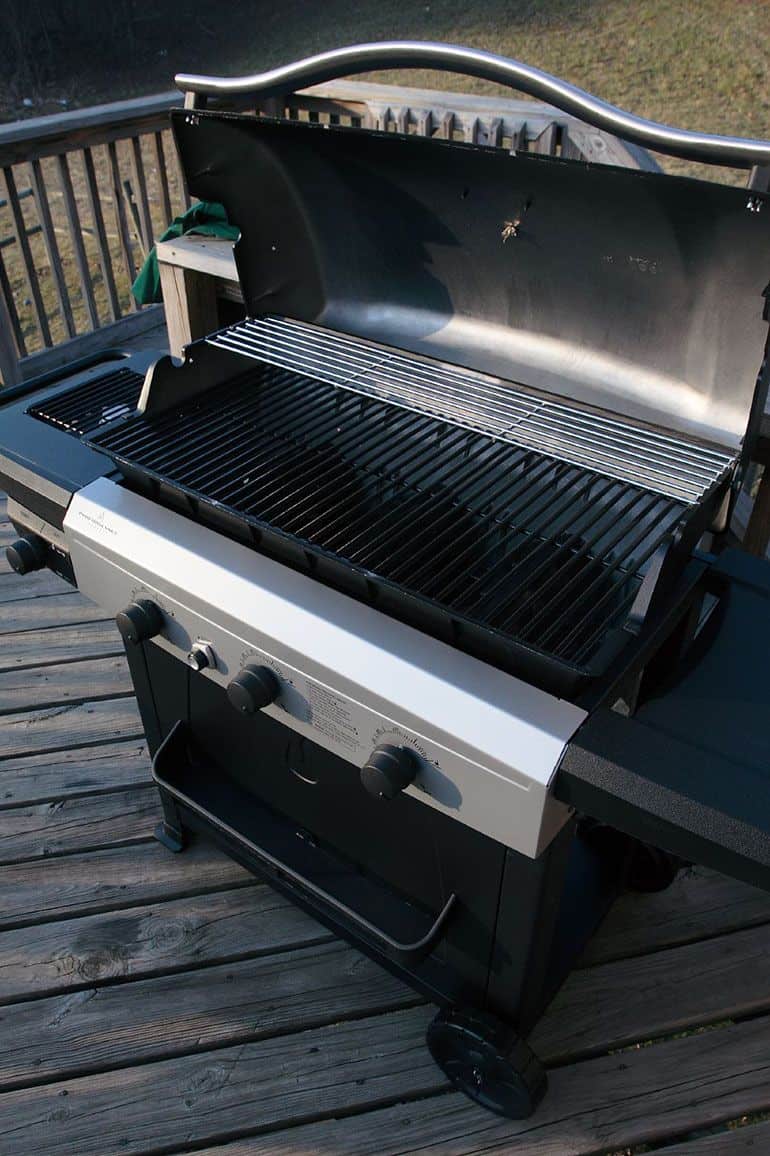 We won't lie, barbecuing can be an expensive hobby. It isn't just the cost of the grill itself, but also the added expenses of charcoal or gas, accessories and then there's the food itself. Which is what makes getting started all the more intimidating.
Check out our full guide to the best budget gas grills
Luckily there are plenty of budget versions available for people making their first steps into the barbecuing world. And while they might not offer all the same features as a high-end model, they do provide enough to get you started on making a rocking BBQ.
Cheaper models are available in both gas and charcoal varieties, but I feel that gas makes a much better entry point for beginners than their charcoal counterparts.
Char-Broil famously offers sturdy grills at affordable prices, so it should come as no surprise that one of their models features here.
The 280 offers 280-square inches of surface area, which is ample room for a good size barbecue. It has an ignition startup, which should help bring you to good grilling temperatures in no time, and it also has a couple of side shelves to help you prepare your cuts of meats before putting them over heat.
A great beginner's choice.
Highlights
Very sturdy and robust
Excellent value for money
Specification
Brand: Char-Broil
Model: 280
Cooking Size: 280 in²
Weight: 37.5 lbs
Best Kamado Grill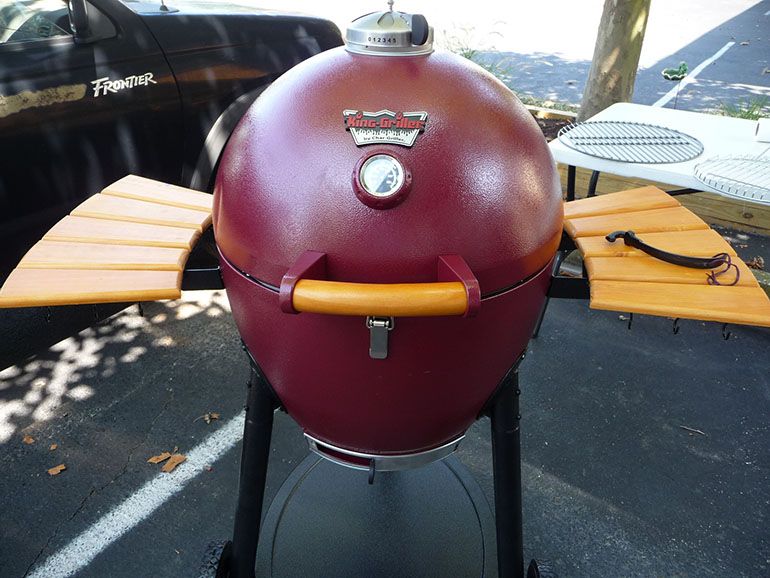 One of the oldest forms of grill, kamado's longevity is a testament to their reliability and robustness. They're also brilliantly simple to use, with heat-up time only taking around 15 minutes and cleaning a painless job too.
Check out my guide to the best kamado grills
Also, their design means that not only can they cook meat, but are also great at baking bread, paella and even… pizza. Their build also makes them great for 2-zone cooking, which is great for fans of indirect heat. If you're unfamiliar with this method, then be sure to check out my guide here.
One of the benefits of a Kamado grill is its ability to reach amazing interior temperatures, while also being able to smoke at a steady lower pace. This Kamado Kooker from Char-Griller does so, but even better.
It has a vast grate surface area for a Kamado, at 447 square inches in total. This allows you to perform excellent 2-zone heating, or even utilize the whole area for larger batches of food.
It's also heavily insulated, which helps you use far less fuel than you would for other models, all while maintaining a healthy and efficient cooking temperature.
Highlights
Large rack space
Incredibly potential high temperatures
Excellent heat insulation
Specification
Brand: Char-Griller
Model: Akorn Kamado Kooker
Cooking Size: 314 in²
Weight: 90 lbs
Best Portable Grill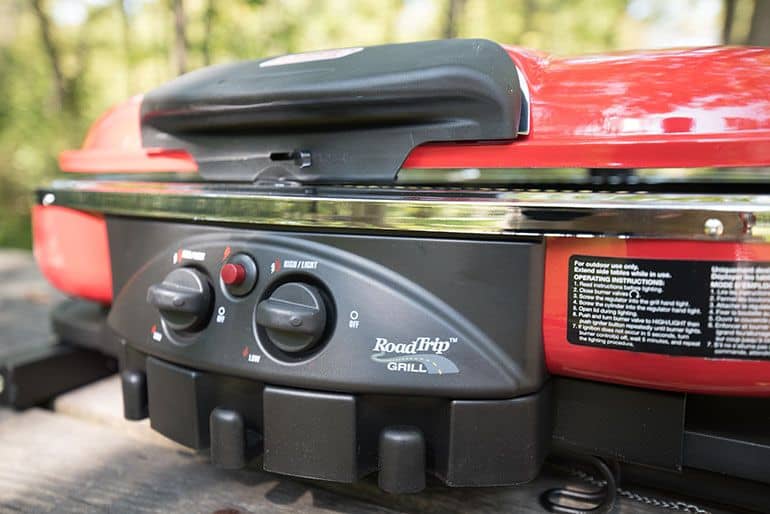 A portable BBQ is ideal for camping and picnics as it's small and easy to stow in the trunk. Of course, space is limited so barbecuing for a crowd could take some time.
This portable propane grill is an ideal choice for tailgating and camping because it has a collapsible design, making it a snap to stow in the trunk. Being lightweight also contributes to the portability of this grill.
If you want something that's charcoal fuelled instead, check out our guide to the best portable charcoal grills.
It features 285 square feet of cooking space and an impressive 20,000 BTU of heat. That means this one is perfect for burgers, hot dogs, steaks and even vegetables.
Another feature that makes the Coleman stand out is the interchangeable cooktops that include traditional grates and a griddle. Each is a cast iron grate for great taste and distributing even heat.
Wheels for transport and shelves on either side of the grill add convenience and efficiency to the barbecue.
Highlights
Interchangeable grilling surfaces make it easy to prepare many kinds of food
Porcelain and cast iron materials are durable and simple to clean
Plenty of power means quick and efficient grilling
285 square inches of space spread over two burners
Specification
Brand: Coleman
Model: RoadTrip LXE
Cooking Size: 285 in²
Weight: 49lbs
Best Electric BBQ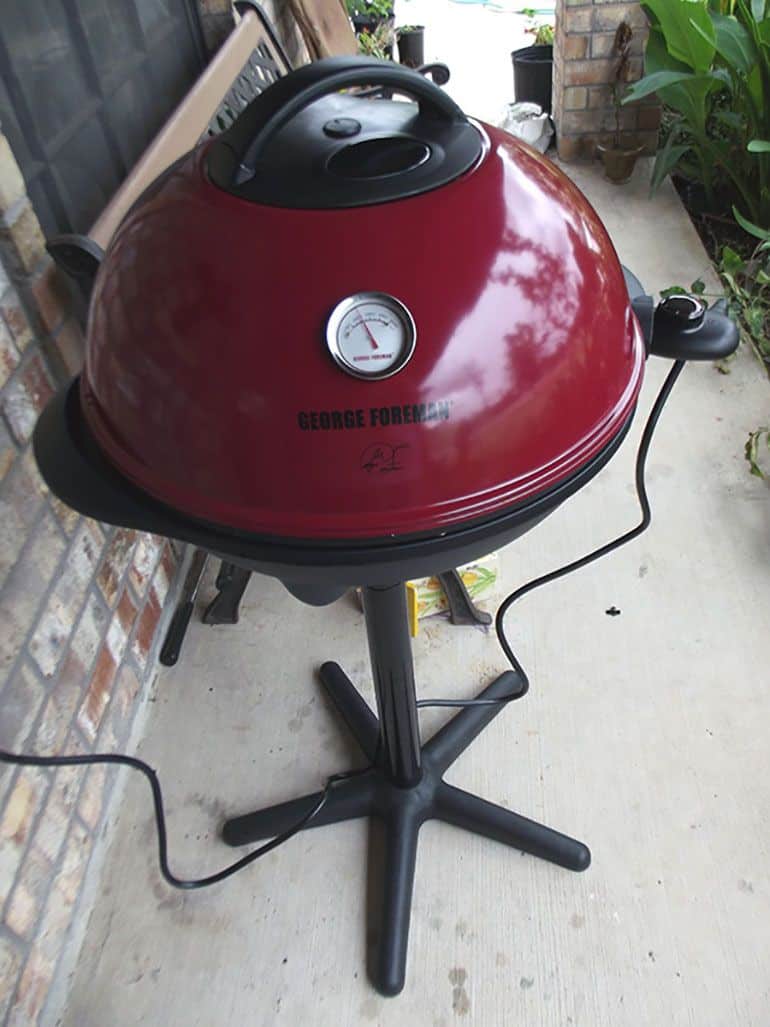 An electric grill is an excellent choice if you live in an apartment and can't use either charcoal or gas. While they are convenient in most spaces, you lose out on the smoky flavor associated with BBQ.
For serving a crowd at a tailgate party or backyard barbecue, this electric grill gets the job done with its 240-square-inch BBQ area. The circular design is ideal for sizzling burgers and hot dogs quickly and efficiently.
It also works perfectly as an outdoor electric grill just as well as an indoor one.
It has a nonstick coating to help prevent your foods from sticking while they cook. The nonstick surface also makes the grates easy to clean and maintain without a lot of scrubbing.
With five temperature controls, it's guiding temperatures precisely is no sweat. Another great feature is the removable stand, allowing you to set it up anywhere, including on a tabletop.
In fact, this George Foreman is designed specifically for apartments and small decks. The electric design prevents flare-ups and keeps BBQ smells to a minimum in communal areas.
Highlights
The removable stand makes it straightforward to set the grill up in small spaces, including on a table
Non-stick grates keep you from needing any butter or oil
Effortless cleaning and maintenance
Five temperature controls allow you to choose the precise heat level for a wide variety of foods
Specification
Brand: George Foreman
Model: GFO3320GM
Cooking Size: 240 in²
Weight: 20 lbs
Best Mid-Sized Grill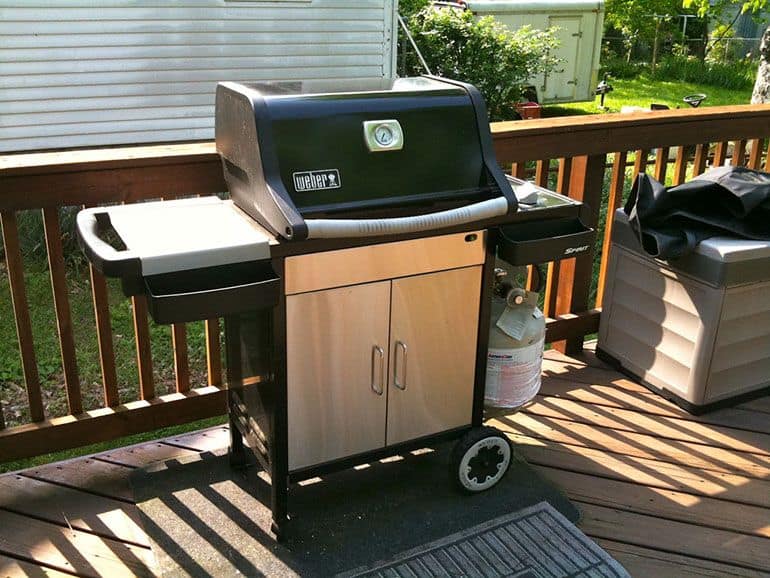 Versatility is what you get with this Weber, which comes with an electronic crossover ignition system that lets you customize your BBQ experience. A center-mounted thermometer makes helps you know when you're ready to put food on the grill.
BBQing for a crowd is a breeze, as it features 450 square inches of space on its cast iron grates. That means meats, fish and vegetables can quickly be prepared alongside each other.
The two stainless steel burners are fueled by 26,500 BTU of power and ensure even and efficient cooking. It also comes with plenty of extras, including a fuel gauge, six tool hooks, and a grilling guide.
Side shelves are available on both sides of the grill for holding platters and utensils. The Weber Spirit E210 also features durable stainless steel materials.
Highlights
26,500 BTU gives you plenty of power
Two burners distribute the heat evenly for a large quantity of food at one time
Cast iron grates create grill marks on your meat
Plenty of extras
Specification
Brand: Weber
Model: 44010001
Cooking Size: 450 in²
Weight: 101lbs
Best Kettle Grill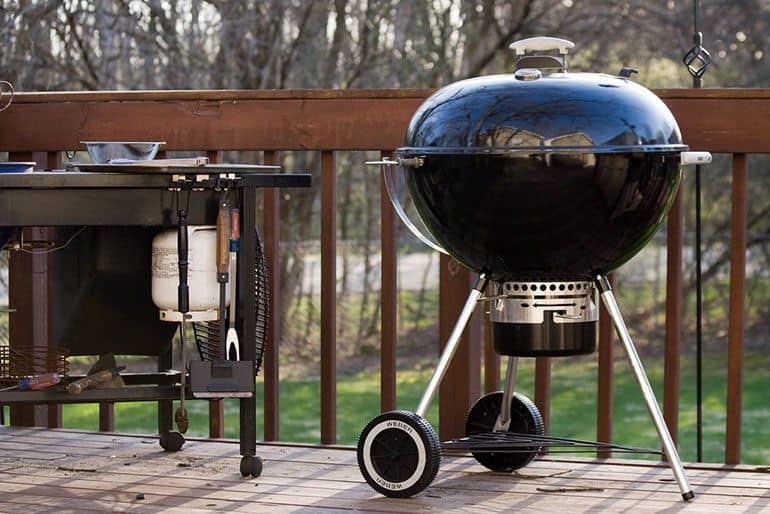 Kettles are widely considered the classic American BBQ. Named after their kettle-like chamber shape, their design allows it to distribute heat more evenly than other types of charcoal grill, and also allows users to adopt an indirect grilling approach.
Despite its compact design, you get an ample 363 square inches of cooking space, The 22-inch steel plated grate is ideal for meats, fish, and vegetables.
The bowl is constructed of porcelain enamel and the lid is glass reinforced and features a nylon handle with a heat shield. That means you can expect plenty of durability and longevity.
Another handy feature is the ash catcher, which helps keep your grilling space clean. The ash catcher is easy to clean out and holds enough debris to get you through a couple of grilling sessions.
It's designed to handle the high heats produced by a charcoal fire, and the hinged grates help you restock your coals once they're close to burning out. The one-touch cleaning system makes it simple to keep your grill clean and sanitary.
Highlights
Hinged grates for quick charcoal refill
Ample space allows for plenty of food at one time
Heat shield, an ash collector and rust-resistant vents make cooking
The compact design makes this grill ideal for even the smallest spaces
Specification
Brand: Weber
Model: B00004RALW
Cooking Size: 400 in²
Weight: 4 lbs
Best Pellet Grill
Pellet grills are unmistakable by their barrel shape but are also a great mix of the benefits of both gas and charcoal grills. They're fueled by hardwood pellets, which means that they can heat up very quickly while still offering you the authentic, wood and smoky flavors of a real BBQ grill.
The advantage of a pellet grill is both its cooking and temperature versatility, with them being able to smoke, roast and barbecue. Some models can hold excellent and steady temperatures for up to 8 hours.
Pellets also come in a wide variety of woods – such as apple, mesquite or oak – which can be used to provide a choice of different flavors.
This large grill boasts 700 square inches of space over two cooking areas. You can also expect 25,000 BTUs of power.
Standout features of the grill include internal temperature control and electric ignition. The smoker feature gives you additional options for roasting beef, chicken, and pork.
Not only can this product grill and smoke, but it also roasts, braises, and bakes. The pellet purge system is handy to have for when you smoke foods.
Stainless steel materials make the grill durable and easy to clean. You also get the assurance of an American made brand.
Highlights
Plenty of space
Extra features, like a smoker and two cooking spaces
Roasts, braises, bakes, grills, and smokes in one handy place
Sturdy design and long-lasting materials
Specification
Brand: Z Grills
Model: ZPG-700D
Cooking Size: 513 in²
Weight: 173 lbs
Best Built-In Grill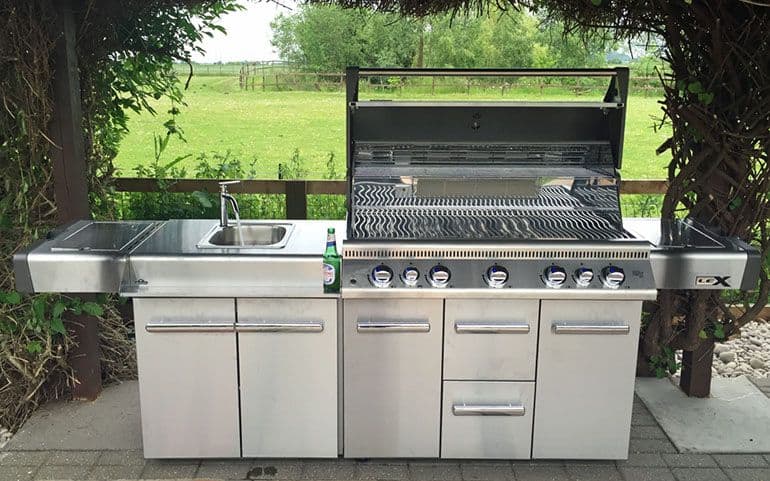 For those of you who have generous outdoor space and a sizeable budget to work with, a built-in grill is a great way to take your barbecue game to the next level.
These grills boast an incredible temperature range, fantastic BTU power, and vast cooking space. They're more often than not powered by gas, which might not be to everyone's taste but the room and flexibility they offer you to grill with is unsurpassed by any other type of grill.
Napoleon LEX models are mainstays in the built-in grill realm, and the LEX 605 is a perfect example of why. It has a massive 850 square-inch surface area and infrared burners to help give your meat the perfect sear.
It has a brilliant backlit area (why don't more grill have this?!), and while it is a gas grill it does feature a charcoal tray which can help you replicate that authentic charcoal aroma and taste.
It also features a smoker tube and rotisserie kit, all matched with stainless steel grids, temperature gauge, and sear plates.
All this with a 10-year warranty. Put simply, it's the best built-in grill I've come across.
Highlights
4 burners
Ingenius backlit controls
Huge cooking capacity
Reliable ignition system
Specification
Brand: Napoleon
Model: BILEX485PSS-1
Cooking Size: 675 in²
Weight: 92 lbs
Best Charcoal Grill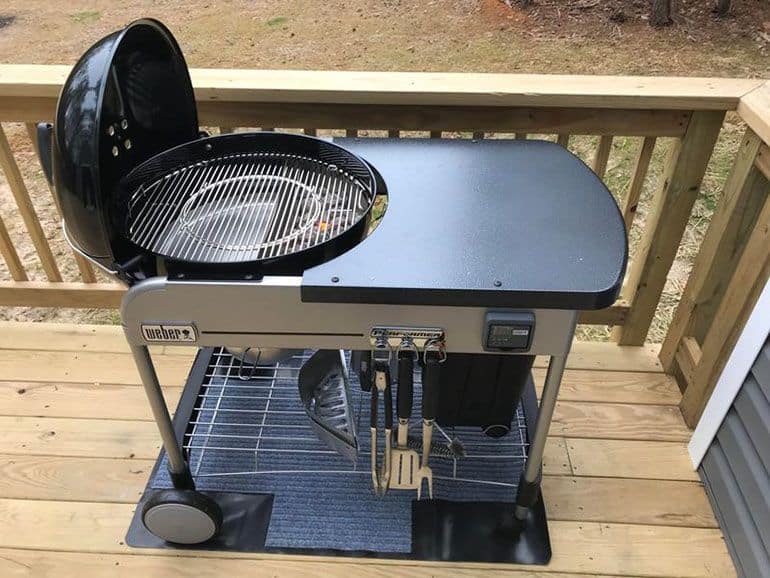 A good charcoal grill will offer a good-sized grilling grate, and a large bottom drum to give you plenty of room to manoeuvre your coals. It should also have a vent for ventilation and temperature control, and a solid lid to offer crucial insulation.
Charcoal grills do tend to be the most simple and fuss-free varieties of BBQ out there (check out my guide on using a charcoal grill), but the quality really does come down to the build. Cheaper models can be lacking here, with slightly pricier grills often offering excellent heat insulation to help provide stable and consistent grilling temperatures.
Another grill, another Weber. Despite their longstanding history of producing high-quality, reliable machines, they also offer extremely affordable models too. The Performer Deluxe is the perfect example of just that.
Although strictly speaking a charcoal grill, the Weber Performer Deluxe is perfect for beginners as it also offers a gas ignition for your coals, just to help get things going.
It comes with 363 inches of space, which is more than enough for a dozen burgers at a time. Armed with a side table, a huge vessel for ash disposal and a grilling timer, it's a great entry-level charcoal grill for those who want convenience without the comprise in flavor.
Highlights
Quick startup and warm-up time
Large asher for easy simple clean-up
Specification
Brand: Weber
Model: BILEX485PSS-1
Cooking Size: 363 in²
Weight: 91 lbs
Best Gas Grill
Gas grills are the perfect means to barbecued food, but quickly and through easy temperature control. Not all people are fans, particularly the purists, but I'm going to defend gas grills as they offer much more than people might think.
They tend to offer a large cooking space than charcoal models, and can often reach far higher temperatures.
Char-Broil is a great brand to depend on for affordable but powerful gas grills. Their Performance 300 model is no different.
It has an excellent power output of 24,000 BTU, while its burner setup and porcelain coated grates ensure that heat is spread evenly across the grill surface (often problematic for cheap gas grills).
It's exceptionally durable and has reliable ignition system in place to get your BBQ going quickly, all while being simple to store away in your home when not in use. Another excellent entry-level gas grill for those who want power and speed without blowing their budget.
See our full Char Broil Performance 300 review
Highlights
Impressive heat potential
Quick start up
Large grilling area
Foldable and easy to store away at home
Specification
Brand: Char-Broil
Model: B07D7Z7BS8
Cooking Size: 300 in²
Weight: 82.5lbs
---
Gas vs. charcoal grills
BBQ grills essentially break down into two different types: Gas or charcoal.
While gas and charcoal are the two most popular types of barbecue grills, there are a lot of other choices as well. Evaluating the pros and cons of each one is a sure-fire way to determine which one is best for you.
A gas version is faster than the other types and doesn't require as much clean up as charcoal. However, with propane, you don't get that classic smoky flavor you get when you BBQ with charcoal.
Charcoal grills are ideal for achieving higher temperatures for a better sear on your meat. You'll need patience though because getting the charcoal grill ready can take up to 45 minutes.
Chances are that you're on a budget, so you need to pay attention to cost. The price of the actual product is important, but it also pays to consider how much it will cost to run.
To begin with, you'll likely have to spend more to buy a gas grill, just because they are typically larger. The cost to run it will include having to swap out the propane tank each time it is empty. This costs an average of about $20, depending on the gallon price for the gas.
Going with charcoal is an economical choice as the grill itself will be less costly than other versions. However, you'll need to keep a stock of briquets or lighter fluid substitute on hand to get your barbecue started each time. The amount you spend on these items will vary depending on how often you use it to cook.
BTUs and burners
There are three factors to consider when it comes to burners – shape, material, and quantity. H-style burners are a popular choice because they spread the heat and stainless steel materials are durable and longer lasting than some other choices.
Choosing independently controlled burners gives you more control over the temperature and allows for more even cooking. If you like to grill more than one item at a time, you are definitely going to want to choose a barbecue with more than one burner.
Fuel: Gas canisters
A key consideration when choosing your grill should be the kind of fuel that you'll need to run it. A lot of people neglect the ongoing costs involved with keeping a healthy fuel supply going, making their purchase more expensive in the long term than they had initially been prepared for.
The majority of gas models are fuelled by gas propane, which usually comes in 5kg bottles. Although the gas will cost you money each time, the container should only be a one-time purchase as you can then refill it without the need to buy a new one. These canisters then fit underneath your grill and can slot in perfectly in most modern models.
Although these canisters might seem relatively small, they actually last for a surprisingly long time. For a 2-burner grill, they tend to last about 12-15 uses before running out.
Fuel: Lumpwood or briquettes?
While there is a range of propane and gas choices for gas grills, their charcoal counterparts also offer a selection of fuels: Lump wood charcoal or briquettes.
Both of these are widely and widely available, but I'd heavily recommend lump wool over briquettes. It's simply a question of quality, and lumpwood tends to impart a far greater flavor than briquettes. The reason being that the latter often contains binders and chemicals, while lumpwood is just gently burned wood.
Why would anyone choose briquettes, then? Well, briquettes actually tend to last far longer than lumpwood and have higher heat retention, so are by far a more economical choice in the long term.
Grill size
This is largely based on how much food you cook and how much space you have. The more burners you have, the larger it will be and the more room you'll need to store it.
A large family will want to choose a BBQ with a larger grilling surface. These are usually measured in square inches, and you want to be sure you have at least 100 square inches per person in the family – i.e., a grill with 400 square inches of sizzling space for a family of four.
Last update on 2023-10-01 / Affiliate links / Images from Amazon Product Advertising API