With a heavy-duty build and spacious cooking grates, the Weber E210 is impressive right out of the box. But how does it compare to other budget propane grills? Find out everything you need to know with our Weber Spirit E210 review.
The Spirit II E-210 has been given a much-needed update for 2018, boasting new features and improved performance.
The Spirit has long been a great entry point for newcomers to grilling. The series has produced grills that are more modest in size than more advanced models, and stripped of bonus features that can confuse newbies.
Despite this, this is an exceptionally good grill, and the perfect entry point for grilling newcomers.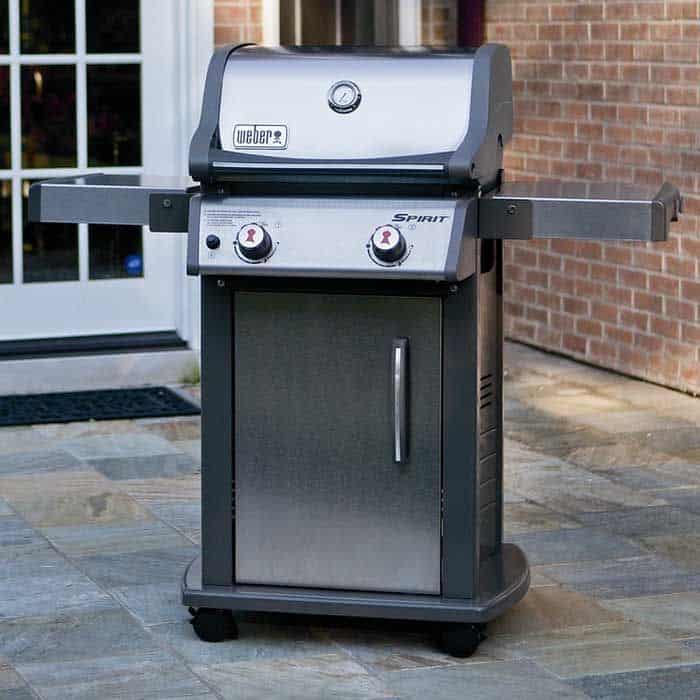 Let's get into why this could be the perfect grill for you.
The E-210 is absolutely perfect for BBQ fans who are new to the grilling game, or for users who are limited on space. It can perfectly sit on small patios, or on balconies.
Despite this smaller size, the grill doesn't compromise when it comes to performance and in fact compare well to the Weber's more high-end ​Genesis​ series.​​
The Weber E-210 is absolutely one of the BBQ world's best two burner gas grills out there, and gives you excellent bang for your buck. Let's take a closer look.
Spirit II E 210 Features
So what sets the E-210 apart? Let's take a deeper dive.
Weber grills are known for durability, and the brand's willingness to provide a 10-year warranty with this grill is testament to that.
Throughout their history, Weber grills have been renowned for their excellent performance, and crucial to this is their burners. These are built for even heat distribution, reducing the occurrence of flare-ups or cold spots across the grill's surface.
This reliability is built upon the grill's porcelain-enamelled cast iron cooking grates. The porcelain coating is built to help distribute temperatures efficiently across the grates', allowing you to rely on your grill to cook your food evenly.
Small cooking space
The grill has 450 square inches of cooking space. While not tiny by any means, this doesn't compare as favorably to Weber's more expensive grills.
If you're only looking to cooking for small groups of people then this cooking area will more than suffice, but if you're looking to take on larger batches of food then it might be worth taking a look at either of Weber's ​Genesis​ or ​Summit​ ranges, or even their Spirit E-310 (see it on Amazon here).
The ​Genesis​ range is intended as a direct upgrade to ​Spirit​, and the so the Genseis 210 has slightly larger cooking grates and ​​warming racks. However crucially, the ​Spirit​ actually boasts more power, at 26,500 BTUs.​​
If cooking space is important to you, then you might prefer the Genesis. However for my money, the Spirit is a better grill at a lower price.
Weber Spirit E210 vs Weber Spirit E310
Unsurprisingly, a lot of confusion can come up between the E210 and E310 models.
What do the two have in common and, more importantly, what sets them apart?
Both are very similar in build, and on the surface seem as sturdy and durable as one another. Both have excellent porcelain-enamelled cooking grates, and boast similar power capacity (26,500 vs. 30,000 BTUs for the E210 and E310 respectively).
The E310 does have three burners rather than two, offering a little more cooking flexibility, however this doesn't make it significantly more powerful to the extent that you might expect.
For this reason, I would still recommend Weber's Spirit E-210 over the E-310. The added cost for the latter just isn't justified by what you get in return.
Weber Spirit II E-210 features
​
​Beyond the excellent cooking grates, two burners and solid aluminum build, the E-210 comes with some welcome extra features.
It has foldable side tables and spacious cart layouts, offering you plenty of extra space to work with as you cook.
The latest version of the grill is also iGrill 3 compatible, which means that it's ready to use with Weber's smart thermometer series. The iGrill 3 is a smart phone app based thermometer probe that makes it easy for you to set and monitor grilling temperatures as you cook.
I've always preached about the importance of a good grill thermometer, and the iGrill 3 is one of the best you can get.
Find out more about the Weber iGrill 3 here on Amazon
---
In conclusion
As far as entry level grills go, it's hard to find better than Weber's Spirit II E-210. Within its modestly sized built is a fantastic two-burner grill that offers ample cooking space, considerably good cooking power, and reliable cooking surface.
If you're new to BBQ grilling then this is the grill for you.
Weber Spirit E-210 Gas Grill | Liquid Propane,...
Your purchase includes One Weber Spirit E-210 Liquid Propane Gas Grill. Cover is not included |...
Grill dimensions: Lid Open – 63" H x 50" W x 32" D | Lid Closed – 45.5" H x 50" W x 24" D |...
Heavy-duty caster wheels for easily moving your grill on grass or a patio
Last update on 2023-10-02 / Affiliate links / Images from Amazon Product Advertising API