How does the Weber iGrill 3 smart thermometer stack up against their iGrill 2? We put the popular BBQ probe to the test in our review.
Smart bluetooth grill thermometers have firmly established themselves in the grilling world, and are great at ensuring you have one fewer thing to worry about when organizing a big barbecue.
One of the most popular out there has been Weber's iGrill series, which is now in its third incarnation after the hugely popular iGrill 2.
Sale
And as more and more newly released Weber grills are released you'd be forgiven for wondering if it's worth upgrading to the iGrill 3, or is it all just a big fad?
BBQ smoking or grilling is all about temperature control, and any barbecue that's hit the rocks and gone downhill has largely been because of surges in heat or cold spots.
So the idea of wireless temperature readers that take on some of the work of temperature monitoring is welcome.
But how does it work in practice?
What is the Weber iGrill 3?
The iGrill has 2 temperature probes but has the capacity to take on 4 if you have the extra parts.
This then syncs up to your iGrill app on your smartphone, which has a series of built-in alarm, alerts, recipes, and even an indicator should you start to run low on fuel.
It easily mounts to all Genesis II grills, including the SE and LX models.
iGrill 3 features
This fantastic probe comes with a heavy duty bluetooth function that helps you maintain your grilling temperatures within a range of about 150 feet.
It's all relative, but for me this is more than enough to be able to use practically while you go off to the house.
All the while its four probes can all be used simultaneously to help you measure several cuts of meat at once along with the grill surface itself. The waterproof probes are color coded to make them easy to use. You know exactly what's for meat and what's for the grill surface.
For anyone embracing the technology revolution, it has an accompanying iOS and Android app, helping you pair it with your phone. Through the app you can monitor temperatures and apply target settings, helping you get the very most out of your barbecue experience.
Its battery can last up to an amazing 200 hours, and is heat resistant up to a staggering 716°F. This is more than high enough for the vast majority of grill uses.
Weber iGrill 2 vs iGrill 3: What's changed?
The iGrill 2 won over a lot of grill fans and, to Weber's credit, was largely compatible with any grill.
Sadly, this isn't the case with the iGrill 3. Instead, it's only compatible with Weber's recent Spirit series of grills, as well as heir Genesis range.
These grills come with a iGrill mount and bluetooth already installed, so if you have one of these grills then getting the iGrill 3 is a bit of no-brainer.
But for fans who were able to use the iGrill 2 on their non-Weber grill, this is a bit of a kick in the teeth.
Arguably, it can be installed on any grill, but it would require a bit of modification work on your part, which I wouldn't really recommend.
So has anything stayed the same? The number of probes is still at four, with two included with the purchase of the iGrill. You can also get ambient probes for monitoring the ambient temperature of your grill chamber.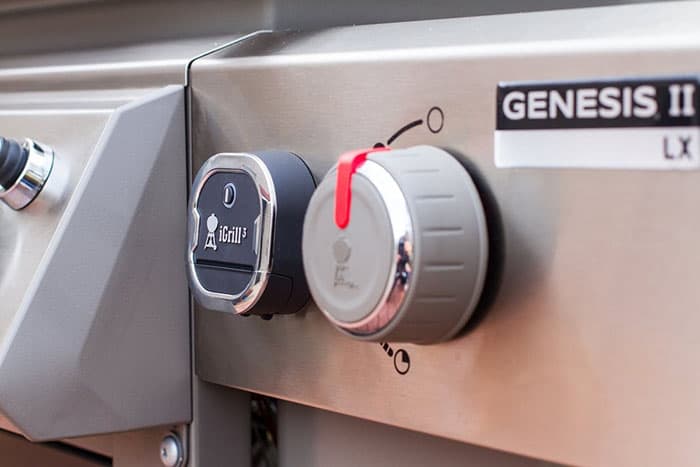 How to install the Weber iGrill 3
As long as you have a grill from Weber's Genesis series then setup is really easy.
Find the iGrill 3 plate on your grill control board and remove it and the fuel gauge. In its place add the magnet and feed in the bracket so its feeds through the underside of your grill and onto the grill surface.
Get 3 new AA batteries and put them in the iGrill's battery box, before mounting the battery box to the grill. Plug the battery box into the iGrill 3.
Place the iGrill 3 on the bracket, and secure all the wires using the supplied wire retention clip.
Download the iGrill app to either your iOS or Android device. Pair it with the iGrill bluetooth and you're good to go.
The Weber iGrill 3 App
The iGrill 3 pairs with iPhone and Android devices, but unfortunately Weber have been slow to announce a Windows version of the thermometer app.
The app has a range of built-in features for you to get the most out of your grill.
It has target internal temperatures and alarms for you to grill by.
Sale
Last update on 2023-03-30 / Affiliate links / Images from Amazon Product Advertising API