Need to take your barbecue skills to the very next level? Here are ten of the best grill thermometers to help guarantee temperature accuracy and perfectly cooked meat every time.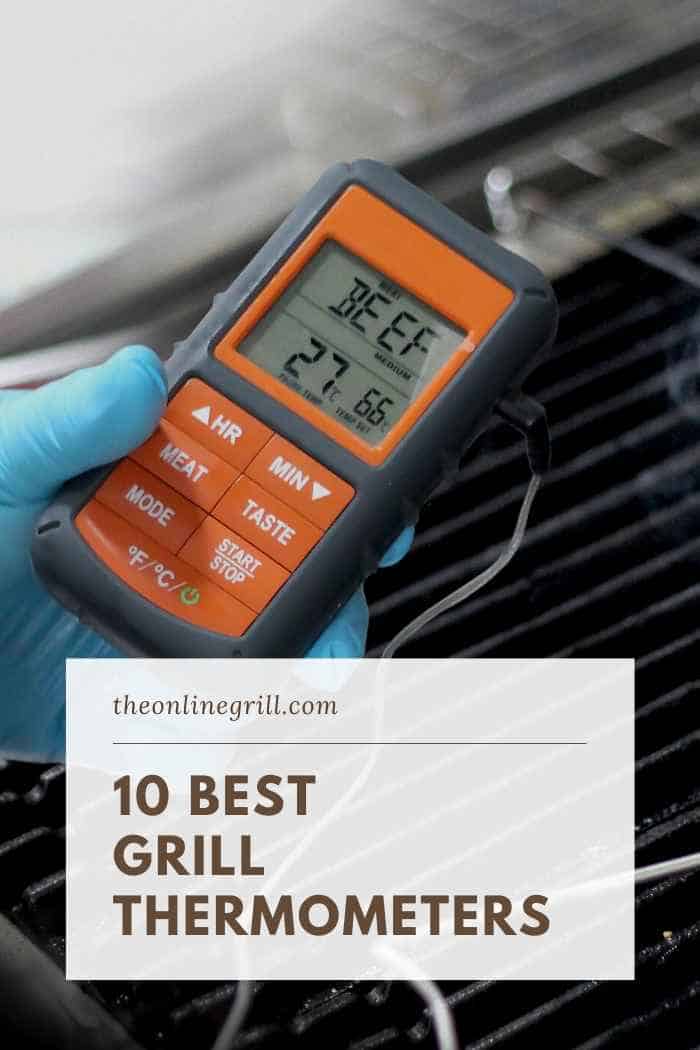 Getting meat cooked right at a BBQ is all about temperature. Get it right and your food will be cooked to perfection, rich in flavor, and beautifully tender.
At a Glance: Our Top 3 Grill Thermometers
Best Grill Thermometer:

ThermoPro TP-07 Digital


Armed with a wide reading range, its preset features give you a range of temperatures to work against. The best grill thermometer out there today.
Runner-Up:

Ivation Wireless


With two distinct probes and a long reading range, this thermometer keeps you in control of everything going on under the hood.
Best WiFi Option:

Weber iGrill 3


A smarty built app-based reader from one of the world's best BBQ brands.
A barbecue chef is only as good as his tools, and every pitmaster needs a good bbq thermometer.
You need something reliable, easy, and – most importantly – accurate.
Today I'm going to break down 10 of the very best grill surface probes out there, and help you get the right one for you.
ThermoPro TP-07 Digital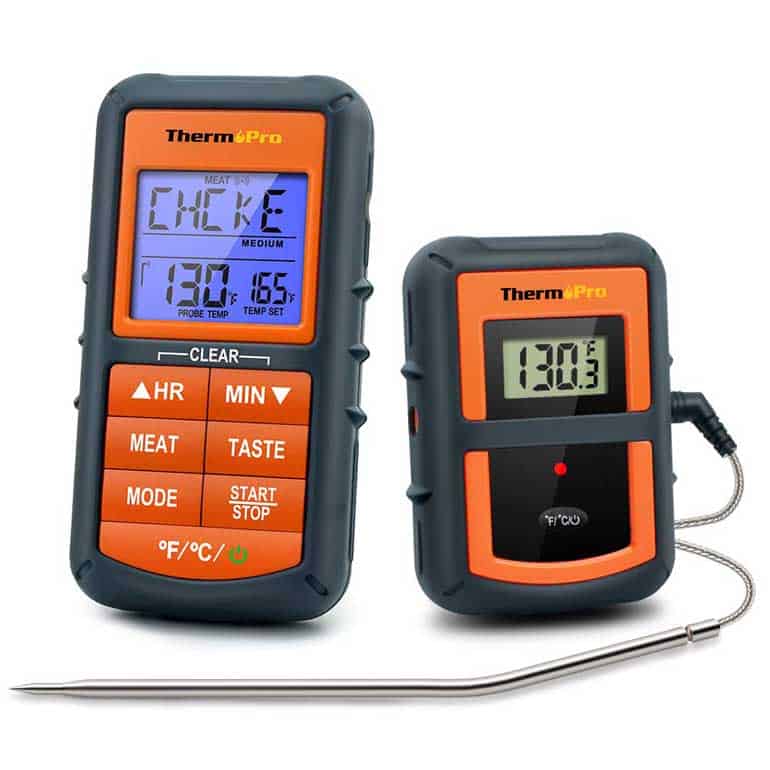 Kicking off my list is what I think is the very best there is: The Thermopro TP-07.
It's a digital wireless probe and reader kit that allows you to monitor the temperature of your chicken, pork or beef easily and from the comfort of your own living room.
It has an instant-read design that gives you temperature readings in milliseconds, compared to traditional analog models that can take half a minute or more.
ThermoPro TP-07 Wireless Features
The TP-07 offers the best balance of excellent features, wide temperature ranges, all while available at an affordable price.
Range: 300 feet
Temperature Range: 572°F
Probe Length: 78″ meat & 36″ pit
A lot of readers are stingy when it comes to display, making it really difficult to see the degree reading you're being given. Thermopro's LCD display however is big and clear, allowing you to get a quick temperature check instantly.
It has a fantastic temperature range of 32°F through to 572°F, which is more than enough to cater for all types of outdoor cooking.
Most import though is accuracy and here Thermopro is head and shoulders above most of the competition. Their reader is accurate to within 1.5°F, which is mightily impressive.
What also marks this digital probe apart is its ease of use. I'm not just talking about its clear LCD display, but also its preset features to help novices – as well as more experienced cooks – get the very best out of their grilling.
It has built-in recommended temperatures provided by the USDA for a range of meats. Not only this, but for meats like beef it has a taste button feature that allows you to select a target temperature from rare to well done.
This probe takes away a lot of the guesswork when it comes to cooking, and this is what makes it a great tool for cooks of all levels.
We're a big fan of ThermoPro's whole range, as you can see in our ThermoPro TP20 review. But the TP-07 edges it for us.
Final Verdict
The Thermopro has a wide reading range, while its preset features give you a range of temperatures to work against.
Sale
ThermoPro TP07 Wireless Meat Thermometer for...
300-Ft Remote Range: ThermoPro cooking thermometer lets you easily monitor your backyard grill...
Highly Accurate Meat Thermometer Probe: Digital food thermometer features a 6 1/2" food-grade...
10 Preset Temperatures: This kitchen thermometer is programmed with 10 adjustable...
Ivation Wireless
Next on my list, and a close second, is probably the most modern probe out there right now: The Ivation Wireless Dual Probe.
Read my full Ivation thermometer review here.
This great kit has two reader probes, with one for cooking surface and one for the meat. I love this because it means that you can get a check on your food's internal temperature, and also your grill's ambient cooking temperature.
Ivation Wireless Features
This long range thermometer allows you two different readings to allow you to smoke and grill simultaneously.
Range: 325 feet
Temperature Range: 716°F
Probes: 2 hybrid probes
The Ivation is incredibly accurate, letting you get on with cooking your meat to perfection. Nowhere is this accuracy seen better than in its speed in recalibrating meat temperature once moved or placed on a new piece of meat. It takes just seconds.
Its wireless capabilities enable you to get a good reading within a radius of up to a staggering 300 feet. If you do happen to stand outside of that area, it has an alarm that'll let you know that you're out of range. The alarm will even know when your BBQ temperature is too high or too low.
Final Verdict
With two distinct probes and a long reading range, this thermometer keeps you in control of everything going on under the hood.
Featuring a meat temperature guide, Ivation really have thought of everything to help this digital probe become a vital tool in enhancing your grilling experience.
Ivation Long Range Wireless Thermometer - Remote...
New Features Include: Amazing 325' Wireless Range; Larger Backlit Display (See Custom Alert...
Dual Heat-Resistant Probes: Each Probe Features 3-Foot Wire Rated at up to 716°F; Transmitter...
Easy Remote Monitoring: Monitor Internal Temperature of Meat from 325 Feet Away; Wireless...
Weber iGrill 3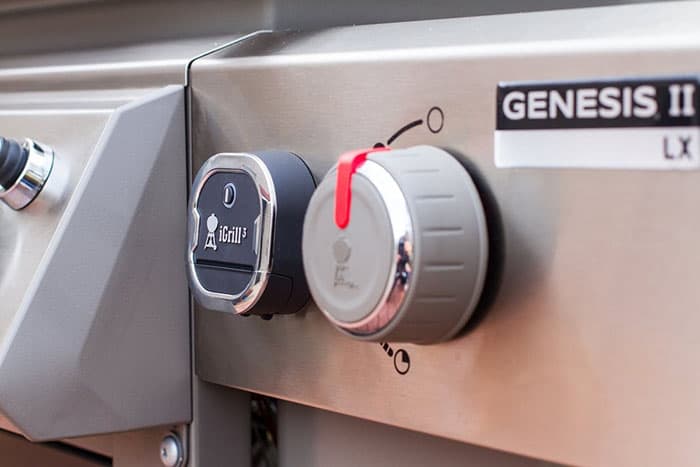 Almost no BBQ equipment list would be complete without an entry from Weber.
Check out our full Weber iGrill 3 review
This fantastic probe comes with a heavy duty bluetooth function that helps you maintain your cooking levels from a distance. All the while its four probes can all be used simultaneously to help you measure several cuts of meat at once along with the grill surface itself.
Weber iGrill 3 Features
This long range thermometer allows you two different readings to allow you to smoke and grill simultaneously.
Range: 325 feet
Battery Life: 250 hours
Probes: 4 probe capacity
For anyone embracing the technology revolution, it has an accompanying iOS and Android app, helping you pair it with your phone. Through the app you can monitor heat and apply target settings, helping you get the very most out of your barbecue experience.
Its battery can last up to an amazing 200 hours, and is heat resistant up to a staggering 716°F. It has alarm features to alert you once your target temperatures have been reached.
Final Verdict
With two distinct probes and a long reading range, this grill thermometer keeps you in control of everything going on under the hood.
Sale
Weber iGrill 3 Grill Thermometer
SMART THERMOMETER: App-connected thermometer allows you to monitor the doneness of up to four...
PRO GRADE: 250 hours of battery life, this thermometer includes two color-coded,...
FITS: Genesis II, Genesis II LX, and Spirit II gas grills with an "iGrill 3 Ready" plate on...
Maverick ET-733 Dual Probe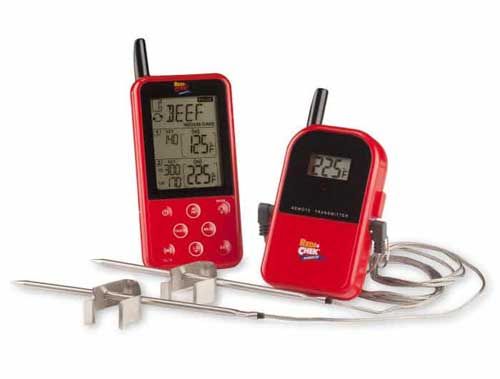 Another quick-read thermometer boasting a reading time of just three seconds, the Maverick Pro Temp PT 100 will know when your meat is ready before you do. Don't be put off by its small size, as by no means does its unimposing size mean a compromise in reliability.
Reviews have praised its durability and reading accuracy, as well as its excellent value for money. I love added bonus features, especially on small unassuming items like this, and the Maverick PT 100 scores points with me as it has a meat temperature guide on its body, so you really will have no excuse for overcooking your food ever again.
Maverick ET-733 Dual Probe Features
Maverick have improved on their previous models with a long range grill and meat thermometer that can withstand high heats in the BBQ pit
Range: 300 feet
Temperature Range: 700°F
Probes: Dual probe
No list would be complete without a mention of the Maverick Dual Probe. It's long remained one of the most popular and best smoker thermometers on the market, so to miss it out would be criminal.
Its dual probes allow you to keep an eye over both the meat temperature and the internal temperature of your smoker itself, all while being up to 300 feet away.
Its two probes are incredibly durable, and can withstand heat of up to 700°F. For smokers, this offers is not a limiting factor at all, as smoking temperatures tend to lie in the 150°F to 200°F region.
This is a particularly good choice for beginners as it comes equipped with 15 preset temperatures and timers for specific cuts of meat (check out my guide to the best kinds of meat to smoke). Of course you can do it manually, but smoking can take a lot of practice so this is a welcome feature to have.
The preset cooking settings are easy to set up and use, and you'll be notified of your meat reaching its target temperature with an alarm. As well as this, it'll notify you if your temperature reader is out of the probes' signal range. It's a little feature, but it's a nice one to have.
Charcoal or wood smoker temperatures are notorious for being difficult to control, so this reliable and user-friendly thermometer is perfect for newbies and seasoned BBQ enthusiasts alike.
Final Verdict
Easy to program, easy to use, and with impressive reading accuracy. While previous Mavericks have failed, this probe is a fine return to form.
Maverick ET-733 Long Range Wireless Dual Probe BBQ...
FEATURES INCLUDE: Larger Backlit Screen Shows more information (you can now see the Custom set...
WIRELESS - Monitor internal temperature of meat from 300 feet away; wireless receiver with LCD...
MONITOR TWO TEMPERATURES AT ONCE - Probe wires are 3 feet long and are rated for 716°F;...
​
GDEALER Instant Read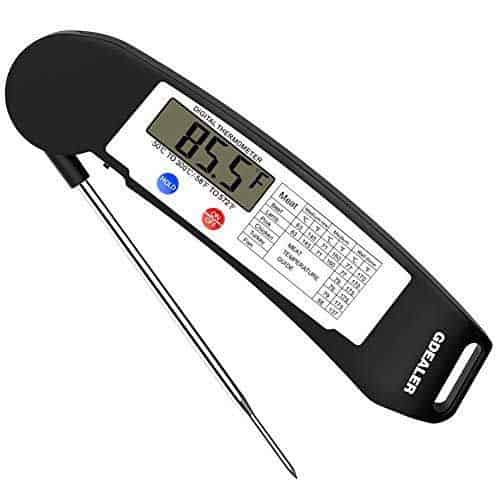 It's easy to look down on cheaper probes, but not all of them are of poor build quality. The GDealer Instant Read is surprisingly accurate despite its cheaper price point.
This affordable digital probe is compact and lightweight, and offers all the convenience you need. You can get a temperature reading in just a few seconds seconds for all kinds of meat.
It has a temperature range from -58 to 572 degrees fahrenheit, making it a perfect for barbecue, and it also works in liquids.
Its stainless steel tapered probe is easy to insert and durable enough to last you for years. When not in use, simply fold the probe into the unit and store.
It has a fantastic auto shut-off function that saves battery power, and it has a large LCD screen that makes using it really simple.
On the downside, it can't be immersed in water so it must be washed gently by hand. It also far less sturdy than its pricier counterparts.
GDEALER Instant Read Thermometer Super Fast...
Super Fast Thermometer: Instant digital readout within 4-6 seconds for meat and 4-20 seconds...
Wide Temperature Range of -58℉ to 572℉(-50-300℃), Accurate to ± 0.1℉ (between -4F to...
Smart Design: Auto-shut off to save battery life if readout stays for 10 minutes. Stainless...
Tenergy Solis Digital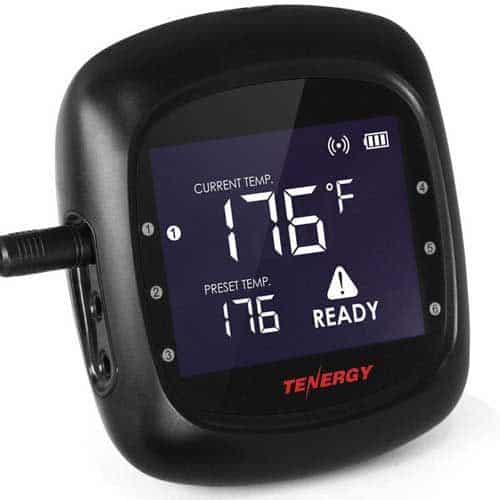 This app-based gadget allows you to cook meat without having to monitor it every second. You get alerts on your phone while your food is on the BBQ, so you don't have to keep an eagle eye on it at all times.
Its wide temperature gauge of 32 to 572°F makes it extremely durable and able to provide good readings for pretty much any kind of barbecued meat. Its high end readings are also accurate enough to ensures solid cooking times every time you use it.
But the real star of the show is its app feature. It comes with 11 preset temperatures that allow you to preset a target heat level, and the unit will do pretty much the rest of the work. It'll alert you when your meat is done and ready to be served.
Its app-to-phone connectivity can be a bit unreliable at times, so you will have to ensure that you're within range, however if you're vaguely nearby then this shouldn't be too much of a problem.
Sale
Tenergy Solis Digital Meat Thermometer, APP...
Smart real-time notifications - Free yourself from cooking as you can get instant notifications...
Accurate high temp readings - The next generation of cooking is here with the Tenergy Bluetooth...
Easy-to-use app - The App available on both Apple iOS and Android Play store makes it easy to...
ThermoPro TP17 Dual Probe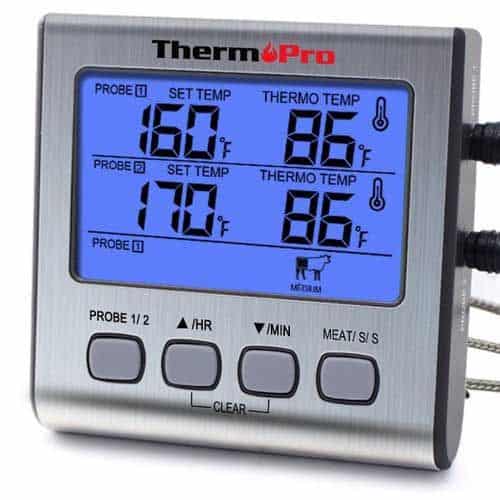 The best thing about this dual probe gear is that is features two probes, allowing you to monitor two cuts of meat at the same time. This makes it an ideal choice for grilling and smoking meats.
The unit comes with the preset USDA temperatures for most kinds of meat, but also has a customizable feature that lets you choose a specific temp. The large backlit display makes it easy to monitor temperatures day and night.
Users say that the temperature range of 14 to 572 degrees makes this an ideal choice for meats, as well as other foods, such as candy and liquids. It can also be used in the oven for foods cooked inside.
Some users report that the temperature can be off when cooking large cuts of meat or poultry. Because it's not an instant read model, it takes a bit longer to get a reading than other thermometers.
Sale
ThermoPro TP-17 Dual Probe Digital Cooking Meat...
BBQ High/Low Temperature Alarm: This smoker thermometer will flash and beep to notify you if...
Dual probe grill thermometer and USDA presets: Monitor temperatures of two pieces of meat or...
Large & Clear Backlit LCD Display: This BBQ thermometer features a large display which features...
Cuisinart CSG-100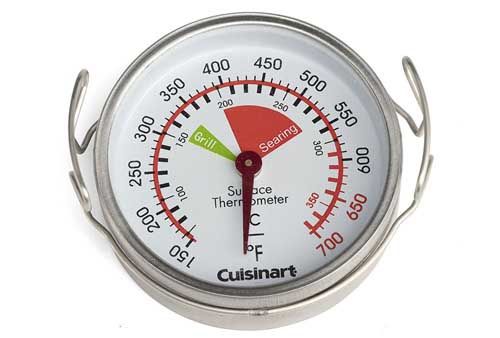 If you want a simple and easy-to-read instrument, this is the option for you. This surface thermometer is great for grills, griddles and pans and is a great choice for home chefs and people who love to barbecue meats and other foods.
You can use it to monitor the surface temperatures and hot spots in mere minutes. The wire handles make it easy to move the unit from place to place as you need to. It's also very easy to install on your grill hood.
This analog cooking thermometer has a range of 150 to 700 degrees fahrenheit, making it great for meats of all kinds. The fog proof screen means you never have to worry about getting a precise reading each and every time.
Some users say that unit isn't as precise as one with a probe, despite it being very handy to use. Others say that the unit can become discolored inside over time, making it hard to read.
Cuisinart CSG-100 Surface Thermometer
Monitor the surface temperature of any grill, griddle, or pan
Place anywhere on your grill to find hot spots in minutes
Two wire handles for convenient mobility
CDN Quick Read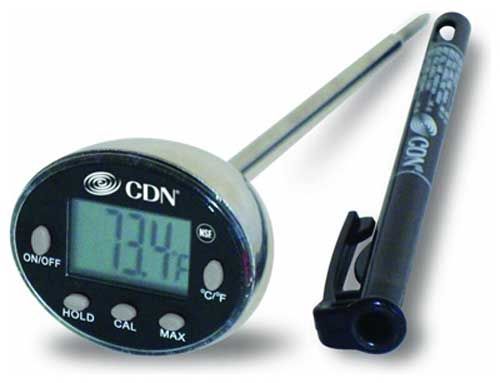 Quick-read thermometers are proving evermore popular, and top of the pile is the CDN.
Giving an accurate reading within three seconds, this thermometer will help you cook your food to the temperature that you want without any fuss. Its stem goes into meat easily, and features a good temperature range of -40 to 450F.
The CDN has received acclaim from reviewers for its lightning-quick response time and ease of use. What's more, the CDN Thermometer comes with a five-year warranty. If CDN are this confident in their product, then why shouldn't you be?
ThermoPro TP11S
This more budget version from ThermoPro is perhaps a better entry point for beginners, but does this mean a poor quality probe?
In short, no.
This is a fantastic thermometer that delivers outstanding accurate readings, and is far easier to preset than some of its counterparts.
Getting an accurate temperature readout is important for food safety reasons, but it's also vital if you prefer your different types of meat at a specific temperature. For that reason, you want a grill thermometer that you rely on to give you an accurate readout.
Not just any meat probe is going to give you this peace of mind. You don't have to spend a lot of money to get a good one, but it doesn't pay to choose the cheapest one you can find either.
---
Grill Surface vs. Built In Thermometers
Most experts will tell you that the built-in thermometer on your grill is not one you can rely on. Because they are located on the hood, you aren't getting an accurate reading of the internal temperature of the actual foods you're preparing.
They are valuable for determining whether your surface temperature is at the right level, but you should always use a dedicated grilling thermometer to be sure the meat is cooked properly.
Instant Read vs. Leave-In Thermometers
Whether you choose an analog or digital meat thermometer, there are two options in each category – leave-in or instant read. As the names imply, an instant read thermometer will tell you the internal temperature right away (source), while a leave-in will take longer to give you an accurate temperature readout.
In general, a leave-in thermometer will remain in the meat during the entire cooking process, while an instant read is used near the end of the cooking time to let you know if it's done or not. In many cases, a leave-in thermometer has more bells and whistles and will give you more precise options when cooking meat.
Features to Look For
Beyond the basic choice of an analog or digital design, there are some other features that can make the thermometer a good choice for your needs. Thinking about each of them will help you find the exact item for the types of foods you cook.
Having an alarm or alert on your grilling thermometer allows you to do other things while your meat cooks. When it reaches the set internal temperature, it will notify you with a beeping or buzzing so that you know it's finished.
A preset temperature control is handy to have because you can decide which temperature you want before cooking. These temperatures are generally based on USDA recommendations for safe internal cooking temps.
A timer or programmable temperature feature lets you customize your cooking times or temperatures. This is not always recommended by experts but is handy if you like your steaks rare or want to cook a specific item to a specific temperature.
Because many digital meat thermometers are battery operated, you may want to look for one that has an automatic shutoff. This way you don't run the batteries down when it's not in use.
Digital vs. Analog Thermometers
There are lots of grill thermometers on store shelves and one the first things you'll notice is if it's analog or digital. An analog model measures meat using a standard probe, while a digital one will give you a precise numerical readout of the internal temperature.
Many analog models are preferred by many chefs, but they can be harder to read than a digital one because there is some guesswork involved with getting the precise temperature (although they can be recalibrated). The main perk to an analog model is that they are simple to use, easy to clean and won't take up a lot of room when you store them.
On the other hand, a digital grill thermometer is generally larger and features the probe attached to a cord that leads to the probe. This style of thermometer may take up more room, but it's very easy to use and gives you an exact temperature readout on a variety of meats. Digital thermometers are also more expensive than their analog counterparts.
Wi-Fi vs. Bluetooth Thermometers
With the ever fast paced developments in the cooking world, BBQ has seen plenty of new innovations come to the fore. One of the most notable have been the emergence of wi-fi and bluetooth readers.
On the face of it, it might seem that wifi and bluetooth are essentially the same, but there are significant differences between the two.
While it is true that the two of them operate on the same 2.4 GHz frequency, they both differ wildly in the range they can operate at.
Bluetooth can connect wireless devices within a short range, whereas Wi-Fi can connect devices much further away, but only as long as they are on the same internet connection.
In theory this does mean that you can use your wi-fi connected handset anywhere in the home, but problems can arise if you have difficulty connecting your thermometer to the internet from your garden or patio.
How to improve the performance of your bluetooth thermometer
While bluetooth might only be able to function within a shorter signal span, there are actions you can take to enhance its efficiency.
The first and perhaps most obvious is to remove any obstacles between your reader and grill. One of bluetooth's biggest weaknesses is its inability to go around anything in its way.
Secondly, turn off any other bluetooth devices nearby.
Also, just like you would with any meat thermometer, keep it as clean as possible. Any buildup or dirt can severely impact performance and accuracy, which in turn can lead to burned or undercooked food. In the case of meat, this could even be dangerous.
Where's the best place to put your grill thermometer?
The placement for your thermometer will depend on what you are measuring. Luckily, the best temperature probes have several probes to allow you to measure different areas simultaneously.
For ambient cooking temperature
Aim to place he probe near to your meat, paying close attention to height. Meat has an area of cool around it while it cooks, so don't place the probe too close to it. Instead, aim for about 2-3 inches, and also 1 inch above the cooking grates.
For meat reading
The thickest part of your meat is the best place to take a reading. Insert the meat probe there, and try to push the probe in fairly deep. As you slowly remove the probe from the meat, take note of the lowest recording it gives you. This will help you be certain that your meat is properly cooked.
The Final Word
The winner of the roundup is the ThermoPro TP17 Dual Probe. This one is clearly the top choice as it offers all the best features recommended by experts. That includes an instant read digital screen, two probes for monitoring meat temps, and preset temperatures that can also be customized.
When you're shopping for a grilling thermometer, this is the obvious choice for getting precise temperatures when cooking meat at home. It's easy to use and clean, simple to store when not in use, and it guarantees precise temperature readouts every time.
Last update on 2023-10-01 / Affiliate links / Images from Amazon Product Advertising API