Need some inspiration for birthday or Christmas gifts for your favorite grillhead? Here are 34 of the best grilling gifts for BBQ fans this year.
BBQ fans are notoriously hard to buy for, and that task if made all the more difficult when they refuse to offer any sort of help or hints.
This list should serve as your reference point for all grill-loving fathers, with something to suit all budgets and all grilling need.
From beginner tools to essential grill accessories, here are 34 perfect grilling gift ideas for the grill fanatic in your family.
Weber Kettle Grill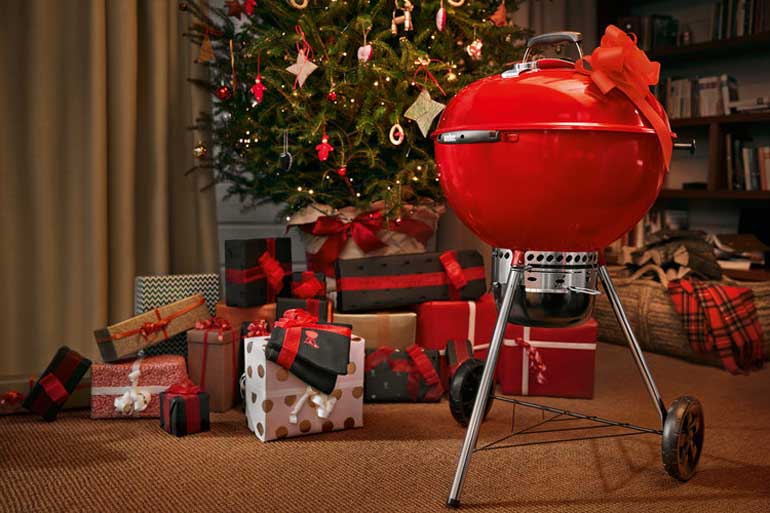 Where else would we start other than with the world's most iconic grill?
The Weber Kettle has stood the test of time ever since its first build, and it's not hard to see why. This little kettle is one of the best charcoal grills out there owing to its durable build, airtight chamber, and ​big​ cooking surface area.
Great for home use, it's also easily portable so just as fantastic for tailgating or camping.
If this is your friend's first foray into charcoal grilling, then this is the perfect place to start.
Heavy Duty BBQ Grilling Tools Set
Accompanying every good grill has to be a solid tool set, and there aren't many better than this.
This tool set features stainless steel grilling accessories that are as durable as they are beautiful. Included is a grill spatula, a basting brush, a grill fork, and a pair of tongs.
All the essentials, all in one place.
Cedar Grilling Planks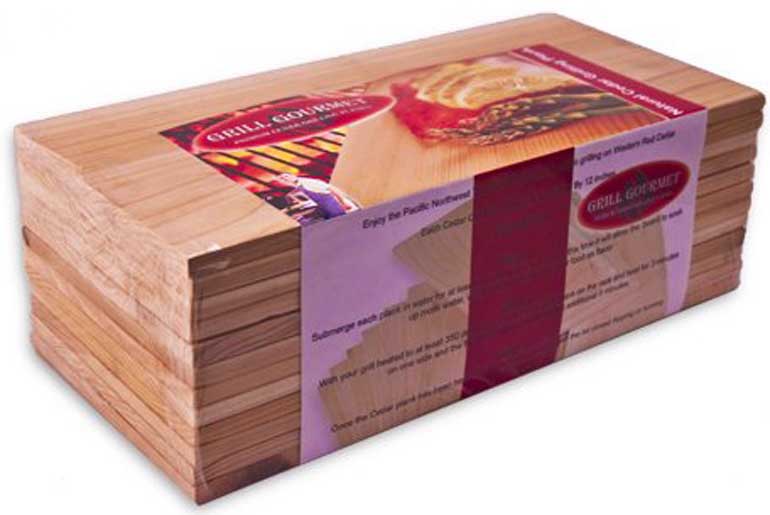 These planks might seem a little unglamorous, but anyone familiar with BBQ smoking will know what a good investment these can be.
Cedar wood is fantastic at imparting flavor on food, and these planks are a great place to start.
Simply place them on your grill, and then fish on top of them. It not only gives the fish a stable surface to sit upon, but will also flavor them beautifully with cedar scented wood.
Weber 7204 iGrill 3 Grill Thermometer
Every grill enthusiast needs a solid thermometer, and the Weber iGrill 3 is one of the best out there.
It's one of the most accurate probes out there and is fully iPhone and iPad compatible through its exclusive Weber app. Welcome to 21st century barbecuing.
ThermoPro Wireless Digital Grill Thermometer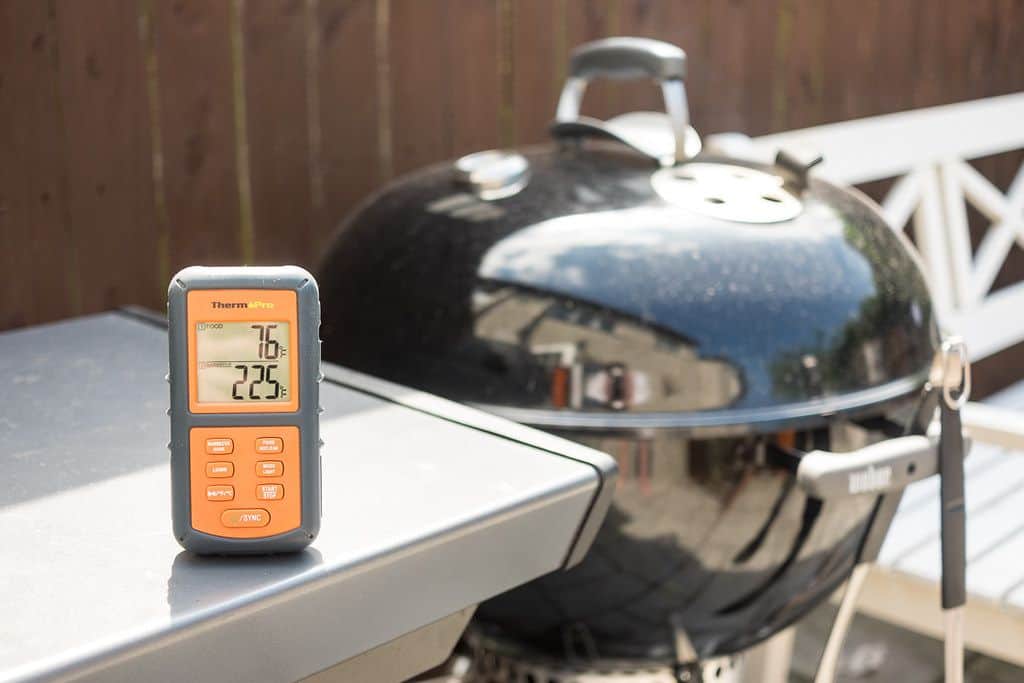 Not to be outdone by Weber, the ThermoPro TP20 is right up there with the top grill thermometers.
Really reasonably priced probe is accurate, durable, and a clear digital display for even the weakest set of eyes.
More importantly, its built-in features will tell you when your chosen meat is done, all thanks to its pre-programmed times. Or you can do away with that and set your own.
GRILLART Grill Brush and Scraper
Take care of your grill and it will take care of you.
The importance of a good grill brush can't be understated, but is often forgotten about.
These Grillart brushes have woven wire to help scrape away burned on grease and food, and will help prolong any grill's lifespan by years.
Kamenstein Revolving 20-Jar Spice Rack
I love making my own BBQ rubs and seasoning blends, but never have anywhere handy to keep them all.
Help to keep things a bit more organized with this revolving countertop spice rack. It has 20 jars to help satisfy the most fussy of taste pallets.
Best of all, Kamenstein are offering 5 years' worth of spice refills.
When you go through as much paprika as I do, this rack is a no brainer.
Ghost Pepper and Habanero Hot Sauce Gift Pack
Like a lot of my fellow grillheads, I'm a huge hot sauce fiend. I'd like to think that I have a high scoville tolerance, but the truth is probably that I'm shamefully weak.
Test your favorite spice fan's resilience with these hot sauce gift packs from Wicked Tickle.
Hamilton Beach Electric Indoor Grill
The problem with a lot of outdoor grills is that they're not easy to pack up and take on the road.
Hamilton Beach's electric grill can be packed up until a small package that resembles a suitcase, and be taken with you on the go.
Perfect for people who need their grilling fix with something light and easy.
Romanticist 21-Piece BBQ Grill Accessories Set
While a good grillhead shouldn't blame their tools, they at least deserve good ones.
Grill accessory sets are great at providing utensils that are easy to forget when creating your home setup.
This gift set from Romanticist comes with a range of spatulas, forks, brushes, and thermometers. One of the most complete accessory sets out there.
Stainless Steel Grill Rotisserie Kit
A criminally low number of people use rotisserie kits on their grills, so let's put that right with one of the best out there.
OneGrill's rotisserie kit runs on a 13-watt motor to help your chicken turn and cook evenly, and its heavy-duty build will ensure that you get a good number of years out of it. Perfect as a grill accessory or as the final add-on for your DIY rotisserie smoker.
Kosin Barbecue Grill Light
Why should sunset dictate when the barbecue ends? Grill lights help keep things going into the small hours, safely.
This set of lights from Kosin has a magnetic base to fix them firmly to your grill chamber exterior, and they have a 360-degree gooseneck for good flexibility.
Meat Thermometer Fork BBQ Fork
Good barbecue all comes down to temperatures, so getting a solid thermometer is a must. This dual probed forked thermometer allows you to take two readings at once to ensure your meat is cooked properly, while it can deliver a quick reading within 10 seconds so you aren't left in the dark.
Meathead: The Science of Great Barbecue and Grilling
The book that has ignited barbecue love affairs for so many grill heads. Considered one of the best BBQ books, Meathead cuts through the gibberish and goes straight to the science of outdoor meat cooking. If you've ever struggled with smoking times and temperatures, this compendium of techniques, skills and recipes is the best place to start.
Listed among Southern Living Magazine's '100 Best Cookbooks of All Time', this is the perfect addition to any grill lovers repertoire.
Grillfather BBQ Apron
This apron is the perfect gift for the master of the grill. It is a one size fits all with its adjustable neck strap and long waist ties. This apron also has two large pockets right on front to hold all your grilling tools. Also on front is the perfect dad joke that will make any "GrillFather" and all those he encounters chuckle.
The Great Grill Scraper
The Grate Grill Scraper is a handy little tool sure to make any griller's job easier. With three round notches and one v-shaped notch, it can clean any grill quickly. This scraper comes in stainless steel or brass for porcelain grills or regular rusty grills. There is also an optional handle that can attach to make your cleaning job even easier!
Franklin Barbecue: A Meat-Smoking Manifesto
This book will appeal to any griller. Written by the famed pitmaster, Aaron Franklin, this book houses all sorts of recipes sure to get your creative juices flowing. It includes recipes for both meat and brisket. This book is available in hardcover or kindle format and is sure to inspire grillers of all experience levels.
Coleman RoadTrip Propane Grill
The Coleman portable grill is a great gift for the griller who likes to travel. Perfect for camping or hitting the beach, this portable grill folds down and has wheels and a handle to be easily transported. This grill comes with three adjustable burners, side shelves, and a push button ignition so there is no need to worry about matches.
Looftlighter Charcoal Starter
The Electro Fire Starter torch eliminates the need for any matches or any type of fire starter. This torch works for any of your fire needs from firepits to barbecues to your living room fireplace. It has an ignition switch that will light whatever fire you need in less than a minute! Just plug it in and watch your fire come to life. Hold it in place for a little longer and you'll soon have a roaring fire!
Craycort Cast-Iron Grill Grates
The pre-seasoned cast iron grate will fit 22.5 inch grills. This grate is made of cast iron, which means it will give off more even and consistent heat, allowing for a more thorough cook. In addition to evenly cooking your food, the pre-seasoned cast iron will increase the flavor of your food, giving you a leg up on your grilling competition. The cast iron grate is non-stick and can be easily cleaned. It can also hold a higher heat, giving this grate a longer lifetime.
Weber Handle Light
The Weber Grill out light is perfect for those nights when you want to grill but it's already dark out. This light has an on/off switch, but can also be set to be a motion sensor light. Simply tilt the light to point where you want it to and watch it flicker to life. Tilt it back to turn it back off. This light is weather resistant and will last you many hours of night time cookouts!
Grillstone Grill Cleaner
This grill cleaning stone makes cleaning any grill nice and easy. The grill stone conforms to any grill you have, no matter the shape of the grate, and cleans it four times faster than your standard cleaning brush. While those brushes scrub the top, this grill stone will fit all size grates and cleans between the bars as well.
OXO Good Grips Basting Brush
The Silicone Basting and Pastry brush will add the perfect amount of sauce to your grilled foods. With tapered bristles and a space in the center, this brush will distribute your sauce evenly over the meats. Not only that, but you can throw this brush in the dishwasher for easy cleanup!
AshleyRiver Natural Wood Grill Scraper
The wooden grill scraper is made of oak and easy to use. There are no bristles to get bent out of shape, making this brush safer to use and longer lasting. It has even got a loop on the end so you can hang it on the side of your grill or easy access. As if all that weren't enough, this scraper also has a bottle opener built right in!
BBQR's Delight Apple Wood Smoker Pellets
The Smokers Pellets are a great gift for someone who likes to experiment with flavors. There are six different flavors including apple and hickory and each bag has enough for ten uses. Simply put them in your grill and let These are easy to use and can be used in any type of grill!
Alamazookie Steak Timer Sign
This Drink Good Beer sign makes a fun gift for any man cave or kitchen. It's a small sign so it will fit in any space and the colors won't fade whether the sign is indoors or outdoors. It also comes with predrilled holes to make hanging the sign a breeze.
Dad's World Famous BBQ Chillin & Grillin Vintage Sign
All dads believe their BBQ is the best in town, so why not prove it with a "Dad's World Famous BBQ" sign? This sign doesn't take up much space and comes ready to hang. With vibrant colors, it will let everyone know just who the king of the grill is.
Mesllings Grill Master Street Sign
The "Grillmaster Dr." sign is the perfect accessory for anyone who loves to grill. Perfect for indoor or outdoor use, the sign comes with predrilled holes to make hanging it up nice and easy. It's even made of plastic so it won't rust and it can be easily cleaned.
The Spice Lab BBQ Barbecue Spices and Seasonings Set
When all else fails, a gift set is the way to go. And there aren't many better than this set of BBQ rubs and spices. You can have the best quality cut of meat, but if you're missing that key rub to finish it off then your finished barbecue platter will fall short.
With rubs perfect for baby back ribs, beef brisket, beer can chicken and more, this will be the secret weapon in any barbecue lover's arsenal.
The Spice Alliance Rubs and Seasonings Gift Set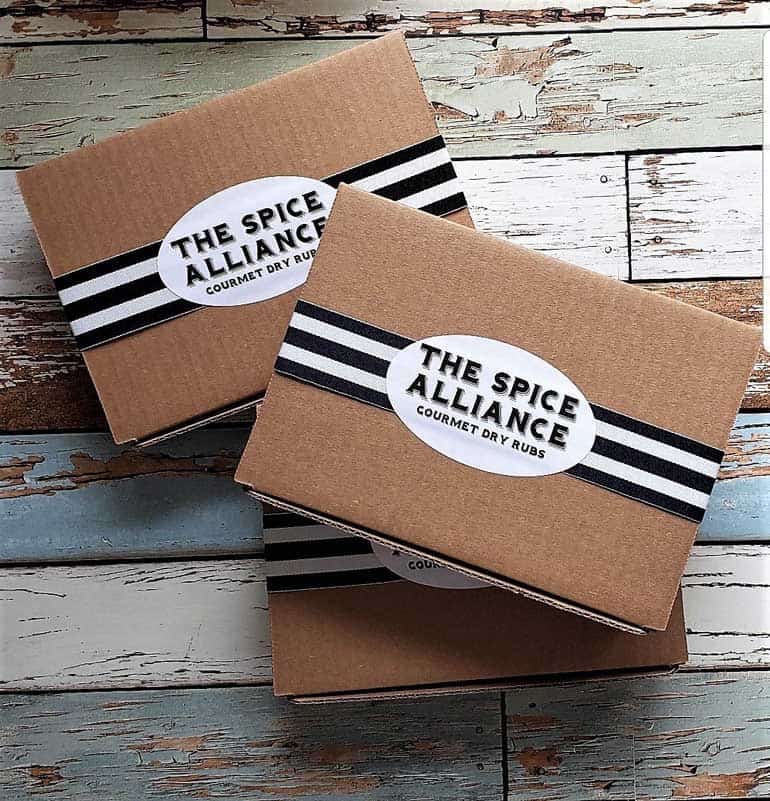 The Spice Alliance's gourmet rubs are organic and beautifully balanced. Best of all, they offer a range of blends that are far more interesting than most standard store-bought rubs.
Whether you're smoking poultry, beef, or even vegetables, there'll be something in the box for all grilling tastes!
Char-Broil Offset Smoker
This gourmet offset smoker is actually a combination of a smoker, grill, and barbecue. With an adjustable steel fire grate and two large cooking spaces, you will be able to cook multiple types of meat all at the same time. Clean up is easy with the built in clean-out door to remove the ash.
Fire & Fam Vegetable Grill Basket
Grilling isn't all about searing meats. Getting a good grill basket is a great way to bring vegetables and seafood into the mix.
This basket from Fire Fam is big enough to take on large portions of food, and can sit easily on almost any sized grill.
Grill Mats
If you're tired of meat falling between your grates while you cook, then getting a good grill mat is a great way to keep your food intact.
Cave Tools BBQ Smoker Box
This smoker box is the perfect accessory for any grill. With it's wider steel surface area, up to three cups of wood chips can fit inside. This allows for longer smoking times since more wood chips are touching the metal consistently so less refills are needed. This smoker also comes with twenty-five recipes to try as well as a lifetime guarantee.