Grill mats offer a fantastic alternative to heavy duty griddle pans. Best of all, they help to keep your grill clean and grease-free. Find your new favorite grill accessory with our best grill mat guide.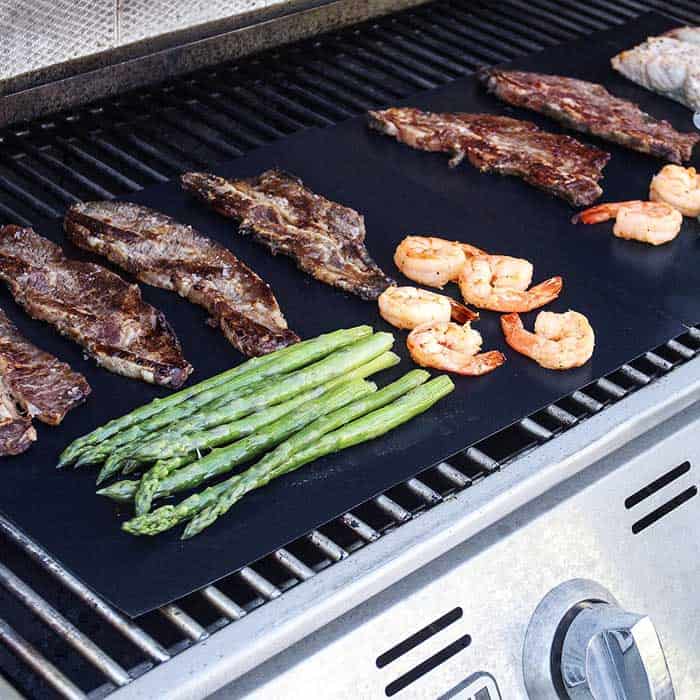 If you're tired of getting meat stuck between your grill grates, investing in a good grill mat is a great way to ensure that you don't lose any food along the way.
Not only that, but their large surface area opens up a world of cooking opportunity for you. Eggs, vegetables, and fish can all be grilled perfectly.
Here are 5 of the very best grill mats so you can cook cleanly and efficiently from now on.
At a Glance: Our Top 3 Picks
Best Grill Mat: Kona BBQ
Thick design makes this a durable add-on that can withstand temperatures of up to 600°F
Runner-Up: Grillaholics
Quick to heat up free of harmful chemicals for easy and safe cooking
Best Budget Option: Aoocan
Come with 5 mats to offer outstanding value for money
Kona BBQ Grill Mat
The Kona grill mat 2-pack is a great choice if you are going to cook at high temperatures. A whopping 0.39 mm thick, these coverings are some of the chunkiest out there. Thanks to their heavy build, they can withstand up to 600 degrees Fahrenheit.
Kona is also proud of this grill mat's durability, promising 1,000 and even more uses per side. The mats are covered by a 7-year warranty as well, which, among other things, covers accidental overheating.
The Kona grill mat 2-pack is on the pricier side, but considering its longevity, it's probably going to cost you less in the long run than a cheap kit of grill mats.
These mats are dishwasher-safe as well, so cleaning them should be a breeze.
Such thick grill mats have one downside – they take forever to heat up. So they aren't the best if you want to get started with grilling quickly. But if you are patient, then you'll be getting the chance to enjoy the results of high-temperature cooking.
Grillaholics Grill Mat
If you won't be high-temperature grilling, then the Grillaholics grill mat is perhaps a better choice for you. Grillaholics doesn't provide thickness measurements, but this grill mat appears to be about 0.25 mm, which is a standard thickness for grill mats.
Thanks to its thinner profile, the Grillaholics mat will heat up way faster than the Kona grill mat. On the other hand, it won't withstand as high temperatures – Grillaholics recommends cooking at no more than 500 degrees Fahrenheit.
Remarkably, Grillaholics covers this grill mat with a lifetime replacement guarantee, so you could expect years of service from this pack. Aside from durability, this grill mat pack contains no silicone, PFOA, or other harmful chemicals that could soak into your food.
The Grillaholics grill mat pack comes with two grill mats as well. The grill mats are dishwasher-safe, so getting them ready for the next grilling party after each use is going to be very easy.
Aoocan Grill Mat
The Aoocan grill mat pack is a solid choice if you are on a budget or aren't going to need grill mats that often. This pack is inexpensive AND includes five grill mats, therefore offering pretty nice value for the money.
In terms of specs & numbers, Aoocan grill mats are similar to Grillaholics mats. They are 0.25 mm thick and are advertised to withstand up to 500 degrees Fahrenheit. The Aoocan grill mats are sized the same as Grillaholics mats too, as well as are food-safe and washable.
Needless to say, you shouldn't expect the same durability and performance from these mats as from Grillaholics grill mats. Less than half the price of the Grillaholics grill mats, Aoocan grill mats are going to produce flare-ups more often, and you won't be getting hundreds of uses either.
Cleaning these mats is going to be a little more difficult as well since they like to stick to food.
Aoocan advertises that the grill mats can be reused 100 times, which is fairly nice but not that much if you will be grilling very often. Otherwise, the five grill mats will serve you for a good amount of time.
Kitchen + Home Non-Stick
This 2-pack from Kitchen + Home appears to be somewhere between Aoocan and Grillaholics grill mats in terms of quality and durability (though it is closer to the former).
Kitchen + Home offers these grill mats for about half the price of Grillaholics mats. Exact thickness figures are nowhere to be found in the product description, but these mats again appear to be 0.2-0.25 mm thick. They are advertised to be suitable for up to 500 degrees too – just like Aoocan and Grillaholics grill mats.
When it comes to performance and durability, this 2-pack seems a little better than the Aoocan set, but it's far from the Grillaholics mats. Cleaning the grill mats after use can sometimes be challenging, and you should be really careful with temperatures to keep the mats up and running for a long time.
With that in mind, we'd again recommend Kitchen + Home grill mats to those buyers who won't be grilling too often.
Chef Caron BBQ Mat
The Chef Caron grill mats are in third place in terms of quality and durability on our list – after Kona and Grillaholic mats. They don't cost a lot either, so you could go for them if you want a middle-ground solution in terms of price and quality.
Notably, these grill mats are sized at 17 x 13 inches, while other mats on this list were sized at about 16 x 13 inches. Given that a single pack includes two grill mats, you are getting 2 inches of extra length (if using both grill mats at a time), which is quite a lot.
The thickness of the Chef Caron grill mats is 0.25 mm. It used to be 0.20 mm and has recently been upgraded to 0.25 mm, though Chef Caron didn't update the product description to match the added thickness.
Performance-wise, expect these grill mats to be fairly easy to clean, heat up quickly, and withstand moderately high temperatures. Chef Caron mats are probably going to serve you longer than Aoocan and Kitchen + Home mats too.
---
What's the purpose of a grill mat?
Grill mats offer a great cooking surface for fish and vegetables. These foods are often loose or can flake as they cook, making them difficult to keep intact while they grill or with bits falling off and down in between the grates.
This makes them a great alternative to grill baskets, and you might consider using them for any food that doesn't need grilled sear marks.
They're a handy safeguard against the long term effects of grease, and can help minimize your cleanup after cooking.
Once you're done, you simply wipe it clean in the sink. This is much easier than having to brush your grill clean or having to get in between the grates to degrease it.
They're also easy to take on the road, making your camp or tailgate grilling easier to clean up afterwards. Or if you're given a cheap and dirty grill to use at a campsite, using a mat on top is a great way to ensure that you're cooking ina hygienic fashion.
While your food might not have quite the same charr or smoke flavor to it, it will have been cooked in its juices on the mat. It will be less prone to drying out, and will have cooked in its own juices for longer.
How to use a grill mat
Wash the mat fresh out of the packaging before your first use. Use hot, soapy water, and give it a firm wipe down to shift any manufacturing debris of chemicals.
Once your grill has reached a stable cooking temperature, simply place the mat on the grates with the cooking surface facing upwards.
Don't use the mat if you are cooking at temperatures of over 450-500°F. Most mats are not designed to withstand this. They may break down and contaminate your food, and create a fire hazard.
Use plastic or silicone coated tools to handle food. This will protect the mats from being scuffed or cut by steel tools or utensils.
Wash the mat with hot soapy water immediately after use. Avoid using corrosive chemicals or coarse material. Some mats are dishwasher safe, but make sure you check the instructions for your mat prior to washing.
Last update on 2023-12-03 / Affiliate links / Images from Amazon Product Advertising API