A good grill brush will provide easy grease and char cleanup on any grill grate surface. Their stainless steel bristles and interwoven build make them robust and reliable, making them stand out from most other regular kitchen tools. Here are 6 of the best grill brushes to help you take perfect care of your charcoal grill.
Regular cleaning is key to keep your grill running as smoothly as possible long term. The importance of a good grill brush can't be understated. Not all brushes are created equal however, and there are even some out there that can do more harm than get.
Here are 6 of the best that will have your grill in perfect condition over barbecue season:
1. Weber 3-Sided Grill Brush
Weber are known for making some of the world's best charcoal grills, so it stands to reason that they know what they're doing with grill brushes and accessories. This brush – while not the best one on this list – is a high-quality one that is worth the price.
Weber is one of the most well-known brands associated with grills, and they have been in business for a very long time. This brush – while not the best one on this list – is a high-quality one that is worth the price.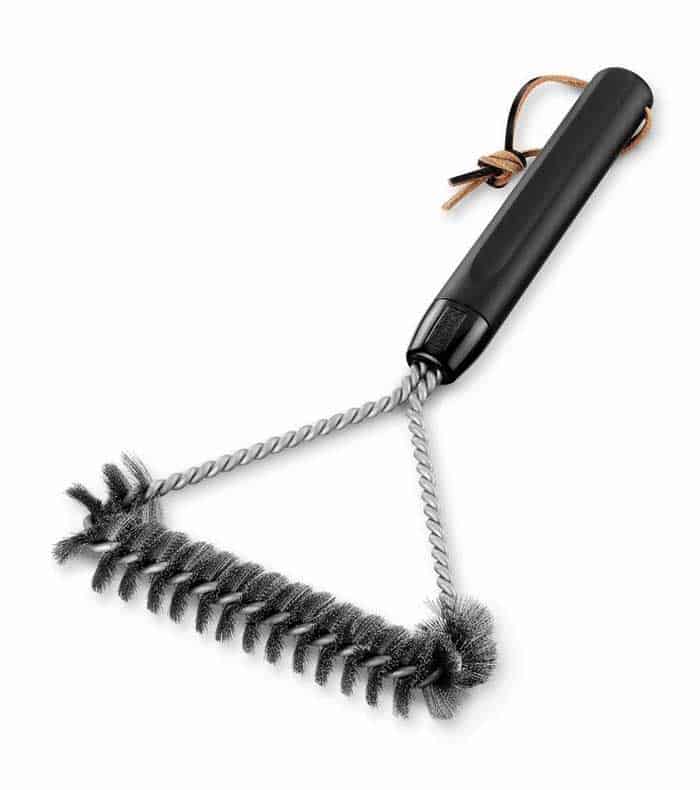 The brush head is 7 inches wide, and it allows you to clean a large number of grates very quickly and efficiently. The sides allow you to clean the edges of your grill, and they fit perfectly between the grates, allowing you to dislodge any stuck food that might have gotten there.
Learn how to clean a flat top grill
The bristles are made out of stainless steel, and they can resist wearing out for a long time. The handle is quite ergonomic, and it allows for easy handling.
However, there are a few downsides to this brush. Some people claim that the brush scratches and chips away porcelain grates. Others claim this isn't the fault of the brush. While I can't confirm either of these to be true, suggest you keep it in mind if you have porcelain grates.
The handle of the brush is quite short compared to other ones as well, and this can be a bit uncomfortable for some people.
---
2. GRILLART Brush and Scraper
The GRILLART grill brush is quite popular with customers, and it's easy to see why. It's 18 inches long, meaning you can safely use it without accidentally burning your hand. Once again, the bristles are made out of stainless steel, so they're bound to last you a long time. The head is 2.8 inches by 6.3 inches, and this allows you to clean large areas in less time.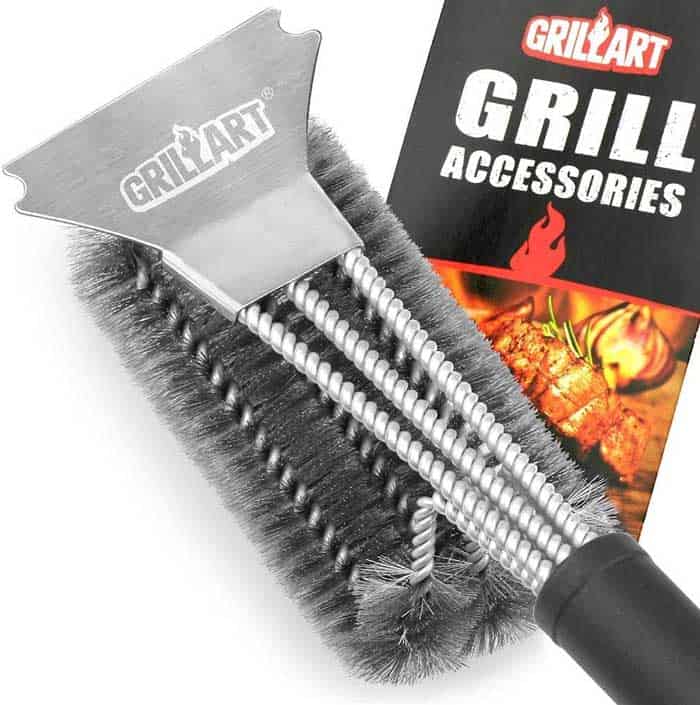 The GRILLART grill brush uses a unique design; the bristles are woven around the frame. This ensures that they rarely – if ever – fall off. You don't have to worry about any bristles ending up in your food with this brush. If you flip it upside down, you can use it as a scraper. This allows you to clean areas you wouldn't be able to otherwise.
Just like with any other brush, how long it will last you depends on how frequently you use it. In any case, the GRILLART grill brush will make up for its price.
---
3. Grillinator BBQ Grill Brush
The Grillinator is quite possibly the best brush you can buy. It ticks all of the boxes a great brush needs, and it even adds more to it.
The Grillinator is 18 inches long total. Out of this, the handle takes up 14 inches. That is more than enough to ensure that you won't burn yourself while cleaning your grill.
The head has quite an interesting and unique design, that cleans 50% faster than other ones. It's also important to mention that the head is replaceable. You don't have to buy an entirely new brush every time they wore out, you just need to order a replacement head.
Speaking of wearing out, the bristles are incredibly tough, and they last for a long time. The Grillinator even has a bottle opener on the other end of it, in case you feel like cracking open a cold one. It also functions as a hanger, of course.
---
4. Alpha Grillers Brush and Scraper
The Alpha Grillers brush is quite the competitor as well. It has an 18-inch handle, and three – that's right, three – heads. This allows for extremely easy and quick cleaning.
The bristles are sturdy, and they can remove any kind of grime that might be left on your grill. No matter how hard you scrub your grill, the brush will most certainly be able to take it.
This isn't the kind of tool that breaks easily. It's also great for cleaning porcelain coated grates, and it will not leave any scratches on them. They will certainly not be chipped by the brush either.
The Alpha Grillers grill brush also has a scraper on it, for the residue that the brush itself can't remove. The bristles are sure to stay on the brush as well. You don't have to worry about them getting into your food.
Alpha Grillers also offers a lifetime 100% money back guarantee.
---
5. BBQ-Aid Barbecue Grill Brush
This brush is a bit different from the ones we've looked at so far. The design is pretty simple, but it does the job perfectly. It's 15 inches long, so it's fairly good if you don't want to burn your hand. The head is not quite as large as the other ones we've looked at so far, but it's still perfect for cleaning efficiently.
It's also made entirely from stainless steel. The handle is made out of wood, and it's securely attached to the metal frame. The edges can be used as a scraper, so even the peskiest pieces of residue can be removed. The quality of this brush makes up for its price.
The BBQ-Aid grill brush is perfect if you want something that is simple and easy to use. It can clean your grill perfectly, without shedding any bristles. The stainless-steel head will certainly not rust away if you take good care of it. The long wooden handle will ensure that you won't burn yourself accidentally while cleaning. You can attach a string (or something similar) into the hole on the end to get a better hanger for yourself.
---
6. Kona Safe Grill Brush
This brush from Kona show just why you need something above a regular cleaning brush to do the job.
The brush does away with standard bristles to help stop the likelihood of any stray bristles ending up in your food (it's happened to me, it's gross).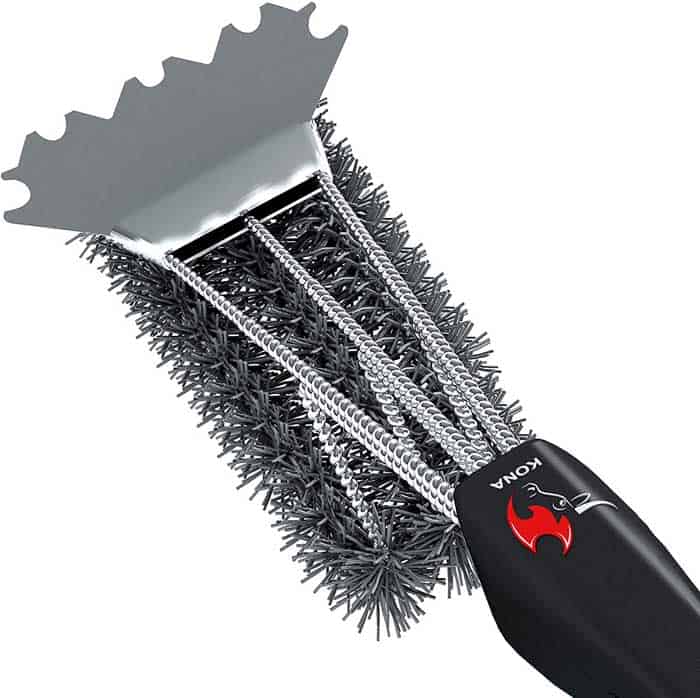 The lack of bristles might not sound promising, but in their place Kona use a ceramic-nylon hybrid that is still tough and durable enough to stand above most other brushes.
This makes it a great fit for people who want something that's just as safe as it is effective. And because it's less corrosive, it's a great fit for cleaning cast iron grill grates.
It has a long handle to help you clear any flames or hot embers, while also helping you to clean it far more easily.
---
Why do I need to clean my grill?
The old adage that if you take care of your grill then it'll take care of you is at its most evident when talking about cleaning your grill.
After every use of your grill, a little bit more grease and oil builds up on your grill grates, burners, and chamber walls.
You might not have to clean these after every use, but they do start to build up very quickly.
If you leave these alone then the quality of your outdoor grill will start to degrade, and ultimately the taste of your food will be negatively impacted.
It doesn't just stop at grease though. Charcoal particles will start to adhere to your grill, which means that safety starts to become an issue. These particles can harm your food, and even pose as a fire hazard.
The best way to limit the risk of this is by cleaning your charcoal grill thoroughly after every few uses. And the best way to this is by getting yourself a good grill brush.
What does a good cleaning brush need?
I wouldn't say that all of these qualities are essential to a good brush, but if you find one that has any or all of these then you're on to a winner.
A long handle
Grills are best cleaned when they are hot. If your brush's handle is too short, you could accidentally burn yourself. Of course, you could try cleaning your grill cold too, but it would take you more time that way.
Strong bristles
Second, look for a brush with sturdy bristles. With most brushes, the more worn out it gets, the more likely it is that the bristles start falling off. This could result in them getting into your food, which is just horrible to even think about.
Added scraper
A scraper integrated onto the brush is a very big plus as well. It can be used to remove residue that the brush itself can't handle, and it's also good for cleaning surfaces it can't reach.
Avoid plastic
There is one thing you should absolutely avoid with brushes, and that's plastic. No part of it should be made out of plastic because – as mentioned before – grills should be cleaned when they're hot. Plastic could potentially melt, and that would be horrible.
Consider going bristle-free
As we've seen with the Kona Safe brush, brushes that don't feature bristles are becoming more and more popular.
And for good reason: Bristles can sometimes come loose during use and find their way on to your grill. If they then find their way to your food this can pose a health risk.
While it's true that ceramic brushes aren't quite as abrasive as stainless steel bristles, they are becoming increasingly efficient. I predict any difference in performance will be zero within a couple of years.
---
Choosing the right grill brush can be hard. You have to look out for a few qualities in all of them and decide which one is the best for your needs. Hopefully, this article helped you get an idea of what you need to consider. Or you might've even been convinced by one of the brushes I showed you. Whatever the case may be, remember; cleaning your grill is essential if you use it a lot. And you need the right tool to do it.
If you ask me, out of these 6 brushes, the best one is hands-down the Grillinator. It has everything a good brush needs and more. Who doesn't want a bottle opener on the end of their grill brush? The handle is of the perfect length, the head is really good at cleaning, and the bristles will never fall off. You can't go wrong by buying it.
Of course, all other above brushes are amazing in their own right as well. Consider what kind of grill you have, how much you use it, how often you clean it, how you like to clean it and make your choice accordingly.