Charcoal chimneys give grillers and pitmasters an easy way to light their barbecue smokers or grills. These fire starters heat lump charcoal quickly without you needing to resort to lighter fluid or cheap briquettes. Get the lowdown with our guide to the best charcoal chimneys.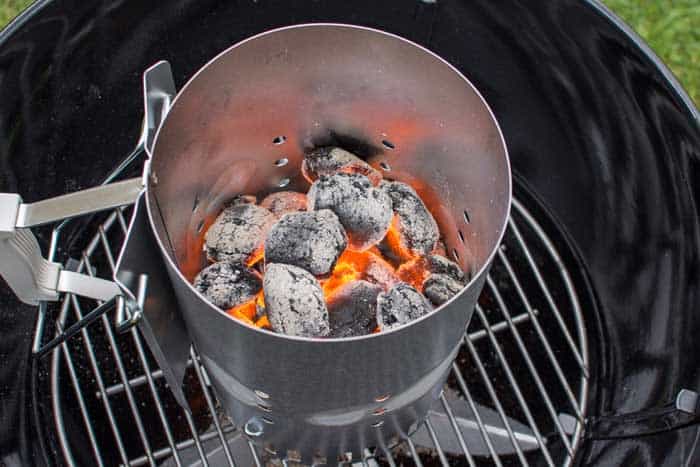 Charcoal chimney starters make lighting up your grill quick and easy. Where igniting lump charcoal or briquettes is notoriously difficult and frustrating, chimney starters can help ease things significantly.
Here are five of the best charcoal chimneys to help you get your backyard charcoal grill going in minutes.
Weber Rapidfire Chimney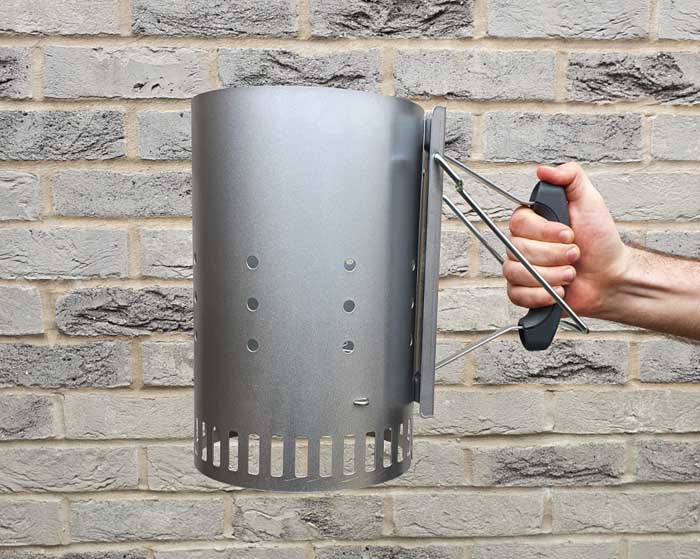 With the Weber Rapidfire Chimney, you can get your lump coal ready for the barbecue within minutes.
The Rapidfire is made from aluminized steel that helps contain the heat better. This allows the briquettes to light up faster and more evenly. Attached to the chimney is a thermoplastic handle, making it safe and easy to use.
We also love that this charcoal chimney has an inverted cone-shaped bottom. This design allows for better heating once the Weber Lighter Cubes are already placed at the bottom. This effectively lights up the charcoal even without lighter fluid.
The Weber 7416 Rapidfire Chimney Starter is also very easy to use. Just fill it with briquettes, place it on top of the lighted lighter cubes, and wait for the top layer to turn ash gray. Once the charcoal has turned to an ash-gray color, you simply pour it onto your grill so you can start your barbecue.
This particular charcoal chimney from Weber can hold briquettes for up to 22.5-inch kettle grills.
The Weber 7416 Rapidfire Chimney Starter is the best charcoal chimney, thanks to its excellent heat retention, user-friendly design, and excellent value for the money.
Pros
Easy to use
Excellent heat retention
Durable construction
Large capacity bin
Good airflow
Cons
The handle melts when exposed to high temperatures
Sale
Weber Rapidfire Chimney
Chimney starter system lights charcoal quickly and evenly
Made from aluminized steel with a stay-cool thermoplastic handle
Holds enough briquettes for a 22-1/2-inch kettle grill
Char-Griller Chimney Starter
Another top contender for the best charcoal chimney is the Char-Griller Charcoal Grill Chimney Starter with Quick Release Trigger.
This chimney starter is made with zinc-coated galvanized steel that offers excellent heat distribution. As a result, charcoal briquettes light up within minutes with minimal effort on your part. You don't have to spend hours fanning it out – just let the chimney do its job while you wait.
At 12 inches tall and 7.5 inches in diameter, the Char-Griller Charcoal Grill Chimney Starter with Quick Release Trigger is a high-capacity chimney that can heat charcoal briquettes for your large kettle grills.
And to make sure that we won't hurt ourselves while handling, it comes with an ABS handle that comes with heat shield capability.
But if there's something that makes the Char-Griller Charcoal Grill Chimney Starter stand out from the rest, it's its patented quick-release trigger. By simply pulling the trigger, the charcoal is easily released onto the kettle grill without the mess. This reduces the risk of accidents while also saving you a lot of time.
Pros:
It offers excellent heat distribution.
Its patented quick-release trigger design makes it convenient.
It is a high-capacity chimney.
It is affordable.
It is easy to use.
Cons:
The contraption at the bottom tends to fall off over time.
Some users report rusting.
Char-Griller Chimney Starter with Quick Release Trigger
CHIMNEY STYLE CHARCOAL STARTER – Quickly produce hot coals for grilling and cooking in under...
START GRILLING FASTER – This fire starter bbq grill accessory is the key to getting your...
USE WITH ALL CHARCOAL BBQ GRILLS – Perfect charcoal grill accessory and specially designed to...
Weber 7447 Compact Rapidfire
For those who are looking for a medium-sized charcoal chimney for their home barbecues, the Weber 7447 Compact Rapidfire Chimney Starter is perfect for you.
Thanks to its compact size, this charcoal chimney can light up charcoals in less than 15 minutes. This makes it perfect for preparing meals for your family and other quick grilling sessions.
Even without lighter fluid, the Weber 7447 Compact Rapidfire Chimney Starter is capable of heating your charcoal briquettes evenly, so you don't have to worry about nasty fumes that could potentially get to your food. You can simply use Weber Lighter Cubes with it or crumpled newspaper and wait for the briquettes to be ready for grilling.
Because of its more compact size, this chimney is one of the easiest to use. And since it lights up coal faster, we believe that this is the best charcoal chimney for minimal home use.
Pros:
It is easy to use.
It is lightweight.
It has excellent heat distribution.
It lights up charcoal briquettes in less than 15 minutes.
No need for fanning or lighter fluid.
Cons:
The handle tends to get hot.
Sale
Weber 7447 Compact Rapidfire
Lights coals in under 15 minutes. Dimensions : 8 H x 5.8 W x 10.4 D inches
Place with coals on Weber Lighter Cubes or crumpled newspaper and light
Compact design makes it ideal for smaller grills or shorter grilling sessions
Char-Broil Half-Time Starter
The Char-Broil Half-Time Charcoal Starter is another top contender for the best charcoal chimney.
This particular charcoal starter boasts lighting briquettes at half the time it usually takes other charcoal starters from Char-Broil. This is made possible thanks to its large diameter that effectively distributes heat evenly. This also makes it perfect for lighting up large lumps of charcoal.
You can easily get the Char-Broil Half-Time Charcoal Starter going by lighting up pieces of crumpled paper. Once the pieces of paper are on fire, you simply have to wait for the charcoal to light up without any other effort on your part. You don't have to use lighter fluid, either. This guarantees that it's safe for you to cook food in.
Pros:
It is very easy to use.
It has a sturdy build.
Its shorter height and wider build help it light up charcoal faster.
Cons:
Some users report issues with the screws on the handle.
The bottom plate tends to fall off after several uses.
Char-Broil Half-Time Starter
Advanced chimney starter lights charcoal quickly and evenly
Charcoal is ready for the grill in half the time compared to the standard Char-Broil chimney...
Large diameter is ideal for lump charcoal
BBQ Dragon Chimney of Insanity
For those who love to grill in style, then the BBQ Dragon Chimney of Insanity Charcoal Starter is the perfect chimney for you.
This charcoal chimney stands proud at 11 inches with a diameter of 6.75 inches. This allows it to hold in a decent amount of charcoal for your homecooked meals. And thanks to its thick-gauge galvanized steel body, this charcoal chimney offers insane durability.
The BBQ Dragon Chimney of Insanity Charcoal Starter boasts an innovative design that gets your charcoal ready in just three minutes. This is owing to its 90-degree elbow opening at one side of the chimney. This allows for airflow that naturally fans in the charcoal without any extra effort from your part.
The unique side hole on this charcoal starter also allows you to light up your charcoal without having to move the chimney. This saves up a lot of your time and effort.
Overall, the BBQ Dragon Chimney of Insanity Charcoal Starter is the best charcoal chimney if you want to have your briquettes ready in just a few minutes. It is also conveniently designed with the users in mind, so you don't have to worry about making complicated preparations to get it started.
Pros
Fast ignition
Durable
Excellent heat distribution
Stylish appearance
Cons
Smaller charcoal capacity
Handle grip is prone to wear
BBQ Dragon Chimney of Insanity
LARGE CAPACITY & 90 DEGREE ELBOW CONSTRUCTION - The BBQ Dragon charcoal starter chimney easily...
FASTER GRILLING STARTS HERE - Looking for a fast & easy way to start a fire? This unique &...
SAFER HEAT SHIELD & HANDLE - Outstanding grill chimney is made using thick gauge galvanized...
---
What is a chimney starter?
A chimney starter does what its name suggests. It helps you start a fire, whether you are using charcoal lumps or briquettes. A chimney starter will help you ignite your fire easier. It looks like a large mug with a handle. It is a metal cylinder with a grate welded inside at the bottom to help with the airflow.
The cylindrical part is where you put the coal that you want to use. It is designed to give a chimney effect, concentrating heat within the cylinder. A chimney starter negates the need for fuel to start up your fire. It's a great way to get your fire going faster. It's a handy tool for people who use coals for their grills.
How to use a charcoal chimney
Before you start, place your chimney starter on your grill's grates. This will protect other surfaces against being burned by the high heat from the starter's underside. Now you can use your charcoal chimney.
Start by placing scrunched-up newspaper in the bottom of the chimney. Work out how much charcoal you need and fill the chimney with them. Light the newspaper and wait for the coals to ignite from the bottom. Wait for the coals to char before transferring them to your charcoal grill or smoker.
Allow the grill to heat up to about 400°F (205°C) before adjusting the damper vents. If you are using a smoker, bring it up to 300°F (149°C) before doing the same.
FAQ
Got any burning questions about where to start with chimney starters? Our frequently asked questions are here to help.
What size charcoal chimney do I need?
The size of a chimney that you need needs to be large enough to hold the amount of charcoal that you will need for your grill, at least for a decent amount of time. A chimney starter will usually fit about 3 or 5 quarts of charcoal. This should translate to between 80 and 100 briquettes. With this amount, you can get up to 1 ½ hour of cooking time. The cylinder will usually have a diameter of between 15 and 20cm and up to 30 cm tall.
What material is best?
You need to make sure that the chimney starter is made of the right material. The best material is heat resistant and also conducts it efficiently. Most chimney starters that you will find on the market today are made of sheet metal.
The handle is made of insulating material so that you can get a good and safe grip on it, even though you will be carrying hot coals in it. You want something that will not transfer the heat from the cylindrical cone to the handle and burn you. Also, make sure that the handle is sturdy enough and will not fall off when you carry it.
Should I use lump charcoal or briquettes?
Both types of charcoal are great to use and are made of burnt wood, but briquettes and lump charcoal have different advantages and disadvantages.
Briquettes have a more uniform shape. One piece will look like the next. As soon as you open the bag, you will notice this uniformity. This results in more consistent burning. However, briquettes have more additives in them, and as such, it creates more ash. This means that it is messier to deal with. Lump charcoal has less ash and is, therefore, easier to clean up afterward.
When it comes to heat production, lump charcoal burns hotter than briquettes, but it is not consistent. It also lights up faster. If you will be searing meat or need more sizzling coals, you need to go for lump charcoal rather than briquettes. Lump charcoal, which is also known as natural hardwood, has uneven shapes. Some are smaller than others, and this may also mean that they may not be evenly charred.
Lump charcoal and briquettes also differ in that the latter is made through an industrial process and has a chemical smell, while lump charcoal is in a purer state and will not have the same scent. You can choose to manipulate the fragrances given off by putting in wood chips of particular flavors. As such, it is highly recommended as the more authentic and closest to the way a natural wood fire would burn. Lump charcoal has no additives in it.
When it comes to the pricing, lump charcoal is on the higher end. It is also more expensive to use lump charcoal because it burns faster. It is not as fuel-efficient as briquettes. It does not keep a steady temperature even as it burns. This may be due to the varying shapes and sizes of the lumps.
Besides not having too much ash produced, lump charcoal burns cleaner in that it will not produce a chemical-like smell, which can also affect the taste of the meat or food being cooked. Briquettes will take a bit more time to light up, but they will also save you on fuel as they are more efficient in this department.
What do I need with a chimney starter?
The great thing about using a chimney starter is that you will not need to use lighter fluid. This means that none of that taste will transfer to the meat. To help encourage the fire along, you can use flammable paper, such as scrunched up newspaper. You can also use twigs and wood chips. While lighter fluid may be an easy way to go, it is not advisable.
You can use the paper, along with the lump charcoal or briquettes. The point is to get something that will catch fire easily and give the coal a chance to ignite.
How long should I leave the charcoal in the chimney before adding it to the grill?
Once you ignite the coals, it is essential that you keep the coals hot and burning even before you add them to the grill. Keep the coals in the chimney starter for at least 10- 15minutes. You will know that your charcoal is ready by looking at the top charcoal. It should start to turn grey and have some ash that you can blow away. Once you see this, you will now know that the coals are ready to be added to the grill.
Is a charcoal chimney necessary?
There are many reasons why a charcoal chimney is necessary. The first being that it makes your life a lot easier. You will not need to work as hard to ignite the fire and get the heat going. So not only do they make your life easier, but they are also cleaner. You will also find no foul taste being transferred to the meat because you do not use lighter fluid.
A good chimney starter will also allow you to have a bit more control than you would typically have over the fire you build.
Last update on 2023-05-29 / Affiliate links / Images from Amazon Product Advertising API