Accurate and responsive, these readers will get the most out of your grill's propane tank. Keep on top of gas and pressure volume with our guide to the best propane tank gauges out there today.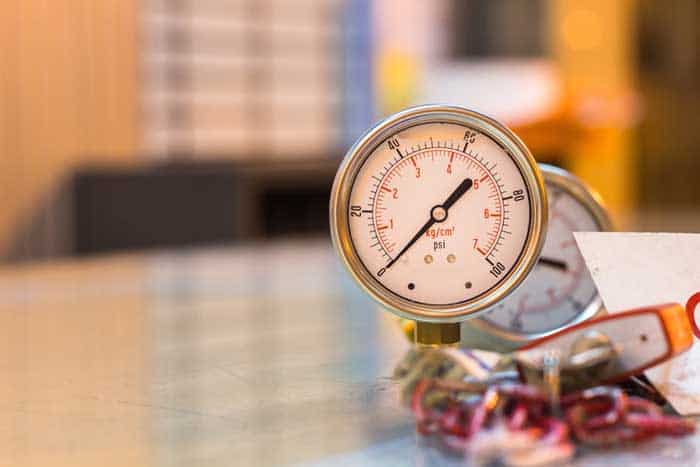 A good propane tank gauge will make sure that you never run out of gas when you need it most.
They do much more than let you know how much fuel you have left. They also give you a pressure reading, so you know exactly how much you can squeeze out of your propane cylinder.
Not all gauges are created equal. Here are 5 of the best propane tank gauges, so you can keep your gas grill going for as long as possible.
DOZYANT Propane Tank Gauge
The DOZYANT propane tank gauge offers a large dial to allow you to assess your propane fuel level at a glance. Besides, the level readouts are color-coded (green for normal, yellow for low gas, and red for nearly empty) and account for ambient temperature.
In terms of temperature, the DOZYANT tank gauge is nothing too fancy – it has three separate readouts for cold, cool, and hot days. However, DOZYANT doesn't provide temperature ranges for the three readouts, so you will have to figure out which one to use when yourself.
This is kind of inconvenient, and we don't think that it would have been difficult for DOZYANT to provide that sort of information to buyers.
In terms of tank compatibility, the DOZYANT tank gauge works with up to 40-pound tanks with Type 1/QCC1 connectors. So it should work for most people.
We also like the brass build in this propane tank gauge – it's solid and should be able to withstand abuse and weather without issues.
Pros:
Works with up to 40-pound tanks.
Large dial with color-coded, temperature-based readouts.
Durable build.
Cons:
Nothing really to mention.
Astor Propane Tank Gauge
The Astor propane tank gauge's key feature is the extended stem. If you pay close attention, then you'll notice that it's considerably longer than in our other picks. This doesn't really affect performance and just makes installation more convenient.
Like the DOZYANT gauge, this propane tank gauge works with up to 40-pound tanks, so it should work for most people. The connector here is Type 1 as well.
The build in the Astor tank gauge is based on brass – like in the DOZYANT gauge. With that said, the DOZYANT gauge feels a little more solid.
Another area where the DOZYANT propane tank gauge is better is the dial. The dial of the Astor gauge is pretty small, and although we wouldn't say that it's difficult to read, it's not as convenient as the dial of the DOZYANT gauge.
The font color on the color-coded areas is black too, which also makes reading a little difficult. Combined, the black font and the small dial make this thing not too easy in use.
The readouts don't account for air temperature too, meaning that you may get inaccurate readings in very hot or cold temperatures.
Pros:
The long stem makes installation easy.
Works with 40-pound propane tanks.
Covered by a 12-month warranty.
Cons:
The dial is pretty small and doesn't account for air temperature.
Cuisinart CTG-200 Propane Tank Gauge
If you prefer to shop from known brands, then the CTG-200 tank gauge from Cuisinart will most likely be a great choice for you. It's a little pricier than our previous picks, and we wouldn't really say that its quality is astronomically better, but it's an overall good product from a trusted brand.
The highlight of the CTG-200 propane tank gauge is the easy-to-read dial. Although its dial isn't sized much larger than the dial of the Astor tank gauge, the font color and size on the color-coded bars make it easier to read. Cuisinart was much more thoughtful than Astor in this area.
But unfortunately, you again aren't getting any temperature-adjusted readouts – for the price, that's underwhelming.
What's also underwhelming is that CTG-200 is designed to work with up to 20-pound tanks. You could try pairing it with a larger tank, but it probably won't work reliably.
Pros:
The dial is fairly easy to read despite the modest size.
Made by Cuisinart – a trusted home appliance brand.
Cons:
Works only with up to 20-pound tanks.
Camco Propane Tank Gauge
The Camco propane tank gauge is quite a pricey one. With that, you could expect it to be more reliable and serve you longer. For heavy use, you probably won't find anything better than this.
You are paying more for the Camco tank gauge, but in the long run, you should be able to save money since you won't have to replace this thing any time soon.
Aside from the quality, what also catches the eye in this tank gauge is the color-coded readout – just like in the DOZYANT gauge. It again has separate readouts for cold, cool, and hot temperatures, which will be useful if you will be using your grill no matter the weather.
But again, Camco doesn't provide any temperature ranges for the readouts. So you will have to use this propane tank gauge a couple of times in different temperatures to determine what temperatures correspond to which gauge. This is annoying and could have been easily prevented if Camco was more detailed in its product description or manual.
Pros:
Color-coded readouts with three sections for different temperatures.
Good build quality.
Cons:
GASPRO Propane Tank Gauge
The GASPRO propane tank gauge is a great option for those whose budget is limited. This tank gauge is similar to the Astor gauge reviewed earlier, but it's priced a little lower.
The GASPRO tank gauge has a long stem, but it seems a little shorter than in the Astor gauge. Still, it's longer than in most of our other picks and should make installation easier.
This propane tank gauge again works with QCC1/Type 1 connectors. In terms of tank size, it's rated for 5- to 40-pound propane tanks, so it should be fine for most people.
The dial in this tank gauge is nearly identical to the dial in the Astor propane tank gauge. It's color-coded but has no readouts for different temperature levels. The black font indicating the purpose of each color makes reading the fuel level difficult. This once again shows how thoughtful Cuisinart was when using a white font in the green and red portions of the dial.
Durability-wise, we wouldn't expect much from this tank gauge. It will probably live the shortest among the tank gauges featured on this top, but that's not that unexpected given the price.
Pros:
Fairly inexpensive.
Long stem for easier attachment.
Works with 5-40-pound tanks.
Cons:
The dial isn't very easy to read.