Replicate the magic of wood-fired pizza with our guide to the best pizza stones for gas grills.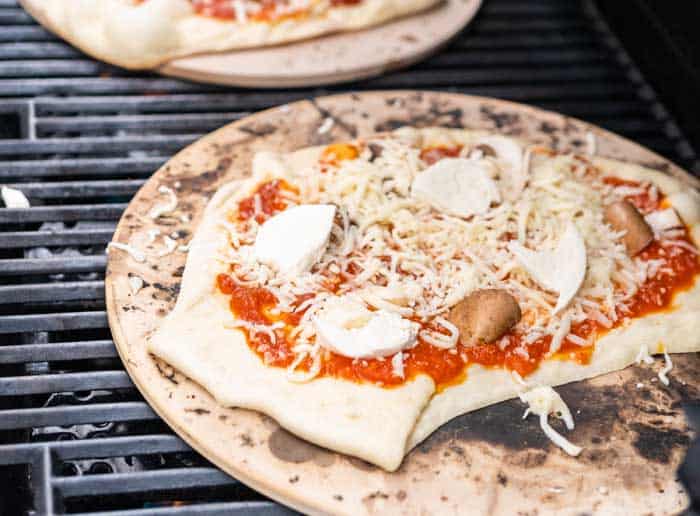 The good news is that you don't need a single-purpose wood-fired oven anymore. Instead, pizza stone inserts allow you to recreate the cooking art on your propane grill to help you make the perfect grilled pizza at home.
Here are five of the very best pizza stones for gas grills so you can get dough cooking today!
Pizzacraft 16.5" Round ThermaBond
This 16.5-inch round pizza stone from Pizzacraft is one of the tougher options on our list. Made of the Thermabond material, this pizza stone is resistant to extreme temperatures and is therefore safe for use in gas grills.
Sized at 16.5 inches, the Pizzacraft is one of the larger pizza stones on our list as well. With that, it allows you to bake huge pizzas, as well as provides better versatility when cooking pizzas of different sizes.
Pizzacraft additionally offers a rectangular version of this pizza stone. If you are looking to bake more than one pizza, then the rectangular stone might be a better choice. It boasts the same features as the round pizza stone too, so it's a good buy for the money!
The Thermabond material is not only heat-resistant but also FDA-safe. However, a small number of people have encountered a chemical odor that goes away after a few heat-up cycles. Most buyers seem not to have any issues with odors though, so you are unlikely to encounter them.
Pros
Withstands extreme temperatures
Sized at a large 16.5 inches
FDA-safe material
Cons
Slight chemical odor after longterm use
Sale
Pizzacraft Round ThermaBond
Make and bake your favorite pizza in your oven or on your grill
Made of 100% all-natural FDA-safe Thermabond material, thermal shock resistant
Homemade breads, pastries, even frozen pizzas cook evenly on the stone surface
CastElegance Round
This round pizza stone from CastElegance is a little pricier than the Pizzacraft stone, but it might be able to deliver better pizza-making results.
This pizza stone is made with Thermarite, which is engineered tuff cordierite. This is a food-safe material that appears to absorb moisture from the pizza better than other pizza stones, allowing for that delicious crispy crust.
Thermarite is also designed not to emit odors, and most people indeed have encountered no stink. Some buyers haven't been as lucky though and had to use the stone a few times for the odor to disappear.
The CastElegance pizza stone is available in two sizes – 14 and 16 inches. If you aren't going to make huge pizzas, then the 14-inch stone should be fine. It's cheaper than the 16-inch stone too, so it's probably going to be a better buy for most people.
Notably, each stone comes with use & care instructions, a free recipe e-book (a nice bonus for beginners), and a 4 x 5 scraper. So for its price, the CastElegance pizza stone offers pretty good value!
Pros
Available in 2 sizes
Includes a free recipe e-book and a scraper
Strong and durable Thermarite material
FDA food-safe
Cons
May require a few uses for the odor to go away
Rather pricey
Sale
CastElegance Round
Crispy Crust: Make restaurant-quality pizzas at home without the need of a bulky wood-fired or...
Extreme Versatility: Clean with a damp cloth (no soap or water) when finished. Our Pizza Stones...
Superior Durability and Heat Retention: Thermarite is durable, strong, and has superior thermal...
JulyPanny 15" Pizza Stone
This 15-inch pizza stone from JulyPanny is rather attractively priced for its size. It's not too cheap upfront, but given its 15-inch size, it's a very good buy for the money!
At the heart of the JulyPanny pizza stone is cordierite. Cordierite isn't the very best on the market in terms of crisp (if you want crisp, go for clay), but it's tough enough to withstand the temps of gas grills. This pizza stone is molded under 400 tons of pressure and heated at 2100 degrees Fahrenheit for hours, so it should be pretty tough.
JulyPanny also advertises that the cordierite allows this pizza stone to heat evenly, so after baking, you should get a perfectly consistent, crunchy pizza.
Generally, cordierite doesn't stink, but this hasn't been the case for some buyers with this pizza stone. Once again, this pizza stone is very highly rated, and most people have had zero issues with it, but a few buyers have had to deal with unpleasant odor.
Pros
Not too expensive for its size
15-inch size – great for large pizzas!
Extremely resistant to heat
Cons
Some buyers have encountered odors upon first use
Hans Grill 15 x 12" Rectangular Pizza Stone
This pizza stone is an amazing buy if you want a crunchy pizza. Although all picks on our top make crispy pizzas, this pizza stone appears to perform better. At least, we've seen fewer people complain about the lack of crisp with this particular pizza stone.
Seemingly made from ceramic, the Hans Grill pizza stone also does a good job of resisting temperatures and can be safely used with a gas grill.
Thanks to its rectangular shape, this pizza stone is awesome for baking two smaller pizzas. You can also bake one large pizza on it, but not as large as with our previous picks. Given the size of this thing (15 x 12 inches), 12-inch pizzas are the most you'll be able to bake on it.
As a nice bonus, Hans Grill includes a wooden pizza peel board with this pizza stone. The peel board is pretty convenient, but you can definitely find better boards out there.
In terms of odor, you are extremely unlikely to encounter any in this pizza stone. Some people have complained about it, but not nearly as many as with our previous picks.
Pros
Great for baking more than one pizza
Includes a pizza stone and a pizza peel board
Achieves a wonderful crust
Hans Grill Pizza Stone Baking Stone
PIZZA STONES FOR GRILL AND OVEN | Our very best pizza stone formulated from toughened porous...
BAKING STONE | Multiple use set for baking Italian style pizza, pies, pastry, frozen pizza,...
INDOOR OR OUTDOOR | The perfect stone pizza pan for oven and BBQ use. Dine al fresco under the...
Lirradight 10.5" Pizza Stone
If you are looking to bake small pizza, then consider this 10.5-inch pizza stone from Lirradight. It's rather inexpensive yet tough enough for most pizza-baking needs.
In terms of build and quality, the Lirradight pizza stone is very similar to the JulyPanny stone reviewed earlier. Both are made from cordierite that was molded under pressure and heated under 2100 degrees Fahrenheit. As a result, you are getting a pizza stone that is extremely heat-resistant and distributes heat evenly.
What caught our eye in this pizza stone is that no one has complained about any odors as of this review's writing. Now, this pizza stone was less popular than others (it had only about 40 user ratings on Amazon vs hundreds in the previous pizza stones), but it's still a good sign that no one has complained so far.
Pros
Rather inexpensive
Great for small pizzas
Extremely heat-resistant
---
Why use a pizza stone
A pizza stone is an ideal way to get your pizza cooked to perfection. As much as you can still use your regular oven to make your pizza, you will realize that the result may not necessarily be the same. Regular ovens do not burn fast and hot enough to create the right heat so that you get a crispy crisp yet still have toppings that are not overcooked.
The great thing about a pizza stone is that it becomes a high heat point in an oven. The stone will eat up and then hold to high temperatures, which will help you cook the pizza at high temperatures without burning the toppings. It works similarly to a traditional brick oven. When you place the pizza on the stone, the crust cooks immediately.
When you use a pizza stone on your propane gas grill, you will achieve faster cooking times and a crispier crust. Some may argue that the crust tastes better when it's done this way, but of course, the taste is subjective. However, you would use a pizza stone if you want an authentic tasting pizza but do not have an outdoor pizza oven.
Important features
When buying a pizza stone, there are certain features that you will need to be on the lookout for. These features ensure that you get the best out of your oven. If you are not sure what you should be looking for, you could fall for marketing gimmicks and wind up less than functional stone. Let us take a look at some of these features.
Material
Pizza stones can be the difference between a perfect pizza slice and a slice of soft dough that resembles pizza. The material that a pizza stone is made of will determine how it radiates and disperses heat. This is why it is an important feature.
Common materials that pizza stones can be made of include ceramic, clay, or cordierite. It is best to know how these materials react and what they bring to the table to make an informed decision.
Clay will give a crispy crust. However, it takes time to preheat. If you are working on a time crunch, then this may not be for you. Ceramic will need to be preheated properly to avoid cracking. However, it heats up evenly. Cordierite resists heat well and is also the least likely to crack. It is also a durable material and will last you a while.
Size
Does the size of the pizza stone that you use matter? Yes, it does. There are three dimensions that you will need to remain vigilant of. Those are length, width, and thickness. You want to make sure that the length and width are always the same. This way, you can rotate the stone when you need to.
Also, you want to look for a stone that can fit in the oven and that there is enough surface area for different size pizzas. You don't want to have to be switching out the stone for every size you cook. Remember that having a larger cooking surface will also mean more space for the pizza to be cooked properly without any crowding of ingredients.
Size also counts in that the stone should not be a snug fit for your oven. You need to leave some room for air to circulate in it. A larger surface will mean faster cooking time, as well as better heat retention.
However, keep in mind that a larger surface area also means that it will take longer to heat up and cool down. Also, a thicker stone results in better heat retention. It will also add to the amount of time needed to heat up and cool the stone.
Another advantage of having a thick pizza stone is that it will not crack easily. To be on the safe side, use a stone that is no thinner than 5/8inches. It is uncommon to find anything thicker than 1 inch.
So while you may think that a bigger stone will take up too much time to heat up, consider it to cook faster. When it eventually heats up, you won't be sorry for going with a bigger stone.
Shape
The shape of the stone matters as well. You can get them in various shapes; however, the most common is either a round or a square stone. The shapes have very similar functions; however, they do differ slightly in the product.
The round stone is often favored. It is made to look like the base of your pizza, and therefore it will be heated inch for inch. The similar shapes mean that the stone will heat the base of your pizza more effectively than with a square or rectangular shape, that is, if the pizza is not square as well. The major issue is that round stones are not as flexible as square or rectangular ones.
A square or rectangular pizza stone will also generally have more space. This means that it will also have better heat retention. As such, it will also help you get a crispier crust. You may also note that it will cook faster when there is more surface area.
Heat threshold & distribution
To get a crispy crust, you need the pizza stone to reach very high temperatures. However, it is not enough to just get a pizza stone that gets hot. You also need to make sure that the stone's material retains heat enough to cook the pizza properly and give it a signature crispy crust. If the base is heated sufficiently, the toppings won't get burnt.
You also want to make sure that the stone can distribute the heat evenly so that the pizza is cooked thoroughly from one end to the other. Even distribution is a key feature.
Last update on 2023-10-03 / Affiliate links / Images from Amazon Product Advertising API