Home meat grinders are a great investment if you want to start controlling everything that goes into your food. Here are five of the best to get your meat assembly line in full flow.
Home manual meat grinders are a great way to make your own ground meat at home, and give you full control over the contents of your food.
The problem with a lot of meat grinders out there is that they can be hard work, and can also jam up really easily.
So here's a list of 5 of the best manual grinders out there to help make perfect homemade ground meat.
At a Glance: Our Top 3 Picks
Best Manual Grinder: LEM Products #10
Reliable, robust, and can work its way through batches of meat with no problem.
Runner-Up: CAM2 304
A small and compact grinder for smaller quantities of meat. Comes with two plates for different types of meat.
Best Budget Option: Gideon Hand Crank
Easy to use, easy to clean, and the meat it produces is clean and precisely worked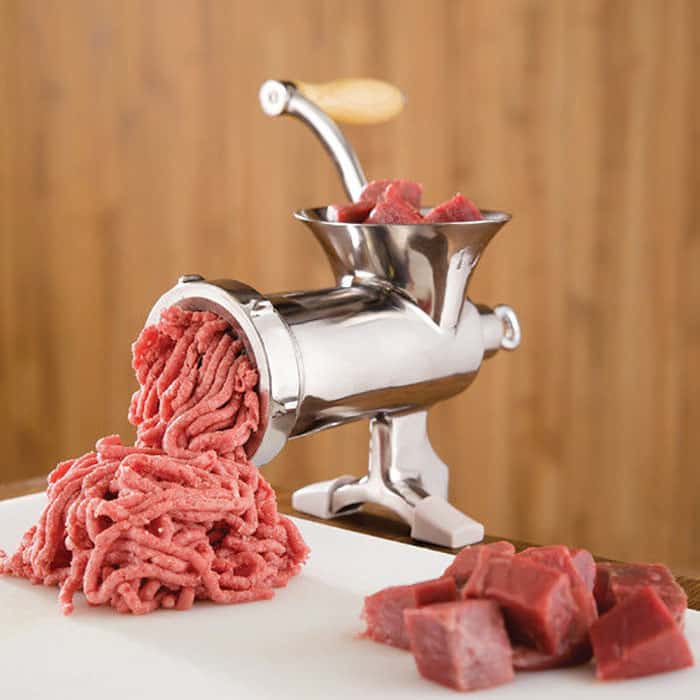 LEM Products #10 Hand Grinder
A beautiful stainless steel grinder that is rustic in appearance but modern in application. Reliable, robust, and can work its way through batches of meat with no problem.
Kicking off this list is perhaps the best hand meat grinder out there.
Its stainless steel construction gives it much more than just a beautiful vintage look to it, but actually serves the function of making this one robust bit of kit.
The stainless steel build makes it rust-resistant and easy to clean, while giving it a shiny glean that's hard to miss.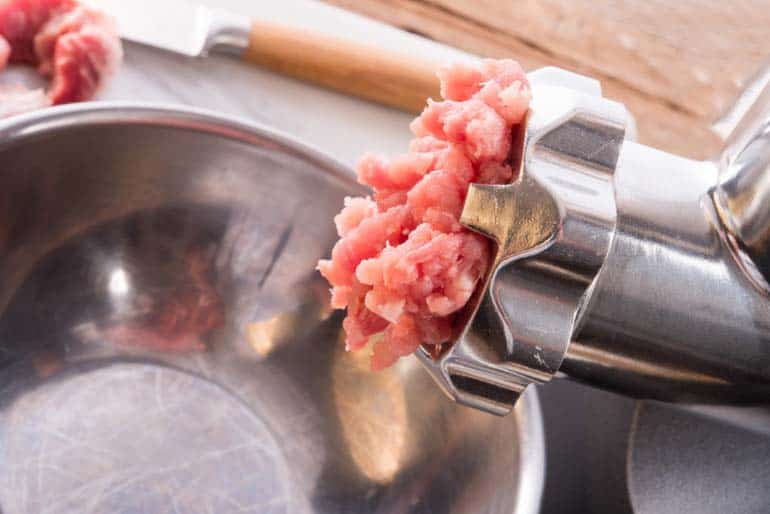 Functionality is at the core of what makes this a great grinder. It features a clamp for easy attachment to any table or kitchen surface. This is a significant upgrade on a lot of the suction cups that you see on cheaper models. The clamp and rubber base keeps it in place mounted on the table while you get grinding.
It comes with two stainless steel plates to give you different grades of meat grinding. It has the 3/8 plate for coarse grinds, and a 3/16 plate for finer results.
Through use of the two you can get through large batches of meat in minutes, and is pretty straightforward to use. Even for first timers.
Its added features come down to more than just the added plates though. LEM have also included a stainless steel knife, a stuffing star, and three separate stuffing tubes for sausage making.
All of this comes packed into a grinder that sits at just 8 pounds in weight, meaning that for all its output it won't ever feel like it's dominating your kitchen.
It's also easy to take apart for washing and storing away. Easy.
CAM2 304 Meat Grinder
A small and compact grinder for smaller quantities of meat. Comes with two plates for different types of meat.
At a close second is this great budget meat grinder from CAM2 that's small in stature but mighty in results.
Made with stainless steel, its durable and rust resistant enough to last you for the long haul. While using it we didn't notice anything that suggested poor quality build, which is surprising given its cheaper cost compared to other other grinders on this list.
The stainless steel build also means it's incredibly easy to clean, unlike plastic models that can quickly become caked in germs and old meat.
One of the best features the grinder has is its broad base. This makes it very sturdy when clamped onto a surface, so that despite the grinder's small size it stays more or less completely still throughout use.
Its base is built on rubber pads, which helps protect your kitchen surfaces while you use the grinder. It's great to be able to put your back into grinding the meat without worrying about what it's doing to your table.
Included with the grinder are two plates. One 3/8 plate for coarse grinding, and a 3/16 plate for fine grinder. Not only this but it comes with a filling tube to help with sausages.
It's a shame that it only has one filling tube compared to LEM's three, but as this is a more budget option some compromise should be expected.
It also comes with two 420 stainless steel blades, which means should your grinder's blade break or become blunt then you can easily replace it with the spare.
A very worthy runner-up.
Sportsman MHG10 #10 Cast Iron Clamp-On
Beautiful cast iron vintage grinder that is more than aesthetics. Comes with funnel attachment for making sausages.
Anything named Sportsman will have my attention.
And anything made with cast iron definitely has my attention.
This grinder is made from coated iron, making it probably the most durable item on this list. The material also gives the grinder a nice vintage look that should suit anyone who likes a more rustic look in their kitchen.
Its handle is well positioned to make it easy to use, and its padding makes it solid and stable when clamped to a surface.
It's also fast to use, and can grind about 3 pounds of meat every minute.
Included is a cutting knife, as well as two cutting plates for different grades of grind, and three filling tubes and funnel attachment for sausages.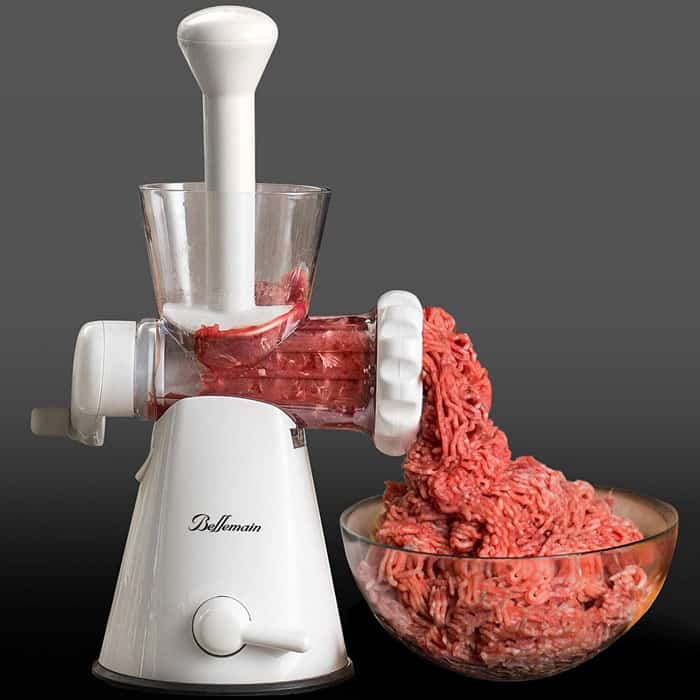 Bellemain Manual Meat Grinder
A beautifully neat grinder that is easy to clean and store. Comes with a meat pusher and a see-through center that's ridiculously satisfying to look through.
If the vintage steel look isn't your thing, then this should be right up your street.
The Bellemain meat grinder features a plastic body design with stainless-steel knives, built upon a strong suction base to provide stability.
It's easy to take apart for proper cleaning as well as storage, and features a handy meat pusher tool to help you safely process your meat cleanly.
At its core it has a strong and rust-resistant stainless steel grinding disc and blade.
What I like most is its see-through center, which makes it really satisfying to look through while you work through your meat grinding. For me that's worth the cost alone.
Gideon Hand Crank
Good quality plastic grinders are hard to come by, but this does the job brilliantly. Easy to use, easy to clean, and the meat it produces is clean and precisely worked. What more can we say?
The Gideon meat grinder combines both plastic and stainless-steel construction. The plastic used is heavy-duty, which ensures durability. The machine doesn't just grind meat; you can also use it to grind fruits and vegetables.
It is easy to operate, just place your meat on the grinder and turn the crank. It is designed to ensure safety when you are using it. The blades are fully enclosed within the grinder to eliminate the risk of cutting yourself.
It comes with a meat pusher to help you push the meat as you grind. The pusher helps to protect your fingers by keeping them from making contact with the blades.
It has a strong suction base to ensure stability. The suction cups keep the base of the grinder firmly in place during use. The cups also keep your surfaces from being damaged from use.
You can easily disassemble the device for easy cleaning or storage. It's also safe to clean using the dishwasher. The machine is extremely lightweight and has a compact design.
The grinder features heavy duty stainless-steel blades, which are designed to last for long and also rust-resistant. It also comes with two stainless steel plates for different levels of grinding (coarse and fine).
A great option for an affordable, easy-to-clean, meat grinder.
---
What are the benefits of a meat grinder?
Meat grinding is a great way to have more control over what goes into your food, as well as how your food is prepared.
You can decide everything that goes into your meat, and be confident in how fresh and hygienic it is.
Not only that, but there's a huge amount of cost to be saved too. While prices vary, manual meat grinders in general are cheap so it won't take long to recoup any cost that made up your initial outlay.
While there are electric grinder models out there, I much prefer manual grinders. They're a bit more work, but the results are often better and far more satisfying.
Last update on 2022-07-04 / Affiliate links / Images from Amazon Product Advertising API