The best BBQ spray bottles to take your barbecue to the next level. Find the right BBQ spritzer to help turn you into a budding pitmaster in no time.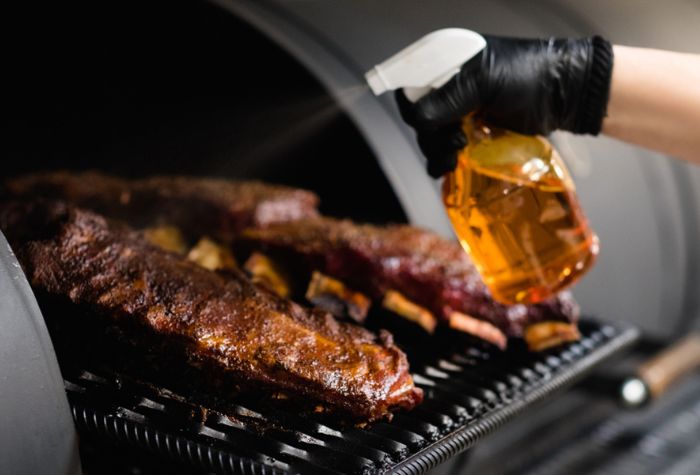 BBQ spray bottles have emerged as unsung heroes amongst the many pitmasters' arsenal of smoker tools and accessories. Helping maintain moisture levels and flavor during long smokes, they can elevate any smoked brisket, pork butt, or rack of ribs.
But for such a simple tool, there are a lot of choices out there. Whether it's bottles with fine mist nozzles, reload pressure triggers, or stainless steel builds, there's a lot to confuse any BBQ fan worth their salt.
Discover how to nail your barbecue smoking with our guide to the best BBQ spray bottles out there today.
Oklahoma Joe 2-in-1
The Oklahoma Joe 2-in-1 spray bottle is every true BBQ cook's dream. It allows you to spray your meat and also comes with an injector nozzle that helps you fill up your meat with your favorite marinades.
The spritz bottle is lined with stainless steel to enhance its durability and – crucially – makes it easier to clean. Still, this solid bit of gear still manages to be lightweight to easily refill and use several times over the course of an afternoon-long smoke.
Frustratingly, its 12-ounce capacity makes it one of the smallest bottles we've tested. While perhaps not a big deal for a simple rack of ribs, this is really noticeable with more heavyweight meats, where we had to refill it several times over the course of one cook.
Sally's Organics Amber Glass Spray Bottles
Simple but striking, Sally's Organics spray bottles are built for heavy-duty use, even when loaded with your citrus-based BBQ spritz mixes. Designed with UV protection, they are built to fend off degradation from ultraviolet light, making these a superb long-term choice for smoke fans.
Boasting 16 ounces of capacity and leak-proof nozzles, each bottle can pack in more than enough spritz fluid to see you through the longest of smokes, whether it's a whole packer brisket or an entire pork butt joint. No continuous refilling, and a powerful enough spray nozzle to better guarantee even coverage of your selected meat.
Despite their strong orange hue, they're just transparent enough for you to keep across just how much spritz you have left at all times, while their build is BPA-free and lead-free.
Agri Pro Compression Sprayer
Prefer to work with thicker marinade recipes? Agri Pro's compression sprayer is one of the best solutions for heavy liquids, such as those featured in Kansas City BBQ.
With a capacity of 50 fluid ounces, this container provides plenty of space – and then some! Its adjustable nozzle allows you to work with a variety of sauces and marinades, which are then easily dispensed thanks to the bottle's compression action function.
All of this is encased in a long-lasting Viton material bottle, allowing you to operate with highly acidic and abrasive liquids with ease. Finally, the bottle contains an integrated safety valve, a stabilizing base, and inline filtration.
HARRIS Professional Spray Bottle
HARRIS spritz bottles feature adjustable nozzles that provide a good deal of versatility in spraying, from light spritz steams to more solid bastes or marinades. This level of control is a real plus, offering up opportunities to be more creative than using just a simple apple juice or water spray.
The real highlight, however, is the pressurized system built into the bottle. Unlike traditional spray bottles that require multiple pumps to prime, these bottles reload automatically after each use.
These 32-ounce bottles are built to last and are lined with solid chemical resistance that can withstand long-term use of vinegar and acid-based spitz mixes.
A handy but weirdly often-overlooked feature is the measurement markings, allowing you to precisely track the amount of spritz you have left. Maybe not a big deal for some recipes, but this really comes in handy for long smokes that reach the five or six-plus hour mark.
The bottles are carefully crafted to offer a comfortable and secure 4-finger grip. This helps reduce hand fatigue while also ensuring steady application, even during prolonged barbecue sessions.
LiBa Refillable Spray Bottles
The LiBa spray bottle is the best choice for tighter budgets, coming in a set of four, with each bottle featuring steam and mist settings.
Admittedly, with the lower prices comes a slight drop-off in quality. These bottles aren't the most durable out there, with a basic appearance and questionable durability.
However, this bottle set absolutely gets the job done, and with 16 ounces of capacity, there's a lot of volume to play with.
We're also satisfied with LiBa's use of eco-friendly HDPE plastic, which is chemical-resistant and BPA-free. This is especially noticeable over multiple uses, with the bottles carrying significantly less of a 'chemically' smell than some of the other spray bottles we've tested. If only it were nicer to look at.
---
Is Spraying or Spritzing Meat Necessary?
While spritzing meat isn't always necessary, it can help larger meats requiring long smoke times. For example, both beef brisket and pork butt can demand smoke times in excess of eight hours. Using a simple spritz spray can help keep these meats moist (although the size of the impact of this is debatable) and also serve as an opportunity to add a little more flavor to proceedings.
In terms of flavor enhancement, a good spritz can help act as an adhesive for the smoke particles in your smoker's chamber. As the spritz's liquid evaporates, the remaining smoke particles attach to the meat's surface and help enrich it with a smoky flavor.
Finally, spraying your meat can help it develop a beautiful smoke ring, which is the pink layer of meat found immediately under the surface of smoked meat. It doesn't add much flavor or texture, but it's an aesthetic that many elite-level pitmasters aim for.
Important BBQ Spray Bottle Features
When considering various bottles, a couple of important features to consider will help you land on a decision.
Material
Should the spray bottle be food-grade quality? The answer is yes, most of the time. While a spray bottle might be tempting, only food-grade bottles are made to ensure there's no risk of your spray mixing being exposed to hazardous chemicals.
It doesn't stop there, though. Your barbecue spray bottle will have to deal with some tough conditions. So, it's smart to choose one made from durable materials like stainless steel, glass, or high-quality plastic. These materials can handle all sorts of liquids without breaking down.
A cheaper barbecue spray bottle will still do its job, but it might not last if it's regularly exposed to strong liquids (like vinegar and citrus juice), direct sunlight, or even the heat coming from your smoker or grill. Look out for bottles made from food-grade material and that are UV ray resistant. Also, consider bottles that are easy to clean, perhaps with stainless steel inside lining.
Spray Settings
The best barbecue spray bottle should let you spray your liquid just the way you want. So, a bottle with lots of settings is something to be happy about. A clear spray nozzle is important when spraying thicker oil or sauce-based liquids, while thinner apple juice or vinegar-based mixtures will need a finer 'mist' setting. Keep an eye out for multi-function sprayers that can do at least both of these.
Pressurized Trigger System
Although they might cost more, barbecue spray bottles with a pressurized trigger tend to work better. They're designed to reload automatically instead of needing a few pulls of the trigger to reload and spray. Trust us, this can help save a lot of effort and frustration in the long run.
Last update on 2023-10-01 / Affiliate links / Images from Amazon Product Advertising API