The best smoker accessories to take your barbecue to the next level. From Bluetooth thermometers to charcoal chimney starters, these essential BBQ gadgets will turn you into a budding pitmaster in no time.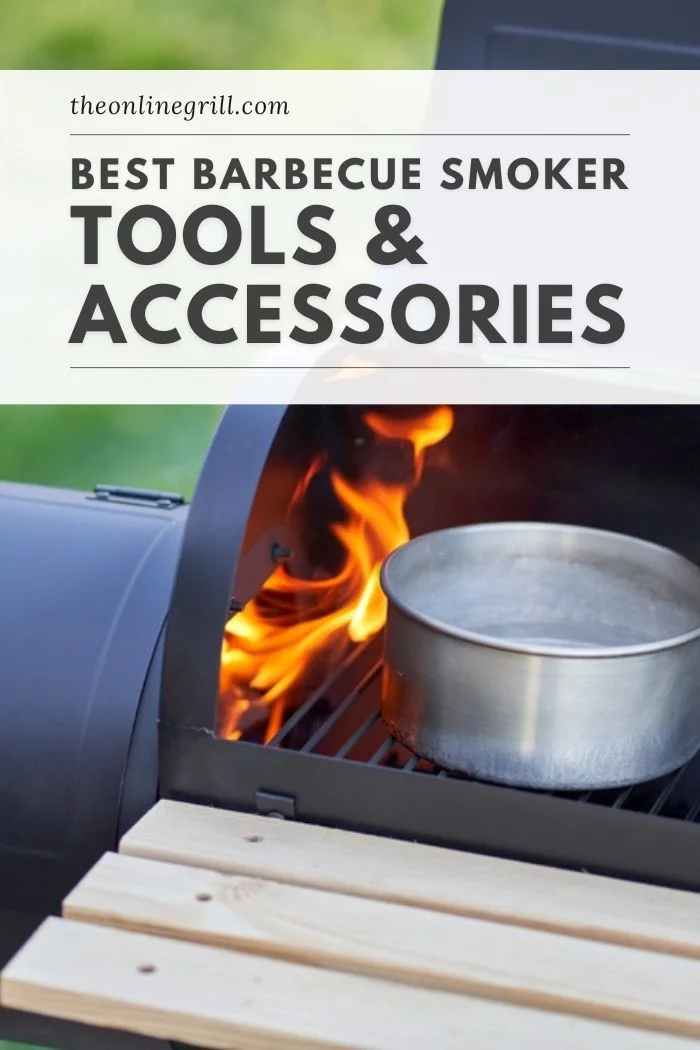 You've found your perfect backyard smoker, you're polishing your cooking skills, and now you're looking for the tools and accessories that'll help make the process easier – but which ones are worth the money?
When it comes to barbecue smoker accessories, there are a ton of options to choose from, and it can be overwhelming to separate essential tools from useless add-ons.
In this guide, we're giving you the low down on the best smoker accessories and tools you can buy to help up your backyard barbecue game and our top tips for what you need to look out for when purchasing.
Temperature Controller
Mastering the art of smoking meat comes down to one main thing: Temperature control. If you want a more hands-off way of barbecue, adding a smoker temperature controller to your set-up will change your life.
They work by measuring the internal temperature of your smoker (and meat if you buy a multi-probe unit) and triggering a blower or vent opening to adjust as needed.
Most temperature control units can be retrofitted to almost any smoker set-up but make sure to read up on your specific make and model first to check compatibility.
There is a whole range of options available for temperature controls, and what you should buy really depends on how hands-off you want to be with the process.
You can get ones that connect via Bluetooth or wi-fi to an app on your phone or web browser or ones that are just a display that sits outside your smoker cabinet.
Some app-based units can be set to trigger alarms to alert you if there is a temperature issue, whereas others can be set to fix the issue themselves if a certain parameter is reached.
Staple Tool or Pitmaster Upgrade? This is definitely a pitmaster upgrade, but if smoking food is your passion, it's a worthwhile investment. While the kits aren't cheap, they all start around $249 for the basic versions. As with most things, the more tech-heavy you get, the more the price rises.
Our Pick: Flame Boss 500-WiFi Smoker Controller
Cold Smoke Generator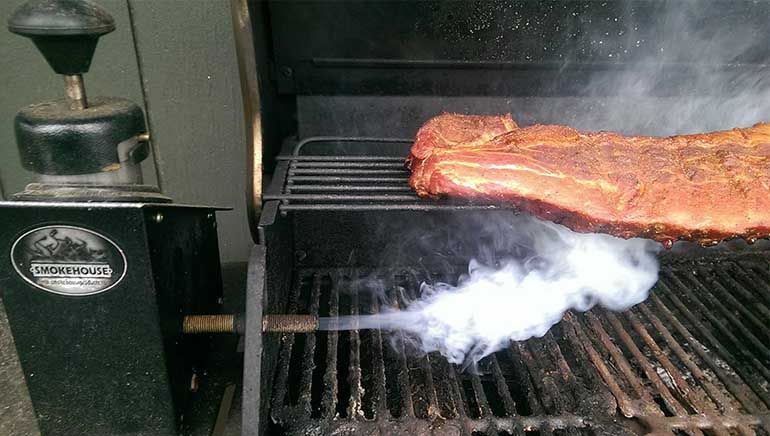 If you're venturing into the world of cold smoking, a cold smoke generator is the perfect thing to get you started. Cold smoking doesn't cook food; instead, it adds flavor and helps preserve food. A cold smoke generator that holds smoking dust or shavings is a much easier way to turn your existing BBQ or cabinet into a smoker instead of buying an additional bulky chamber and cabinet set-up.
The main thing to consider when buying a cold smoke generator is the size you'll need. The size of the container determines how much smoke time you'll get – it's always better to go bigger than you need and only fill it ¾ of the way instead of getting one that is too small and having to refill and restart the process halfway through.
Staple Tool or Pitmaster Upgrade? A cold smoke generator that can be used with your existing grill or smoking cabinet is an excellent idea for those just dipping their toes into the world of cold smoking. If you then decide you want to cold smoke anything and everything (the list of foods you can cold smoke is pretty extensive!), you might want to upgrade to a stand-alone cold smoker cabinet.
Our Pick: Smokehouse Smoke Chief
Digital Thermometer
The key to successful cooking on the grill and perfectly cooked meat each time is consistent temperature, and the only way to really get a handle on the temperature of your grill and meat is with a thermometer.
The ideal solution to all your temperature checking woes would be a dual probe BBQ thermometer (so that you have a probe for measuring the temperature in your smoker as well as the internal temperature of the meat) with BlueTooth capability and smartphone app connectivity, that way you can keep an eye on the temperatures while doing other things, which is especially ideal if you're slow cooking a piece of meat over the course of many hours.
Staple Tool or Pitmaster Upgrade? It's true – People have managed to cook food fine for years without thermometers, but by that token, we also managed fine with libraries before the internet came along.
If technology can help to make your life easier, then we're all for it, especially when it comes to things like food hygiene and safety. If you're just starting out with barbecue smoking, then any digital probe thermometer will get you off to a good start, but if you want to level up your kit, then you can't go far wrong with a dual probe wireless thermometer.
Our Pick: ENZOO 500FT Wireless Meat Thermometer
Heat-Resistant Gloves
Whether you are cooking on a gas or charcoal grill, you're working around a piece of equipment that reaches scorching hot temperatures very quickly, so you want to ensure you are protecting your hands with a good pair of heat-resistant BBQ gloves.
They allow you to get near burning coals, handle hot tools and even turn cooking meat without doing yourself an injury.
Heat-resistant gloves come in a variety of styles, but we'd suggest opting for a pair that offers a heat resistance rating over 662F (gloves with a rating above 662F are good, but ones with a rating up to and over 932F are even better) has a slightly longer cuff to prevent singed arm hairs and silicon strips to help give you extra grip.
Staple Tool or Pitmaster Upgrade? Heat-resistant gloves don't tend to seem like 'must-have' accessories until you get your first burn. Long-handled tongs can protect your hands the majority of the time when grilling, but when it comes to smoking and dealing with big chunks of meat, heat-resistant gloves will make things so much easier and safer.
Our Pick: RAPICCA BBQ Gloves
Chimney Starter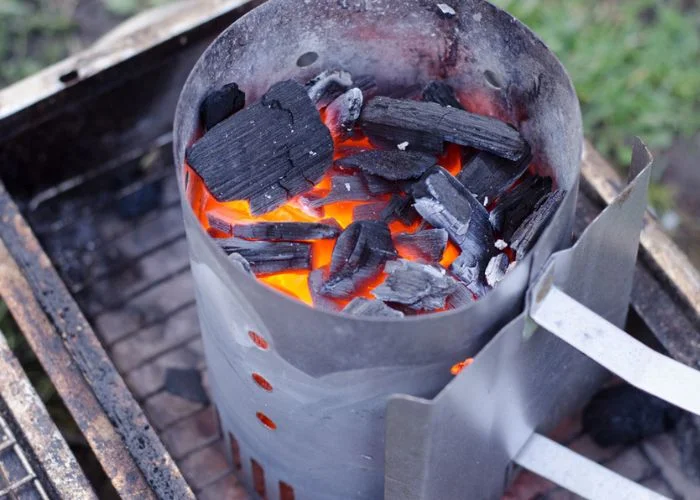 If you like to cook with charcoal over gas, then having a chimney starter for your coals can help save so much time. A charcoal chimney works so well for getting coals started because of its shape, it looks like a big metal drink tankard, but it has a grated bottom and air holes around the base to allow for good airflow.
You fill the chimney with charcoal briquettes and light them with a small piece of kindling at the bottom; the flames from this kindling can rise through the open grated bottom to reach the charcoals. Once they catch alight, the 'chimney effect' means that the heat and flames travel upwards through the rest of the coals, causing them to catch alight and burn evenly and quickly.
The main difference between chimney starters is the sizes they come in, so make sure you get one that can hold an adequate amount of briquettes for the size of bbq you have.
Staple Tool or Pitmaster Upgrade? Possibly the most staple of all staples (if you are a charcoal griller). If you've got a charcoal grill and you're not using a charcoal starter, stop reading this article and immediately go and buy one. You can come back and thank us later for all the time you save trying to light your coals.
Our Pick: Rapidfire Chimney Starter
Smoker Cover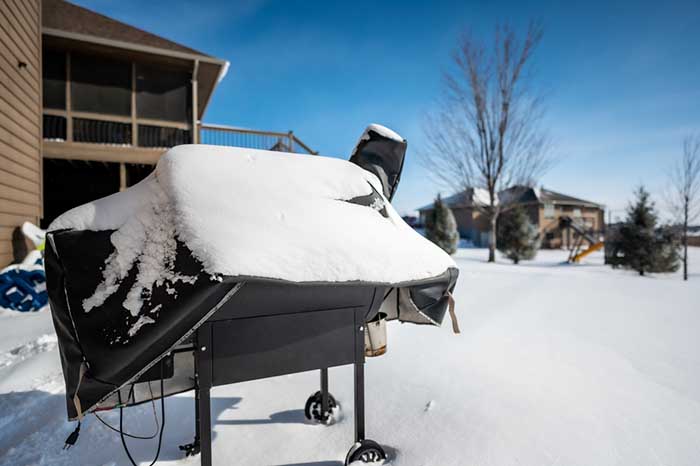 If you've invested a bit of money in your smoker, you'll want to keep it looking nice. One of the best ways to protect it from the elements is by getting a smoker cover. Smoker covers are made from the same material as regular BBQ covers, but they are better shaped to fit over snugly – you don't want to lose a poorly fitting cover with the first gust of wind!
Most smoker manufacturers will sell covers specially designed for their own range of smokers. If you can't find one made for your smoker or don't want to pay the higher manufacturer prices, you'll be able to find a universal style to fit on Amazon. Just be sure to double-check all the dimensions and measurements before clicking order.
If you live somewhere that's at the mercy of cold temperatures during the winter, we recommend getting a welding blanket for your smoker. They're designed and built to retain heat better than most purpose-made covers. Because of their woven fiberglass fabric they tend to cost more, but they are well worth the investment come winter.
Staple Tool or Pitmaster Upgrade? Covering your grill, smoker, or any garden furniture is a great way to protect it from the elements and keep it looking fresh. It's a one-time, low-cost purchase that is well worth doing.
Our Pick: ABN Heavy-Duty Fiberglass Fire Retardant Blanket
Butcher Paper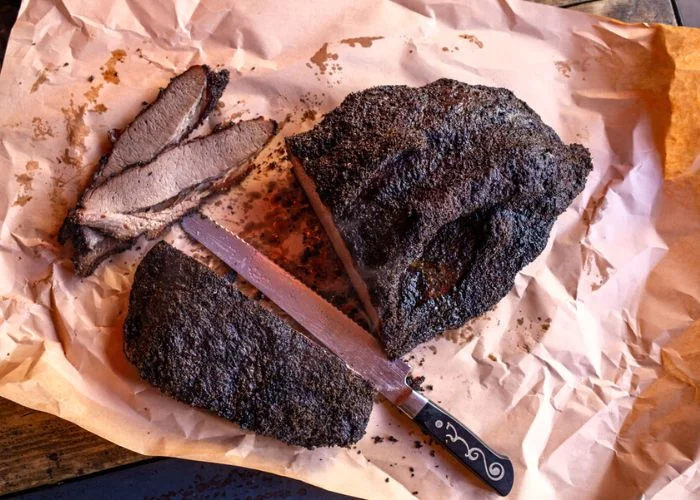 Butcher paper is one of those invaluable tools you'll wonder how you ever did without. It's perfect for wrapping meat while smoking to help retain moisture while simultaneously preventing the stall or to cover cooked meats and line drip pans. It's made from wood pulp and treated in a way that makes it moisture resistant, so you don't have to worry about it tearing or falling apart, but it also doesn't make meat 'sweat' in the same way that aluminum foil does.
You need to look for food-grade brown or pink butcher paper. Always opt for unwaxed butcher paper if you want to use it to wrap meat in for smoking. Waxed butcher paper is coated in polyethylene which can melt at high temperatures and risk leaching into your meat.
Staple Tool or Pitmaster Upgrade? Once you've bought a roll of butcher paper, you'll wonder how you ever did without it! It's not only a staple for the grill but a well-stocked kitchen in general.
Our Pick: Pink Butcher Paper Roll
Basting Mop or Brush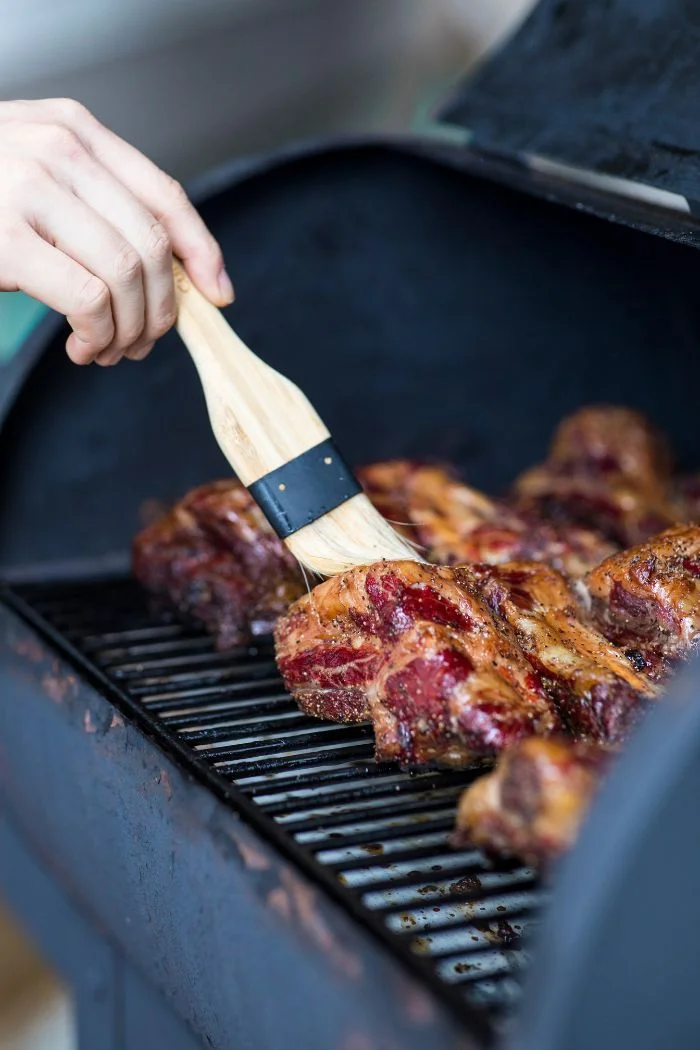 Depending on what you're cooking, the recipe might call for basting the meat regularly to keep it moist. If you need to add a mop or marinade to your cooking meat, your regular kitchen brush likely won't cut it, so you're going to want a designated BBQ basting mop.
Basting mops are made with absorbent heads to help spread an even amount of mop or marinade over whatever you are cooking.
Look for a mop that comes with removable and washing machine-friendly heads. Be sure to wash any used mop heads in the sink first to clean them of any sauce that might stick to or stain other items in the washing machine and make sure to follow the manufacturer's washing instructions.
Staple Tool or Pitmaster Upgrade? If you like to coat and cook your meat with sauces, then a basting mop or brush is a definite must-have. It helps to make the job a lot easier and ensures you get a good covering of anything you add to your meat.
Our Pick: Topulors BBQ Sauce Basting Mops
Canvas Apron
Cooking can be a messy job anyway, but when you add in sauces, mops, and juicy meat you're setting yourself up for all kinds of potential spills. Whether you're cutting and preparing meat or turning stuff on the grill, having a full coverage apron can help protect your clothes from a multitude of stains. Not only that, but a good professional quality apron can also offer you back support – ideal for if you're tending to the smoker or pit for the majority of the day.
If you're going to buy an apron, especially for barbecue, then you want to make sure you're getting the most practical one. We love this knee-length canvas apron from Outback Barbecues. Made from water-resistant and hardwearing canvas, it's durable and practical while better value than most similar aprons.
Staple Tool or Pitmaster Upgrade? A good quality apron feels like it should be a requirement for the pitmaster uniform. Any apron will do the job for casual grilling, but if you've graduated to long slow cooks on the smoker, then a canvas apron will serve you well. 
Our Pick: Hudson Durable Goods Professional Grade Apron
Fish & Veg Basket
There's nothing worse than having food slip through the grates of your grill. Not only is it a waste, but it's also a mess to clean up. If you're cooking meats such as fish that can be prone to flaking or smaller delicate foods like vegetables, a grill basket is a great tool to have on hand.
Look for a Grilling basket with a locking lid (rather than just a tray) so that you have the option to flip foods if needed. Wire grate designs rather than solid metal baskets with holes in the bottom are usually better as it means any excess moisture can escape, and you don't end up with soggy veg.
Staple Tool or Pitmaster Upgrade? A grilling basket is a nice accessory to add to your collection if you grill a lot of fish and vegetables, but it probably isn't needed if you're sticking strictly to large cuts of meat.
Our Pick: SHIZZO BBQ Basket
Tongs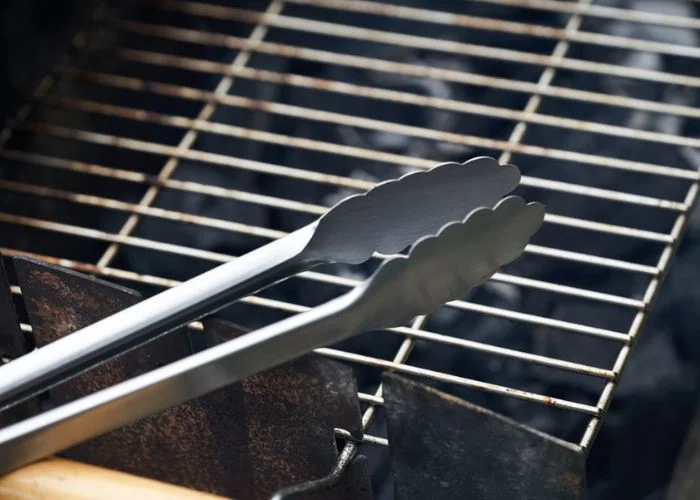 You won't get very far cooking on the grill without a good set of long-handled tongs. There's nothing worse than trying to turn food on the grill with a pair of short tongs; you need ninja-like skills to turn your sausages without getting burnt hands. A decent pair of long-handled tongs can help make quick work of the cooking.
Look for metal tongs with wood or silicon handle grips, as they'll protect your hands from heat traveling up the metal. You'll find that some tongs might come with teeth while others are scalloped along the edge – this can help grip food while turning it but isn't a must-have.
Staple Tool or Pitmaster Upgrade? Long-handled tongs are a grilling staple; your fingers will thank you!
Our Pick: Daily Kisn Tongs
Meat Claws
If you've ever tried to shred a large cut of pulled pork with forks, then you know that it can be a bit of a struggle. Even if it is the most tender cut and melts in your mouth, the prongs on a kitchen fork don't really give you enough space to shred it without making a mess. This is where Meat Claws come in; they make quick work of shredding meat and are also handy for lifting heavy roasts.
Look for meat claws that are dishwasher safe, and if going for plastic over metal, ones made from BPA-free plastic.
Staple Tool or Pitmaster Upgrade? Ok, so these might seem a bit gimmicky at first, but they do make quick work of shredding any kind of meat, especially big cuts. They might not be a must-have, but they make for an excellent gift for any avid grillers you know.
Our Pick: Bear Paws The Original Shredder Claws
Grill Brush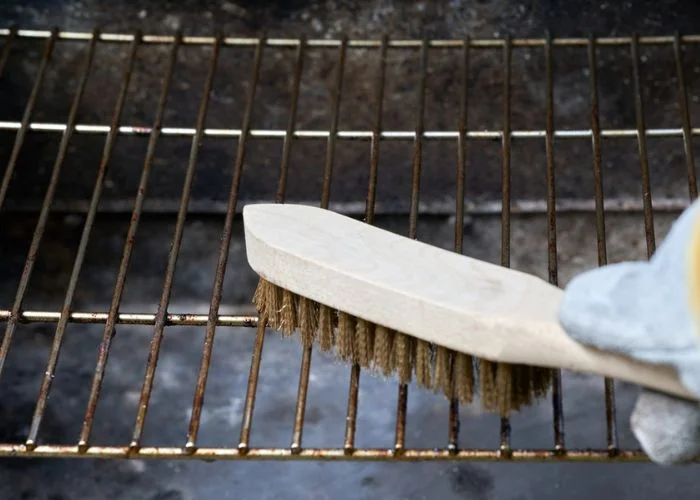 A grill brush makes for an easy clean-up once you've finished cooking. We've discussed the importance of maintaining your grill, and one of the best ways to do this is by ensuring the grates are clean of food debris after each use.
When you've finished cooking, turn the temperature up on the grill for around 10 mins to burn off any grease/fat, and then run over the grates with a grill brush to clean off any built-up gunk or food debris that might be lingering.
If you're shopping for a grill brush, you'll probably notice that there are both wire brush and non-bristle versions. Both work just as well as each other, but there can be some concern of wires shedding and ending up stuck on the grates or in your food with cheaper wire bristles brushes. To avoid this, opt for a well-known name such as Weber if you want a wire bristle brush or look at the Kona Safe Bristle Free Brush.
Staple Tool or Pitmaster Upgrade? If you're gonna grill it, you gotta clean it! A good grill brush is another BBQ must-have and will help make light work of the clean-up process.
Our Pick: Weber 18″ Three-Sided Grill Brush
Knife Set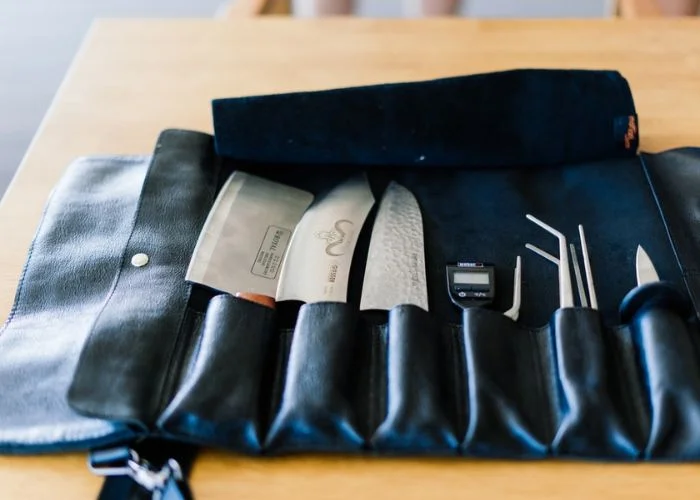 No matter what you're preparing to cook, you won't get far without a good set of knives. For example, when preparing meat for grilling, one of the best to have to hand is a boning knife. A boning knife has a thin sharp blade, making it easy to get close when trimming fat or tidying up a cut.
Boning knives aren't overly expensive, so if you can buy one solely for meat prep, it'll mean it doesn't get blunted on any other tasks.
Boning knives can be straight or curved, but both do the same job. Having a curved blade can make some tasks easier, but it's a personal preference for which is best suited for you.
If you invest in a good set of knives, it's also worth learning how to sharpen them to keep them in tip-top condition.
Staple Tool or Pitmaster Upgrade? A good set of knives definitely count as a staple tool for anyone whos looking to expand their cooking (not just grilling) skills.
Our Pick: Dalstrong Chef Knife
Butcher's Block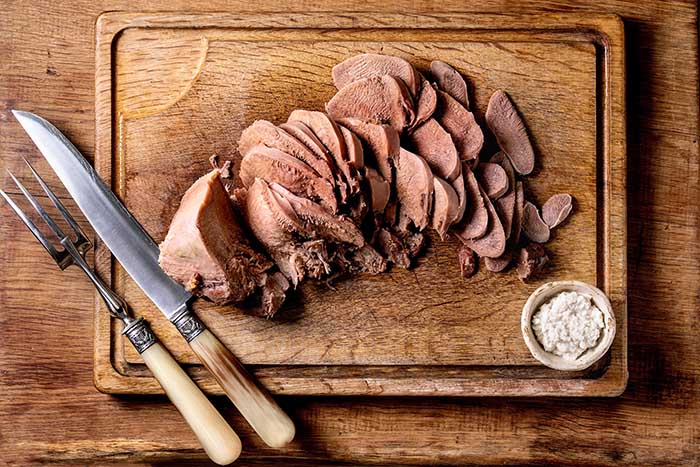 If you've ever had to trim down and prep a large cut of meat, or shred a hunk of cooked pork, on a normal-sized kitchen chopping board, then you know how much mess it can make.
Buying a good-sized BBQ cutting board can make the job so much easier. Not only is it big enough to work on, but it'll also have a decent-sized juice groove to help drain liquids away from your working area.
If you're just getting started, then opting for a bamboo version is a budget-friendly way to go, but if you're looking for a bit of a fancy upgrade, there's a range of stunning hardwoods to choose from.
Staple Tool or Pitmaster Upgrade? A butcher's block is another staple for any good kitchen, and as long as they are cleaned and dried well, it can last for years.
Our Pick: Soulfino Chopping Board