Butcher blocks are essential for preparing your smoked whole brisket or pork shoulder. You need a cutting board that's up to the job of catching juices and withstanding the pressure from your chef's knives. Find out important features and recommendations with our guide to the best butcher blocks today.
One of the most essential kitchen tools for BBQ and meat fans is a butcher block. While primarily for meat, they're also used for cutting vegetables or fish.
The material that your cutting board is made out of is very important because different materials react differently with certain types of knife blades or foods.
In our guide today, we'll show you five of the best butcher blocks out there today, and what features make them stand out.
SoulFino Bamboo
A cutting board or butcher block should be tough, durable, last a lifetime, and most of all should be accommodating to the food that we are preparing. It should more than just be a piece where we work on our ingredients but contribute to the overall process and soon flavor of it all. That's exactly what the SoulFino Bamboo Butcher Block literally brings to the table.
It's got an elegant design that will not only add some flair to your meal preparation but will look good in your kitchen as well. This cutting board is unlike any ordinary ones that can stain easily and that are hard to clean nor will it will have ugly knife scratches all over.
This is one extra-large and thick butcher block plus it comes with a juice groove that's very convenient if you ask us. Simple yet effective design, that's what this cutting board is all about. It is low-maintenance, scratch-resistant, will not warp nor crack even if you use it regularly and intensely probably until you decide it's time to give it a rest.
It is reversible and comes with convenient handles. It measures 17 x 13 x 1.5 inches. Serve in style with bamboo and serve your food in perfection. This butcher block is quite affordable to boot.
John Boos Reversible Cutting Board
At 20 x 15 x 2.5 inches this John Boos Reversible Cutting Board is one thick butcher's block. It is right in the medium-priced category but boy, this is one worthy cutting board and you probably won't need another one for a very long time.
It weighs 17 pounds and is a reversible cutting board. It's got maple wood edge grain so it is hard rock and tough enough to take on the wear and tear of everyday chopping and cutting. It is truly one of the finest boards utilized for food preparation across the globe.
The flat sides themselves can be utilized as extra cutting surfaces. Its lightweight construction as well as the convenient hand grips on each side makes it one easy board to move around. It's also quite easy to wash and maintain.
It's also noteworthy that the brand themselves promotes eco-friendly ways to manufacture their products since we are dealing with wood here. As far as maintenance goes, clean this cutting board easily with just hot soapy water and let it dry accordingly. It also comes with a groove that encompasses the entire dimensions of the cutting board.
John Boos Round Chopping Block
If you are looking for a round butcher's block then the John Boos Round Chopping Block should be on top of your list. This cutting board is 18 inches in diameter and of course, also made of maple. It weighs 9.27 kilograms and is 3 inches thick.
Made only by skilled craftsman from the US, this butcher's block boasts tough quality and will last a lifetime with proper maintenance. And, that shouldn't be hard to do as well. As discussed above, on the previous John Boos cutting board you will only need hot soapy water for this one too.
This one also features the signature end grain construction that is loved by world-class culinary experts all over the world. It is thick and sturdy and comes in a variety of sizes should you need something larger or smaller.
The brand has been making such products for over 100 years and so you know from that they don't only have experience but massive credibility. So, when we say that these chopping boards are going to last a lifetime, we really do mean that. This may be a tad expensive though but if you have a few bucks to spare then this should all be worth it.
Mevell Walnut End Grain Cutting Board
If you're looking for the coolest looking cutting boards across the market then look no further as we introduce to you the Mevell Walnut End Grain Cutting Board. It is indeed a visually stunning Walnut designed butcher's block but of course, this cutting board is not all looks but also as tough as they come.
It is guaranteed to be durable and last a long time with its hardwood end grain that is of course, sustainably sourced and made out of black Walnut out of Canada. This cutting board is thick with thickness ranging from 0.75 to 2 inches depending on the size you'll order. It is also reversible and has a juice groove surrounding the core of the cutting board.
It is seasoned and ready to be utilized right off the bat as it is hand treated with premium oil and bee wax. This material is also not as hard as bamboo so it will actually be kinder to the edges of your knives. So, this is one worthy alternative should you use a certain set of knives that aren't that compatible with bamboo. After all, knowing how to take care of our knives goes a long way too.
This should look really stylish in your kitchen and add to its overall aesthetic nicely.
Daddy Chef End Grain Wood
All right, from premium-priced butcher's blocks let's introduce the Daddy Chef End Grain Wood Cutting Board which is actually just as affordable as the Soulfino Bamboo cutting board we reviewed above. If you're on a bit of a budget but still want to have a beast of a chopping board then take a look at this one.
This product is made out of tough hardwood specifically Oak. It comes at 16 x 12 x 1.5 inches and weighs 7.7 pounds. This rectangular butting board also has a unique design. It does not have a juice groove but it has got silicone non-slip feet to keep it stable at all times.
The end grain cutting board design should also help keep your knives stay sharper. Perfect for carving anything on top of it from meats to vegetables. It is also quite easy to clean and maintain and guaranteed to last a long time.
---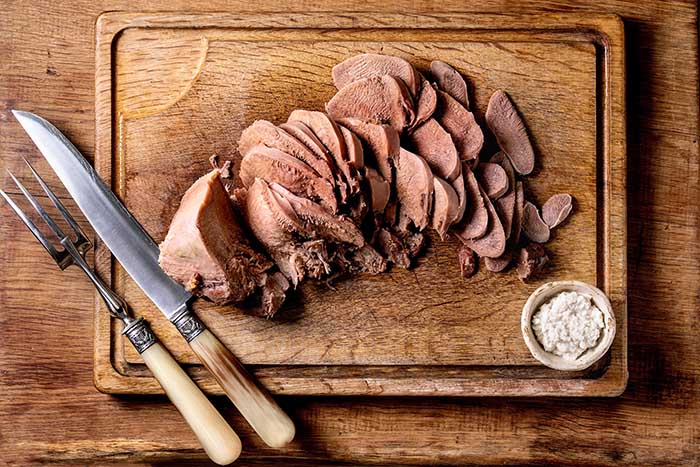 What's the best wood for a butcher block?
Wood is a far better choice than plastic for cutting boards. The most popular woods are maple, cherry or walnut. Here's a brief guide to the advantages of each of these wood types.
Maple is durable and has the best resistance to heat so it's ideal for slicing meats that are fresh off the grill or smoker, like barbecue brisket.
Walnut is durable but also porous so you'll need to oil it regularly as it will soak up any liquids that come in contact with the surface of your cutting board. This can be good if you like salmon skin sticking around because osmosis makes them moister than they would otherwise have been!
Cherry boards are quite soft and prone to damage from knives which makes them great for chopping vegetables (or anything else) where there isn't much risk of bruising or damaging the wood itself. They're also good at resisting acids.
Butcher Blocks vs Cutting Boards: What's the Difference?
Wooden butcher blocks are better than plastic cutting boards because they're more durable and less likely to harbor bacteria. They're also designed to be large enough to hold most cuts of meat, even huge 12-pound briskets or racks of ribs.
Butcher blocks are often built with grooves around the perimeter of the board, so will catch juices as you slice meat. This can help you repurpose them, as well as keep your countertop clean.
Last update on 2023-10-04 / Affiliate links / Images from Amazon Product Advertising API