Perfectly slice and serve your smoked meats with a deli slicer. Armed with an electric motor for speed and precision, these little kitchen machines make food handling simple and efficient. Our guide is here to show you the best home meat slicers, and the key features to look out for to help you make the right decision.
A home meat slicer is a great way to make sure that you get your cuts of meat perfect every time. While some people might 'eyeball' it, seasoned kitchen and barbecue pros know the value in thorough and precise meat cutting.
At a glance: Our Top 3 Picks
Best Meat Slicer: Chefman B07CT5TVTX
A speedy and quiet motor sits behind this affordable but reliable unit. Everything you could want from a slicer.
Runner-Up: Elite Platinum EMT-625B
Sharp blades make quick work of any meat, and can cut to razor thing segments of meat.
Best Budget Option: CUSIMAX B07RNB6B1K
Budget-friendly and easy to use. Boasting adjustable cut sizes, this is an easy unit to get to grips with.
Our chosen home meat slicers are the best out there for speed, safety, and usability. We've put each of these to the test in the kitchen, and these 7 units deliver fantastic slicing mechanisms and safety protection for all users. Let's get into it.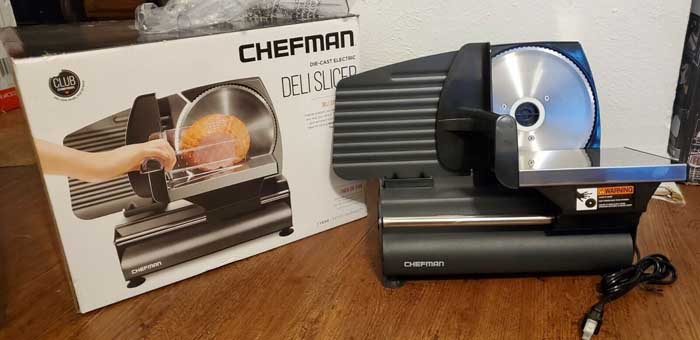 Chefman B07CT5TVTX Die-Cast Electric
Kicking off our list is a motorised home meat slicer that's affordable without compromising on slicing performance or ease of use.
Behind its excellent performance is its 180-watt AC motor, which stays steady and consistent throughout use. The motor powers a 8.6-inch stainless steel serrated blade, that cuts through meat quickly and efficiently. We got a beautiful yield of evenly sliced meat in all the tests we ran on it.
The key to a good meat slicer is safety. The Chefman's base is built upon non-slip grips to keep it locked right into place. Its on/off feature gives you easy startup control, and gives you peace of mind that once it's off it is definitely off.
The appliance is easy to clean after each use thanks to its quick disassembly. Its main components are removable, and can be put through the dishwasher after each use.
This means no meat getting into hard-to-reach areas, leading to bacteria buildup. With frequent cleaning, it will stay hygienic at all times.
Final Verdict: With a strong and reliable motor, and a robust cutting blade, the Chefman Electric Deli have produced one heck of a unit. Perfect for meat handlers of all skill levels, and comes at a reasonable price. A near-perfect machine.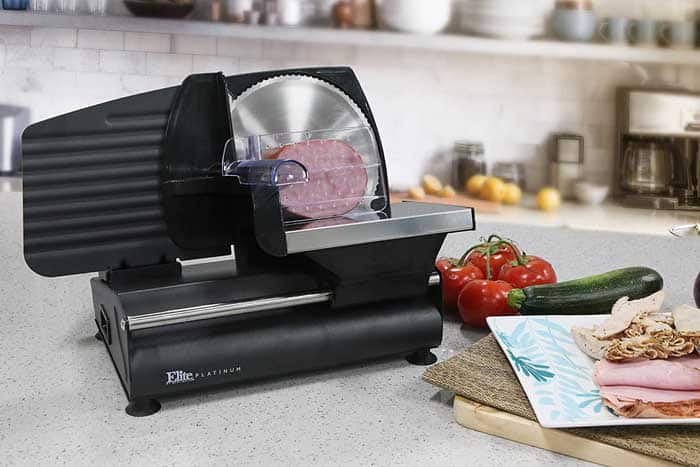 Elite Platinum EMT-625B
At a close second place is the Elite Platinum. This slicer will save you time and energy, as it makes extremely light work of meat quickly and easily.
At the heart of it sits a sharp, 7-inch stainless steel blade. It's built to last, with its rustproof blade able to stand up to thick slabs of meat while delivery excellent precision.
It's fully adjustable, able to craft paper-thin slices all the way up to half-inch tablets of meat.
It's sturdy and safe to use thanks to its nonslip rubber feet, so you can rest assured that it will sit firmly on top of your kitchen surface.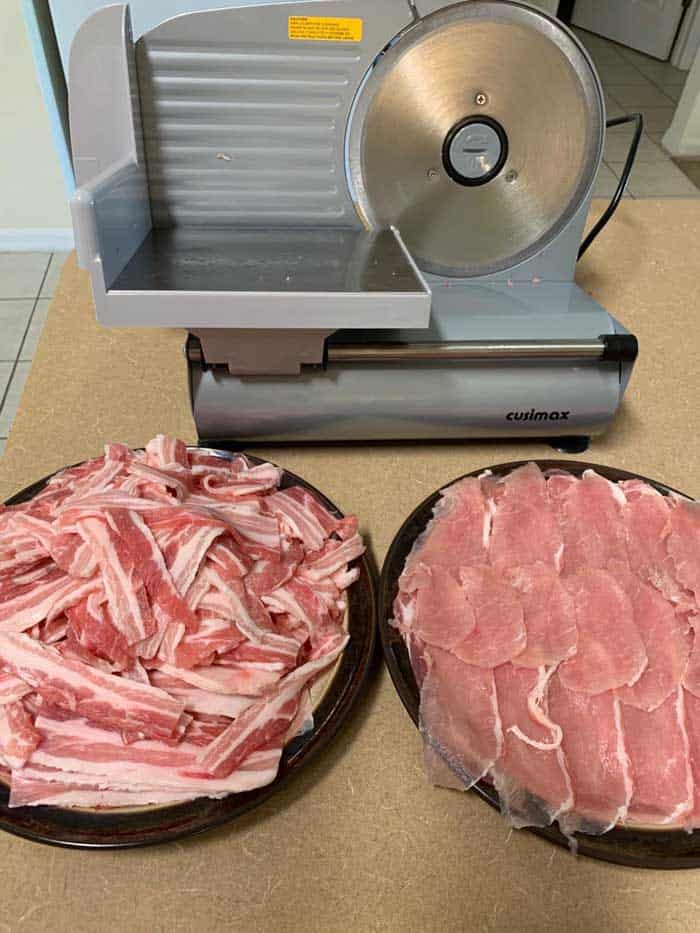 CUSIMAX Electric
This thing is good to go right out of the box, coming preassembled and ready to slice.
With a 7-inch 420 stainless steel cutting blade, the Cusimax is able to work its way through most meats in an efficient manner.
Its blade parts are built on a track system which makes it extremely easy to remove for cleaning. This kind of feature is often overlooked but is what makes the slicer easy to clean but, more importantly, really safe to use.
On the subject of safety, the slicer sits upon suction pads for grip to give you confidence that it's sitting firmly upon your table surface.
I love the programmable thickness dial on this electric meat slicer. This helps take away a lot of the guesswork involved with cutting meat, and instead allows you to slice meat at an even, controlled pace.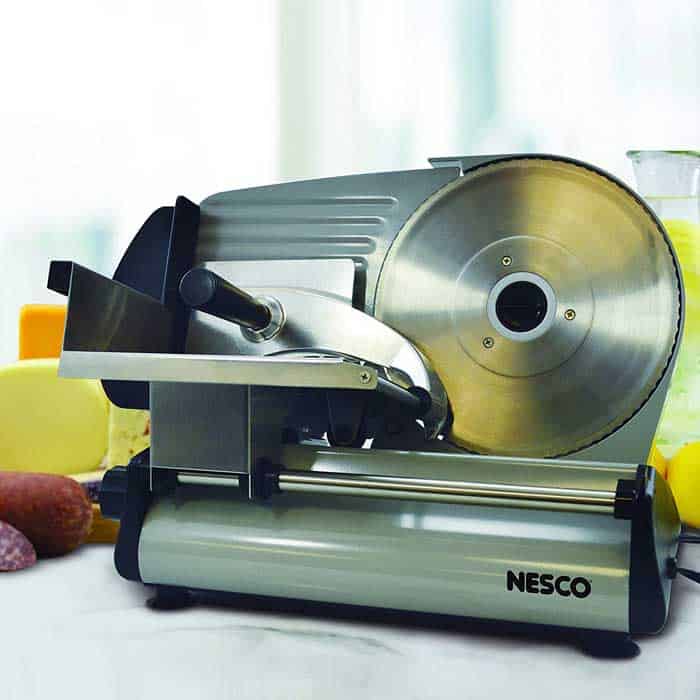 NESCO FS-250
This thing is a bit of a beast. It's packed with a large 8.5-inch blade, and a 180-watt engine to help you supercharge your slicing.​
Its slicing mechanism has a depth control feature to help you give you as much flexibility and functionality while you use it.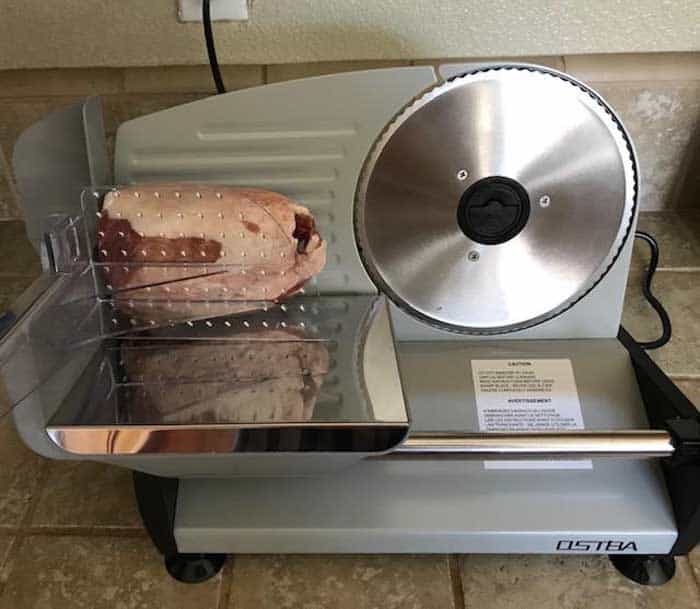 Ostba Electric Deli Food Slicer
The OSTBA slicer is great for users who need something with power to cut through big slices of meat.
Its thickness dial offers slices between paper-thin, all the way up to a three-quarter-inch setting. This might sound too thick, but its built upon a 150-watt motor that felt up to the job when we tested it.
If you're not confident in the motor capability of the slicer than it's also available in a 200 watt model for a little bit more umph.
For safety, it has a childlock to stop the slicer falling into the wrong (tiny) hands. This works by having a safety lock button that needs to be paired with the power button at the same time.
It's a simple feature, but one that could prevent a lot of nasty accidents.
Is built with removable parts for easy and safe cleaning, and is all cased in a cover when stored so that you don't expose it to moisture or dust overnight.
BESWOOD 9″ Premium
What I really love about this home meat slicer is how quiet it is.
So if you're a meat slicing fiend who operates in the small hours, then you might well have found your dream unit.
For the price you will but if for, it stands to have no issues. Yes, it is a product that is worth every penny you pay for it. You will end up forgetting about similar products when you invest in this high-quality food slicer.
As for the speed, it will perform surprisingly well. You will be relieved of how fast it is to use the machine compared to doing it manually. Of course, that means you are going to get the task done faster than what you are used to. That is always a good thing because you will be able to proceed to the next task immediately.
Perhaps, the only complaint users have about this product is that cleaning it up takes a long time compared to the other products. That does not mean it takes several hours though. It just means it will take longer than expected. That is actually not a bad thing because you will be confident of its cleanliness when you spend a lot of time cleaning it.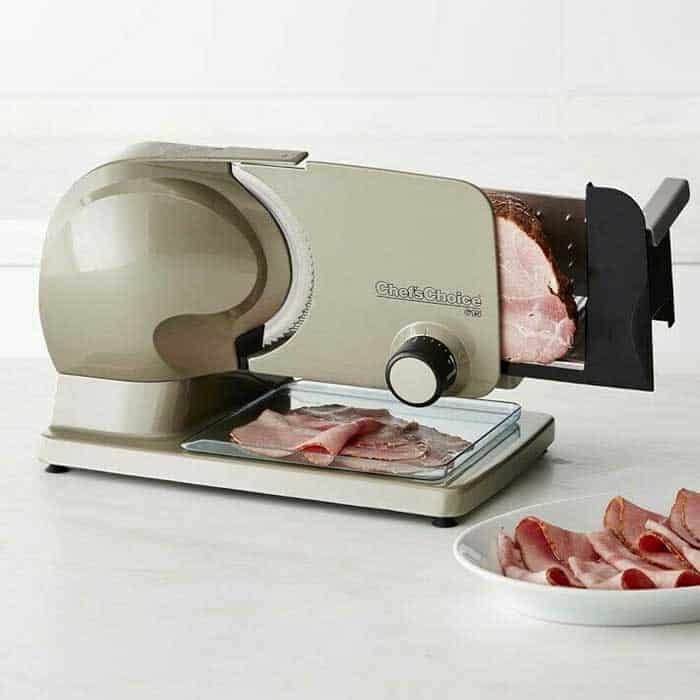 Chef's Choice Electric Precision Thickness
The Chef's Choice Precision Blade has a 120-watt torque powered motor that powers a 7-inch slicing blade. This motor power is slightly weaker then some of the other machines on this list, but there's still plenty here to enjoy.
Chef's Choice has prioritized safety with this unit, building a lock that secures the blade when the appliance is not in use. This means that the blade is not exposed, and is instead firmly hidden away inside the unit.
All the main components of the slicer are removable, granting you easy access to what are normally difficult to reach places. It's not dishwasher-safe by any means, but being able to remove the blade in order to give it a thorough wipe down is valuable nonetheless.
The 7-inch cutting blade and main unit are both made with stainless steel or iron aluminum. This ensures excellent durability, and will stand the test of time even after long term use and exposure to meat after meat.
Final Verdict: The Chef's Choice Precision Blade doesn't offer as much power as some of its peers, but it's built to last. A great option for users who are looking to only slice meat occasionally.
---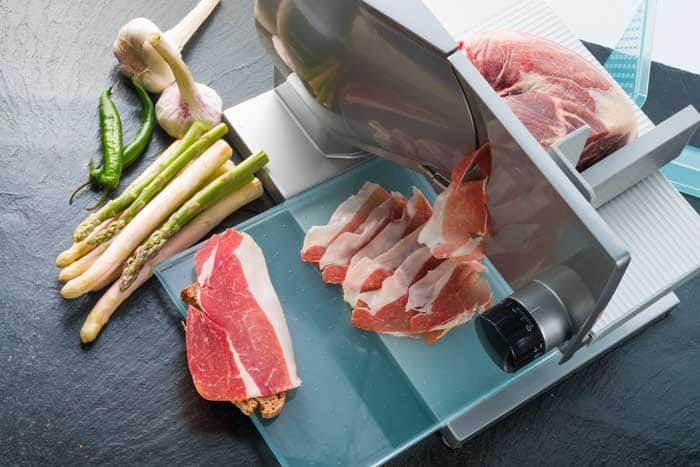 Types of meat slicer
There are two main types of modern home meat slicer: Automatic and manual. Both of these designs have evolved significantly from the original manual flywheel design, and have become by far the most common in households and delis today.
Automatic
Automatic slicers are very similar in appearance to manuals, but with the obvious main difference being the carriage mechanism that then feeds the food into the motored blade.
Electric automatic deli slicers have a lot going for them that will appeal to home cooks. The most obvious advantage being that the convenience offered by the carriage automatically feeding the blade. However here are some other positives to consider:
Speed: A motored carriage and blade means that all slicing is down in with quick and consistent efficiency.
Programmable: More advanced slicers are able to be digitally programmed by you to slice accordingly to a set thickness and number of slices.
Safety: With the blade being fed automatically your 'hands on' time is limited, thereby reducing your risk of injury.
Manual
This type of deli cutter isn't entirely manual in the sense that you need to operate the blade yourself, but instead require you to feed your food into the spinning motorized blade. You then slide the meat from side to side as the electric blade works its way through it, slicing it. Manual electric slicers are sometimes called gravity slicers. This is because the carriage (the meat holder, essentially) is angled to feed the meat into the blade.
While automatic units might sound more appealing, manual slicers have a couple of crucial benefits:
Speed: While they might not be as energy efficient as automatic appliances, manual cutters are much quicker than using a knife.
Accuracy: Despite the manual element involved, gravity slicers are excellent at ensuring consistent slice thickness during use. This helps uniformity as well as reduce wastage.
How to clean a meat slicer
All kitchen and food appliances need regular cleaning, and deli slicers are certainly no different. All that meat handling can leave your blades prone to bacteria, so keeping things spotless is the best way forward. Bizarrely, it's been report that over half of meat slicers – including in stores – aren't cleaned regularly. Don't be in that group.
Just like anything that comes into frequent contact with raw meat (like a manual meat grinder), slicers need regularly cleaning to keep them functional and safe.
The good news is that home meat slicers are often easy to take apart, allowing you to get stuck in and clean them thoroughly.
While some unit parts are dishwasher-safe, never run your blade through your dishwasher or pressure wash them. Steer clear of using any steel wool, and try to a wash and rinse bucket instead.
To clean your meat slicer, first unplug your machine and set the blade to zero. Wipe it down with a dry paper towel or cloth, and then disassemble it by removing the blade, guard and chute.
Wash, rinse and sanitize each part individually, and leave to dry. Once dry, use a small brush to brush clean all areas.
Slowly guide a paper towel between the blade and blade guard, and work it across the far side of the blade. This should help remove any hard-to-get-to dirt or residue. Use a towel to wipe down the blade, moving from the center towards the outer rim. Rinse with a clean towel and water. Once dry, spray sanitizer across the slicer in line with spray instructions. Allow slicer to dry completely and then reassemble.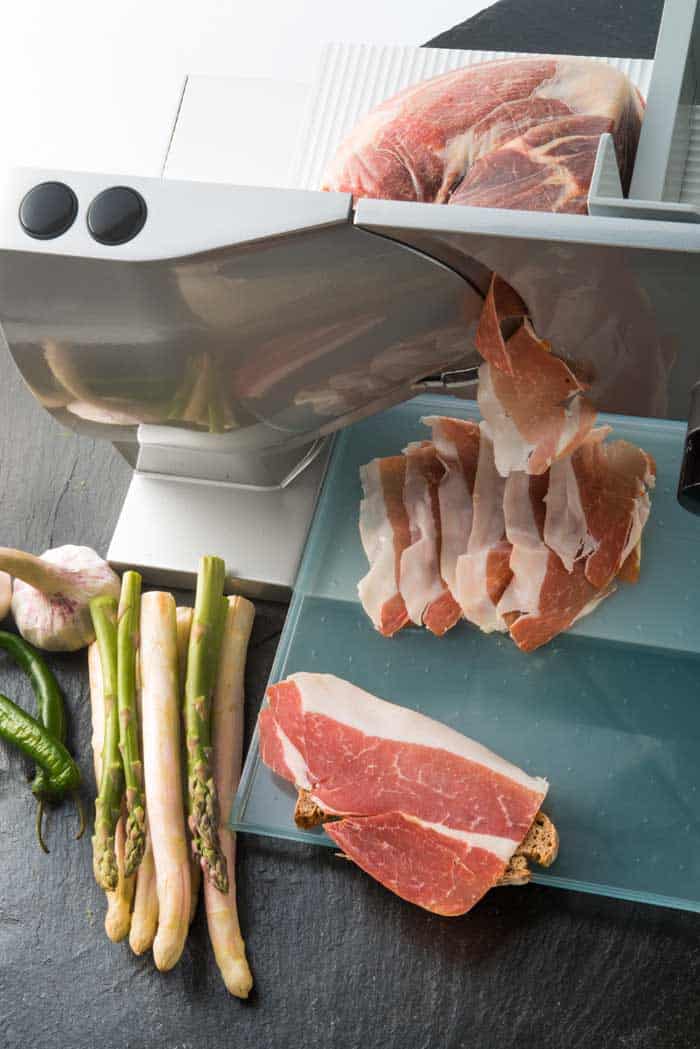 How to use a meat slicer
Meat slicers are a great tool to have around the kitchen, and there's a lot of different ways you can use them and a lot of slicing tips to keep in mind.
Here are a few key tips to help you get the most out of your slicer.
Create a flat surface
Rather than go straight into slicing, I recommend cutting your chosen meat or vegetables in half first. This will help create a flat surface facing the blade, which will make it far easier and safer to slice.
Be patient
While it is true that a meat slicer's whole purpose is to provide convenience and efficiency, it's important that you don't use excessive force.
Your food should effectively 'glide' through it and should require you to cram anything through it. If you start forcing things into it, it's likely to break or harm you.
Your food should effectively 'glide' through it and shouldn't need you to cram anything through it. If you start forcing things into it, it's likely to harm you or break.
Don't stop at meat
Sure, it's in the name, but you can slice much more than just meat with these. You can perfectly cut bell peppers, onions, lettuce and even cheese. Home meat slicers can also do a great job cutting vegetables, cheese, and even bread. Get creative!
Use cold meat and food
Don't allow your food to come to room temperature prior to slicing. As a rule of thumb, the colder your food the better it will slice.
That said, never try to slice frozen food. You could risk dulling the blade and burning out your motor.
Quick tip: Try putting your meat in the freezer for 20-30 minutes before slicing. This should help firm it up a little, making it easier to slice.
Last update on 2023-10-01 / Affiliate links / Images from Amazon Product Advertising API