Read reviews and buy the best temperature controllers from top manufacturers including BBQ Guru, Pitmaster, Flame Boss, and more.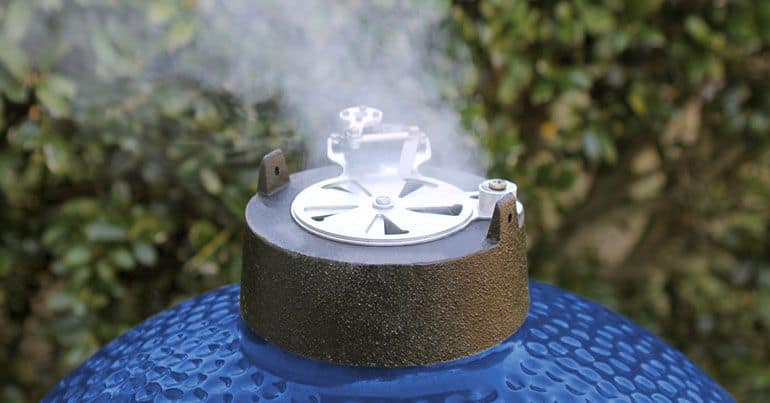 Buying a BBQ controller device is the best way to keep your smoking temperatures consistent all day.
After hours of testing, we've found the best BBQ temperature controllers for your vertical, offset, or drum smoker.
This guide will show you everything you need to know about features, performance, and reviews, so that you can can start cooking your meat perfectly each and every time.
At a Glance: Our Top Smoker Controllers
The challenge for a lot of people when using a BBQ smoker is having to keep on top of cooking temperatures from start to finish. In some cases this could mean having to be nearby for hours. Let's face it – no one wants to do this.
Fortunately, BBQ temperature controllers offer the opportunity to employ a more 'set and forget' style of cooking, which means you can enjoy your time safe in the knowledge that your food is in good hands.
These controllers work by regulating the airflow in your smoker, providing steady heat levels in your smoker. That's right. That means no hot spots, no flare ups, and no ruined meat.
They help take out the guesswork on how your smoker's vents should be set, and let you get on with more important (and fun) things. Like food prep or if you're like me… beer.
Here are 7 of the very best controllers to help you raise your smoking game.
Flame Boss 500-WiFi Smoker Controller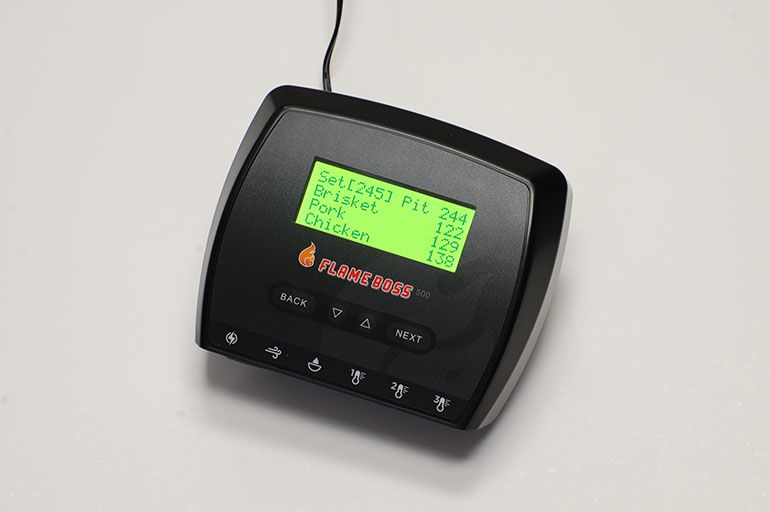 Flame Boss by name, Flame Boss by nature. This is simply the best all around WiFi automatic controller out there.
In terms of precision, the Flame Boss is one of the best (if not the best) controllers out there. The degree at which it can control temperatures means that it ensures precise and consistent temperatures. This makes it really easy for you to use, and can give you the freedom to be as hands off' as you want.
What also makes the Flame Boss very effective is its multi-speed fan. This allows its internal fans to blow at different speeds, making it very effective at controlling temperature.
Rather than just tweak the settings on your air vents, these fans directly contribute to the air flow in your smoker, meaning that the Fire Boss can better fine tune your smoker or grill's oxygen intake to a greater degree than a lot of manual temperature controllers.
It allows you to monitor and control temperatures from your phone or laptop, allowing you to leave it and do its thing.
I think a misconception for a lot of people will be that tools like this are hard to use. With the Flame Boss this just isn't the case. It's easy to read and easy to set up, while the controller 'learns' from your smoker so that its performance will improve over time. This does mean that the first few uses will be a bit of a learning curve, not just for you but also the Flame Boss, but once you pass that things will improve.
Just be mindful that if you have a Kamado style smoker then you will need to get the Flame Boss Kamado controller, and not the Universal Flame Boss. I guess it's not really universal.
However if you have other models, like a Weber Kettle, then the Universal will work just fine.
Usability wise, it's a fantastic controller. It has an excellent display that shows you everything you need to know: Your target temperature, the actual pit temperature, as well as your food's internal temperature. All displayed on one large and clear display.
Flame Boss 500-WiFi Smoker Controller (Steel...
DOES NOT FIT Big Green Egg, Ceramic, or Kamado style smokers, gas grills or electric ovens*...
EASY TO USE - Simple device configuration coupled with unparalleled customer support guarantees...
LATEST TECHNOLOGY - Patented software and variable speed blower produce precise temp control....
Pitmaster IQ120 BBQ Temperature Regulator Kit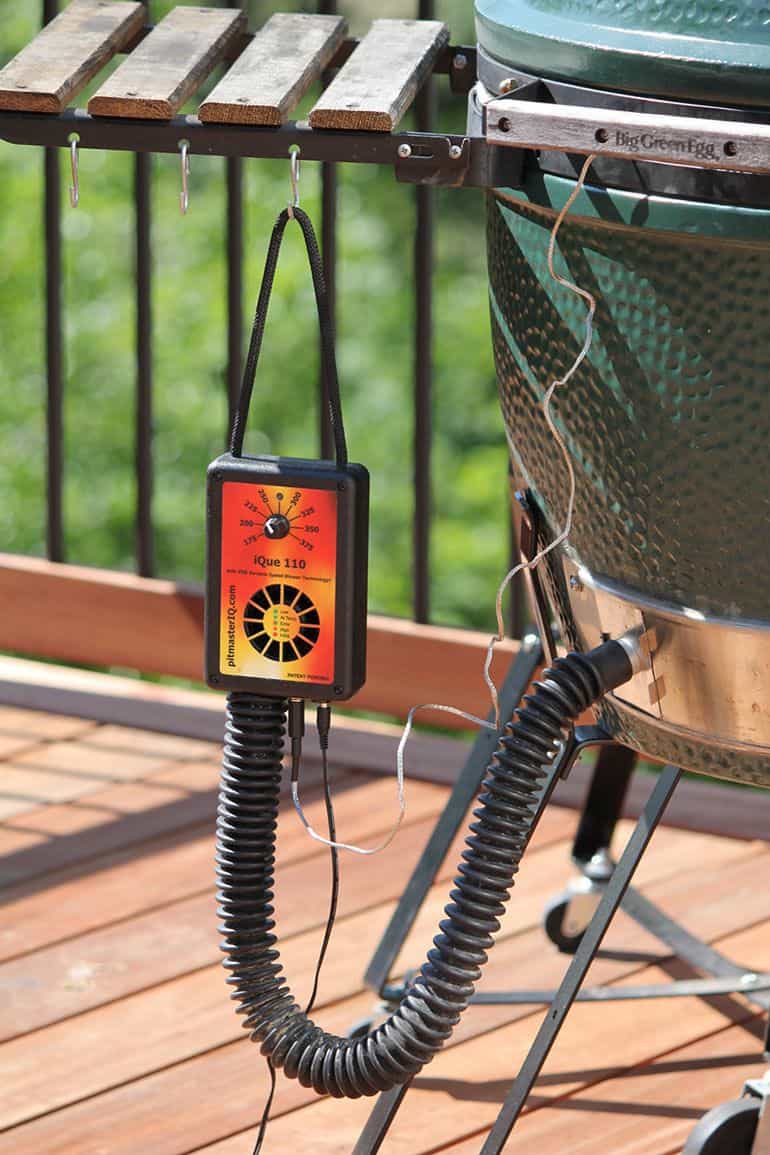 If the Fire Boss is out of your budget, then this unit from Pitmaster is definitely the best budget automatic temperature controller.
Temperature controllers don't come cheap, so it's great that brands like Pitmaster offers budget models to allow users a good entry point to controllers.
It's also great to have a more stripped down model for users who don't intend on making use of things like data logs and fan systems.
Despite being a 'budget' model, the Pitmaster still offers fantastic temperature control, to within a degree F margin.
I've written before about the importance of dual temperature probes, and the Pitmaster has this. It has a 2 6-inch probes: One for the ambient temperature of your grill or smoker, and the other for the internal temperature of your meat.
It contributes airflow through a hose rather than fan. It has a small LED display, and an inbuilt alarm to alert you if the pit temperature is much higher or lower than your target.
It can be easily set up very quickly, but will need to be plugged in. This can be a minor inconvenience to consider when setting up your smoker or grill.
True, it doesn't have the WiFi capability, smartphone synchronization or large digital display of other models, but it's still up to the task while remaining a much cheaper option.
Also a slight cause for concern is that the plastic hose that feeds air into the chamber is made out of plastic. This feels like a bit of a liability to me, as plastic isn't a fantastic guard against heat. This might make setup awkward, or at the very least mean that it'll melt at some point and you'll need to get a replacement. A more durable material would have made much more sense.
Overall this makes a great and affordable entry point for users new to using this kind of tool. While it has fewer features than other, more expensive models, it's still extremely effective at allowing you to monitor and control temperature.
IQ120 BBQ Temperature Regulator Kit with Standard...
The IQ120 pit controller precisely regulates the cooking temperature inside a charcoal pit for...
Digital display indicates actual cooking temperature and food temperature too! Knob is actually...
Programmable - automatically change cooking temp based on food temp, or based on a time delay!...
BBQ Guru DigiQ DX3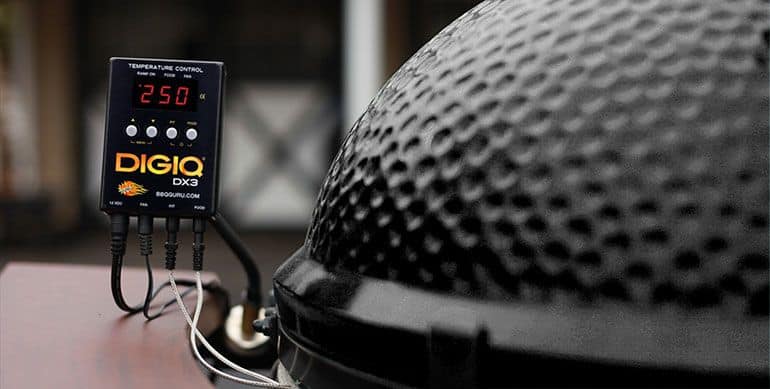 Also more at the budget end of the scale is the DigiQ from BBQ Guru.
Also doesn't have WiFi, and can't be monitored or controlled via your phone or laptop.
It has two probes, with one for measuring internal meat temperature, and the other for the ambient temperature of your smoker or grill.
The controller is easy to set up, and can be used on most smokers (although always check if it's compatible with your grill or smoker before buying it).
It's a very durable model, and has been proven to be accurate in tests. Its probes are made from platinum RTD, which usually makes for accurate and stable probe readings.
It has an input fan, although it operates automatically and can't be directly manually controlled by you. However this input fan can reach a high (CFM), which means that it's particularly great for larger smokers.
The DigiQ helps prevent temperature spikes by turning itself whenever the chamber on your grill or smoker is opened. In other models the fans would actually increase their power to try and compensate for the temperature drop, which actually makes the internal temperature unstable once you close the lid. By shutting off until the chamber has close, the DigiQ manages to avoid this.
BBQ Guru DigiQ DX3 BBQ Temperature Controller and...
Solve the problem of unstable temperature swings resulting in tough, dried meat with this BBQ...
This easy to set up, easy to use BBQ Temperature Controller will automatically track the...
You can multitask while you cook - this BBQ Temperature Controller will sound alarms when your...
BBQ Guru CyberQ Cloud BBQ Temperature Controller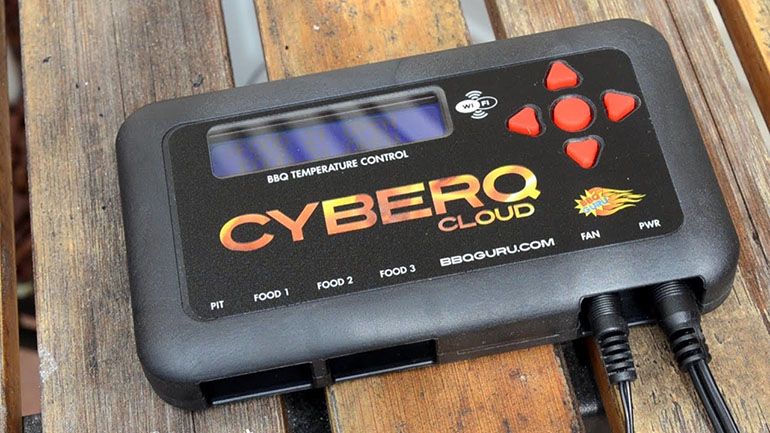 One of the best features of this excellent controller from BBQ Guru is the multi-probe thermometer. While a lot of other models have a dual probe, the CyberQ has a mightily impressive four probes. One is for the ambient temperature of your chamber, while the other three are all for food. This allows you to cook several items of food at once, which is a major time saver and convenience.
Not only this, but all four can be linked up to your smartphone or device, and monitored or controlled from there, and because it's on WiFi you'll never be out of range providing that you're on the same network. It's outrageously convenient.
The CyberQ will also 'learn' about how your smoker reacts to damper tweaks, so the controller's performance will improve over time the more you use it.
It has to input target temperature and alarm settings, meaning you are always on top of knowing how your barbecue is coming along.
It's perfectly suited for larger chambers too, as it comes with a Pit Viper fan that is able to control temperatures in larger areas far easier.
Like other more advanced controllers it has a logging feature that can give you detailed feedback and charts on your cooker's performance. This will help you improve your smoking skills over time as you can see how the tweaks made to your chamber's airflow affects the pit environment.
All in all, it's a fantastic investment for BBQ fans of all skill levels.
Auber Instruments WiFi BBQ Controller
This unit won AmazingRibs.com's Platinum Medal award in 2018. High praise indeed.
So what sets it apart from other run-of-the-mill pit controllers?
The Auber Instrument is unit that's controlled through your smartphone, and offers stable PID control that's tighter than a lot of its peers.
What we love about it is its three main fan modes. Pulse, proportional, and manual.
Pulse deviates between your fan being on and off, while proportional is a constant fan speed that stays at a low speed. Manual is exactly what it sounds like.
It comes with a 6.5 cfm fan, but can come with different sizes if you want something more powerful. This 6.5 cfm should be fine for most grills or smokers however.
The Auber's probes use PT1000 RTD sensor technology, which is pretty much the gold standard for sensors like this. The resolution in PT1000s is higher than many of its competitors, which means that it can read temperatures at far greater accuracy. In return this means a far better smoking experience and, of course, far better food.
Flame Boss 400-WiFi Smoker Controller
If you love data insights into how your smoker performs, the Flame Boss 400 might just be your dream smoker controller.
The Flame Boss 400 offers variable speed, which helps to control temperatures in rough conditions (think rain, snow, wind) as well as any quirks or specific characteristics of your cooking unit. This is what sets apart elite models like this, and standard controllers.
You can control it via your smartphone, but connectivity doesn't just hinge on a WiFi connection. If you have a smart home setup it can also link to your Alexa or Google Home control unit. If you're not a technophobe then this is a controller that sits firmly on this side of the 21st century.
The Flame Boss It's compatible with most grills, including Kamado and dome-shaped cookers.
Flame Boss 400-WiFi Smoker Controller...
LATEST TECHNOLOGY - Patented software and variable speed blower produce precise temp control....
EASY TO USE - Simple device configuration coupled with unparalleled customer support guarantees...
Fits Kamado-style charcoal grills and smokers: Kamado Joe - All Sizes, Primo Grills - All...
PartyQ BBQ Temperature Controller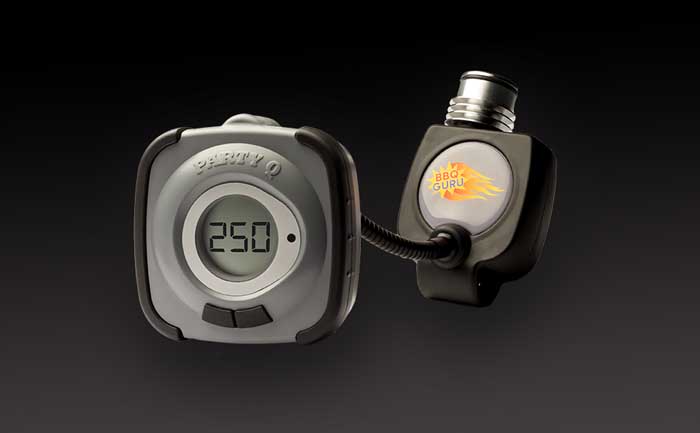 The BBQ Guru PartQ is one of the best budget smoker controllers out there today. This lightweight controller might look simple in appearance, but don't let that fool you. It can still do one heck of a job.
It's compatible with most grills or smokers, including Big Green Eggs, and is one of the easiest out there to set up. Its probe sits on your grill grates and you just set your target temperature.
Its simplicity does mean that you can't monitor its progress via an app or log cooking data, but this isn't a key criteria for all pit masters.
A great budget option for users who aren't obsessed with cooking data or metrics.
---
Got any burning questions about temperature controllers? Here are my quick questions and answers to help you get the right one for you.
Why should you get a temperature controller?
When it comes to barbecue, the most important factor that could make or break your BBQ isn't food preparation, meat choice, or fuel.
It's temperature control.
If you leave your vents unmanaged, then your smoker's internal temperature will vary wildly, making it almost impossible to cook properly. These graphs from BBQ Guru show just how much these can vary in contrast to smokers that use proper temperature control: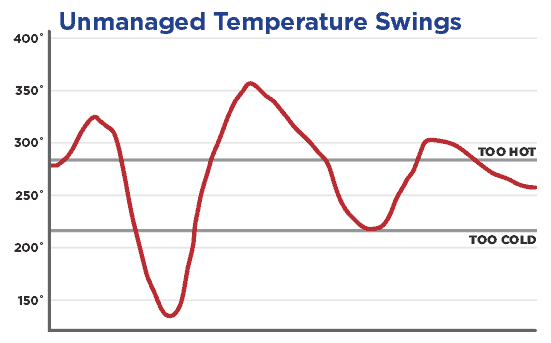 Learning how to regulate your smoker's vents to help temperature control is crucial. However, it isn't easy. It can also be a lot of work, and can prevent you from leaving your cooker alone for any period of time.
However this is impractical on a lot of levels, but the main one being that cooking times of 12+ hours for certain meats aren't unheard of. Meat cooked low and slow is the best though, so these long cooking times aren't something we want to give up.
Monitoring chamber temperature with a good grill surface thermometer is crucial, but learning how you can control that temperature is just as important.
The air vents on your smoker will need adjusting constantly, as the rate of airflow through the dampers will fluctuate wildly over the several hours of cooking time that you need.
It's a demanding skill, and one that puts a lot of users off.
However using an automatic temperature controller is a great way of regulating the internal temperature of your smoker without having to babysit it for an entire day. This will allow you to have the confidence to leave your smoker to work its magic.
How do automatic temperature controllers work?
One of the main sources of fuel for your fire is oxygen, so regulating the flow of air both in and out of your smoker or grill's chamber is very important.
Air enters and exits the chamber through your grill's vents, with the intake damper at the bottom, and the exhaust damper at the top.
Temperature controller help control this flow by installing a fan on your intake damper, which is then hooked up to its central control system. Based on the temperature probe's reading, the fan will tweak the intake of oxygen to help maintain your target temperature.
Temperature fluctuations happen in all grills and smokers, and they can happen for a number of reasons, not just airflow. It's inevitable. How you react to these is key though, and temperature controllers are one of the best ways to do this.
More modern models even have WiFi on them, which means that you control them from your phone, setting it to your desired internal temperature. If you're a bit of a stats geek like I am, they even create very cool graphs detailing the temperature logs of your grill or smoker.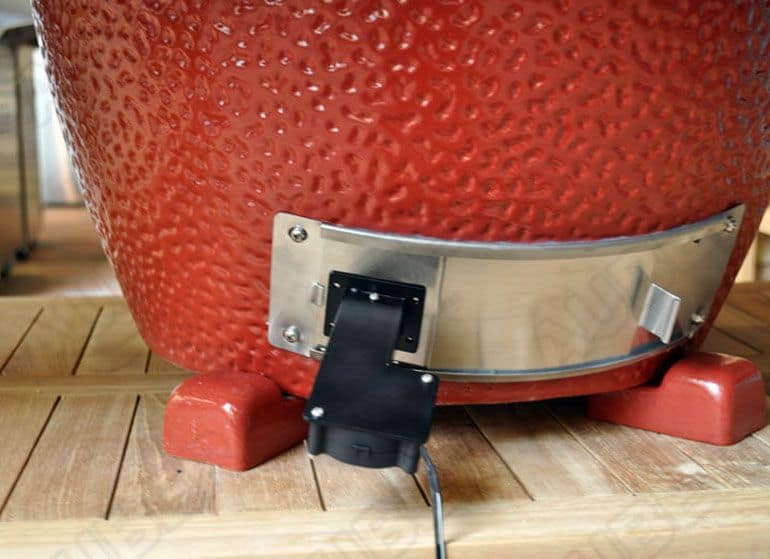 When you try to adjust your vents manually you often overcompensate, sending a low temperature completely over the other way, or vice versa. This is no good for low and slow cooking, where temperature stability is so crucial.
A controller will monitor temperatures and over time actually learn how your grill or smoker reacts to tweaks in airflow, which means that it becomes a much more efficient means of keeping a constant temperature in the pit.
How to install an automatic temperature controller
For most controllers, setup is really easy. Most kits have an adapter that is installed on the lower vent of your grill. On larger grills or smokers you might have more than one intake damper, in which you install it on one and close the rest.
Mounting the adapter will largely depend on what model you have, as the instruments vary brand-to-brand.
Difference in Fans
The majority of fans that are supplied in controller systems are simple on-off fans. As the name suggests, these can only be set as on or off, with nothing in between.
For many systems, this is absolutely fine. However more recently, some models have now incorporated a range of fan speeds to try to better control temperatures. For examples, Fire Boss' recent models (like the 500, ranked number one in my list) have these settings.
Personally, I don't think these settings make a huge difference to the overall temperature of your grill. Where they do help though is keep temperatures steady after you have opened your grill lid.
Not found what something you like? Take a look at our Savannah Stoker pellet grill controller review.
Last update on 2023-10-01 / Affiliate links / Images from Amazon Product Advertising API