1. Weber Smokey Mountain Cooker 18 Inch Smoker
Weber's Smokey Mountain 18-inch smoker is a fairly pricey but exceptionally durable drum smoker.
With its steel construction, porcelain-enameled bowl, plated steel grates, and rust-resistant elements, corrosion or physical wear shouldn't be a challenge for it.
The cooking capacity of the Smokey Mountain 18-inch smoker is excellent as well – 481 square inches is among the highest capacities on our list. Apart from that, thanks to the 2 included cooking grates, you gain more flexibility in food arrangement and temperature control.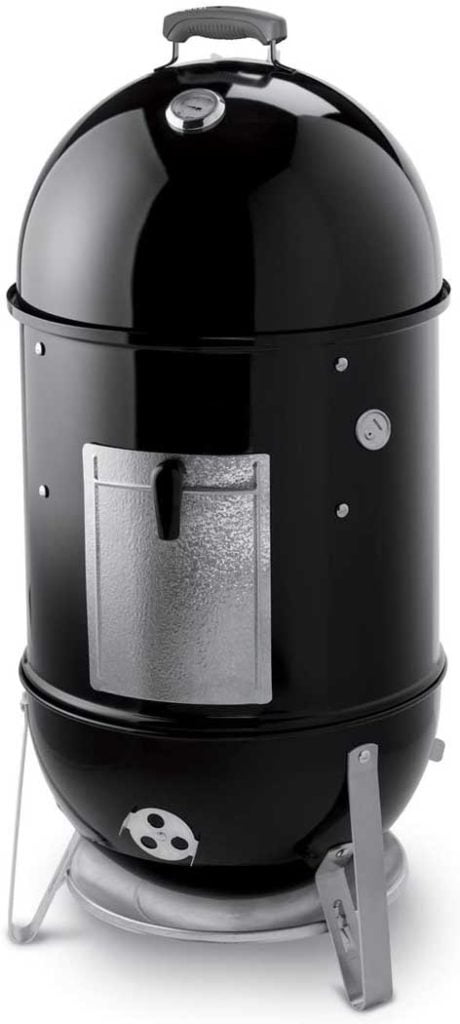 Highlights
Notably, unlike traditional drum smokers, adding charcoal is very easy with this smoker – you gain easy access to the charcoal compartment via the door on the side. Adjusting the heat intensity is likewise easy thanks to the 4 convenient aluminum dampers.
The Weber Smokey Mountain smoker is exceptionally highly rated as well – with over 2,300 reviews, it has a 4.8-star rating on Amazon! But as mentioned earlier, it's quite expensive and isn't the best option if you have a tight budget.
---
2. Char-Broil Bullet Charcoal Smoker
The Char-Broil Bullet 16-inch smoker isn't as heavy-duty as the Weber drum smoker. On the other hand, it's much cheaper and is a more pocket-friendly option.
But despite its inexpensiveness, the Bullet charcoal smoker has many of the benefits of the Weber smoker thanks to the similar design. Among the common features in the two smokers are the side door for heat control and easy charcoal addition, the number of included cooking grates, as well as flexible heat adjustment thanks to dampers.
With that said, because the Bullet is smaller, it has "only" 370 square inches of cooking space.
When it comes to durability, the Bullet smoker should be pretty decent thanks to its porcelain-coated steel body. Rust thus shouldn't be an issue for this smoker. The build quality in the Bullet is also great for the price.
Finally, the Bullet smoker weighs just about 17 pounds, while the Weber smoker weighs nearly 40 pounds. The lighter weight will make the Bullet smoker very easy to transport. But on the other hand, it also shows how much less thickly built it is than the Weber unit.
Pros:
Inexpensive.
Lightweight.
Fairly durable.
Cooking area of 370 square inches.
Comes with two cooking grates.
Provides easy access to the charcoal compartment.
---
3. Pit Barrel Classic Barrel Pit Cooker
This 30-gallon smoker from Pit Barrel Cooker Co. is a classical drum/barrel smoker. It's perhaps not as convenient as the Weber and Char-Broil smokers, but it has a unique charm to it.
What interests us more today, however, is cooking capability. And it's great in this barrel smoker thanks to the included 8 stainless steel hooks and the single grill grate. Although you are getting only one cooking grate, the hooks may allow for greater flexibility in grilling than in Weber and Char-Broil units.
To allow you to get started immediately, Pit Barrel Cooker Co. also includes two hanging rods for the hooks along with a charcoal basket.
The charcoal basket is pretty easy to use, but it's not very convenient when it comes to charcoal addition. In Weber and Char-Broil smokers, you could easily add charcoal via the side door. Here, it's more difficult to do since you may need to remove the food to access the basket from above.
But this is a common downside for classic barrel smokers, so it's not that big of a deal for this model.
Pros:
Classical design.
Durable porcelain-coated steel body.
Includes with 8 hooks and a grill grate.
Cons:
---
4. Gateway 55-Gallon Drum Smoker
The Gateway 55-gallon drum smoker is very expensive, but it offers an unparalleled smoking experience.
First of all, this thing is huge – with 55 gallons of capacity, it can take a lot of food inside. With that said, the cost of high capacity is weight – the Gateway smoker weighs a whopping 145 pounds!
Secondly, thanks to its 3 cooking levels, this drum smoker boasts great flexibility in grilling. You may place the included cooking grate on any of the levels to adjust the heat that the food gets. Apart from that, if you get extra cooking grates, you will be able to cook food at different temperatures simultaneously.
For added adjustability, this drum smoker also has 2 adjustable intake pipes and a single adjustable exhaust pipe. With these, the Gateway drum smoker can easily achieve temperatures of 250-325 degrees Fahrenheit.
In the end, if you have the budget, then the Gateway smoker may be the best drum smoker for you. But do know that to uncover its full potential, you may need to buy more cooking grates.
Pros:
3 cooking levels for versatile cooking.
Very durable.
Has a thermometer.
High capacity.
Flexible air adjustment.
Cons:
Very expensive.
Very heavy.
---
5. Barrel House BHC 18C Smoker
The BHC 18C smoker from Barrel House is a not too expensive alternative to the Pit Barrel Cooker Co. 18-1/2-inch smoker reviewed earlier. This unit may not be as durable, but it has a few interesting features that the Pit Barrel smoker doesn't have.
The built-in lid thermometer is the first one – if you don't have a meat probe, then this handy tool will allow you to keep an eye on the smoking process.
Then, the BHC 18C smoker also has an accessible charcoal basket. To expose it, you just lift the body, and this allows for pretty convenient charcoal addition.
And in terms of cooking capacity, this barrel smoker is solid as well. It seems to be not too far off the Pit Barrel smoker, and it also comes with similar utensils – a cooking grate and 8 meat hooks.
Overall, the Barrel House BHC 18C is a very decent drum smoker for the price. In fact, with its more convenient charcoal basket, it may be a better buy for some people than the Pit Barrel smoker!
Pros:
Not too expensive.
Comes with a cooking grate and 8 meat hooks.
Easy access to the charcoal basket.
Built-in lid thermometer.
Porcelain-enameled body.