Upright drum smokers offer an exciting cooker design that any barbecue fan will love. Their steel barrel design offers a unique way to ramp up the heat for good outdoor smoking. Improve your backyard cooking game with our guide to the best drum smokers.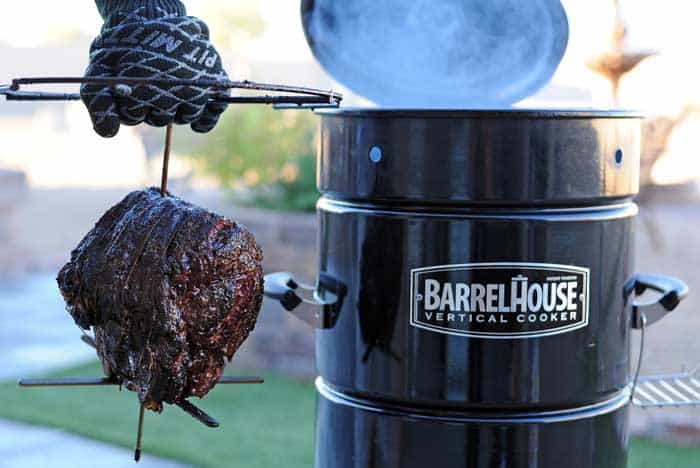 Barrel barbecue smokers are primitive but powerful BBQ cookers that offer far more than their simple design suggests. Built around a simple steel drum design, their tight construction is designed with strong temperatures and good airflow as their focus.
Over the years, drum smokers have been excellent DIY projects for backyard barbecue fans, but in years pre-made cookers have soared in popularity.
Get the lowdown on the best drum smokers out there today, as well as what features to look out for so you can get the right upgrade for your BBQ smoking setup. Let's get into it.
Weber Smokey Mountain Cooker
Weber's Smokey Mountain is a premium grade drum smoker that fully justifies its price tag. It's an exceptionally durable barrel cooker that has unrivaled heat retention and airflow management.
The Smokey Mountain is built to last. It features a steel construction with a sleek porcelain-enameled bowl, and plated steel cooking grates. All these combine to ensure that the cooker is well guarded against the threats of rust and corrosion.
The cooking capacity of the Smokey Mountain is excellent, sitting at 481 square inches and among the largest capacities on our list. It boasts two cooking grates to allow you a larger total cooking area to work with. The second mid-level grate can function as somewhere to cook at higher temperatures, or as a platform for a heat deflector.
Read our full Weber Smoker Mountain review
One of its best features is its side door for easy charcoal access. A lot of traditional drum cookers don't have this, forcing you to add fresh coals via the lid. The addition of the door makes it quick and easy to refuel, while ensuring that you don't disturb your food or cooking temperatures.
Weber has also upped the ante with this smoker in the form of its vents. The Smokey Mountain has four aluminum lined dampers to give you more control over airflow and heat through the unit. Other smokers tend to only have an intake and exhaust damper, so an added two allows you to be more precise with tweaking cooking temperatures.
The Smokey Mountain is perfect for BBQ fans who want an elite-level drum smoker without the steep learning curve. It promises consistent temperatures, while the extra vents make heat control simple.
Sale
Weber Smokey Mountain Cooker
Material Type: Steel
The Weber Smokey Mountain charcoal smoker helps you achieve an authentic smokehouse flavor at...
It can accommodate a whole turkey and an entire ham at the same time. Item weight- 39.1 pounds
---
Char-Broil Bullet
The Char-Broil Bullet 16-inch smoker isn't as heavy-duty as the Weber drum smoker. On the other hand, it's much cheaper and is a more pocket-friendly option.
But despite its inexpensiveness, the Bullet charcoal smoker has many of the benefits of the Weber smoker thanks to the similar design. Among the common features in the two smokers are the side door for heat control and easy charcoal addition, the number of included cooking grates, as well as flexible heat adjustment thanks to dampers.
With that said, because the Bullet is smaller, it has "only" 370 square inches of cooking space.
When it comes to durability, the Bullet smoker should be pretty decent thanks to its porcelain-coated steel body. Rust thus shouldn't be an issue for this smoker. The build quality in the Bullet is also great for the price.
Finally, the Bullet smoker weighs just about 17 pounds, while the Weber smoker weighs nearly 40 pounds. The lighter weight will make the Bullet smoker very easy to transport. But on the other hand, it also shows how much less thickly built it is than the Weber unit.
Pros:
Inexpensive.
Lightweight.
Fairly durable.
Cooking area of 370 square inches.
Comes with two cooking grates.
Provides easy access to the charcoal compartment.
Sale
Char-Broil Bullet
COOKING SPACE: 388 square inches of cooking space.
MATERIAL: Porcelain-coated steel lid, body and fire bowl.
ACCESSORIES: Two porcelain-coated cooking grates, water pan and ash pan.
---
Pit Barrel Classic Barrel Pit Cooker
This 30-gallon smoker from Pit Barrel Cooker Co. is a classical drum/barrel smoker. It's perhaps not as convenient as the Weber and Char-Broil smokers, but it has a unique charm to it.
What interests us more today, however, is cooking capability. And it's great in this barrel smoker thanks to the included 8 stainless steel hooks and the single grill grate. Although you are getting only one cooking grate, the hooks may allow for greater flexibility in grilling than in Weber and Char-Broil units.
To allow you to get started immediately, Pit Barrel Cooker Co. also includes two hanging rods for the hooks along with a charcoal basket.
The charcoal basket is pretty easy to use, but it's not very convenient when it comes to charcoal addition. In Weber and Char-Broil smokers, you could easily add charcoal via the side door. Here, it's more difficult to do since you may need to remove the food to access the basket from above.
But this is a common downside for classic barrel smokers, so it's not that big of a deal for this model.
Pros:
Classical design.
Durable porcelain-coated steel body.
Includes 8 hooks and a grill grate.
Cons:
Pit Barrel Cooker
EFFORTLESS: Whether you're new to outdoor cooking or an expert trying to perfect your craft,...
VERSATILE: The cooking possibilities are endless. For the perfect smoked meat, grill or hang...
DURABLE: Each Pit Barrel Cooker is made with a superior-grade porcelain enamel finish that...
---
Oklahoma Joe's Bronco Barrel
The Oklahoma Joe Bronco is very expensive, but it offers an unparalleled smoking experience.
First of all, this thing is huge – with 55 gallons of capacity, it can take a lot of food inside. With that said, the cost of high capacity is weight – the Bronco weighs a whopping 145 pounds!
Secondly, thanks to its 3 cooking levels, this drum smoker boasts great flexibility in grilling. You may place the included cooking grate on any of the levels to adjust the heat that the food gets. Apart from that, if you get extra cooking grates, you will be able to cook food at different temperatures simultaneously.
For added adjustability, this drum smoker also has 2 adjustable intake pipes and a single adjustable exhaust pipe. With these, the Bronco can easily achieve temperatures of 250-325 degrees Fahrenheit.
In the end, if you have the budget, then the Oklahoma Joe Bronco may be the best drum smoker for you. But do know that to uncover its full potential, you may need to buy more cooking grates.
Pros:
3 cooking levels for versatile cooking.
Very durable.
Has a thermometer.
High capacity.
Flexible air adjustment.
Cons:
Very expensive.
Very heavy.
Oklahoma Joe's 19202089 Barrel
Unique airflow control system and sealed lid allows for precise temperature management
Cooking grate and meat hangers enable a custom smoking setup
Oversized charcoal basket holds enough fuel for all-day smoking
---
Barrel House BHC 18C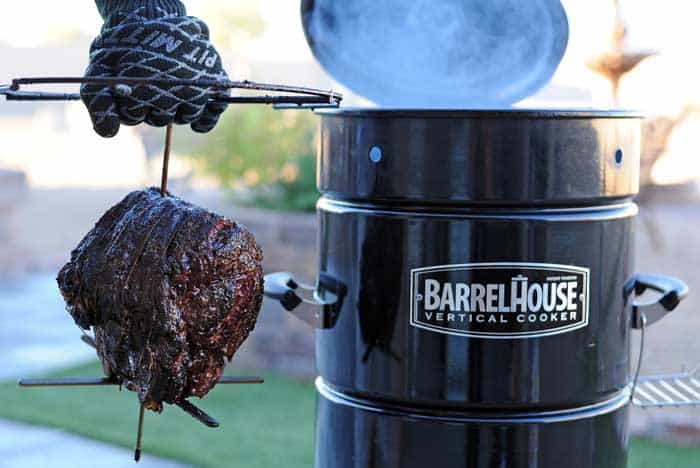 The BHC 18C smoker from Barrel House is a not too expensive alternative to the Pit Barrel Cooker Co. 18-1/2-inch smoker reviewed earlier. This unit may not be as durable, but it has a few interesting features that the Pit Barrel doesn't have.
The built-in lid thermometer is the first one – if you don't have a meat probe, then this handy tool will allow you to keep an eye on the smoking process.
Then, the BHC 18C smoker also has an accessible charcoal basket. To expose it, you just lift the body, and this allows for convenient charcoal addition.
And in terms of cooking capacity, this barrel smoker is solid as well. It seems to be not too far off the Pit Barrel, and it also comes with similar utensils – a cooking grate and 8 meat hooks.
Overall, the Barrel House BHC 18C is a very decent drum smoker for the price. In fact, with its more convenient charcoal basket, it may be a better buy for some people than the Pit Barrel!
Pros:
Not too expensive.
Comes with a cooking grate and 8 meat hooks.
Easy access to the charcoal basket.
Built-in lid thermometer.
Porcelain-enameled body.
---
What is a drum smoker?
A drum smoker is a type of smoker made from a 55-gallon barrel positioned vertically, with vents cut into both ends to provide airflow. The firebox is built at the base barrel, and the main cooking grate sits about 24 inches above it. A secondary grate often sits between the two, offering higher cooking temperatures due to the closer proximity to the fire.
The firebox has a simple design, made from just a simple metallic crate or basket. Its sole purpose is to house the coals while it smokers.
The secondary grate allows you more space to cook on, or can simply be somewhere to place a deflector shield so that you can maintain better low and slow temperatures for smoking on the main cooking grate.
What are the advantages of a drum smoker?
Inexpensive
Barrel cookers are one of the most simple designs of outdoor smokers you can get, which also makes them one of the cheapest. With their design essentially coming down to a 55-gallon drum with a cage and grates inside, they can be easily made and manufactured.
Fuel efficient
Drum smokers are extremely fuel-efficient, with burning times much longer than other types of smokers and grills. It's not uncommon to see a 12lb batch of coal last close to 20 hours cooking at 250°F (121°C). This doesn't just make using them easier, but also makes long term fuel costs very cheap.
Portable
These types of smokers are extremely lightweight, which makes them perfect for taking out on the road. If you want something easy for camp or RV smoking, then a barrel cooker could be the way to go.
What are the disadvantages of a drum smoker?
Limited cooking space
A compact 55-gallon drum size means that cooking space is at a premium when it comes to these types of cookers. These drums offer only enough space for a 22-inch rack.
No insulation
Drum smokers are not insulated, which means that some heat loss is inevitable. The compact size means that isn't always a big problem, but if you like to cook in cold weather then you will need to use more fuel.
Learning curve
Being one of the original traditional means of barbecue, there is a steep learning curve on using a drum smoker for beginners, especially when compared to pellet or electric smokers. Learning how to control the smoker in the drum is crucial, and will be difficult for newcomers to the cooking form.
Features to look out for
These are the key features that should be your priority when choosing your next barrel smoker.
Easy charcoal management
Easy access to charcoal for reloading is important for barbecue. Smoking times can last as long as 12 hours, at which time you will need to reload your coals. It's important to be able to do this without disrupting the overall temperature in your smoker barrel.
One of the best ways to ensure this is with a charcoal door. This is a hinged door near the bottom of the cooker that allows you to quickly add more fuel to your fire without disrupting the main cooking area.
Large or tiered cooking space
Barrel smokers are narrower than other types of cooker, like offset or vertical smokers. This means that your overall cooking area will be limited, so looking for good economy of space should be a priority.
If your barbecue parties usually cater for groups of around 4-6 people, you shouldn't run into any problems with any of the smokers on this list. However, if you want to cook for larger groups then you will need to pay special attention to smokers that have a total cooking area of at least 600 square inches. This can across a single grill grate, or in the form of tiered grates that offer combined cooking space between them.
---
FAQ
Last update on 2023-11-28 / Affiliate links / Images from Amazon Product Advertising API