Propane gas smokers offer quick fire setup and easy barbecue smoking, all at an affordable price. If you're after excellent gas efficiency and great tasting results, this is the guide for you. Here are 9 of the best propane smokers to get you cooking low and slow.
Propane smokers give the best of both worlds, delivering low and slow cooking with easy navigation and usability for barbecue beginners.
In this guide, I'll show you everything you need to know to pick the best propane smoker for you.
Let's get into it!
At a glance: Our top picks
Masterbuilt MPS 340/G ThermoTemp XL
Everything you need in a gas smoker. Its thermostatic control guarantees excellent cooking temperatures and is a breeze to use for newcomers and experts alike.
Dyna-Glo 36″ Vertical LP
Quick and easy to use, and a cinch to start up. Simply the best smoker for beginners out there right now.
Cuisinart COS-244 Vertical
The best budget smoker we've tried. Incredible construction quality considering its price, and more than a match for other elite smoker models.
Masterbuilt MPS 20B Patio-2-Portable
A superb portable smoker that offers fantastic cooking performance despite its compact size.
Smoke Hollow 44-Inch
A huge propane smoker that offers over 800 square inches of cooking space over two burners. The best value-for-money smoker out there.
Camp Chef 24″ Smoke Vault
A compact smoker that does away with unnecessary space, and instead maximizes fuel efficiency and heat retention.
Char Broil Vertical
An impressive, fuel-efficient smoker that does a lot with a narrow space.
Masterbuilt 44-Inch
The largest smoker we've tested, and with a performance that matches its impressive size.
Landmann Smoky Mountain
An elite level smoker with a price to match. Boasting incredible cooking controls and space, it's a dream piece of industrial machinery.
Masterbuilt MPS 340/G ThermoTemp XL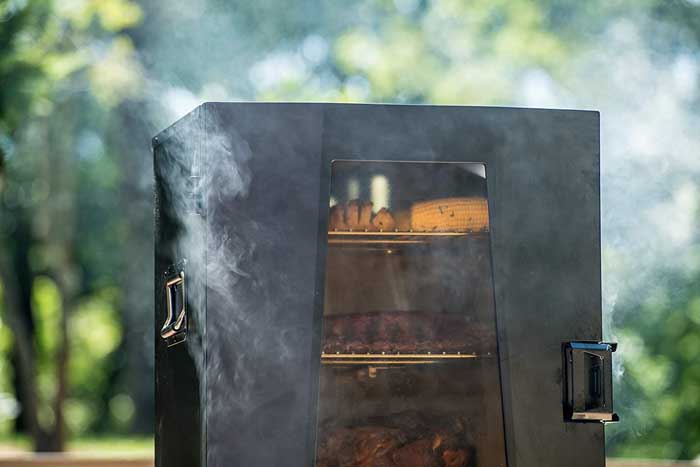 Masterbuilt have revamped and overhauled their popular smoker ranges, packing it with a number of added features that make them stand out.
One of the highlights is the brand's new thermostatic temperature control system. This helps give you greater control over how much gas is burned at any one time, which in turn gives you more control over the cooking temperatures you are using to smoke meat.
Huge cooking space
The Masterbuilt ThermoTemp XL gives you a lot of cooking space, coming in the form of four chrome cooking racks.
These cooking racks give you a total of 792 square inches of cooking space to work with, making it one of the most generously sized propane smokers we've tested.
Masterbuilt have a budget model, called the 330G, but the extra space definitely makes stretching to the XL a sensible choice.
Temperature range
Masterbuilt's XL propane smokers gives you a cooking temperature range of between 180°F and 350°F (82°C to 176°C).
This comfortably allows you the ideal heat we'd want for good BBQ smoking, while also allowing you to crank up the temperature to get a good crispy finish on your favorite ribs or chicken skin.
The smoker has useful features in place to help keep temperatures consistent while cooking. One such feature is its burner monitoring, whereby it can monitor airflow in order to halt any gas release should elements like wind or rain be playing havoc with heat levels in your smoker.
A common complaint with propane smokers or grills is that they can be prone to flare-ups or hot spots. Masterbuilt have managed to counter this superbly with this smoker.
The smoker features warmth diffusers over each of it burners to help distribute and retain heat more evenly.
Masterbuilt have done a great job in trying to help you replicate traditional barbecue smoking. One of the best ways they've done this is with the wood chip feeder located at the base of the smoker.
It's a great touch, and makes it far easier for you to load and reload wood chips while you smoke, without disturbing the airflow in the main chamber.
The built-in thermostatic control is a serious cut above the thermometers we often see provided with most modern day barbecue smokers. Not only does it read temperatures, but it reacts in real time to heat fluctuations to keep your cooking temperatures as consistent and efficient as possible.
The smoker has an easy propane connector. A lot of propane smokers have their tanks housed right in the center of the smoker. This makes reaching them tricky when the time comes to replace them. The Masterbuilt XL, on the other hand, has easy access so replacing fuel is a breeze.
Clear fuel monitoring gauge ensures that you know well ahead of time when your propane is close to running out. No more running out of fuel in the middle of smoking.
Easy chip plate access. The chip access door system allows you to have easy access to your wood chips without the need for disrupting your food or smoker's internal temperature.
Final verdict
The Masterbuilt MPS 340/G has all that you need in a propane smoker. The thermostatic control is one of the best we've ever seen, while its 792 square inches of cooking space makes the ThermoTemp XL one of the largest smokers out there today.
Dyna-Glo 36″ Vertical LP Gas Smoker
The Dyna-Glo vertical propane smoker is a great runner-up, providing many of the same features as the Masterbuilt, but at a more affordable price.
Despite its budget-friendly price, you still get plenty in return, making it one of the best smokers for beginners out there today. The smoker features 784 square inches of cooking space across its four steel wire cooking racks.
Just like the Masterbuilt, it has a two-way entry point that allows you to reload wood chips or water pan without having to open the main cooking chamber.
This is a huge smoker, especially when considering its price. It can easily handle huge cuts of meat, or large batches if you're cooking for a big group.
Temperature control
The unit is controlled via a control dial at the base, which feeds a 15,000 BTU burner. This is ignited by an electronic starter, and is really easy to light.
Build quality
The quality of construction is where the low price point starts to tell.
It's by no means poorly construction, but when we tested it in chillier and windier environments, we noticed the chamber temperature really start to waver.
This can make maintaining good cooking temperatures for low and slow smoking a struggle. If you are able to shelter the smoker from the weather elements then you should be fine, but it could prove to be an obstacle for a lot of people.
Final verdict
This is the perfect propane smoker for novices to learn on before upgrading to something sturdier or charcoal-fuelled. It's extremely fast to start up and is very easy to use, but just don't expect its temperature stability to compare well to its rivals.
Cuisinart COS-244 Vertical 36″
The Cuisinart brand are probably best known for their kitchen appliances, but their entries into the barbecue world are not to be sniffed at.
Their propane smoker range is one of their best efforts to date.
Just like with a lot of other smokers, the COS-244 Vertical offers 784 square inches of cooking space across four steel racks.
It also offers a dual pathway into the smoker, with easy access for reloading wood chips or resetting your water pan.
Quality construction
Cuisinart have a done a great job of creating a solid smoker within the constraints of a budget-friendly price. They've produced this with materials that feels solid and durable, and we didn't notice any severe hot spots or temperature fluctuations during use.
The build of the smoker is more than just durable materials though. The build is close enough to airtight, as seen in the good job Cuisinart have done around the door of the smoker. It's not uncommon to see some temperature loss around the hinges of any smoker, but they have done a great job here for keeping it to a minimum.
Water pan and wood chip box
A small gripe we have with the Cuisinart is the design of the water pan and wood chip box. They're both relatively small, which means that you'll have to refill them more often than you would with other models. It might seem like a minor inconvenience, but it can start to grate pretty quickly.
Not just this, but the water pan is positioned below the wood chip box. This is a confusing design, as it means that the water vapor produced while you smoke will dampen the wood chips. This makes them difficult to light and to keep burning.
Final verdict
The Cuisinart COS-244 is a great budget smoker that boasts excellent construction and build quality. While it does have some confusing design flaws, it's still perfectly up to the job of maintaining solid smoking temperatures for hours on end.
Masterbuilt MPS 20B Patio-2-Portable
It should come as no surprise to see another Masterbuilt on this list, but this portable smoker offers a lot more than its small size might suggest.
There aren't many portable smokers out there today, especially considering that portable charcoal grills are everywhere.
Propane smoking is perfect for taking on the road, so it's a relief to see Masterbuilt step up to the plate. But do they deliver?
It should come as no surprise that space is at a premium in the Patio-2-Portable. While Masterbuilt claim that you can fit a couple of racks of ribs in the chamber, we had to cut them down to size to fit them in.
But weighing just 22 pounds, and measuring only 16 inches wide, it's perfectly sized for taking on the road.
Heat retention
Despite its size, the Patio-2-Portable manages to distribute and retain cooking temperatures remarkably well.
We didn't notice any significant issues with heat loss around the door hinges, and it boasts solid airflow that doesn't allow excessive heat to build up.
Water pan and wood chip plate
The water pan and chip plate provided with the smoker are both tiny. I would even argue that they're so small that they are almost useless.
You can get around this by getting your own disposable aluminum plate and pellet tube, but it's disappoint that Masterbuilt haven't given this a little but more consideration.
Final verdict
The Masterbuilt Patio-2-Portable manages to combat it small size well by providing extremely impressive performance and heat retention. Simply the best portable smoker out there today.
Smoke Hollow 44-Inch Vertical
Straight out the box, the Smoke Hollow is impressive. This thing is huge.
Where do we even begin? Packed into this vertical propane smoker are five cooking racks, which give you a total of seven cubic feet of space to work with.
In real terms, this is over 800 square inches of cooking space.
Yeah, this thing is big.
The racks are set up to be multi-purpose. They include two standard issue racks, a lattice rack that's perfect for ribs, and two mixed-style grids.
Dual burners
What I really love about this smoker is its versatility. This is largely provided by the two burners that sit at the foot of the unit.
Each burner offers 11,000 BTUs of cooking power, totalling 22,000. Combined this gives you a wide range of possible cooking temperatures.
Just like with propane gas grills, more burners tends to mean great control over how you cook.
Having two burners allows you to cook the larger cooing space at higher temperatures should you need to, while you can just use one if you're cooking low and slow and want to conserve fuel.
Build quality
This is one tough smoker. With a welded steel and chrome mesh build, this is designed to lock in heat efficiently.
The vertical design makes the hinges a vulnerable spot for heat loss. But the build materials are otherwise up to the job for retaining heat perfectly.
The foot of the chamber has separate wood chip and water pan access, ensuring that any reloading you need to do has little impact on smoking temperatures.
Final verdict
This is the biggest propane smoker we've ever tried. With five massive cooking racks and dual burners, there is a lot packed in to its 44-inch build. For anyone who's looking to make the step up to a larger frame, this is probably the best value-for-money propane smoker out there right now.
Camp Chef 24″ Smoke Vault
OK, let's address the elephant in the room here.
Yes, this does look just like a bank safe.
But the Smoke Vault makaes no effort to hide it, and with. its branding and dial design, there's a lot of fun to be had here.
With an army of grills and smokers behind them, Camp Chef are no strangers to the barbecue game. So how does this entry compare?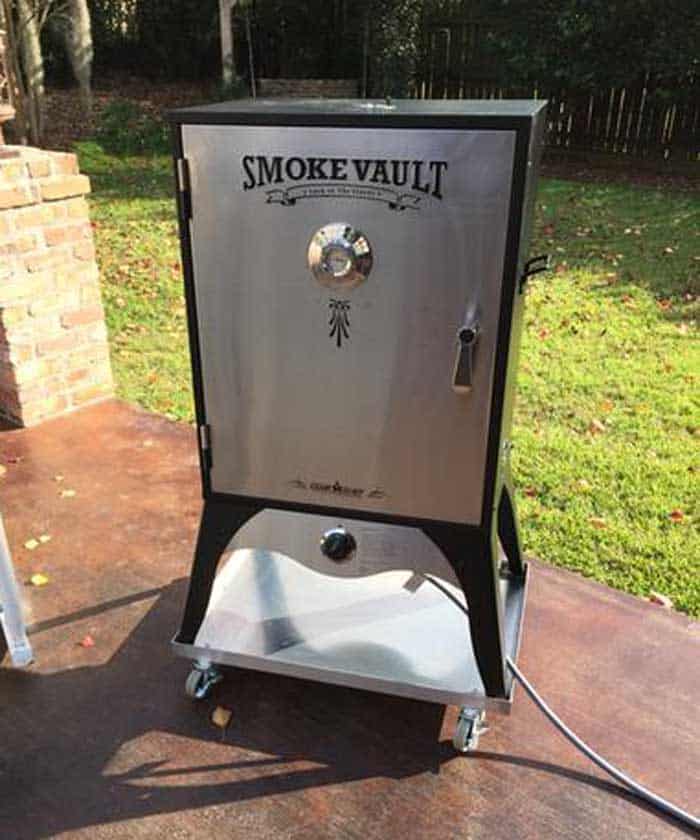 Build size and quality
Camp Chef's unusual smoker comes in both a 24-inch and 18-inch size, but with there being little between the two in price, we'd always recommend going for the 24-inch.
In a world full. of gas grills and smokers that feel flimsy, the Camp Chef stands out from the crowd. In fact despite its modest size, this 22-inch smoker feels remarkably sturdy.
Fuel-efficient
A lot of people make the mistake of assuming that small smokers are inherently poorly made, but this isn't the case at all with the Camp Chef.
The small size means that the smoker can do a lot with the fuel it's given. It's able to get far more milage out of little fuel, and can smoke at 225°F for hours with less propane than other models.
Final verdict
A small budget-friendly smoker that does away with needless frills to deliver exactly what you want: An easy-to-use, dependable meat smoker. Perfect for home BBQ fans who just need something modest and energy-efficient to get the job done.
Char Broil Vertical
Char-Broil have often been a safe bet with grills and smokers, but with this vertical smoker the brand have shown that they're willing to take on the big boys.
This vertical smoker goes all out, and aims to provide excellent performance even if that means upping the price a few nothces.
But is it worth it?
Small cooking space
Despite its impressive vertical build, when converted into the real terms the total cooking area doesn't add up to much.
At 595 square inches, this is a smaller chamber than most of the other gas smokers we've tried.
This is by no means tiny, and is still more than enough to cope with all single cuts of meat. It'll also allow some batch cooking, although you might need to be clever with how you align your meat.
But it's hard to escape the feeling that this is an opportunity missed for Char-Broil.
Solid vertical design
Despite any grievances with the narrow shape of the smoker, there are advantages to this design.
It allows the smoker to be extremely efficient with its fuel use, meaning that any added outlay on the smoker will definitely be offset over time by savings in fuel costs.
Not only this, but the vertical build makes the most of airflow through the smoker chamber. In simple terms, this means easy startup, and quick cooking.
Final verdict
This Char-Broil smoker is extremely fuel and heat efficient, allowing you to cook quickly and save ongoing costs in the longterm. It's a solid build and impressive to look at, but if huge cooking space is a priority for you then you might consider looking elsewhere.
Masterbuilt 44-Inch
Get ready for this monster.
The Masterbuilt 44-Inch offers 2,000 – yes, two thousand – square inches of cooking space to play with.
But bigger does not always mean better, even with barbecue smokers, so is this added space worth the investment?
As the size suggests, this smoker is capable of accommodating large cuts of meat in batches. So if large batch smoking for BBQ parties is a priority for you, then this could well be the smoker for you.
Considering its size, it's extremely efficient with its fuel usage. This is considerably impressive given that this is not always the case for large grills or smokers.
Bewilderingly, Masterbuilt have overlooked their wood chip plate by providing one that barely stretches to the width needed to support a unit of this size.
I recommend investing in a large one, or as a quick hack you can use a cast-iron skillet as a temporary workaround.
Similarly, the water pan is small compared to what you would expect from a smoker of this size. Just like with the wood chip pan, you can upgrade or work around this, but this is frustrating given Masterbuilt's stature in the barbecue game.
Final verdict
Masterbuilt have put together a mightily impressive smoker that will cater perfectly to people who love cooking in large quantities. It boasts excellent heat retention and distribution considering its size, and should win over an army of new fans.
Landmann Smoky Mountain Vertical Smoker
This industrial looking smoker from Landmann has a build and cooking size that matches its aesthetic.
You have ultimate control through its easy dials and airflow dampers.
This might be a propane smoker, but its range of adjustable inputs make it as close to the real thing as possible.
With 1576 square inches of total cooking space, Landmann have built a seriously impressive smoker that's built to last.
Its control panel features flexible temperature controls, and with its side dampers and top-facing smokestack there are a lot of added features that give you maximum control over your smoker's heat.
Final verdict
This is an elite-level smoker that boasts incredible cooking control and space. It's an industrial unit that sits outside most people's budgets, but if you're looking to take on batch-style smoking then this could the right smoker for you.
---
Propane vs. electric smokers: What's the difference?
Despite both being user-friendly and quick to use, there are some notable differences between propane and electric smokers. Here's what you need to know.
As their names suggest, propane gas smokers are fuelled with liquefied petroleum gas from a propane tank, while electrics use simple electricity from a socket. Propane tanks need replacing every few weeks, which means that ongoing costs make gas more expensive.
However, the versatility and quality of smoke provided by propane gas smokers mean that the meat you cook will have a superior barbecue flavor to anything you'd cook on an electric cooker.
How to use a propane smoker
Just like with gas grilling, the appeal of using a propane smoker is their quick ignition and easy temperature control. Follow these tips to get the most out of your backyard barbecue cooker.
Use a water pan to stabilize temperatures when cooking. Some smokers can with a water pan provided, but they are cheap to buy. The water in the pan can evaporate when you're cooking, so you will need to refill periodically for long smoke sessions.
Wood chips are a perfect way to elevate the aromas and flavors of your food. Popular smoking woods are apple, oak, and hickory. To use them, fill the smoker box or tray that comes with your cookers.
Don't soak your wood. Some recipes call for soaking your chips before smoking, but I recommend avoiding this. It will ruin the smoke quality and disrupt cooking temperatures.
How do propane smokers work?
Propane smokers are often the standard choice for people who want the least amount of smoke. If you will be cooking in small confined spaces, this is a good bet. Propane smokers are also favored for the set-and-forget type of mechanism. While it is different from wood and charcoal smokers, propane smokers aren't too different.
A vertical propane smoker is built like a vertical school locker or like a closet with shelves. The only difference is that it would have metal walls and shelves on the inside. The burner is situated at the bottom and, as such, will have more than enough room to heat the whole chamber. This burner connects via a hose to the propane tank a little way off.
Above the burner, you will find a wood pan, where you will place wood chips. The burner will heat these and infuse their flavor into the meat. Above this pan is a water pan with water to act as a heat regulator and add moisture to the process. The next level is a cooling rack. This is the largest part of the smoker.
Smokers vary in size, and the larger ones will usually have hooks at the top to tong food from. The number of grates also varies. The more they are, the more food you can smoke. The other reason they are such a hit is that the digital controls help control temperature and make it easy to turn the smoker.
Features to look out for
Size & total cooking area
The size and total cooking area of the smoker is a vital feature to look out for. This is what will tell you how much food you can prepare at a time. The total size of the chamber also determines this. The number of grates in the smoker also adds to the entire cooking area available.
The size matters because it can either allow or inhibit your cooking and the size of meat you can place in the smoker whole without cutting it. You want shelves with depth to enable you to cook a wide variety of dishes. The size also determines how much food you can make for people. A large smoker will make food for about 20 to 30 people. Small smokers can have an inside square inch of about 40inches.
Temperature range
The temperature range will determine how versatile you can be. Look for a smoker with the broadest range so that you can smoke a variety of dishes.
Cooking racks
Find out how many cooking racks the smoker has. This will give you a clear idea as to how much food you can cook at a time. Also, check on how they sit in the cooking chamber and also if they can be adjusted. This will give you versatility. Most racks will come with 3 or 4 racks.
Two-door access
Two is better than one. A smoker with two doors means that you have more room to get the meat in. The cooking chamber's width will determine the size of food you can fit in.
Construction quality
When it comes to construction, it's always best to go for a smoker made of a material that is highly heat resistant. It needs to be strong enough to hold the heat and not break down due to it.
Advantages of propane smokers
There are a couple of advantages of using propane smokers.
Cost. Propane smokers are generally less expensive to buy than other smokers. This is especially true when compared to electric smokers.
Portability. These smokers are connected to a tank, where the gas is stored, and easy to move around. This means that you can take your smoker virtually anywhere and not need to connect it to a power line. They are not as bulky as other smokers.
Clean. Smokers that are run on propane are generally cleaner. You will spend less time wiping down surfaces, unlike what happens with charcoal grills. Propane has a lower smoke emission. Also, there is no ash or residue to clean up after cooking.
Easy ignition. Digitalization has made it easier to start up and switch off smokers. Turning the ignition on will switch on the burner, thereby producing heat instantly.
Temperature control. Propane smokers come with a thermostat that helps to regulate the heat. Also, they are built with vents that you can open and close for this purpose.
Flavor. They give off a smokey flavor, better than what you would get with an electric smoker.
Disadvantages of propane smokers
Construction. In most cases, propane smokers are made of thinner steel and can cause durability issues.
Heat retention. This is a significant feature to look for, and propane tanks do not usually light the heat retention on wood and charcoal grills.
Tank replacement. Propane tanks may need to be replaced after long hours of smoking. In most cases, smoking takes a long time, and during this time, the gas may run out. You may find it easier to replace pellets or charcoal than to replace a tank.
Should you add wood chips? How often?
Yes, you should. Wood chips are added to the wood pan so they can add a smokey flavor to the meat. There is no law set in stone to follow when replenishing the wood chips in a smoker. But you can add them after every 5 to 6 hours. You can use the quality of smoke to be your guide. You will get better at this with time.
How long will a propane tank last on a smoker?
Propane tanks come in different sizes. The most common size is a 20-pound tank. This will probably last between 18 and 20 hours. Knowing how much you will use an hour will help you develop the approximate cost of filling the tanks, depending on your area's costs.
The price of a tank will differ with size. However, you can expect the tank to cost between 20 and $30 for 20 pounds, while a 100lb tank may cost $100 and up. The manufacturer will also determine how affordable or expensive it is. Also, you can tell the level of your propane in the tank by checking on the gauge.
Or, if you don't have a functional gauge or are working in low light and can't see it, you can pour warm water over the tank and run your hand down. The tank will be warm where it's empty and then change to a cooler temperature at the propane level.
Propane smoker vs. pellet smoker: What's the difference?
A propane smoker uses propane gas, while a pellet smoker uses pellets for fuel.
Pellet smokers have a smokier flavor thanks to the pellets.
Pellet smokers are more costly than propane smokers.
If you run out of gas, you need to replace it with another tank, which can be inconvenient. Still, you will need to replenish the pellets with a pellet smoker, which won't stop the smoking process.