Barbecue smokers are the perfect entry point to traditional barbecue. Cook the perfect BBQ meat with a charcoal, propane, or pellet smoker today. Whether you're a total newbie, or are working to a budget, here is the definitive guide to the world's best smokers for beginners to help you make the right choice.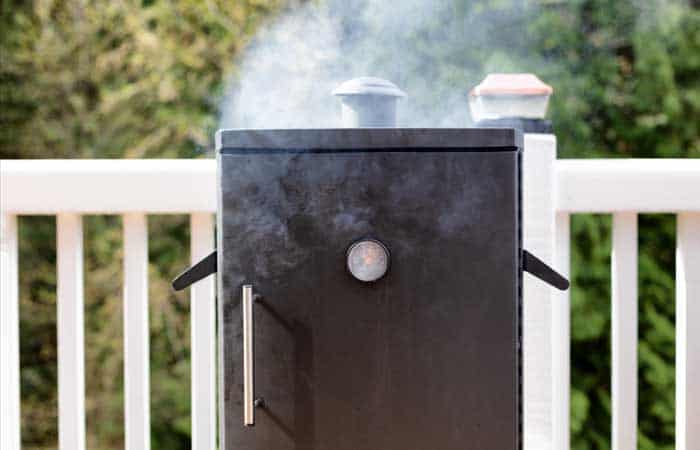 Getting a smoker is the perfect way to improve your barbecue game. While grills have been mainstays in many people's backyards for years, smokers are a little more unique.
Smokers provide the perfect low and slow cooking environment. A cooking chamber hosts the meat, while very low heat slowly brings the meat to temperature. Whether you're using a charcoal, propane, or pellet model, the basic concept is the same.
And the results are amazing. Smoked meat offers a taste profile that a lot of other forms of cooking can't match. There's something about the taste of meat cooked at a delicately low temperature over several hours that just hit the spot.
But where should you start looking? My guide to the best smokers for beginners is here to help. Let's get into it.
​Masterbuilt MES 35B
At the head of this list is one of the best smokers out there, period. You're going to see Masterbuilt mentioned a lot in this list, and it's for good reason. The BBQ brand has an excellent track record of consistently producing strong and easy-to-use smokers.
The MES 35B is the perfect example of this. First of all, this smoker is huge. It can hold up to about 80lb of food, which is perfect if you're anything like me and love to cook everything in one batch. It has an 800-watt engine, which is very strong compared to industry standards.
Its heat capacity allows cooking temperatures of up to 275°F, but is easily adjustable in order to achieve perfect low and slow levels of heat. More importantly, its heat distribution is fantastic, with no hot or cold spots evident when tested.
It's an extremely durable smoker. The chamber interior and adjustable cooking racks have a chrome finish that helps to protect against the longterm effects of leftover grease and burn marks.
The Masterbuilt comes with an onboard thermometer with a meat probe, so you can easily monitor the temperatures of the cooking environment and the internal temperature of your meat.
A remote control is provided, allowing you to set timers and set the smoker's cooking temperature. Bonuses like these are a sure fire way to have me onboard, so Masterbuilt know what they're doing. Finally, if you're picky about colors (and there is no shame in that!) then you have the choice of black, blue, green, stainless or even cinnamon.
Masterbuilt 20071117
Although it's a slightly smaller smoker than the 4-rack model, the 20071117 still has plenty to offer. Despite the smaller size, there's no other real compromise in power or quality. It also features the 800-watt engine that is at the heart of Masterbuilt's more expensive cookers.
It's a more budget-friendly option, which will make it more accessible for newcomers to the smoking world.
Smoker temperature control can be an intimidating place to start, even for more experienced grill fans. Thankfully, this electric smoker eases the burden sigifnicantly with this model. It comes armed with fantastic means of temperature control, and features a control dashboard at its top.
A side-loading wood chip compartment helps to make refueling simple, while the smoker's removable parts, racks, and drip-tray make cleanup significantly easier.
Digital panel controls on/off, temperature, and time
Four chrome-coated smoking racks. Adjustable air damper for smoke control
Patented side wood chip loading system – add wood chips without opening the smoker door
Integrated thermostat temperature control for even, consistent smoking
Fully-insulated smoker body
Dyna-Glo DGU732BDE-D 30″ Digital
Dyna-Glo's digital electric smoker boats size and power in abundance here. This huge unit has an incredible capacity of 100lbs of meat, which is only overshadowed by its 1200 watts of cooking power.
So do you really need all that space? As ever, the boring answer is "well it depends on how much you want to cook…" but I also want to give you the good answer: If you want to have fun with your smoker, then absolutely.
For me, smoking is about experimenting with meat cuts like rack of ribs and whole birds, and this smoker is going to afford you that space much more than any other would.
Like with other models, it has a built-in thermometer and control panel, so the outlay on power certainly doesn't mean that you need to concede anything in terms of ease of use.
Four chrome-plated steel cooking grates offer a total of 732 square inches in cooking space
800 watt burner provides abundant cooking power even in colder climates
Digital thermostat with push-button controls for setting and monitoring the cooking time and temperature
Integrated meat thermometer displays internal temperature at the push of a button
Side access wood chip loader minimizes smoke and heat loss when more wood chips are needed
Insulated, double-wall firebox and high-temperature door seal retain heat and smoke during the cooking process
Masterbuilt 20072115 Bluetooth Smart Digital
OK, by now you might be rolling your eyes at the presence of yet another Masterbuilt smoker in this list, but hear me out: This product more than warrants its place in my list. Its power compares really well to the others in this list, and can reach internal temperatures of about 275°F.
Read my full review for the Masterbuilt 40″ Bluetooth Electric Smoker
​In my experience, its dimensions provide enough space for between 25-30 burgers, which translates to a decent sized whole bird for smoking.It comes with Bluetooth, which is a feature that I really like. This means that you can integrate it with your phone via an app, allowing you to control your smoker from there. Technology and I haven't always gotten along, but I love this feature.
Like a lot of the other smokers in this list, it has a built-in meat probe thermometer, but crucially it also has an air damper. This helps you maintain good smoke flow while in use, which in turn helps you control the temperature as best as possible.
Integrated Bluetooth technology-control your smoker with your smart device
721 sq. inch of cooking space with four chrome-coated smoking racks
800 watt heating element for even, consistent smoking up to 275 Degree
Char-Broil The Big Easy TRU-Infrared
"What's that?" I hear you say, "a non-Masterbuilt smoker?". That's right, and this beautiful little machine more than deserve its place in this list. I've often only associated Char-Broil with grills, but this foray of theirs into the world is smoking is very welcome.
Firstly, at 725-square inches it has a good amount of capacity to take on a strong smoking session. Personally, this is the kind of size of smoker that I like to go for. One that provides ample space to experiment with, but without dominating your yard space.
One of its standout features is its double-wall construction and smoker insulation. This obviously helps its heat retention in a way that not a lot of other models do. Whether it be smoking or grilling, I've often had temperature control problems due to heat loss, so this is a really welcome feature. Not only that, but this insulation means that its energy efficiency is excellent, meaning that you will save a fortune on wood chips and fuel.
505 square inches of cooking surface on 3 adjustable chrome-plated cooking grates
Insulated, double-walled construction for maintaining even temperature
Wood chip and water pan
Chrome-plated handle
Lid-mounted temperature gauge with bezel
​​Smoke Hollow 26142E
This is built with a monster 1500 watts of energy, which is all the more surprising given its relatively low price.Despite this power, it's a light unit weighing at just 33lbs. At 250 square inches, it is quite small in comparison to some of the other units on this list, so if you're planning on smoking food in large batches then you might want to consider something with a larger capacity. It comes with smoker essentials like a water pan, temperature control, and heat indicator. Its interior cooking grids are chrome plated, helping to make this a tough and durable unit.
Includes 1500-watt heating element with fully adjustable temperature control
Two (2) chrome-plated cooking grids are included and can be adjusted to variable heights
Full range heat indicator
Side handles and cool-touch spring wire door handle with latch system
Porcelain-coated water pan and chip tray
​​Smoke Hollow SH19079518
The Smoke Hollow packs in 800 watts of cooking power and offers three cooking racks, which allows a good deal of cooking space (more so than the other Smoke Hollow smoker on this list).
It's double insulated, making it extremely energy efficient and reliable. This helps maintain excellently consistent smoking temperatures throughout use. The proof of this is evident in the meat that we tested it on. All of them are evenly cooked, with a beautiful texture throughout.
Should you buy it? I guess it comes down to what you want from a smoker. Is it good for simple smoking? Absolutely! It's user-friendly for beginners and intermediates alike, and performs great for straight forward meat smoking.
More experienced users might like something with a bit more control over air and temperature flow, but if you're an advanced user then I would recommend that you look at charcoal smokers anyway.
Digital panel controls on/off, temperature, and time
Three chrome-coated smoking racks
Integrated thermostat temperature control for even, consistent smoking
Fully-insulated smoker body
800-watt heating element for even, consistent smoking
​​Masterbuilt 20077515 Front Controller
One of this model's greatest assets is its sheer size. It boasts an incredible 730 square inches of cooking spread over 4 chrome-coated cooking racks. It comes armed with a remote for easy temperature control and a LED temperature display. It has a great loading system for wood chips, which means that you don't have to open the front door of the smoker to reload wood chips. It also has a drip pan which is easily accessible from the front.
It comes in two sizes: One 30-inch model that has 800 watts of power and a huge 40-inch model that has an impressive 1,200 watts. Both are brilliantly energy efficient and maintain a strong temperature flow throughout cooking time.
730 sq inches of cooking space with 4 chrome-coated racks and 800 watt heating element with full foam insulation
Blue led display makes reading temperatures and cooking time in direct sunlight easy
RF remote controls temperature, time, food light, on/off, and monitors meat temperature
Redesigned front access drip pan, smoother operating wood chip loading system and side/top air damper
Handle and rear wheels make moving easy
​Masterbuilt 20078715
This Masterbuilt also offers 721 square inches spread over 4 cooking racks. These racks are chrome-coated, making them durable and easy to clean.
It has a fantastic range of temperature, from 100 to 275°F, all of which can be easily controlled with a remote or through its LED display. It also has a drip pan that's easily removable for cleaning.
Ease of use is at the heart of what Masterbuilt try to do with their smokers. The wood chip loading system on this model makes it easy to reload chips as you are cooking. This means that you are not having to reload via the front door, which can be hazardous and also interfere with the temperature levels within the smoker.
Any cons? Frustratingly, it doesn't supply its own internal temperature probe for the meat, making it difficult to tell if food is properly cooked without opening the smoker and checking manually.
All in all it's a high-quality, sturdy smoker that offers (almost) everything you need.
See my full review for the Masterbuilt 20078715 electric smoker
721 sq. Inch of cooking space with four chrome-coated racks
800 watt heating element
Blue LED display for easy reading, even in direct sunlight
Thermostat temperature control for even cooking from 100 to 275 degrees F
Redesigned front-access drip pan
​​Cuisinart COS-330
Considering its modest price, this smoker remains popular among BBQ fans the world over.
It has a considerable temperature range, maxing out at close to 400 degrees fahrenheit.
It doesn't have the same digital controls of other electric smokers, but it does have a easy-to-use dial and analog thermometer to control and monitor temperature levels.
It has 548 square inches of cooking space shared by four cooking racks, making it more than big enough to cater for most users.
Despite the impressive temperature range the unit does feel a touch on the light side, notably its air vents.
This smoker is convenient and easy to use, great for beginners and seasoned smokers.
Simply plug it in, place your meat on the racks, set the temperature and let the smoker do its job
Features an easy-to-read thermometer on the front door that helps monitor the internal temperature
Light weight frame and two side handles for ease of mobility
1500-watt heating element will produce a temperature from 100°F to 400°F
​​Dyna-Glo DGX780BDC-D
Its 785 square inches of cooking space is shared among four cooking grates, which gives you a good amount of room to work with.
This smoker is really well insulated, particularly with its double door design. This works to reduce heat loss as you tend to your food and wood chips. In turn this helps maintain constant smoking temperatures and makes the smoker much more energy efficient.
4 cooking grates
784 square inches of total cooking area
Protect your smoker with a custom-fit Dyna-Glo premium cover – Model DG784GSC (Sold Separately)
Charcoal & ash management system includes a charcoal chamber, charcoal grate & removable ash pan
Stainless temperature gauge with smoke zone indicates the ideal temperature for infusing smoke flavor
---
Features to look out for
Not sure where to start? Here are the key features to look out for when choosing your new cooker.
Temperature Control
For me, this is the most important feature a smoker can have. Power and capacity are all great, but the point of electric smokers is to be newcomer-friendly so if it doesn't have a good control system in place then it's simply not worth buying.
Generally speaking, traditional wood and charcoal models need tending (see how difficult that can be here) and sometimes even intervention for temperature regulation. I've sometimes had to resort to keeping a pan of water close by to regulate temperatures if they get out of hand. Electric models are far better regulated, so this inconvenience or lack of control tends not to be an issue.
Ideal meat temperatures for smoking tend to sit somewhere around 225-275 degrees fahrenheit (take a look at this meat-by-meat guide to smoking temperatures), so it's key that your chosen smoker can comfortably sit in that range. The 5 that I chose for this list all do this, so keeping a good cooking temperature shouldn't be an issue.
Internal Layout and Build
I think is something of an overlooked feature for smoking, and even grilling more generally, but the setup of the interior of the smoker is really key to its performance. The internal setup of the smoker is a big contributing factor to its performance, with the spread of its racks being crucial to how well (or not) your meat cooks.
Obviously size can play a big role here, with large models being able to host multiple racks of meat. Models with removable racks are ideal because it gives you the flexibility to move your food closer to or further away from the heat plates at the bottom of the smoker. They also make it far easier to clean your electric smoker.
While larger smokers obviously allow you to cook more meat, they also give you the option of hanging the meat inside it, instead of just laying it down on the rack.
Installed Caveats
I'm not talking caveats as in the linguistic or literary term, but rather the term used in the barbecue world. Installed caveats in a smoker refer to the ventilation system in a smoker's combustion chamber, which allows heat and smoke to be released. You'll need these in your smoker, as they allow good smoke flow in within your smoker.
Addition of Wood Chips
While opting for electric might seem like you're forfeiting the benefits of wood or charcoal smoking, you do still get to keep faithful to the authentic smoky tastes of BBQ. A lot of electric smokers allow you do add wood pellets or chips to them (and read here for why you should use them), which help infuse your meat with authentic barbecue flavor.
I love this about electric smokers. With a lot of 'automatic' BBQ products, such as gas grills, the trade-off for ease-of-use and convenience is often authenticity. But the chance to add wood chips to your smoker takes some of the romance around wood cooking.
Just one warning: Try to make sure that the wood pellet drawer is deep enough to contain a good amount of chips. They can be easy to overload otherwise, which can lead to flames or excess ash, then ruining your smoking and even potentially being a safety hazard.
Smoker Insulation
This is my final criterion, but no less key than all the others. The key to smoking is maintaining excellent temperature control throughout the entire process, however if your smoker is not well insulated then it will struggle to keep this temperature over a long enough time.
Industry standard is that smokers should feature excellent insulation, but just to be safe I recommend looking out for double wall construction. These models are excellent at heat retention and being energy efficient.
The Final Word​
When it comes to choosing your new unit, make sure you look beyond just sheer power. While it's great to have a machine that can reach high temperatures, it's also just as important to have something that offers you space, reliability and good performance. I hope this overview helps outline what you need to keep in mind when choosing your new electric smoker.
Last update on 2023-10-01 / Affiliate links / Images from Amazon Product Advertising API