Want to BBQ smoke your favorite meats in the easiest way possible? Here are five of the best electric smokers for the ultimate in easy home barbecue.
Electric smokers are the perfect backyard cookers for barbecue fans who want the easiest way to smoke their food low and slow, without the problems that airflow and coal cooking can create.
Best Electric Smoker: Masterbuilt MB20071117
The perfect all-round backyard cooker. A heavy-duty unit that packs in everything you could possibly need for barbecue smoking.
Runner-Up: Char-Broil 17202004
An intuitive remote control system and quick wood chip access make the Char-Broil easy to use, while its double-walled insulation ensures this is a reliable cooker.
Best Budget Option: Masterbuilt Smoke Hollow
This budget-friendly outdoor cooker has impressive insulation, but its awkward usability might put more experienced users off.
This guide is here to show you the best electric smokers out there today, as well as the most important features to look out for when making your choice.
Let's get into it.
Masterbuilt 30-Inch Digital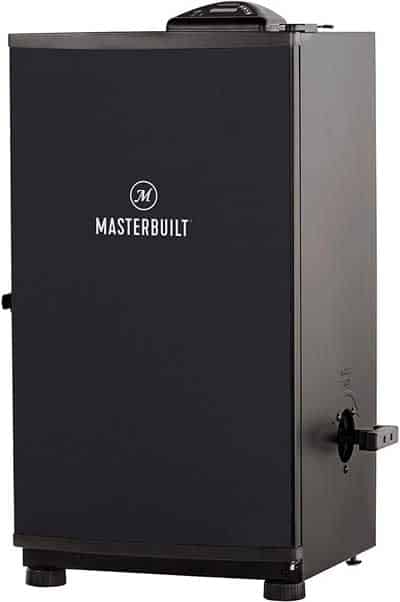 The Masterbuilt 30-inch digital electric smoker is an excellent option if your budget is very tight. Needless to say, this smoker is no match to the higher-end models we'll have a look at down the list, but it offers great value for the money.
This electric smoker boasts good insulation quality along with plenty of convenience. Most remarkably, the wood chip tray system here doesn't require that you open the door to add chips, while the water bowl lets you add moisture and flavor to the food as it gets cooked.
The Masterbuilt electric smoker has a good amount of rack space as well – about 730 square inches. There are four racks in this smoker too. There is little headroom on the racks when they are all inside, so for larger food items, you may need to remove some of the racks.
The digital controls in the 30-inch Masterbuilt smoker are pretty decent. They allow you to control cooking time and temperature, while the thermostat is designed to ensure consistent smoking.
With that said, the integrated thermostat seems not to be very accurate – its readings may in some cases deviate from actual temps by 40-50 degrees. You should thus verify food temperature with your own probes to determine how far off the thermostat is.
Pros
Inexpensive
Good insulation
Plenty of cooking surface
Char-Broil 17202004
The Char-Broil digital electric smoker is an excellent choice if you want more convenience. The highlight of this model is the glass door – it allows you to have a look at the food without having to open the door.
What's also nice about this smoker is that Char-Broil includes a remote control in the box. Its range is kind of limited, but it might be very useful in some situations.
The adjustable racks are notable as well – they allow you to more flexibly arrange food inside the smoker. You may remove the racks as well if you need more headroom. And all in all, there are 4 racks in this smoker with a total cooking space of 725 square inches.
The control panel in the Char-Broil smoker is quite nice as well – especially the large temperature reading. You can easily see the temperature from afar!
Char-Broil provides buyers with a meat probe as well, but its quality is quite bad, and we suggest that you use your own food probe instead.
Pros
Double-wall insulation
Easily accessible wood chip system.
Adjustable racks
Includes a remote control system
Cons
The included meat probe has low quality
Final Verdict
An intuitive remote control system and quick wood chip access make the Char-Broil easy to use, while its double-walled insulation ensures this is a reliable cooker.
Char-Broil 17202004
Insulated, double-wall construction. Wattage-750
Advanced control panel with easy-read, blue LED display
Removable food thermometer
Masterbuilt MB20074719 Bluetooth
The highlight of this digital electric smoker from Masterbuilt is its Bluetooth connectivity. Once you install the Masterbuilt app on your mobile device and connect it to the smoker via Bluetooth, you'll be able to monitor and control the smoker remotely.
The app can sometimes be buggy, and the range of Bluetooth is very limited, but still, the added convenience is certainly nice. We wouldn't recommend buying this smoker just for Bluetooth though.
What's also remarkable about this smoker is the cooking space – a whopping 975 square inches! The glass window in the door also lets you peek onto all four cooking racks without opening the door and letting heat leak outside. You also don't need to open the door to add wood chips.
The wheels on the back make the Masterbuilt electric smoker easy to transport as well. It's pretty large, so the wheels are a welcome addition.
Pros
Controllable via Bluetooth
975 square inches of cooking surface
Has a glass window for peeking inside
Wheels on the back to assist with transportation
Cons
Limited Bluetooth connection range
Buggy mobile app
Masterbuilt MB20074719
Bluetooth Smart technology allows you to monitor and control your meat and smoker temperature...
One meat probe thermometer included
Patented side wood chip loading system allows you to add wood chips without opening smoker door
Masterbuilt Smoke Hollow
The Masterbuilt Smoke Hollow smoker is a good alternative to the 30-inch smoker we reviewed at the very beginning. This is also a budget model, but it's more limited in features.
The two key differences in Smoke Hollow are the number of racks and the wood chip system. There are three racks in Smoke Hollow, so you have less cooking space than in the 30-inch Masterbuilt smoker. As for the wood chip system, you need to open the door to add wood chips, which is going to result in the loss of heat.
As the price of Masterbuilt smokers may fluctuate over time, we recommend that you be careful if shopping at this price point. If you see that Smoke Hollow is priced similarly to the 30-inch smoker, then you should go for the 30-inch smoker since it is more functional. But if your budget is limited and Smoke Hollow is much cheaper when you see this post, go for it.
Final Verdict
This budget-friendly outdoor cooker has impressive insulation, but its awkward usability might put more experienced users off.
Masterbuilt Smoke Hollow
Exterior: 33.5 in. (H) x 18.2 in. (W) x 18.7 in. (L) Interior: 26.2 in. (H) x 14.8 in. (W) x...
Digital panel controls on/off, temperature, and time
Three chrome-coated smoking racks
Bradley Smoker BTDS76P
Finally, we have the Bradley pellet smoker. Compared to wood chips, pellets tend to deliver a more authentic smoke flavor. Although it's not quite what you get with live fire, it's pretty close.
What's also very nice about the Bradley pellet smoker is that it allows you to control the amount of smoke produced. Not only that, but the smoker feeds pellets automatically, eliminating the need for you to add pellets manually to maintain smoke.
Aside from the smoke, this smoker lets you set the time and temperature. The temperature in the Bradley smoker goes all the way up to 320 degrees, whereas previous units went up to only 275-300 degrees. As for time, this smoker goes up to 8 hours.
The main downside of the Bradley smoker is that wood pellets cost a lot. So if your budget is limited, then a pellet smoker wouldn't be the right choice for you.
Pros
The pellets will give a better smoke flavor than wood chips
Provides you with control over smoke
Tough and durable
Cons
Pellet costs can add up over time
---
While other grill enthusiasts may live and die by their pellets, I see the virtues of having a good electric smoker at hand. Buying an electric smoker requires the presence of certain features. This can make all the difference between an electric smoker that just about gets the job done and one that is simply superb and efficient. Asking the right questions can help you get to the conclusion that you need.
Let us look at electric smokers, their benefits, how they work, and other guiding facts.
Benefits of electric smokers
There is a reason why electric smokers are popular. Let us take a look at some of these factors.
Temperature control
One of the reasons why electric smokers are a good buy is because they have temperature control. When you use the more conventional heat sources, like fire, it can be difficult to control how hot it gets. You can control electric smokers, and as such, you have control over how the food is cooked. This is thanks to the thermostat.
Wood-fired smokers infuse a unique taste in the food being smoked, but the issue is that you will need to have a certain level of expertise to make sure the temperature remains controlled. Thankfully, electric smokers make this task much easier. Electric smokers come equipped with a thermostat and a rheostat so that they can maintain a constant temperature as you cook, thereby allowing you to have an evenly cooked meal.
Temperatures can vary greatly, especially with smokers fired by coal or other heat sources with uncontrollable temperatures. But with an electric smoker, you maintain some sort of control, and you know what to expect. If you are just starting or don't smoke much, this becomes a handy cooking utensil.
Heat convection
Essentially, smoking is a way of using low heat convection for cooking. The electric smoker makes use of convection heating to heat up and circulate the air within the smoker.
'Set and forget' cooking
The electric smoker has a set and forget setting. By this, I mean that you don't have to constantly watch over the smoker as you may need to do with fire fueled smokers. You can simply set the smoker to what you need its temperature to be for you to get the desired internal temperature. Most electric smokers have digital temperature control that is also easy to read.
Safety
Smoking your meat is a great way to get the meat's flavor you couldn't get with seasoning or spices. Electric smokers are often favored for their safety. You don't need to start any sort of fire to get it going. While they are turned on differently, all you need is to push a button to start most electrical smokers at the end of the day.
To ensure general safety, as with any electrical appliance, ensure that you follow the manufacturer's instructions to the letter. Also, ensure that the meat that you place in it is thoroughly thawed out. If you have seasoned it properly, you probably would have done this when the meat is thawed out. Either way, make sure. You do not want it to take longer than it should in the smoker, giving rise to unsafe bacteria growing on the meat.
With electric smokers, there is less smoke leakage, and also, there is less heat produced. This also makes it easier to use an electric smoker indoors. If you live in an apartment, for instance, this is something that you can use. There is less chance of flare-ups because no direct heat or flames is being produced.
They are also safer in terms of the smoke produced. There is less inhaled and a good buy for those with breathing issues or conditions such as asthma because it is less. It is also healthier for the environment as it causes less air pollution.
How do electric smokers work?
Electric smokers do not use a direct flame, but instead, they use heat convection, which circulates heat and smoke in a cooking chamber, to infuse flavor in the food. The first thing to do is turn the smoker on, putting it on standby. Then, an element heats up, generating heat for the smoker.
The element will then heat the metal tray and the pellets or chips in them. The chips will then start to burn and fill the smoking chamber with flavored smoke. Then this heats the water placed in a water tray. The smoldered wood then gives off the smoke that cooks the food and infuses a particular flavor. The steam moisturizes the meat.
The wood's flavor also plays a role in this, so be deliberate about the type of wood you choose and make sure that it will complement the food you are smoking. More delicate flavors of food, such as seafood, does well with sweet flavored wood such as applewood. You can also use steam to loosen dirt when you clean the smoker.
An electric smoker and a pellet smoker are both powered by electricity. The difference comes in that an electric smoker uses electricity to produce the smoke, unlike a pellet smoker or a charcoal smoker, which do not. Also, electric smokers use heat convection while charcoal and pellet smokers use combustion.
The other major difference is the flavor. Pellet smokers and charcoal smokers infuse more flavor than electric smokers. As wood is burnt in the combustion cookers, a potent smoke is produced. On the other hand, combustion cookers are harder to clean than electric smokers.
Also, pellet smokers can reach higher temperatures, and as such, there is a wider array of options to cook your food. They are, therefore, more versatile than electric smokers. The other difference is that you get a different result. Meat smoked in a pellet smoker has the typical smoking ring, unlike when it is smoked in an electric smoker.
There is a distinct difference in how meat smoked in an electric smoker tastes than meat smoked in a pellet smoker.
How to use an electric smoker
There are a few steps to follow to use an electric smoker that will make your life much easier.
The first thing that you will want to do is to season the smoker. This is especially important if the smoker has never been used. Another way to explain this term is by cleaning it out and preparing it for the smoking process. This is important because when the smoker is still new, it usually has different smells from the factory and the manufacturing process. We will take a closer look a little later on at how to season or cure the smoker.
Plug the smoker in. it is advisable to make sure that you do not use an extension cord for this, but rather plug the smoker directly into the power source. Also, make sure that there are no obstructions to the power cord and there is no chance of the cord being yanked out of the wall unexpectedly.
Place about a cupful of chips in the tray. Remember that the flavor of the wood chips you use determines the smoke-infused flavor into the food.
Preheat your smoker for about 45 minutes at about 225˚F. This is usually enough time to get it to the optimum temperature from a cold state. At the same time, most smokers are marked in ˚F. You must make sure the unit is used not to make a silly mistake.
Make sure to fill the water tray as well. The purpose of the water is to make sure there is enough steam to moisturize the meat. You will need to ensure that you keep on replenishing both the water and the wood chips throughout the smoking process. Also, make sure to replenish the tray with hot water and not cold water.
Then set it to about 225˚F, or whatever temperature you need it to be at so that you can smoke the food properly. For most meats, 225˚F is the ideal temperature. The digital temperature gauge will help you keep tabs on the temperature. However, you would cross-check what temperature you need to use for the food you are making.
You can also manage the temperatures of the smoker by manipulating the air vents. Make sure the meat is seasoned, brined, marinated, well enough before you place it in the smoker. As you smoke, you can keep replenishing the wood chips.
A dual-probe smoker thermometer is a great way to rest assured, knowing when your meat has reached the optimum internal temperature. It improves your accuracy in cooking the perfect piece of meat. You will not need to wonder whether the meat is done or not frequently.
Make sure to find the perfect place in the meat. I usually prefer to go for the meat's thickest part to insert the probes into the meat. Most dual probe thermometers will tell you the smoker's thermometer and the internal temperature of the meat. Using a dual probe thermometer allows you to set the temperature and walk away and not have to risk opening the smoker and letting precious heat out.
To make your job easier, you could also search for one with wifi connectivity, allowing you to monitor temperatures even when you are not near the smoker.
How to season an electric smoker
Your electric smoker will need to be seasoned before you use it. This is something that needs to be done just as with other electrical cooking appliances.
Clean out the smoker, wipe down the grates, walls, and every part of the smoker. You can use a damp cloth for this. You can also run the smoker while empty to get some of the factories' smells out.
Then use cooking oil to wipe down the grates. An easier way to do this is to use a spray-on type of oil as long as it's a light coating of the oil. You don't need to drench the oil for the seasoning to be effective. It's easier to do this if you remove the grates.
Put the grates back in the smoker. Turn the smoker on, and let it run for about 2 to 3 more hours.
Cleaning
Keeping the smoker clean helps you smoke efficiently. This way, you only get the flavors intended. If you don't clean it, you may end up with a cross-pollination of flavors. Each time you fire up the smoker, you rekindle flavors from the previous cooking session. Also, keeping the viewing window clean helps you see the inside of the smoker better.
Cleaning the smoker also helps to preserve it. It also protects your health. The same reason we clean pots and plates after we use them is also why you would need to keep the smoker clean.
FAQ
Got any burning questions about where to start with barbecue smokers? Our frequently asked questions are here to help.
Can you use an electric smoker in the house?
Yes, you can. They do not produce as much smoke as other backyard cookers, making them a great option for people who don't have a backyard.
Do they use a lot of electricity?
An electric smoker is not economical in the least. It uses electricity, and it has to be left on for at least three hours minimum.
Should you soak wood chips before using an electric smoker
There's a lot of debate around this, but to cut to the chase, no, you do not need to soak wood chips before using them in the electric smoker.
Will rain hurt my electric smoker?
A little rain may not hurt the smoker, but it is vital to try by all means to keep it dry. This is where a waterproof cover will come in handy.
Last update on 2023-12-03 / Affiliate links / Images from Amazon Product Advertising API