Easy backyard barbecue recipes and ideas for your electric smoker. Cook perfect low and slow pork chops, vegetables, chicken, jalapeño poppers and more.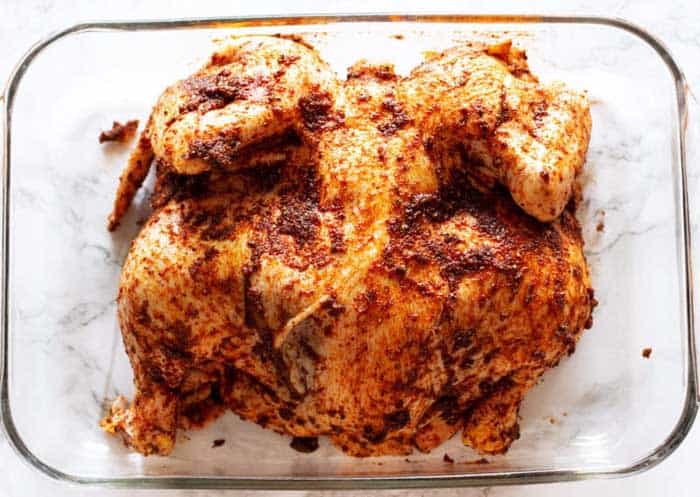 If you're wondering where to start with your new electric smoker, we've got you covered.
Electric smokers might not offer the pure barbecue power of charcoal or wood pellet cooker, but they can still churn out some seriously tender meats.
Here are 32 of the best electric smoker recipes to quickly get you from BBQ newbie to seasoned pitmaster!
Want more? Check out our guide to the best smoker recipes for your offset or charcoal smoker.
Applewood Smoked Chicken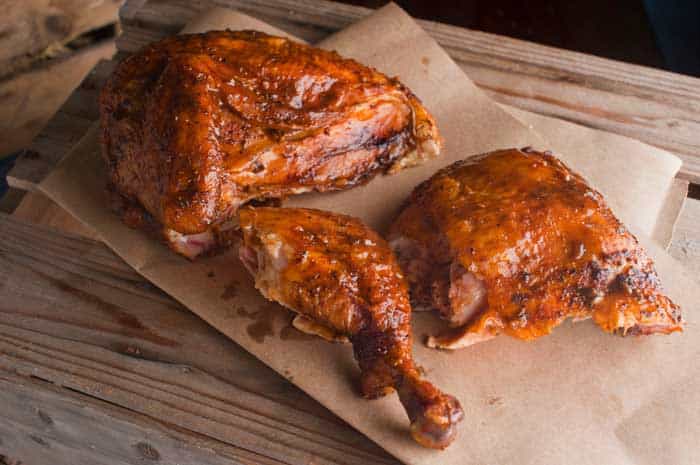 This recipe takes the earthy flavors of chili powder and smoked paprika and mixes them with onion, oregano, and garlic powder. The addition of dark brown sugar and salt makes for a wonderful rub. Wood chips and liquid smoke add to its rustic sweet and spicy, "slow-and-low" smoked chicken flavor. Learn how to smoke whole chicken in an electric smoker in our guide.
Bacon Explosion
This dish combines the deep salty flavors of bacon and Italian sausage and the sweet tanginess of barbecue sauce.
By weaving your bacon together, you can then add crumbled sausage and a dry rub.
The rolled bacon-and-sausage combination is then smoked thoroughly and brushed with a tasty barbecue glaze finish.
Smoked Beef Brisket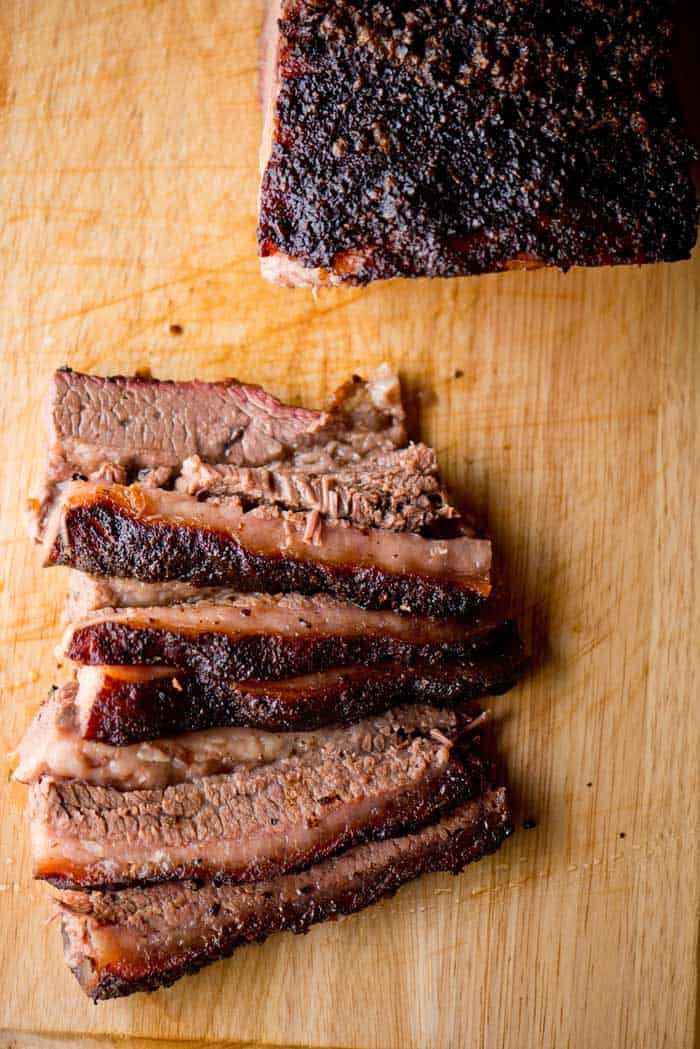 The electric smoker beef brisket in this recipe benefits from a dry rub of salt, white pepper, chili powder, garlic powder, and paprika.
Marinated for at least a day, the beef brisket is then smoked for seven hours.
A honey and tamari basting sauce makes the finished brisket sweet, spicy, and salty.
Chicken Wings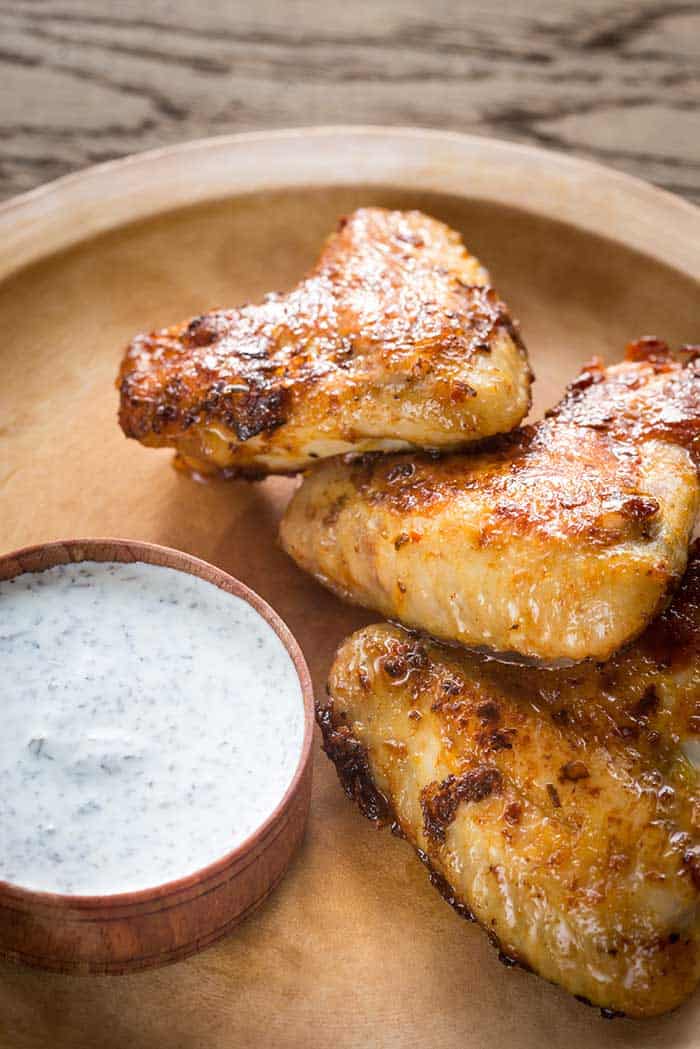 No BBQ party platter would be complete without wings, and these electric smoker chicken wings are the perfect place to start. They're juicy and crispy in equal measure and are seasoned with a delicious dry rub to add delicate spice and herb notes.
Start your preparation with a two-hour brine in water and salt to help lock in moisture. After this, simply season them and cook over applewood at 250°F (120°C) for two hours. As far as smoking recipes go, this is quick and easy, and exactly how barbecue wings should be.
Competition Style BBQ Ribs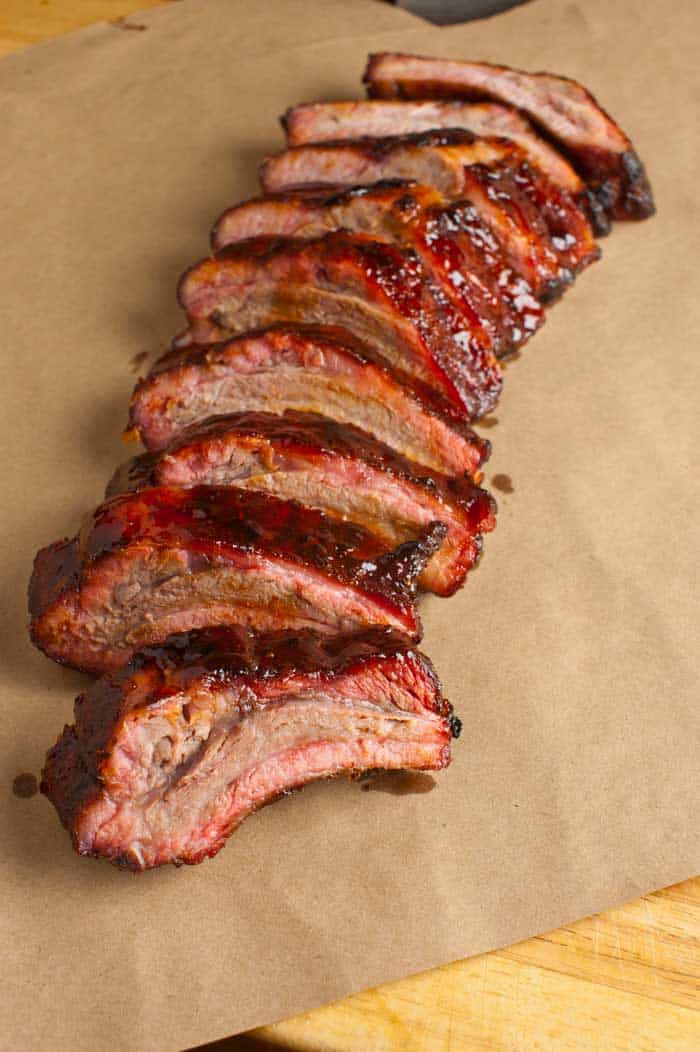 If you like your ribs to stay on the bone, you'll love this guide on how to smoke ribs on an electric smoker.
The dry rub for these ribs includes brown sugar, cumin, pepper, and salt.
Add this to an apple wood-filled smoker for six hours, and you have a deliciously complex set of competition-style barbecue ribs.
BBQ Smoked Spiral Ham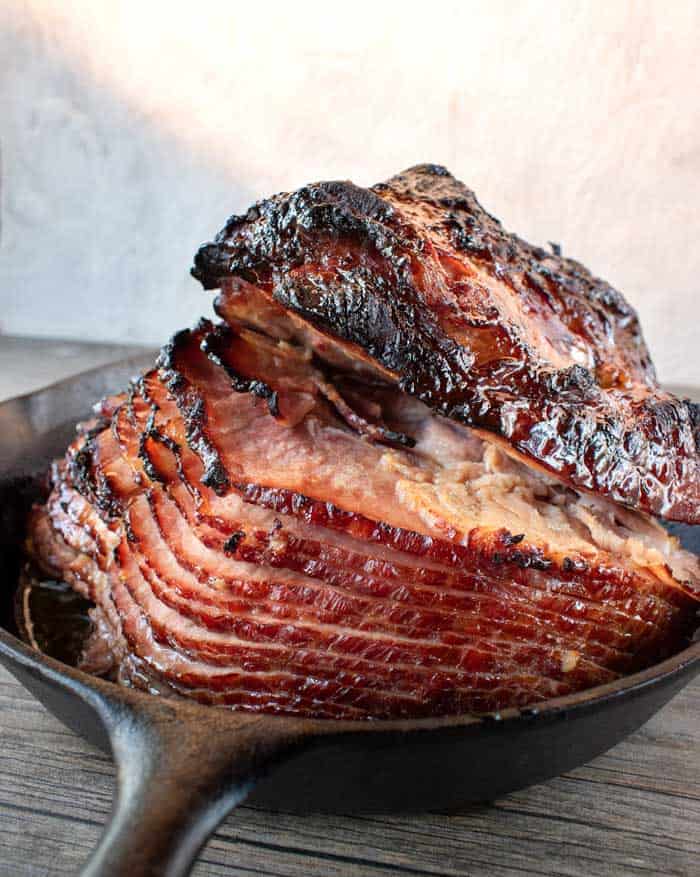 The incredible ingredients of this double smoked spiral ham recipe are second only to its exotic flavors.
Here, mustard, barbecue rub, ham, and pineapple rings all combine in a smoker lined with apple wood smoke.
Two to six hours later, and you have a presentation-style dish that emphasizes its naturally sweet and tangy flavors.
Smoked Pork Butt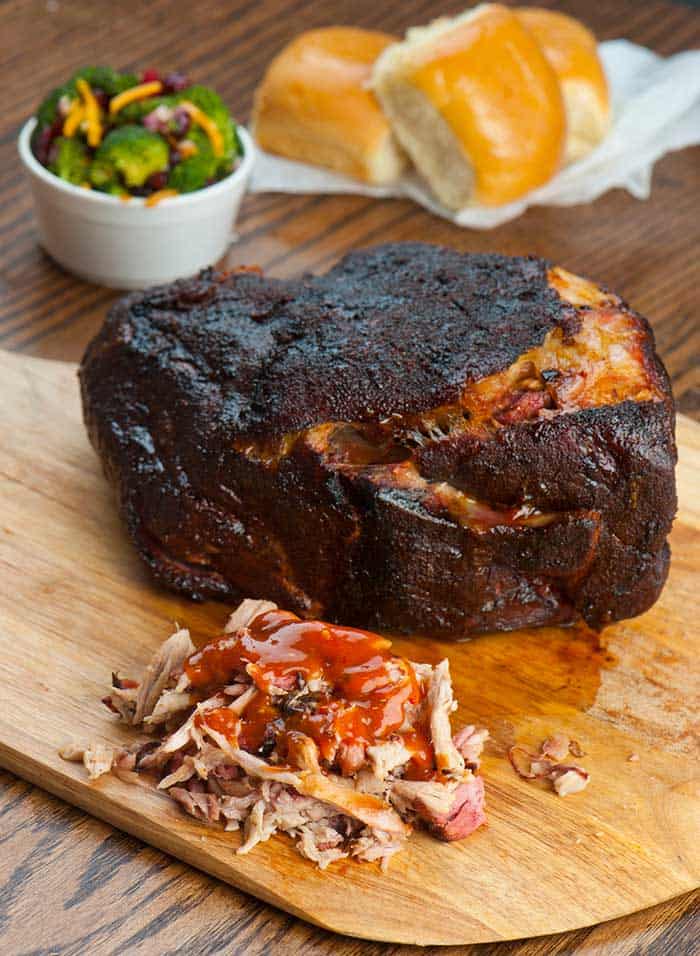 The key to smoking the perfect pork butt is to keep it simple, while demonstrating a great deal of patience. But this electric smoker pork butt recipe shows that it's well worth the wait.
With yellow mustard and a dry sweet rub, this smoked pork is sweet and spicy. You will want to keep the pork at a low temperature for a long time to get it tender. Eight hours later, and you have spicy, tender, smoked pork ready to melt in your mouth.
Brown Sugar Smoked Salmon
This dish has all the moisture of well-cooked fresh salmon sealed in an impeccable brown sugar and dill weed crust.
Using cherry, pecan, or oak wood, the salmon is smoked for about an hour at temperatures under 275 degrees Fahrenheit.
Salt and black pepper round out this dish's subtle sweetness.
Barbecue Applewood Chicken Breast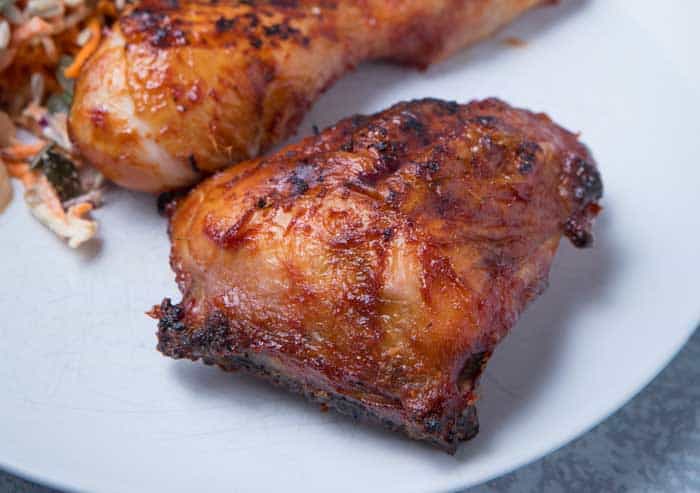 Skinless and boneless breasts are one of the best barbecue chicken cuts. They're easy to buy, need minimal meat preparation, and only need an hour in the electric smoker.
This barbecue chicken breast recipe is juicy and smoky and an instant crowd-pleaser. The all-purpose BBQ chicken rub includes a mixture of paprika, thyme, and chili powder to infuse the chicken with flavor. They are cooked over applewood and served whole or in slices.
Turkey Legs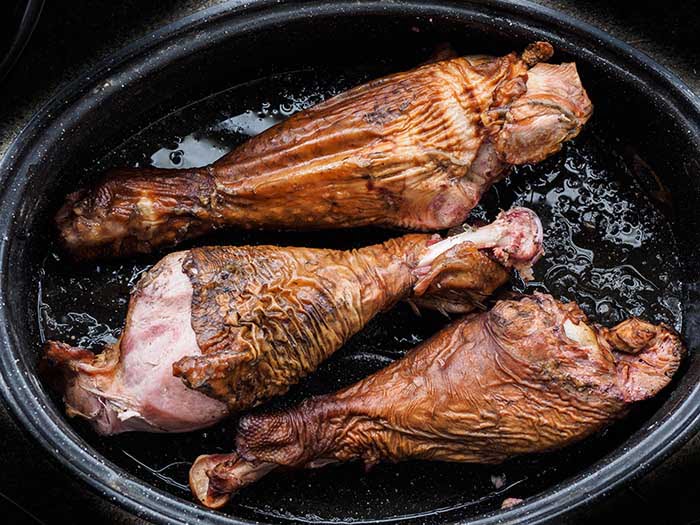 Skin-on and bone-in turkey legs (or drumsticks) are typically eaten by hand. These beautiful poultry cuts pack a lot of flavor and are delicious when eaten straight off the bone as they are rich in dark meat and fat.
Try This Recipe: Our electric smoker turkey legs are brined overnight and prepared with our herb dry before smoking for 2 hours over applewood. Quick and easy, but packed with juicy dark meat flavor.
Buttery Smoked Corn on the Cob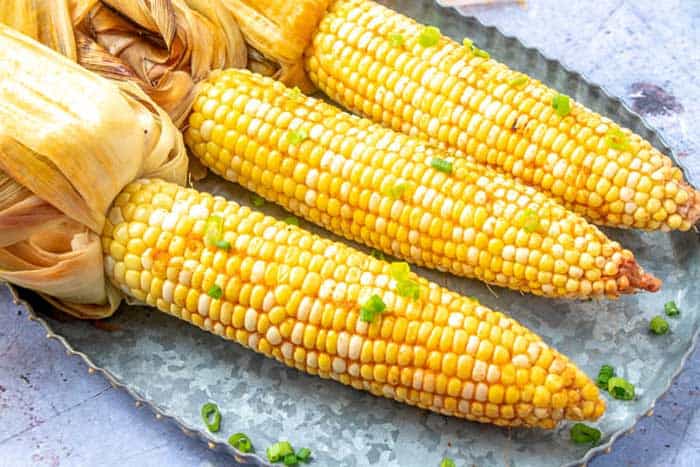 Using a combination of butter and green onions, this smoked corn on the cob recipe makes for a wonderful side dish.
By pulling the husk and soaking the corn, you get the kernels plump and ready to smoke.
Hickory, maple, mesquite, or fruit wood give this corn a unique flavor.
Grilled Chicken Thighs with Beer-Marinated Asparagus
This recipe uses an apple-cider, salt, and sugar-based brine to keep the grilled chicken thighs nice and juicy.
With a BBQ rub and sauce, the chicken gets extra flavor during its two-hour smoking session.
Beer, red pepper flakes, and balsamic vinegar serve as an asparagus marinade, for some seriously delectable flavors.
Easy Double Smoked Turkey
Turkey breast is no longer bland or boring in this spicy, sweet, and savory dish.
A BBQ rub and some vegetable oil give this turkey breast a flavorful start.
Basted with butter, hot sauce, BBQ rub, and honey mixture, this three-hour smoked turkey breast comes out a tasty delight.
Smoked Baked Potatoes
Smoking adds an incredible new dimension to potatoes in this simple, yet tasty dish.
A potato is covered in olive oil and rolled in a bowl of salt.
Smoked for two hours in apple wood, and these potatoes are ready for loads of bacon bits, chives, butter, or sour cream.
Beef Jerky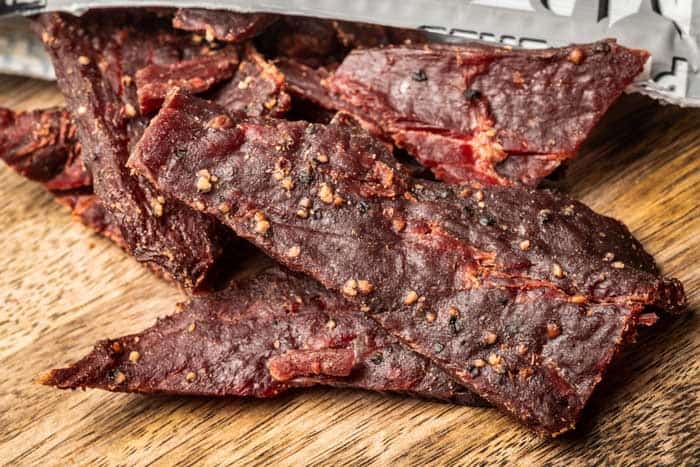 If you have thinly-cut lean meat at the ready, you can enjoy making this tasty beef jerky in an electric smoker. Marinating those strips in a Worcestershire and soy sauce mixture, the jerky gets more flavor from honey and pepper. Smoked at low temperatures, the jerky will dry and can be stored for months.
Beer Can Chicken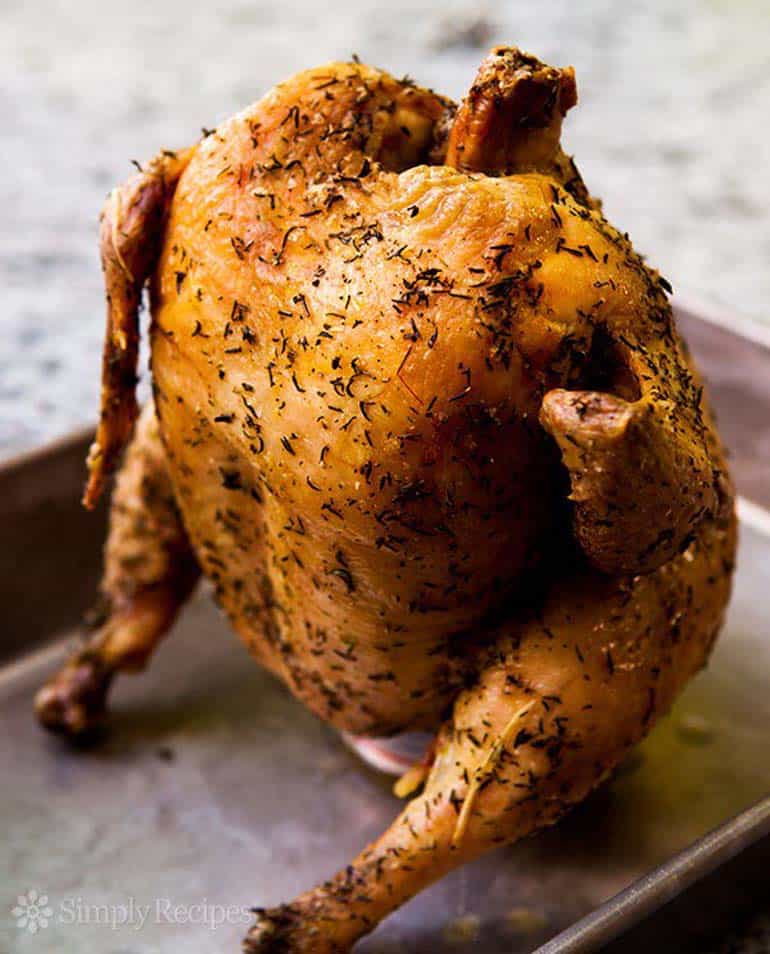 This beer-can chicken recipe uses a thyme, dill, and garlic powder rub to give the skin an extra-tasty flavor.
A can of beer poured into a chicken stand will have flavored vapors that permeate the meat.
Smoked for two hours, the result is a satisfying chicken dish inside and out.
Smoked Brisket
This recipe combines oregano, cumin, black pepper, paprika, and onion and garlic powders to create a flavorful dry rub.
The beef brisket benefits from a three-hour smoke at temperatures under 250 degrees Fahrenheit.
Once finished, you have a nicely charred, slightly spicy brisket ready for sandwiches or a main dish.
Smoked Burgers
These burgers are unique because they benefit from slow wood-pellet smoking for about an hour.
They are first rubbed with a flavorful garlic, onion, salt, and pepper mixture.
When done, these burgers are sauce-free but are still very tasty. Best of all, they stay moist throughout the smoking process.
Smoked Chicken Drumsticks
For a spicy and sweet recipe that has tons of flavor, give these smoked chicken drumsticks a try.
The recipe starts out with a spicy dry rub, aided with flavors of added cayenne pepper.
Two and a half hours later, and you have wonderfully smoked chicken drumsticks with BBQ sauce.
Smoked Chicken Wings
This is a smoked chicken wing recipe that goes above and beyond the fried variety.
A dry rub of onion, garlic, salt, and pepper gives the chicken enough spice to permeate through the smoking process.
After about two hours on low heat, the spicy chicken wings are smoked to perfection.
Smoked Hatch Chilies
The smoking process is not only good for meats, but for fruits and vegetables too.
A clear example is this recipe for smoked hatch chilies.
Smoked on low heat for about an hour, the chilies dry and faintly caramelize. They are great for sandwiches, salads, and different types of sauces.
Hickory Smoked Jalapeño Poppers
The combination of jalapenos, cream cheese, cheddar, and bacon make this recipe an unforgettable dish.
First you clean out the peppers of seeds, and then stuff them with the cheeses and a "stopper" of bread.
Wrap with bacon and smoke at a low temperature. You will love the smoky taste.
Smoked Lobster Tails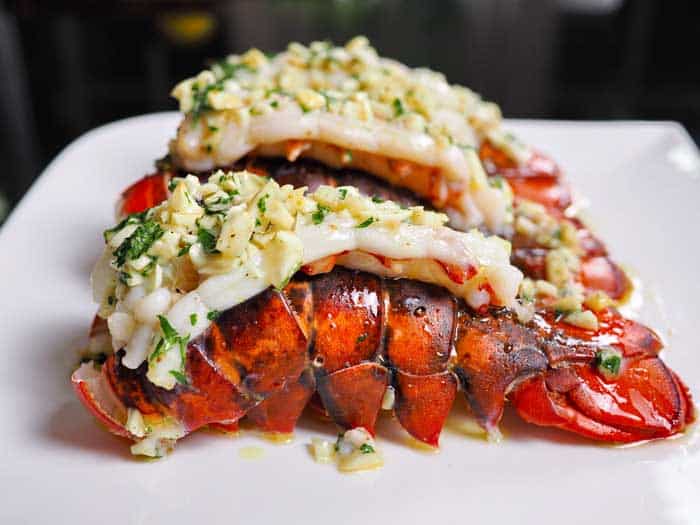 A smoker is not just for land-based meats and vegetables. It can also make a classy seafood dish. Garlic and butter are added to these delicious smoked lobster tails, which are smoked for about 45 minutes. When done, the lobster is nicely tender, ready to serve and flavored with a delicious garlic-butter dressing.
Smoked Mac and Cheese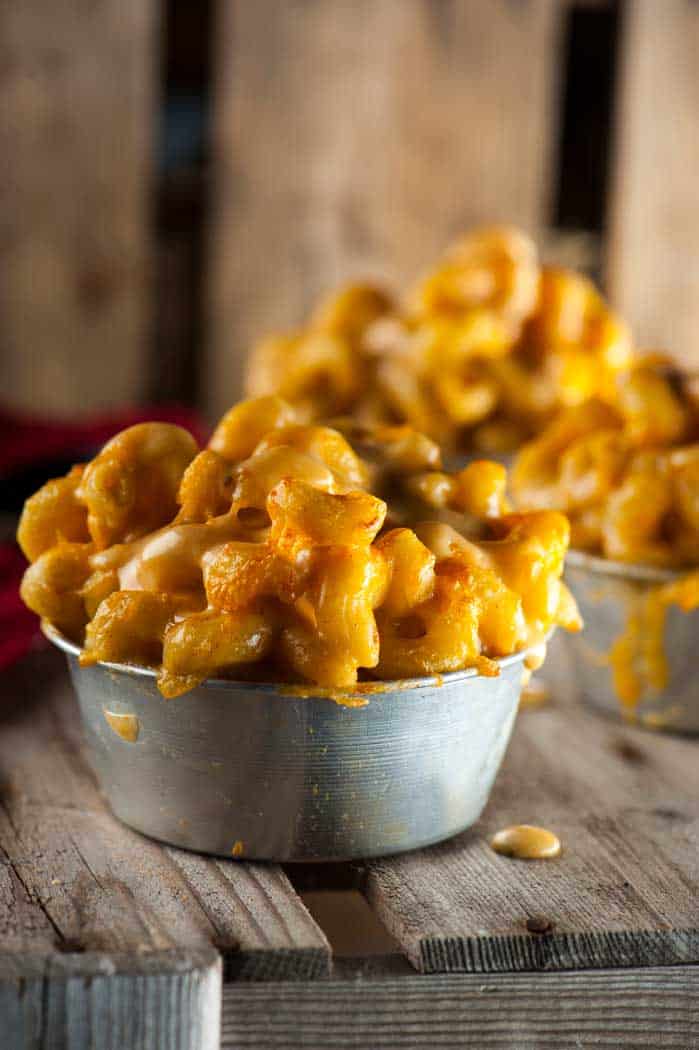 An unusual dish for smoking, but not an impossible one. This smoked mac and cheese recipe takes everything you love about the classic side dish and dials it up to eleven. With macaroni, milk, cheddar, and butter, this recipe has all the makings of the traditional side dish. The difference is in the smoking, which makes it tender and creamy.
Smoked Pork Butt Tacos
Pork butt is the shoulder area of the pig and is the perfect filling for some amazingly good-tasting tacos.
With a spicy dry rub aided with a mustard coating, the pork is ready to be smoked.
At least an hour and a half later, and you're eating delicious hickory-smoked pork tacos.
Hickory Smoked Pork Chops
Water, apple juice, and salt brine help get these pork chops started. Add to that marinade some peppercorns, onions, and garlic, and you have a pork chop ready for thorough smoking. After three hours of smoking at a low temperature, the pork chops will be spicy, savory, and slightly sweet. Check out how to make our electric smoker pork chops.
Prime Rib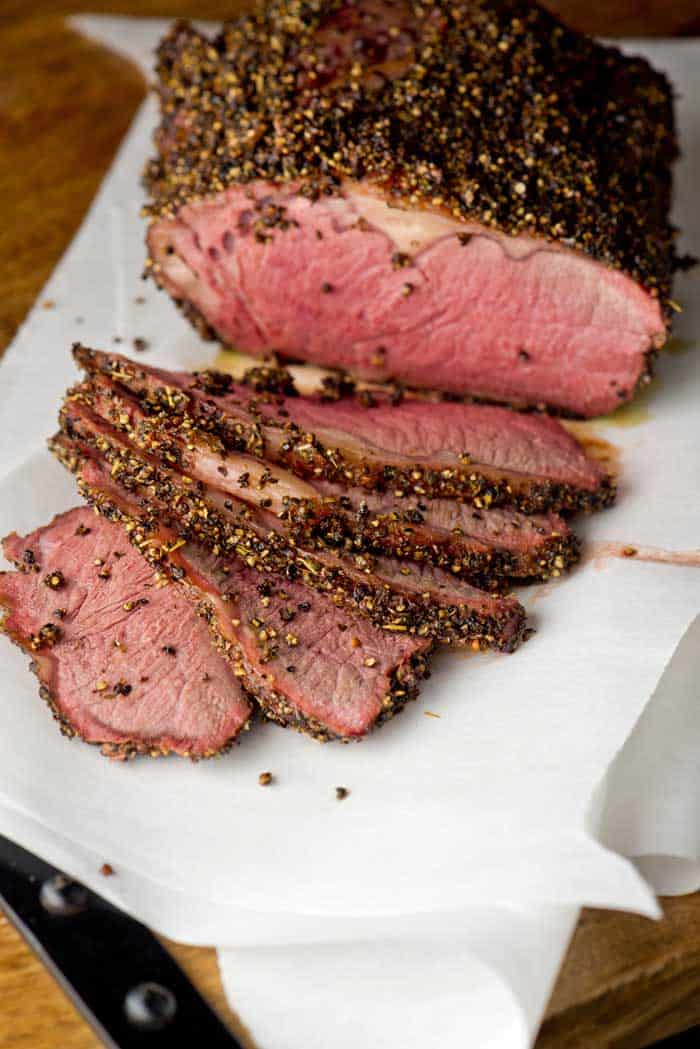 This electric smoker prime rib is perfectly marbled and tender, and has a nice note of hickory running through it. Prepared with a simple mustard and crushed black peppercorn seasoning dry rub, this beautiful cut of barbecue beef is as easy as it is delicious.
Smoked Steak
This recipe works with filet mignon, rib eye, or t-bone steak. Cooking time depends on the thickness of your steak.
Give the steak a dry rub of brown sugar, salt, pepper, and garlic powder.
Smoking leaves the meat on the outside cooked and tender in the middle, a flavorful masterpiece.
Perfect Smoked Turkey
This recipe gives the turkey a solid inner taste as well as a nicely-smoked exterior. The reason for this is the initial salt brine.
After this, the turkey is stuffed with lemon zest, onions, sage, and garlic.
Smoked for at least two hours, the turkey turns a nice golden brown.
Festive Smoked Turkey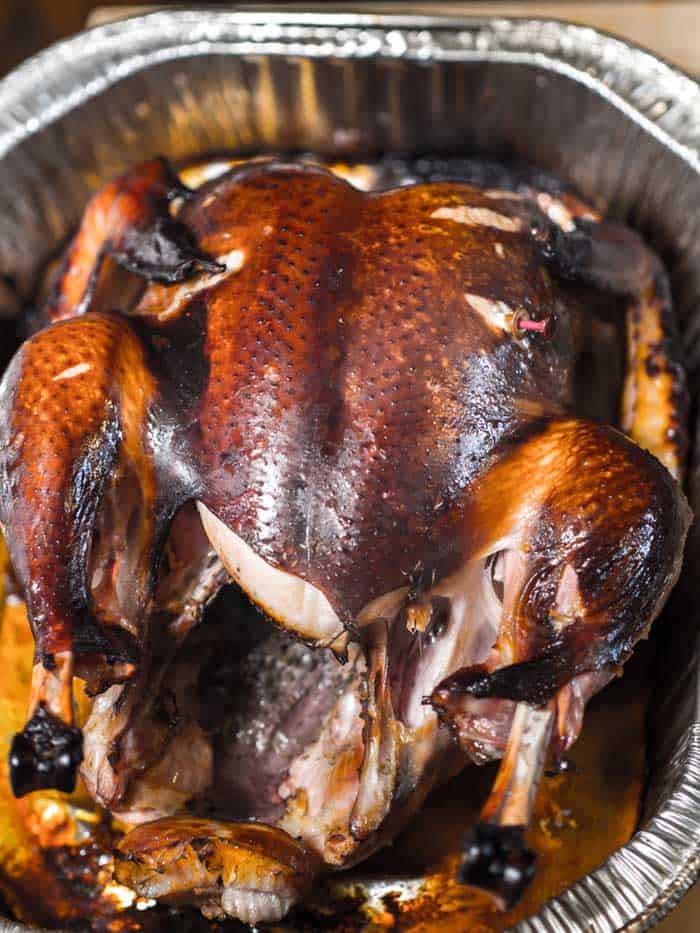 This electric smoker turkey recipe is a little spicier, with the heat coming from a dry rub consisting of garlic powder, pepper, and ginger.
Basted with butter, Cajun seasoning, and more garlic, the turkey is smoked for up to seven hours.
The end result is a flavorful turkey with a nice dark brown skin.
Smoked Boneless Pork Loin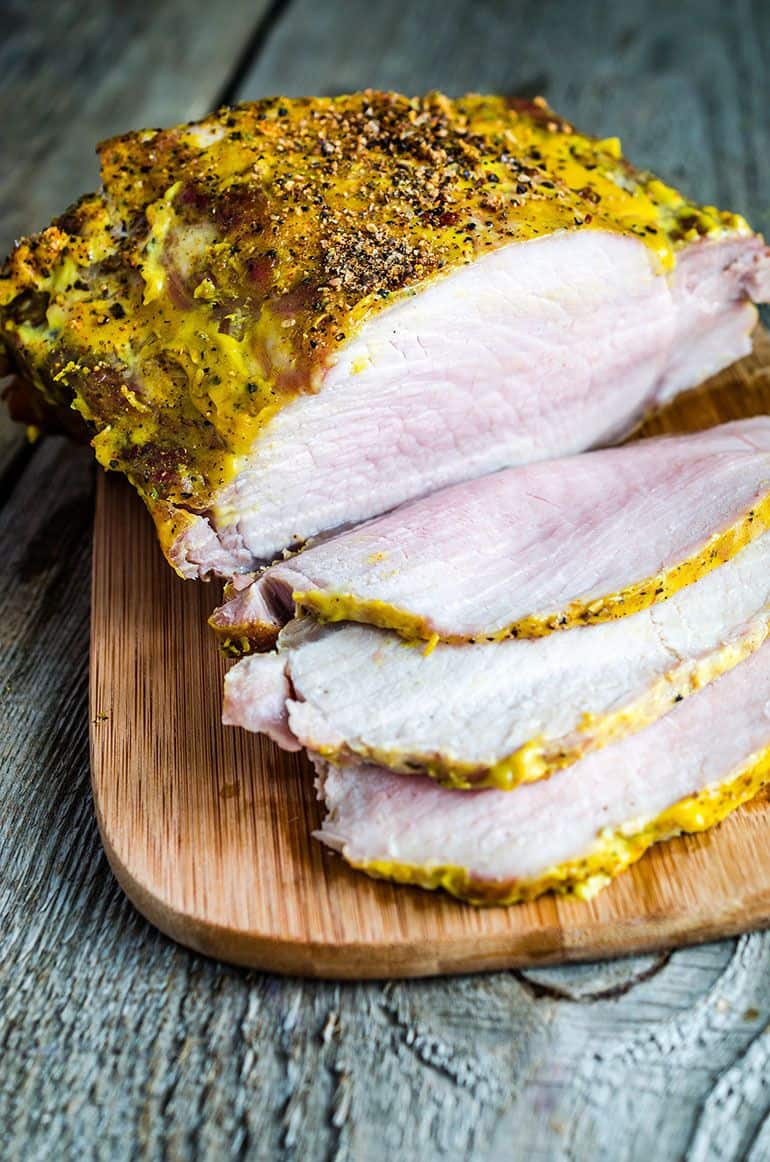 A salt, pepper, garlic powder, and sugar dry rub gives this pork loin the spice and sweetness smoked meats need.
With some olive oil and onion powder, you add to it even more flavor.
After four hours of smoking, the smoked pork loin has a wonderful crust and is ready to eat.
Sweet and Sticky Char Siu
If you like Chinese roasted pork, this recipe has all the spices and flavors to keep you satisfied.
Hoisin sauce, ginger, garlic, Chinese five-spice powder, and molasses all make up the glaze.
After thirty-five minutes of smoking, the pork is ready. Don't forget to add red fermented tofu for color.