Try these delicious smoked lobster tails for something adventurous. Cooked low and slow on your smoker and coated in beautiful garlic butter, this barbecue seafood recipe is one of a kind!
Barbecue smoking takes meat to a whole new level, and seafood is no different. While the delicate nature of most fish or crustaceans means you do have to approach them differently, the results are just as amazing. Case in point: These delicious smoked lobster tails.
Our lobsters are prepared with just a little slit carved into them (more on that below) before smoked for only 45 minutes. Halfway through, we baste each tail in our garlic butter mix, allowing it to work its way into the lobster meat. Combined with the natural aromas of apple wood, it's an unreal flavor blend that's completely different from what you'd get in a restaurant.
The meat preparation and cooking process for this recipe are easy, and from start to finish takes just under an hour. While lobster might seem intimidating, this step-by-step walkthrough will show you how simple it really is. Let's get into it!
For more barbecue seafood ideas, be sure to check out our other smoking recipes.
How to prepare lobster tails for smoking
Lobster tails can be bought separately, so there's no need for you to buy them in whole and create any waste. You can buy them online, but try to get them as fresh as possible by going to a store.
For our prep, we just want to create a slit along the tail so that our smoke and basting butter can work their way into the meat. We still want to retain the shell and not overexposure the meat, so make sure you do the next part carefully.
After you've washed them in cold water, place them on a chopping board with the top of the tail facing up. Use a pair of kitchen scissors to cut them down the middle of the tail, until you reach the fin. Be careful not to crack or break any more of the shell beyond this, and ensure that the meat is still attached to the inside of the fin. Give the tails another rinse under cold water to wash away any broken shell.
Time and temperature
For this recipe, we'll be cooking our lobster at 225°F/107°C, until the internal temperature of the meat has reached 145°F/62°C. At this point, the flesh should have turned a pearly or white color, and opaque (source). This should take about 45 minutes, but make sure that you go by internal temperature. I recommend getting a meat probe thermometer to help you accurately gauge the temperature of your meat.
Best wood for smoking lobster tails
Because seafood is often delicate, I recommend using mild fruitwood for smoking lobster. Apple or maple wood should give you the best results because they are unimposing, while sweet enough to add a touch of flavor. Avoid strong woods like hickory or mesquite. Some people recommend cherry, but it can impart a heavy red color on the meat, which I don't like for seafood.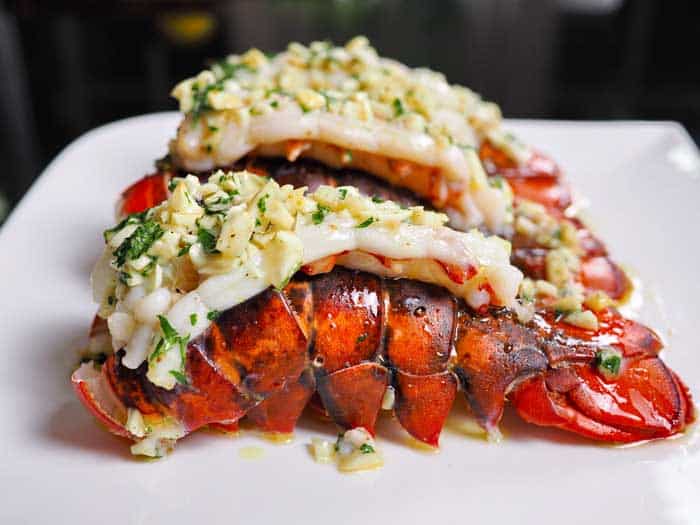 Quick Tips
Don't forget these quick tips to give yourself the best chance of cooking the perfect lobster tail on your smoker.
Cut the shell
Cutting a small slit on the back of the lobster shell is the best way to improve the flavor of the dish. This will allow smoke to surround the lobster meat, as well as allow the butter to work its way in and baste it.
Use skewers
BBQ skewers aren't just for steak or chicken. Lobster tails, much like shrimp, often curl up when cooked on the smoker. To prevent this, use skewers to hold them in position. Push a skewer into each tail, through the exposed meat, and out the tail fin at the other end.
Basting butter
Rather than apply the garlic butter right away, or wait until the lobster is cooked, baste the lobster tails with the butter halfway through the smoke. This will ensure the meat is hot enough for the butter to melt, while also giving us enough time for the lobster to cook in the juices for long enough.