Baked potatoes smoked over wood fire and coals. Filled with classic toppings, this loaded baked potato recipe is the best way to infuse this easy side dish with barbecue flavors.
Smoked baked potatoes are a delicious spin on this classic loaded potato side dish. While traditional recipes call for baking potatoes in the oven, this barbecue recipe slow-cooks them over wood fire and coals on your smoker or charcoal grill.
The end result is a deliciously smokey side that serves as the perfect vessel for you to load with your favorite fillings. You can add sour cream, shredded cheddar cheese, chopped chives, or even shredded beef brisket. It's one of our favorite smoked side dishes, and it's easy to see why.
Discover how to smoke baked potatoes, including potato preparation and best barbecue temperatures. Let's get smoking.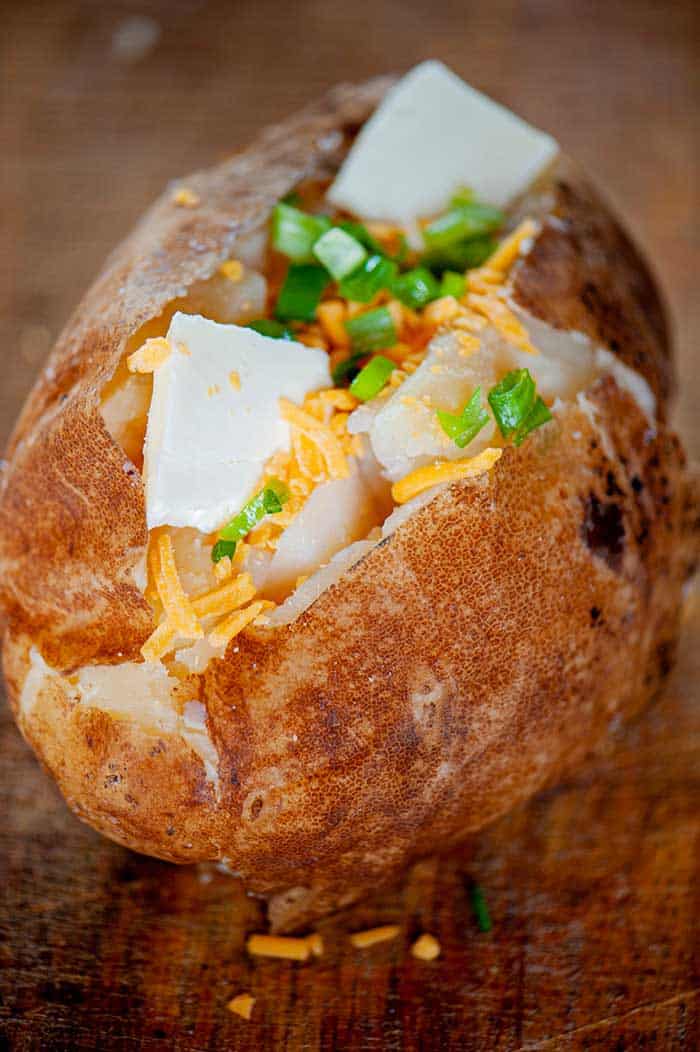 Why Pierce Potatoes With A Fork?
Piercing or poking potatoes with a fork before smoking or baking allows steam from inside the potato to escape, giving you a light and fluffy baked potato. It also reduces the risk of the potatoes bursting on your smoker or grill. We recommend piercing each potato 8-10 times, evenly across its surface.
When Are Smoked Baked Potatoes Done?
A baked potato is ready once its internal temperature reaches 200-210°F (93-99°C). At this temperature, you should be able to glide a fork into the potato without much resistance. The interior potato flesh should also be fluffy. Use a digital thermometer to accurately measure the potatoes' temperature.
Because potatoes can vary in size and texture, there is no set time for smoked baked potatoes. Sometimes they take as little as two hours and sometimes they take as much as four.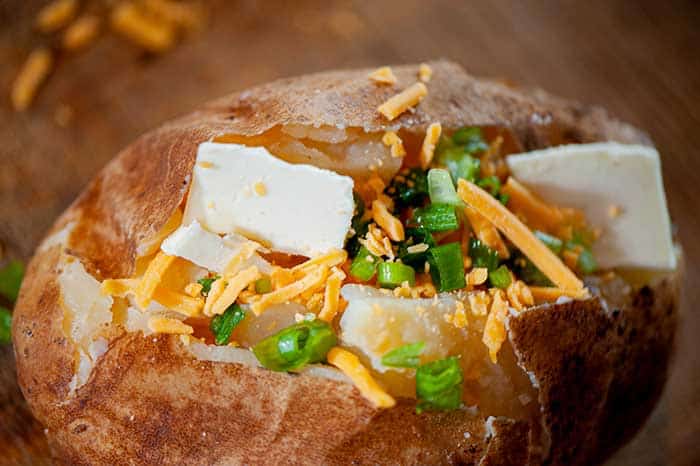 Topping Ideas
Our smoked potato recipe uses classic filling ingredients that serve as the perfect side or accompaniment to barbecue meat. We've gone for melted butter, sour cream, shredded cheddar cheese, and diced chives. If you want more meat in your potato, this recipe is a great way to use leftover brisket or crumbled bacon.
Quick Tips
Do not wash potatoes ahead of time. Washing before you need them might result in trapped moisture in the bumps (or 'eyes') in potatoes, which can lead to spoilage.
Don't forget to apply a thin layer of olive oil to the potato skins before smoking. This will make the skin crispy, providing a nice contrast with the fluffy interior potato flesh. The oil will also act as an adhesive for the BBQ rub.