Smoked turkey legs are the ultimate platter food. They're juicy with a crisp skin for the perfect bite. Cooked slowly over cherry wood, and prepared with a sweet and spicy rub and glaze, there's a ton of flavor packed into each leg.
There's a reason turkey legs are so popular at festivals, food trucks, and BBQ parties. They're the perfect platter food.
Crucially, they're always smoked. And for good reason: It's the best way to ensure the perfect balance between rich smoky flavor and delicious moisture.
Today I'm going to show you how to smoke turkey legs, and show you the smoking wood and meat prep steps you should be taking to guarantee the best smoked turkey legs you can make.
Turkey Legs Explained
Turkey legs are one of the most popular cuts of poultry to go on the grill or smoker, but why are they so popular?
Part of the explanation is due to their fat content. Turkey legs have more fat than chicken drumsticks, making them juicier once you throw them on a grill. They are also larger, making for a more fun, carnival-like eating experience.
Turkey meat is infamously dry, but when you prepare turkey legs for the smoker and infuse them with brine or injection, they are packed with savory flavors.
How to Brine Turkey Legs
Brining is a crucial step to making sure that our poultry doesn't dry out while it cooks (source).
Our brine ingredients are:
2 gallons cold water
1 cup sugar
4 cups kosher salt
2 bay leaves
If you need to modify quantities at all, always keep the 4:1 ratio of salt-to-sugar in mind.
The next day, remove the legs from the brine and transfer to a poultry rack. This will allow any excess brine solution drip off the meat. Also use a dry paper towel to dab dry each leg. The reason this is important is because we want the skin to turn golden when smoking, so we want the outlet layer to slightly dry.
Apply a little bit of cooking oil spray to each leg. This will help brown the skin of the turkey because of the fat content in the spray.
BBQ Dry Rub
Following up the spray with some BBQ rub. Make sure you cover all sides of the meat.
There are some great store-bought options out there but you can also easily make your own. Try combining these simple ingredients in a small bowl for your rub:
3 tbsp brown sugar
2 tbsp smoked paprika
2 tbsp kosher salt
1 tbsp black pepper
1 tbsp garlic powder
1 tbsp onion powder
If you want to buy one, I recommend Killer Hogs' BBQ rub here (Amazon link).
BBQ Glaze
For our glaze, we want something quite thin and light so we don't overpower the flavor of the turkey. We simply just want something that adds a touch of flavor and color to the skin.
We don't want anything heavy. Something with BBQ sauce and vinegar is best. Our aim is just to add a touch of outer flavor, while also complementing the rub well.
To make your own, simply combine:
2 cups of apple cider vinegar
½ cup BBQ sauce or ketchup
1 cup water
Transfer to a jar. Close the lid and shake well.
Wood for Smoking Turkey
Cherry wood is one of the best woods for smoking turkey with. It adds a light note of sweetness, and adds a beautiful touch of red color to turkey when it's smoked.
If you want to add a touch of deeper smoke flavor to it, you can add a small chunk of hickory in the mix too. This will help add an earthy note to the flavor, and create an extra layer of smoke. Warning: Its very easy to let hickory overpower turkey, so only use a small amount.
How to Smoke Turkey Legs
Heat up your smoker to 275°F. This is a little higher than we sometimes do for other smoked meat, but this should allow us a better chance of getting that golden crisp on the skin.
Once your smoker is up to temperature, transfer the legs to the cooking grates. Try to leave at least half an inch between each leg. This will help ensure good hot airflow between each bit of meat.
After about an hour and a half, check on the legs. You should see a bit of red color develop on the legs from the BBQ rub, and crucially you should see the meat at the bone end start to recede and draw back slightly. Give them a quick temperature reading with a meat probe. At around this point, the internal temperature of the meat should read somewhere between 130 to 150°F. Ultimately, we want them to get to about 175°F, but we still have a little bit to go.
Apply the glaze to the legs. Use a basting brush and just apply a light coat. Just apply to the top side initially, and allow them to cook for a few minutes. Once the glaze has set, flip the legs over and apply the glaze to that side too. If you want, apply a dash more BBQ rub.
Close the lid and cook for a few more minutes. Turn the legs back over and take another temperature reading. If you have hit around 175°F, remove them from the smoker. If you still have a little way to go, cook them for a little while longer until they've come to temperature.
How to Reheat Smoked Turkey Legs
One of the best ways to reheat smoked turkey legs without drying them out is in the oven. Put turkey legs in a sealed oven dish. Add a few tablespoons of water or broth and some butter. As the legs reheat, the liquid and the melting fat will ensure that the legs don't dry out.
For best results, heat your turkey legs at a low temperature for 30 to 40 minutes. While you may get impatient waiting for your turkey legs to reheat, this is the best way to prevent them from drying out.
Quick Tips
Bring the meat to room temperature before smoking. This will allow it to cook faster and more evenly. If the meat is still cold, the exterior will cook faster than the interior. The turkey legs will spend less time on the smoker, so they will also lose less moisture and the final texture and flavor will be better.
Keep on top of temperature control to keep your turkey legs tender and juicy. The low and slow cook allows the tendons in the drumstick to break down, while the low temperature prevents the flesh from drying out.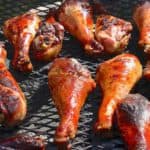 Smoked Turkey Legs
Smoked turkey legs are the ultimate platter food. They're juicy with a crisp skin for the perfect bite. Cooked slowly over cherry wood, and prepared with a sweet and spicy rub and glaze, there's a ton of flavor packed into each leg.
Print Recipe
Pin Recipe
Ingredients
Brine
2

gallons

cold water

1

cup

sugar

4

cups

kosher salt

2

bay leaves
BBQ Rub
3

tbsp

brown sugar

2

tbsp

smoked paprika

2

tbsp

kosher salt

1

tbsp

ground black pepper

1

tbsp

garlic powder

1

tbsp

onion powder
Glaze
2

cups

apple cider vinegar

½

cup

BBQ sauce

1

cup

water
Instructions
Combine the brine ingredients in a large bowl

Place turkey legs in brining bucket. Pour brine solution over turkey. Transfer bucket to refrigerator. Leave overnight (at least 6 hours).

Remove turkey from bucket and transfer to drying rack. Pat dry with paper towel.

Heat up smoker to 275°F. Add cherry wood to coals or smoker box.

Lightly spray turkey legs with cooking oil. Apply BBQ rubs on all sides of legs.

Transfer turkey to smoker. Leave at least ½ inch between each leg on cooking grates. Close lid and leave to cook for 90 minutes.

Check on legs. Use meat probe to check internal temperature.

Cook until temperature is 150-160°F. Apply glaze to each leg. Add a dash of BBQ rub. Cook for 5 minutes before turning legs over. Add glaze and rub to other side. Cook for further 5 minutes.

Check temperature. Aim for internal temperature of 175°F.

When ready, remove from smoker and leave to rest for 5-10 minutes. Serve.