The best St Patrick's BBQ recipes from the web. Including Guinness BBQ sauce, Irish corned beef recipes, Guinness pork ribs, Irish lamb, and more.
Here are some of the best St Patrick's BBQ recipes from the web. Including Guinness BBQ sauce, Irish corned beef recipes, Guinness pork ribs, Irish lamb, and more.
These Ireland-inspired grilling recipes will help you celebrate March 17th in style.
Also, just as a disclaimer: Not everything will be drowned in Guinness.
Just some.
Beer-Braised Smoked Corned Beef Burnt Ends
This recipe mashes the best of both worlds with the classic American brisket burnt ends recipe and then gives it a kiss of Irish flavor in the form of corned beef.
For the unfamiliar, corned beef is a brisket that's been brined in salt and pickles, and it comes in a red color. It's meaty, it's salty, and it's delicious.
This recipe is grilled over indirect heat with very little prep or wood. All the work is done by the brining and natural flavors of the beef.
It takes a good 8 hours to cook, but trust me. It's more than worth the wait.
Grilled Leg of Lamb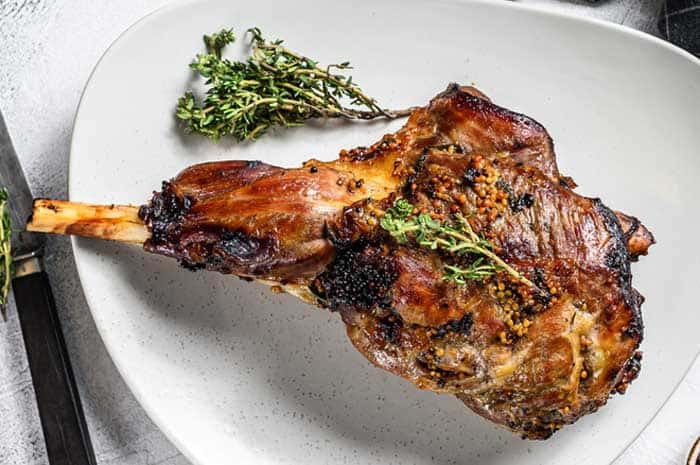 This grilled leg of lamb recipe is the perfect meat dish to see in the spring.
All the work is done overnight with a garlic and herb marinade which slowly works its way into the meat. When it comes to grilling time, the lamb is just grilled for 15-20 minutes over high heat.
It sounds absurdly simple, but if you like your red meat rare then you need not look any further than this.
Irish Grilled Flank Steaks
If you've always gone for skirt steak then this recipe might be the one that convinces you otherwise. In fact, one of the biggest differences between flank and skirt steak is how tough they are.
Flank is leaner than skirt, but this just means that it benefits from the effects of a marinade all the more. Marinated flank grilled over high heat has a beautiful, melt-in-the-mouth texture and flavor that's truly unique.
This recipe is marinated for just a couple of hours before being grilled over high heat for 20 minutes. Easy.
Guinness BBQ Sauce
It was only a matter of time until there was a Guinness-inspired recipe on here.
I'm a BBQ sauce fanatic, so the mere mention of this recipe immediately has my interest.
BBQ sauce might sound a bit daunting to make, but this one is incredibly easy. With just a handful of ingredients featuring Guinness (obviously), brown sugar, sugar, honey, and seasoning, it only takes about 20 minutes to put together.
Perfect over your favorite BBQ pork recipe, or perhaps you just want to grab a spoon and tuck in. There's no judgement here.
Grilled Whiskey Glazed Cedar Plank Salmon
Cooking salmon on cedar wood is a grilling method that's been around for years, and if it ain't broke don't fix it.
It's one surefire way to take your fish from run-of-the-mill oven meal to beautifully crafted backyard centerpiece.
I've written about how to cold smoke salmon, which is probably my favorite way of preparing the fish, but this way of grilling it is a close second.
This recipe calls on whiskey and seasoning to craft a deliciously nuanced cut of pink fish.
Grilled Potato Skins
If grilled potato wedges are your favorite then this Irish spin on it might be a new rival to the throne.
These twice baked potatoes are filled with mashed potato, sour cream, and bacon to create a delicious appetizer that's sure to be a hit.
They can be made ahead of time, and can be served alongside almost anything at your next BBQ.
What more could you want?
Guinness BBQ Pork Ribs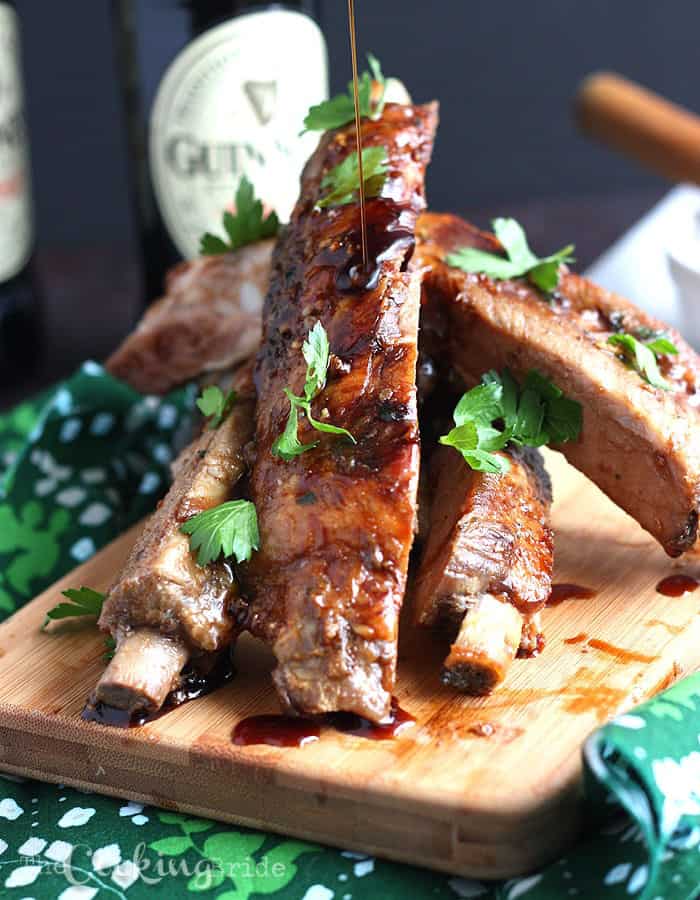 If you want a recipe that has a good BBQ sauce alternative for pork ribs then this might be the one for you.
These ribs are marinated overnight in Guinness to make them practically dripping in rich flavor. They're then finished with a honey and soy sauce glaze to make this set of ribs seriously addictive.
This recipe actually lays out how to cook them in the oven, but if you want to barbecue them I recommend simply smoking them for about 4 hours at 225°F.
Irish Nachos
Yep, you read that right: Irish nachos.
Anything classified as 'pub food' has my immediate attention, but if that food is also an Irish take on nachos then I'm fully on board before I even know what's in it.
Luckily, this recipe does not disappoint.
With a topping of sour cream, salsa and fresh herbs sitting on a bed of sliced russet potatoes, there's so much to love here.
Corned Beef and Cabbage Sliders
Grilled beef sliders make for a great BBQ party appetizer, and with a corned beef filling I couldn't pass up the opportunity to include these on this list.
Becky's recipe is made with beef brisket, diced potatoes and onion, before being topped with a Guinness Mustard. The perfect St Patrick's day BBQ recipe.
Guinness Braised Short Rib Tacos
Yet another example of how Guinness is more than just a stout. It can be transformed into an everyday ingredient to be used with practically anything.
Served with stout braised cabbage and pork short rib, there's a punch of Irish flavor served in each tortilla.
Grilled Bangers and Mash
My British upbringing might make me biased, but anything served over bangers and mash is immediately going on the list.
Also a favorite in Ireland, there aren't many dishes that are satisfying as this to eat in the winter or spring.
I mean, sausages and mashed potato? You can't go wrong.
Any excuse to grill sausages, and I'm all over it. From grilled sausage sandwiches to sausage stew, there aren't many meats that are as satisfying as this.
For this recipe, the sausages are cooked over high heat on the grill and served with grilled onions. They're then served on a bed of mash and drowned in a butter gravy.