Smoked hot dog burnt ends are the perfect dish if you want to smoke something cheap and easy. Smoked in just 90 minutes, this take on barbecue hot dogs is sweet, spicy and a classic party appetizer.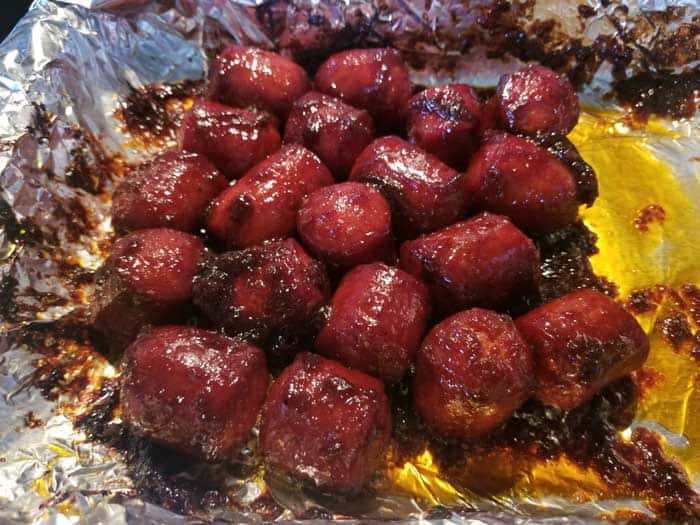 Classic barbecue smoked dishes require hours of careful planning, meat prep, and smoking. But sometimes you just want something quick and easy for a crowd, and that's where this smoked hot dog burnt ends recipe steps in.
Costing little more than a packet of standard-issue hot dogs, and topped with a handful of everyday ingredients, this is one of the easiest smoking recipes I can think of. Perfect for smoking newcomers, as well as seasoned pros who just want something painless.
What Are Hot Dog Burnt Ends?
Smoked hot dogs burnt ends are essentially regular frankfurter or hot dog sausages, served in chopped up pieces. They're smoked whole before being chopped up and cooked in a bath of butter, sugar, and BBQ sauce for a further period of time. This allows the middle of the sausage to be rich and moist, while the outside is caramelized and delicious. Yeah, it's good.
This crust on top of the final dish creates a beautiful balance. On the inside of the sausage, you have a juicy flavorful pork, and on the outside, you have a crispy, sugary crunch.
You might be familiar with brisket burnt ends, which is the more traditional take on 'BBQ burnt ends'. The fatty point end of the brisket is repurposed and turned into a BBQ snack by chopping up the discarded meat and smoking it.
While they are taken from completely different cuts of meat, the end result for both is snack-size meaty cubes. Both are caramelized, juicy, and downright addictive. The advantage of using hot dogs is that, while a beef brisket can take an entire afternoon to smoke, hot dog burnt ends only need 90 minutes. Easy.
How to Smoke Hot Dog Burnt Ends
This smoking recipe is in two distinct phases. The first involves smoking the hot dogs whole for an hour, seasoned in a blend of yellow mustard and BBQ dry rub. This will allow the meat inside the sausage to slowly come to temperature without drying out.
The second phase is done by chopping the hot dogs into inch-long pieces, and putting them in a butter bath, topped with brown sugar and BBQ sauce. This is then cooked at a high temperature, allowing the butter to melt and the sugar to caramelize.
Wood Chips
While wood chips are often reserved for longer smokes, you can still have some fun here. Cherry wood will have a strong impact in just one hour, adding a sweet flavor to your sausage. What I really love about cherry wood though is the layer of red it will add to the meat. Look at it!
If the sweetness of the color of cherry isn't to your liking, a little bit of oak mixed with pecan can help add a subtle and deep aroma.
Avoid strong and robust woods like hickory or mesquite. They're just too much for this kind of meat, and will overwhelm your final serving of food.
Quick Tip
While the mustard and dry rub seasoning should help to stop the meat from sticking to the smoker or grill grates, it can happen. For the best results, make sure that your smoker is clean and try brushing a thin layer of oil on the grates. Use an oil with a high smoking point, like sunflower or palm oil.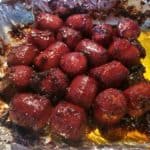 Smoked Hot Dog Burnt Ends
Smoked in just 90 minutes, this take on barbecue hot dogs is sweet, spicy and a classic party appetizer.
Print Recipe
Pin Recipe
Equipment
Aluminum pan or baking tray
Ingredients
1

pack

hot dogs

½

cup

BBQ sauce

2

tbsp

butter

¼

cup

brown sugar
Seasoning
2

tbsp

mustard

2

tbsp

dry rub
Instructions
Fire up your smoker to 225°F (107°C). If you are using a charcoal grill, set it up for 2-zone cooking/indirect grilling.

Use a basting brush to apply the mustard to the hot dogs, covering in a thin layer. Sprinkle dry rub over hot dogs, with mustard acting as an adhesive.

Place hot dogs on smoker grates. Smoke for one hour.

Remove the hot dogs from the smoker and cut each sausage into 1-inch pieces.

Put hot dog pieces in an aluminum pan or baking tray. Add the butter, allowing it to melt over the pieces. Mix in the brown sugar and BBQ sauce with a spoon.

Place the pan or tray back in the smoker. Increase temperature to 350°F-400°F (176°C-204°C). Cook for a further 20 minutes, or until the butter has completely melted, and sugar has caramelized on top.

Remove from smoker. Apply more BBQ sauce on top if needed. Serve and enjoy.