Memphis-style barbecue's deep-rooted history and uniquely sweet and spicy blend of flavors make it one of the world's best cuisines. Discover just what makes it so special.
North American barbecue boasts four main regional styles: Texas, Carolina, Kansas City, and Memphis Style. Each of these American BBQ styles has its own go-to meats, cooking techniques, and flavor bases that make them all equally as delicious but very different.
Today we're going to take a closer look at Memphis-style barbecue – how it came into being, its most fundamental features, and how it gave rise to the most prestigious barbecuing competition in the world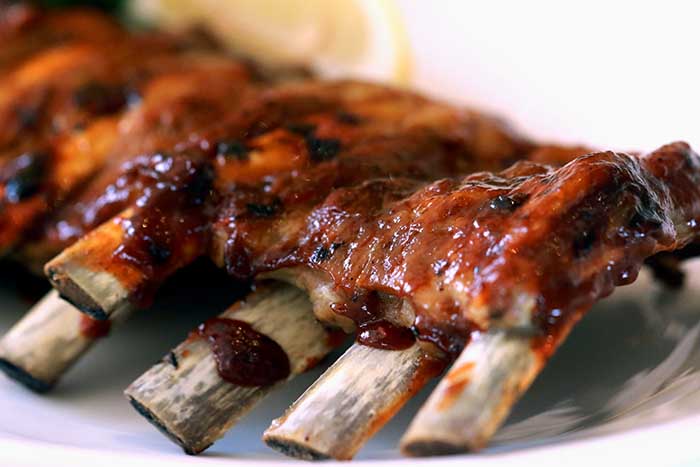 What is Memphis Style BBQ?
Memphis-style barbecue can be summed up in just a few words: Flavourful, tender, fall-off-the-bone pork. Memphians love to slow cook their pork, their main bbq meat of choice, over a charcoal-fired pit with hickory wood for that extra smoke.
The pork is prepared with dry rubs, although you won't find many people wanting to share their secret spice recipe! As a general rule, most true Memphis-style rubs will be paprika and chili-based to help bring out those smokey flavors and give it a bit of a kick.
History
Memphis was founded as a city in 1819. Situated on the banks of the Mississippi, it became a popular port for cotton trade as well as some Memphis barbecue staples: Molasses and hardwood.
Pork had always been an affordable meat, especially around the southern parts of the Mississippi after domesticated pigs were introduced in the mid-1500s by Spanish explorers.
Add that abundance of pork to the sweet flavor of molasses, the savory smell of hickory wood smoke, and the need for people to make money in a post-WW2 era – and you've got the perfect mix of ingredients to birth the traditional Memphis-style barbecue we know and love today.
The barbecue scene started small, with little grill joints popping up all over the place, especially in lower-income areas, as it was a cheap and viable business for people to venture into.
The more popular certain joints became, the more refined the barbecue style and recipes became. By the late 1940s, diners that would soon become landmarks, such as Charlie Vergos Rendezvous, started opening and further solidified Memphis as the only place to go to get a proper smoked pork meal.
Fast forward another decade or so, and we see the state of Tennessee become famous worldwide for its influence on the music industry. Not only did they have Sun Records in Memphis, signing the likes of Elvis, Roy Orbison, and Johny Cash, but they also had the neighboring city of Nashville becoming the hub of country music.
In 1977 they brought music and good eating together with the first 'Memphis in May' event, a month-long festival with activities happening all over town celebrating everything the city had become best known for.
1978 saw the launch of the first World Championship Barbecue Cooking Contest (WCBCC) during that year's Memphis in May festival. The rest, as they say, is history!
The World Championship Barbecue Cooking Contest
The WCBCC is the largest pork barbecue competition in the world, with more than 250 teams from several countries competing, over 100,000 people flocking to the city for the event, and even garnering media coverage from the BBC and The Food Network.
Memphis BBQ Traditions
Using a Dry Rub
Most Memphians will keep their own dry rub recipes a closely guarded secret, but they will generally consist of a paprika base along with black pepper or brown sugar as it not only creates a delicious flavor but also helps to give the smoked pork a rich red hue.
Mopping The Meat
Mopping is a technique often used in Memphis-style barbecue to help keep meat tender while cooking and add even more flavor. You create a 'mop' by mixing the dry rub with a bit of water to create a thin sauce that can be applied to the cooking meat every 30 minutes or so.
Slow-Cooked Over a Hickory Smoke
The wood of choice for traditional Memphis barbecue is hickory as it has a strong, savory, almost bacon-like (according to some) flavor that pairs beautifully with pork.
Spare Ribs (Cut St. Louis Style)
It's essential to get the right cut of meat when attempting your own Memphis-style barbecue feast. One of the most popular dishes for the style is arguably slow-smoked ribs, but for that authentic Memphis vibe, you'll want to get spare ribs cut in a St. Louis style.
St. Louis-style ribs start off as a traditional spare rib cut but are trimmed down (the rib tips, cartilage, and sternum are removed) to give them a more rectangular and uniform shape that is easier to cook and eat. For barbecue, smoked St Louis ribs are then cooked low and slow for five hours, before being basted in BBQ sauce and smoked for a further hour. It's a long time, but the results are well worth it.
Classic Memphis Barbecue Dishes
Every region has its defining dishes, and Memphis is no different. These staples all help define the region as one of the best in the world.
Dry or Wet Ribs
Ribs are THE Memphis barbecue staple but did you know you can get them 'dry' or 'wet'?
Dry ribs are covered in a dry rub of spices before cooking, which helps to give them a tasty crust, and are typically eaten without sauce (although it doesn't hurt to have a little on the side in case you want to dip!)
Wet ribs are covered in the same spice mix as dry rub ribs, except the spice mix is added to a liquid base to create a 'mop' that is added to the meat before and during cooking to keep it moist.
Barbecue Sauce
You can cook your pork perfectly, but it's not true barbecue unless you've got the right sauce.
The traditional Memphis barbecue sauce is thinner and tangier than most other barbecue sauces but still has a delicious sweetness.
The tart tanginess comes from its base of tomatoes and vinegar, while the sweetness is added by brown sugar or molasses (which also gives it its signature dark hue).
Don't Forget the Sides!
BBQ might be all about the meat, but you can't do Memphis BBQ without the addition of some classic sides such as coleslaw, barbecue baked beans, and cornbread.
Famous Memphis Barbecue Establishments
If you're hankering for some authentic Memphis barbecue and happen to find yourself in the city, here are some of the best barbecue restaurants to visit.
Central BBQ
Central BBQ has three locations throughout the city, but the original (and arguably the best) is located in Midtown on Central Avenue. They slow cook their meats at 250°F for 14 hours, and it's always tender and moist but with a delicious crust.
'Must-Try' Menu Item: Pulled Pork Nachos and Potato chips with blue cheese dressing
Charlie Vergos' Rendezvous
Originally starting as a street vendor selling pork sandwiches and 'slaw, Charlie opened his famous back alley barbecue diner in Downtown Memphis in 1948. It's the only location that has ever been opened, so you can imagine how busy it gets with the mix of locals and tourists alike all trying to get a table. Book ahead if you can; if not, there is always a chance to sit in the bar and soak up the ambiance of this busy barbecue landmark.
'Must Try' Menu Item: Sausage and Cheese Platter
Jim Neely's Interstate Bar-B-Que
Situated in the Graceland area of Memphis, if you're taking a visit to the former home of the King himself, then it's well worth a visit to Jim Neely's. Offering a wide menu of barbecue favorites and the secret family recipe BBQ sauce, you can stop by for lunch, dinner, take-out, or even drive-thru.
'Must Try' Menu Item: Barbecue Spaghetti (pulled pork and sauce mixed with spaghetti noodles)
Germantown Commissary
As the name suggests, this bastion of barbecue is located in downtown Germantown in an old traditional country store. Don't let the tiny building fool you; the food served here is big on flavor. Try to book a table if you can, as seats fill up quickly with tourists and locals all trying to get a spot at this top barbecue eatery.
'Must Try' Menu Item: Smoked sausage or Pork Tamales and the Coconut Cream Pie.