North Carolina barbecue combines a love of smoked pulled pork with unique sauces to create the state's iconic regional style. Find out everything you need to know about North Carolina BBQ today.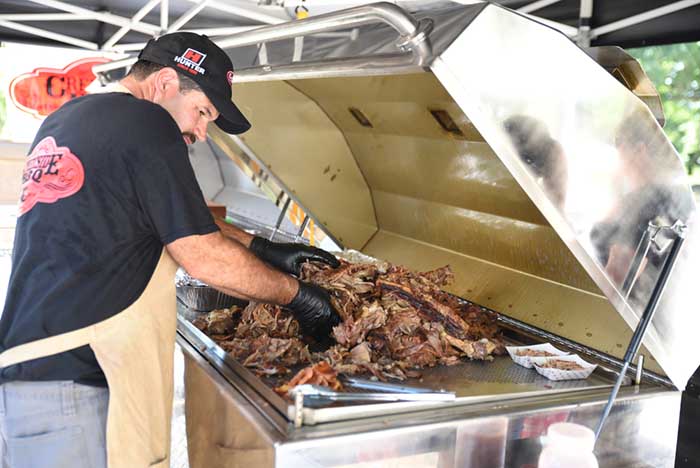 It's generally agreed that when it comes to American BBQ, there are four main regional styles: Kansas City, Texas, Memphis, and North Carolina. Each style is distinct in its own way and steeped in history and heritage, but none seem to be as divisive as North Carolina's.
Let's take a closer look at the traditions, rules, and rivalries of this classic barbecue style.
What is North Carolina Style Barbecue?
North Carolina-style barbecue has a basis of slow-smoked barbecue pork, served with a vinegar-based sauce. Barbecuing is a valued culinary tradition in the Carolinas and comes with some pretty strict rules on what they believe makes for the most authentic dish.
How is North Carolina style different from South Carolina?
Both the Carolinas agree that pork is the ultimate meat when it comes to barbecue and that it has to be slow smoked over hardwood coals, but apart from that, they have some pretty distinct views!
In North Carolina, you have two traditional vinegar-based sauces, but in South Carolina, you'll have a choice of four to choose from – Mustard, Heavy Tomato, Light Tomato, and Vinegar & Pepper.
There's also a different choice in side dishes depending on what state you're in. Coleslaw, baked beans, hush puppies, and mac & cheese will be served in both, but North Carolina has an additional specialty side dish called Brunswick stew, and South Carolina likes to serve barbecue hash.
History
Barbecue was brought to the Carolinas by Sir Walter Raleigh in the late 16th century. An expedition team he sent to the North Carolina coast returned with sketches showing how Croatan natives cooked their fish over an open fire, supported on a wooden frame called a Barbacoa.
This simple but brilliant idea for cooking meat became a popular cooking method. Once domesticated pigs were introduced to the Americas, it was only a matter of time before barbecued pork became the most convenient way to eat.
The East/West Divide
What's the point of having a historic culinary tradition if you don't also have some healthy statewide rivalry? At some point along the way, North Carolina BBQ diverged to create the Eastern and Western styles.
Eastern Style
Eastern-style barbecue uses the whole hog (the locals joke that they use 'every part of the hog except the squeal') with a thin vinegar and pepper-based sauce. The sauce can be used as a mop while cooking and also as a seasoning afterward. The pork will come served chopped and often with a mayonnaise-based coleslaw. Eastern style is considered to be the 'original' recipe for North Carolina barbecue.
Lexington Style
Lexington style (sometimes called Western or Piedmont style) just uses the pork shoulder cut of the pig to make pulled pork and uses a red sauce mop made from vinegar, tomato, and red pepper flakes. This sauce also acts as an alternative to mayonnaise for their Lexington-style coleslaw.
Lexington style became popular around the First World War when pork shoulder was affordable and, compared to a whole side of the steer, a more manageable meat cut to work with.
The addition of tomato to the sauce recipe is credited to a group of men with German ancestry who were trying to recreate the sweet and sour tasting pork dish often served in parts of Bavaria.
Classic North Carolina Barbecue Dishes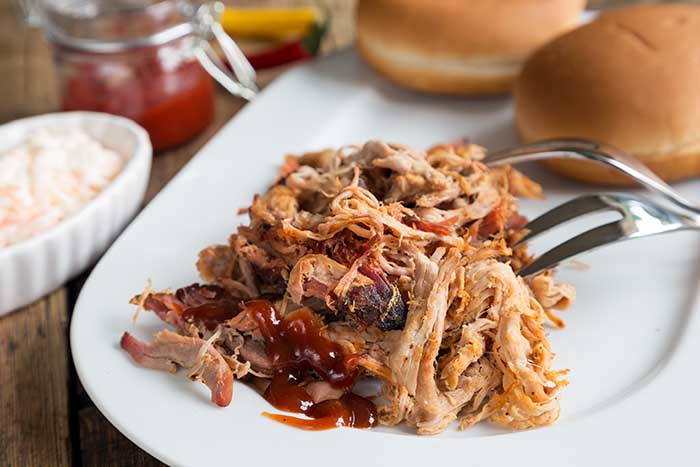 Pulled Pork Plate
The classic way for North Carolina barbecue to be served is as a 'plate'. You get your serving of pork, either chopped or shredded, with the addition of some traditional sides.
Collard Greens
Collard greens are a staple side to barbecue dishes in both North and South Carolina. To get the most authentic Carolina taste, collard greens need to be slow cooked in a simmer pot with ham hock, onions, and garlic. Once it's well cooked, the ham is removed, the meat chopped, and then added back into the pot. To serve, the mix is transferred into a bowl with a good amount of the remaining liquid (known as potlikker) from the pot and a side of cornbread is added to help mop up all that delicious juice.
Hush Puppies
Hush puppies are pieces of deep-fried cornbread and look a bit like a donut hole! They are the perfect savory accompaniment to any barbecue meat and also go well with honey butter.
Brunswick Stew
Brunswick stew is a North Carolina specialty and a bit of a one-pot wonder dish. It's a thick stew made up of pork, chicken, butter beans, tomatoes, potatoes, creamed corn, and whatever else the chef might decide to chuck in! Back when the recipe was first invented, it was a way to use whatever you had to hand, and that's something that many people have continued with today while adding whatever local and in-season ingredients they have to hand.
Mop Sauce
The best way to elevate any rack of ribs, applying a generous helping of mop sauce can add a beautiful layer of sweetness and heat to any outdoor platter. Our BBQ mop sauce recipe combines a cider vinegar base with hot sauce and red pepper flakes to create that perfect balance.
Famous North Carolina Barbecue Establishments
As you can imagine, barbecue restaurants are ten to the dozen in most North Carolina towns, so being crowned as one of the best is not something that is easy to come by, and it's a serious accolade to win.
In fact, it's taken so seriously that the North Carolina Barbecue Society (NCBS) has designed a Barbecue Trail featuring 20 pit stops that show off the best barbecue the state has to offer. And it's not just any old establishment that gets to display an NCBS plaque either – there are strict criteria that they need to meet!
To be part of the NCBS Historic Barbecue Trail, they have to:
Cook their meats on pits fuelled by wood or charcoal
Been operating as a food service establishment continuously for twelve years or more
Make their own sauces
Serve authentic North Carolina-style BBQ
Be in good standing with the local community and the overall barbecue industry
Here are just a few of the North Carolina Barbecue establishments highlighted on the trail.
The Skylight Inn – Ayden, NC
The Skylight Inn has been cooking Eastern-style NC barbecue quince 1947. It's not a big establishment by any means, but their small menu highlights of pork sandwiches, sides of slaw and cornbread, iced tea, and banana pudding have still won them a plethora of awards and mentions on TV.
Stamey's Barbecue – Greensboro, NC
Stamey's was founded in 1930 and is still run by the founder's family. They are famous for their Lexington-style pork that is cooked for 8-10 hours by their dedicated pit masters and their secret family recipe barbecue sauce.
Wilber's Barbecue – Goldsboro, NC
Wilber's is the ultimate 'whole hog' barbecue. Opened in 1962, they've stuck with the traditional way of cooking, and their pigs are smoked overnight on embers to get the perfect taste.
North Carolina BBQ Traditions
Pit Style BBQ
For a true North Carolina BBQ flavor, meat has to be cooked over a wood or charcoal pit for at least 8-10 hours. In a lot of popular eateries, the pit masters will start work in the early morning to get the pits going and make sure they are ready for a full day of smoking.
Vinegar Based Sauces
Regardless of what side of the state they're from, all North Carolinians can agree that a proper BBQ sauce starts off with a vinegar base.