Make one of the world's best types of sausage with our guide to Spanish and Mexican chorizo. Learn times, temps and woods with our recipe and guide. Here's how to smoke chorizo.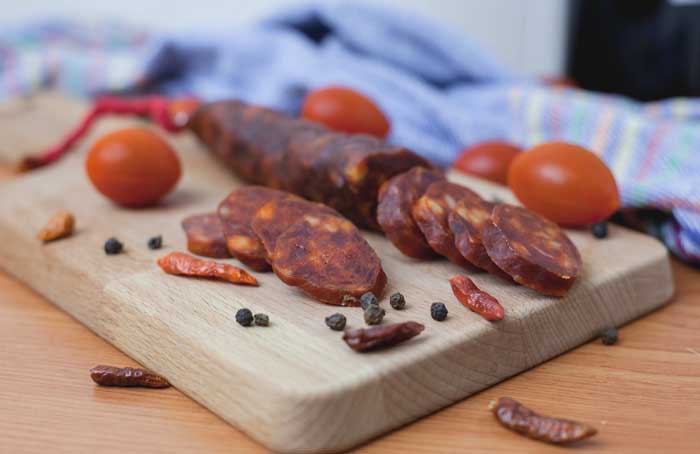 Chorizo is quite an ambiguous word. In Spain, it's several sausages all of which contain smoked paprika, which gives them a bright red color. In Latin America, it is used more widely, referring to different sausages that have nothing to do with Spanish chorizo.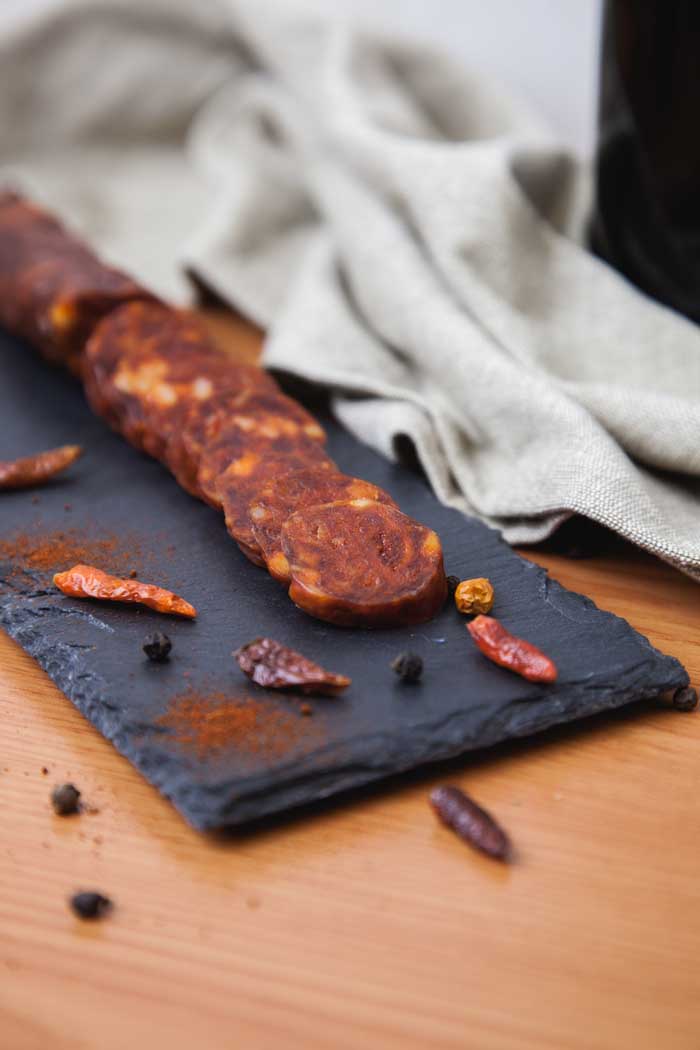 The two chorizos
Before continuing, I must clear out that there are literally hundreds of different chorizos. Only in Spain, there are about 20 different ways of making chorizo (it just means sausage with smoked paprika and garlic). In Latin America, almost every single country has its own chorizo.
So in this article, I'll talk about the two most popular styles of chorizo. So what's the difference between them?
Mexican chorizo
Mexican chorizo is a spicy sausage usually made of pork, although it can be made with other meats like beef. It must be cooked before eating and is sold either loose or in a casing.
Most of the time you will be cooking it outside of the casing, crumbling it in a pan. It can be served in tacos, as a topping (for nachos), for stuffing, etc. Its uses are almost infinite.
Spanish chorizo
Spanish chorizo is a dried and cured sausage made of pork meat (and fat). It is found in mainly two variants: sweet and spicy. This is due to the use of, respectively, sweet or spicy smoked paprika, which gives it its characteristic red color.
You don't have to cook it before eating; you can enjoy it fresh. It has a dense texture, unlike other sausages. Spanish chorizo can be added to stews to give them a rich and intense flavor.
Choosing the meat
If you're planning to make your own chorizo, you must also take care of the meat and fat you are actually using. This is one of the biggest advantages of making it your own: you know what your chorizo is made of.
For this article's purpose, I'll talk about pork meat as it's used in both Spanish and Mexican chorizo.
For both sausages, we want to go for about 25% fat, 75% lean meat. Mexican style is a bit fattier so you can go up to 27%-30% with the fat. You can ask your butcher for the fat.
For the meat, you just want to keep that ratio. It doesn't matter too much which cuts you choose, but there's no need in using expensive ones. The chorizo was originally a way of using the leftovers, it's grounded and heavily spiced. I'm sorry, but you won't taste any of your 200$ steak so don't make chorizo out of it.
Pork shoulder is good to go, it's a cheap cut that maintains the fat to meat ratio. Otherwise, use lean meat and fat.
Preparing the sausage
Now, I'll split the recipe in half for Mexican and Spanish chorizo, as they're quite different. In both cases, remember to wash your casings, rinse them with cold water.
Mexican chorizo
Take 2 lbs of pork shoulder (or 1.5 lb of meat, 0.5 lb of fat) and dice it. You can freeze them so they will pass through the grinder more easily. Go for a coarse grind, about 8 mm will be fine.
Then, throw the meat into a bowl and combine with the following spices:
1 tbsp paprika
1 tsp cayenne pepper
1 tbsp garlic powder
1 tbsp ground cumin
1 tsp ground coriander
¼ tsp ground cloves
1/2 tsp ground cinnamon
1 tsp oregano
1/2 tsp thyme
1 tsp salt
1/2 tsp ground black pepper
3 tbsp apple cider vinegar
You can use your hands, but a stand mixer is fine as well. You should use a dough hook instead of the whisk as meat is quite heavy. Make sure it's all mixed well, it should look a bit sticky.
I recommend using either hog or sheep casing, they are cheap, good, and easy to find. You can now fill your casing. Go for the size you want, but I recommend you keep a manageable size so you can use just as much as you need and not more.
Use a paper towel to pat the chorizo dry and then let it hanging in a cool place for about one hour.
Now you can move to smoking. Chorizo already has a strong flavor, so you can use whatever wood you want. Personally I'd recommend oak or apple, a mild and sweet flavor.
You want to go at a low temperature (200F) until they reach an internal temperature of 150F. The time will depend on your smoker and the size of your sausage, but it should take approximately 2 hours.
Once they're done, you can already use it for whatever recipe you want. Stir fry it and throw it in some tacos or maybe grill it for a while and eat it with some eggs for a Mexican-style breakfast.
Spanish chorizo
Spanish chorizo is a dry and cured sausage. For this time we'll simplify the process a little but it will still take some specialized equipment: a cold smoker. Although it's quite specific, it's not expensive and you probably can even improvise one yourself. This recipe makes for 2,75 lbs of sausage, or a little less than 2m.
Take 2,5 lbs of pork shoulder (or 2lbs lean meat and 0.5 lb fat) and put it through a meat grinder using a 5mm plate. Put it into a bowl and let it rest in the refrigerator. Then combine the following ingredients:
2 tbsp cold water
1 tbsp smoked paprika
1 tbsp mild chili powder
2 tsp golden syrup (corn syrup)
2 tsp salt
1 tsp cayenne
1/2 tsp garlic powder
1/2 tsp curing salt
Let them rest in another bowl in the refrigerator for 30 minutes until both are completely chilled. Then, take them out, mix the seasoning and the meat and knead for 5 minutes until it's all well combined and a bit sticky.
For this chorizo, I recommend using hog or sheep casings. Put your casing in your stuffer and fill it in. You should end up with about 12 links. Try your best at making them the same size. Let your sausages rest in the refrigerator overnight.
This is very important: weigh one of your sausages and mark it. We'll check later if they're done by lost weight.
Next day, set your smoker at 140F and hang your sausages until they're dry on the outside. Next, cold smoke them at the lowest possible temperature. Make sure to let the air flow (vents open). We'll let them cold smoke for 2 hours.
Now we'll raise the temperature fo the smoker up to 175F and let them smoke for about one hour. You want to reach an internal temperature of 160F. Once you do, take your marked link out and weigh it.
You want a weight loss of 25-35%. If it has not lost 25% of its weight let it smoke for longer. Don't worry if it takes a couple more hours, it's normal.
Your Spanish smoked chorizo is done! Let it rest for a while before putting it in the refrigerator, then slice it and eat it or use it in some recipes like the famous Spanish "tortilla de chorizo".
Want to hot smoke your chorizo? Check out our guide on how to smoke sausage