The best way to smoke pork Boston butt. Cooked low and slow for hours over apple and hickory for the ultimate cut of barbecue pork.
Today we're doing away with brines and marinades, and just keeping it simple. There aren't many types of smoking meat that are more simple than pork butt.
It's rich in fat content, which makes it less vulnerable to temperature fluctuations than other cuts of meat. This makes it a great meat for smoking beginners, but is also a great option if you just want to chuck a cut of meat on the smoker and let the heat do its thing.
What You Will Need
A barbecue smoker. For the best results, I always rely on my offset or pellet smoker, but any kind of smoker will do. This includes electric and propane.
A 10lb Boston butt. Terminology can get a little confusing here, but 'Boston Butt' is just another name for pork butt, which in itself is just a cut taken from the top part of the shoulder. There are some key differences between pork butt and pork shoulder, so make sure that you don't buy a pure shoulder cut.
A smoker thermometer. Like with most smoking meats, pork butt isn't cooked until the internal temperature is just right. The best way to gauge this is to use a good smoker thermometer. Digital is best, and one with a meat probe built-in.
Aluminum foil. We will need to wrap the pork butt during smoking (more on this later). If you don't have foil then butcher paper will also do.
How to Choose the Best Pork Butt for Smoking
If you're going to spend 8 hours slow smoking meat, then you should also take the extra time to make sure you're choosing the best cut of pork possible. Here are a couple of things to look out for.
Marbling
A good level of fat marbling running through the meat is important. This will slow render as you cook the pork, which will infuse the meat with moisture and flavor.
Free-Range
One of the best ways to make sure that your pork is good quality is to only buy meat that's reared humanely. While this can be a daunting prospect, some keywords that often accompany the packaging on humane pork include natural, grass-fed, and organic. Keep a look out for anything that's labelled as Certified Humane, USDA Organic, or Animal Welfare Approved. These are often the best assurance that you are buying quality, ethically sourced meat (source).
How to Prepare Pork Butt
One of the best things about pork butt is how simple it is. Unlike a cut like beef brisket, you shouldn't need to do any trimming.
Simply remove the butt from its packaging and place in a cooking pan or tray. Use some paper towels to pat it down to remove any excess moisture.
Apply your binding agent over the entire surface of the pork butt. In this recipe I've used yellow mustard, but you can also use olive oil, apple juice, or apple cider vinegar. Anything that can help bind our BBQ rub to the meat without overpowering it. I like yellow mustard because it's a great binder, and adds a slight smoky sweetness to the meat as it smokes.
Once the binding agent is in place, apply the BBQ rub. I'm using my go-to pork dry rub recipe, but you can also use a store-bought option like the Killer Hogs. It has a great balance of sweet, spice, and smoke, and goes great with smoked pork cuts. Check it out here.
Apply the rub evenly all over the pork butt. Don't go overboard, and make sure that you can still see the meat through the rub and binding agent.
After the yellow mustard and BBQ rub, we're good to go.
Prepare Your Smoker
Heat up your smoker, aiming for a cooking temperature of 225°F (107°C). If you overshoot this a bit, don't worry. Anything up to 250°F (120°C) is ok.
If you have a pellet, propane, or electric smoker then it should be fairly straightforward to reach your cooking temperature. If you're cooking with charcoal, you might need a bit of time to hone in on that temperature. Be sure to allow yourself long enough to hit that mark.
What Wood Is Best for Smoking Pork Butt?
The best woods for smoking pork with tend to be sweet and fruity notes. This includes apple, maple, and pecan.
For this recipe I'm using apple wood, and adding a single chunk of hickory to add a touch more smoke to the flavor. If you decide to do the same, make sure you don't go overboard with the hickory. Any more than one chunk can risk overpowering the flavor of the pork.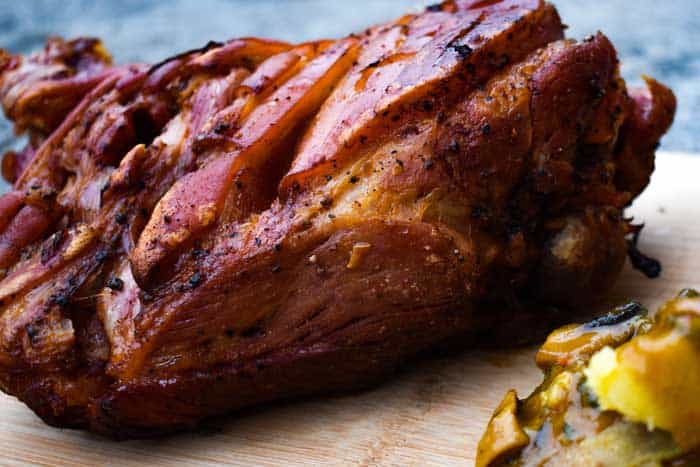 How to Smoke Boston Butt
Transfer the pork butt to your smoker racks. Just like with brisket, we want the side with the thickest layer of fat facing the heat source. This is so that the meat is protected from direct exposure to the heat, helping to slowly come to temperature and stay moist. In the case of most smokers, this means smoking the pork butt fat-side down.
Add your wood to your firebox (or wherever your wood chips should go in your smoker), and close the lid. Cook for about three hours, until your pork butt has started to develop a nice mahogany color and bark on it.
Combine apple cider vinegar and water in a food-safe spritz or spray bottle. From this point, spritz the pork butt every 30 minutes. Smoke for a further 1-2 hours, until the internal temperature of the pork has hit close to 165°F. At this point, it will have come out of the pork butt stall and is ready to wrap.
Wrap the pork butt in 2-3 layers of aluminum foil, and baste with spritz solution. Sprinkle a little more BBQ rub on top. Wrap tightly shut, and transfer back to smoker.
Smoke until pork internal temperature has reached 195°F. This will vary depending on the size of the meat, but should be about 2-3 hours further.
Once it's reached our target temperature, remove it from the smoker and allow the pork butt to rest (still in the foil) for 30 minutes. This will allow the juices in the meat to redistribute and present you with a beautifully tender finished product.
Carefully remove from foil, and drain away any excess juice that's gathered at the bottom of the aluminum foil pouch. Shred or pull the pork to your liking, and serve up! If you have any remaining then be sure to store it correctly, and you can use them with any of my leftover pulled pork recipes.
Quick Tips
Ensure the best possible smoked pork butt with our quick barbecue tips.
Avoid dry pork butt by spraying the meat with spritz every 30 minutes on the smoker. You can use apple juice, water, or even beer. For our pork butt spritz, we use a mix of apple cider vinegar and water (instructions in the recipe below).