Grilling shouldn't stop in the colder months. Here are 23 fantastic winter BBQ ideas so that you keep grilling all year round.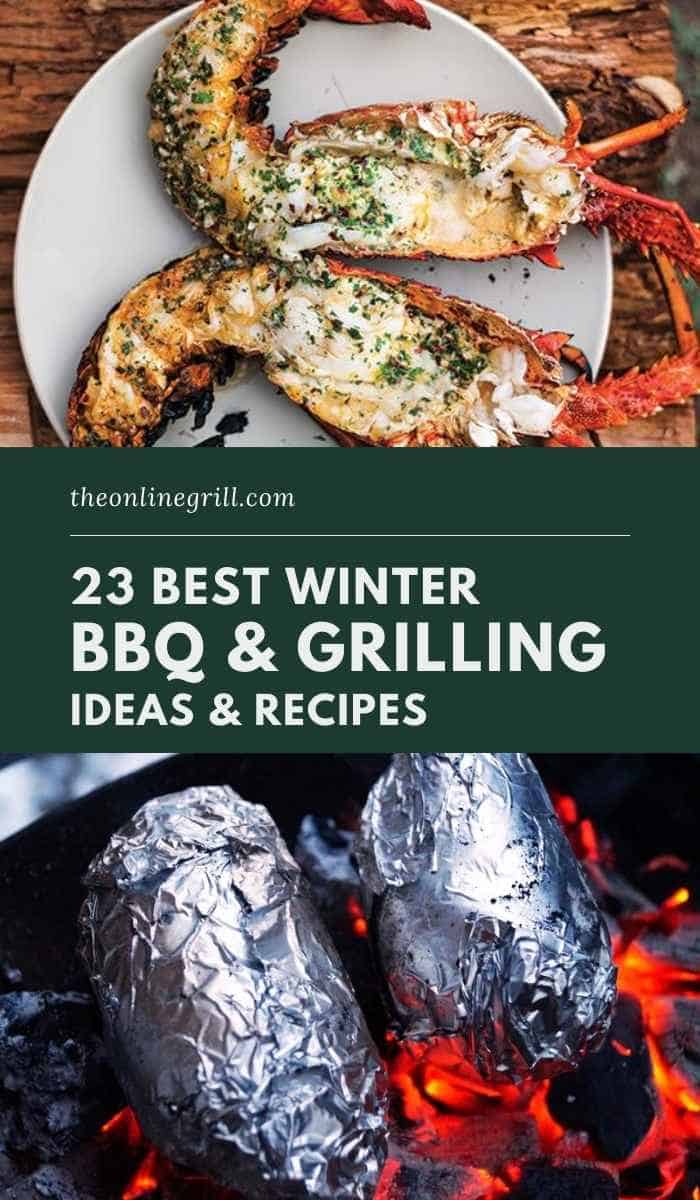 Why should barbecue just be a summer thing? Wouldn't it be great to recreate that chilled barbecue vibe on a crisp midwinter afternoon? Although buying a BBQ grill doesn't mean you have to eat outdoors (you can still use paper plates to save on washing up)!
Master winter grilling with these best delicious and quick winter BBQ ideas that cater to all tastes and dietary requirements.
Don't see something you like? Check out our other best grilling recipes.
Coca Cola BBQ Ribs
A sweet twist on traditional ribs, these ribs use coca cola for flavor. The sauce uses butter, onion, garlic, ketchup, mustard, brown sugar, Worcestershire sauce, and coca-cola. All of these mix perfectly for a tasty homemade barbecue sauce.
To make the ribs, you marinade them in a coca-cola mixture, make your sauce, and then grill the ribs and serve with the sauce for a perfect rib recipe.
Spicy Honey Glazed Chicken and Sweet Potato Kebabs
Another glazed wonder and effectively a meal on a stick, the secret to these delicious kebabs is the combination of seven different spices in the glaze.
Perhaps you could invent your own secret spice combination that will one day be as renowned as the heavily guarded secret KFC spices!
BBQ Onion Meatball Bombs
The neat thing about this recipe is it can easily be adapted to include everyone's favourite meat (although a combination of beef, pork and veal is delicious) and you can use gluten-free breadcrumbs.
It is super quick too. Just be careful not to drop one or the dog will wolf it down before you can say 'meatballs'.
Start your meatball adventure here.
Mexican Chicken Skewers with Rice and Picante Salsa
Chicken fresh off the grill is one of my favorite BBQ dishes, and I love this Mexican take on it.
For a tasty and colorful option you can't go wrong with these chargrilled skewers. The word 'barbecue' comes from the Spanish word 'barbacoa' so it's very fitting to include at least one Mexican dish!
If you're worried about folks being hungry, you can just add a bigger bed of rice. 'Picante' means 'spicy' so this Mexican chicken will keep your mouth warm at your winter BBQ.
Fresh Pumpkin Cornbread
Did you know pumpkins have been grown in North America for over 5000 years? You can cut corners by buying in canned pumpkin for this airy cornbread recipe.
For future reference, you can also freeze the pulp from your Halloween pumpkins for up to 6 months! This cornbread also makes a great accompaniment to hearty winter stew.
Fireball Cinnamon Whiskey Glazed Chicken
Yes, this is the one we dared you to try. The glaze obsession continues – but what a glaze! It can be made ahead of time (make plenty in case you want to 'check the flavor' and we guarantee it will go down a treat, particular with spirit lovers!
For anyone who likes Fireball Whiskey, this sauce pairs it perfectly with grilled chicken. Even better, the sauce can be prepared ahead of time and refrigerated.
To make the sauce, heat up ketchup, red pepper jelly, sugar, cider vinegar, cayenne, Fireball Whiskey, and salt and pepper. Once it has simmered for a few minutes, glaze the chicken and grill your chicken and it is ready to go. This recipe is so easy to make and tastes so good, it can't be beat.
Maple Glazed Bacon Wrapped Roasted Carrots
You will get your money's worth out of this recipe as these sumptuous carrots in bacon blankets also make a great side dish all year round. The sweet, salty, crunchy and soft combination is a winner, and a sneaky way of getting veg down the little ones. They had me at 'glazed'.
Ginger Chilli Lime Chicken
This hearty dish is cheap, quick and cheerful and involves caramelized chicken thighs with a kick of ginger, chilli and lime. If you want to be organised you should ideally marinate for 4 hours, but between you and me, you can cheat and just marinate for an hour and it still tastes awesome.
​Put some zest into your BBQ here
BBQ Chicken Bacon Pineapple Kabobs
This sweet and salty combination of bacon and pineapple perfectly complements the chicken and is very quick to rustle up, requiring very few ingredients. These always go down well with the children!
​Find out how to make them here
Mexican Street Corn Elotes
It's good to have some veggie options and you can't have a BBQ without some corn on the cob. The beauty of this Mexican street food staple is that your guests can add their preferred topping to suit their own taste. Don't forget the toothpicks.
Grilled Avocado Quinoa Salad
The protein lovers will adore this little beauty and your blood sugar will be kept in check for the rest of the day. Although it requires a rather lengthy list of ingredients, it is worth it – this salad is as tasty as it is colourful.
Homemade Cheese Stuffed Burgers
A safe option for any BBQ, these scrummy burgers with melted cheese will keep your hands warm if you're eating outside – watch out for dripping melted cheese though. There are two versions of this recipe, differing in their ratio of ease of preparation versus cheesy ooziness.
Easy Olive and Herb Grilled Flatbreads
Add a delectable Mediterranean option to your wintry feast with these quick and easy flatbreads – they can be done and dusted in 20 minutes tops. Remember, if you don't want to make your own flatbreads or hummus, you can just buy them ready made (shhh)!
​Start your flatbread adventure here
Grilled Chicken Nachos
Who doesn't love nachos? This grilled chicken nachos recipe is simple, needing only tortilla chips, cheese, cooked chicken, and barbecue sauce. To add more flavor, you can mix sour cream and barbecue sauce together for a tasty sour cream BBQ sauce.
To make the nachos, just put the shredded cheese, chicken, and sauce over the nachos and bake until the cheese is melted.
Stuffed Butternut Squash
A tasty meatless recipe, this stuffed butternut squash is packed with rice, beans, vegetables, and cheese.
To prepare the recipe, you just need to bake the butternut squash, prepare the rest of your ingredients while it bakes, then scoop out the insides of the squash and replace it with your ingredients. Finally, bake the stuffed squash for a little longer and it is ready to be enjoyed.
Smoked Lobster with Garlic Butter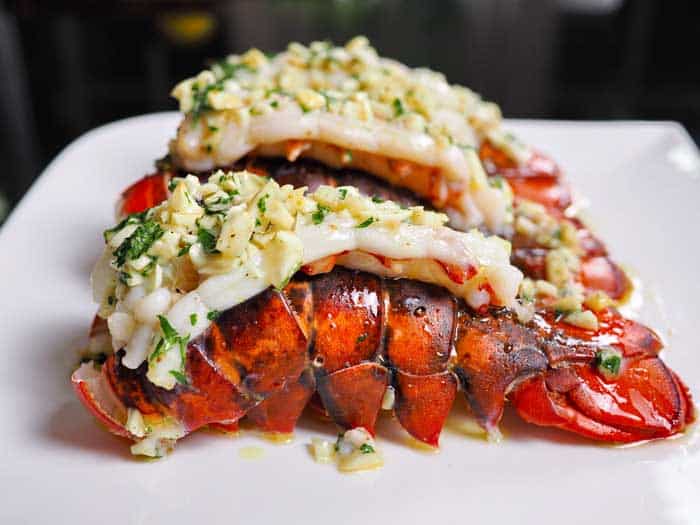 This smoked lobster recipe is a decadent treat. To make the butter mix, you just need to combine parsley, chili flakes, garlic, lemon zest, salt, and pepper. Once you have made your butter mix, just cook the lobster for 45 minutes on your smoker, before searing on high for a couple of minutes for that beautiful finish!
BBQ Chicken Stuffed Bread
This twist on barbecue chicken pizza is the perfect easy and filling dinner. All it takes to make is combining cooked chicken, shredded cheese, onion, barbecue sauce, and cilantro.
Once you've made your stuffing for the bread, cut the top off the bread, hollow a little bread out for your mixture, add in the barbecue chicken, and bake for a quick and tasty dinner.
Bacon Wrapped Corn on the Cob
Bacon can be paired with almost everything, and it works perfectly in this grilled corn recipe.
To prepare the corn, all you need to do is pound the bacon so it is thin, cover it with basil and jalapeno peppers to taste, and then wrap the corn with the bacon. Once wrapped, throw it on the grill and you have a fun twist on corn on the cob.
Brisket and Bacon Grilled Cheese Sandwich
While grilled cheese is good on its own, adding brisket and bacon puts this recipe over the top. The only ingredients you need are brisket, barbecue sauce, bacon, cheese, and bread.
To make the grilled cheese, cook the bacon, combine the barbecue sauce and brisket, and add all your ingredients to the sandwich. Then, grill like a normal grilled cheese and you have an elevated and delicious brisket and bacon grilled cheese.
Tri-Tip with Chimichurri
This recipe is made with nice and tender tri-tip meat, and makes a perfect beef recipe. To make this recipe, all you need to do is grill the steak and make the chimichurri while the steak is on the grill.
Made with garlic, parsley, cilantro, vinegar, agave nectar, and oil, the chimichurri pairs perfectly with the steak for a delicious meal.
BBQ Volcano Potatoes
These volcano potatoes are a cool twist on potatoes that is surprisingly easy to make. To make them hollow out the potato before wrapping it with bacon and fill with turkey and cheese, and throw them on the grill. Once they are done grilling, cover with sour cream and green onion and you have your protein-packed twist on potatoes which is guaranteed to be a hit.
BBQ Onion Steaks with Honey Mustard Sauce
These steaks need only a few ingredients and are perfect for anyone who loves honey mustard.
The sauce uses honey, dijon mustard, and Worcestershire sauce which goes perfectly on the onions. Just slice the onions, run a skewer through the slices, and then throw them on the grill. While they are grilling, brush them with your sauce and you have a tasty meatless meal if you like onions.
Marshmallow Stuffed Sweet Potatoes
These sweet potatoes are guaranteed to satisfy a sweet tooth, filled with brown sugar, cinnamon, pecans, butter, and marshmallows.
The best part of this recipe is it is so easy to make. Just bake the sweet potatoes, then slice them open and stuff with your sweet ingredients, and put them back into the oven about 5 minutes until marshmallow is slightly browned. This makes a delicious and sweet potato recipe.
Grilled New York Strip Steak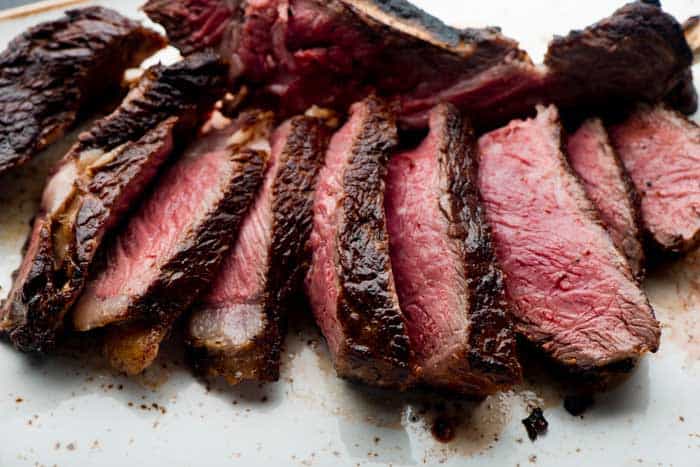 One of my favourite styles of steak to grill is the New York strip.
There are not many methods that are as easy as this for grilling steak. It's fast and simple, and it still gives you a beautiful and succulent cut of beef to enjoy.
---
We hope you enjoyed this tastebud-tantalizing selection of winter BBQ recipes. Think of it as charity work, making sure your BBQ doesn't feel abandoned and unloved during the cold dark winter months.
Which recipe is your favourite? What do you like rack up on your BBQ grill? We'd love to hear from you in the comments.
If you enjoyed this article, please share it with your friends. While I decide which one to try first I'm off to dig out my fingerless gloves!