Easy pork butt spritz to help you serve the juiciest and flavor-packed smoked Boston butt or pulled pork possible. Discover the meat science behind it and get our easy BBQ spray recipe today.
Meat spritzing is a technique used by the world's best BBQ pitmasters to deliver unbelievably tender smoked pork butt that's rich in moisture and flavor, and features the iconic smoke ring that so many BBQ judges look for.
Raise your smoked pulled pork, Boston Butt and pork shoulder to the next level with our easy pork butt spritz recipe. Discover the meat science behind why it works, and how to make the best pork butt spritz for your next barbecue session. Let's get smoking.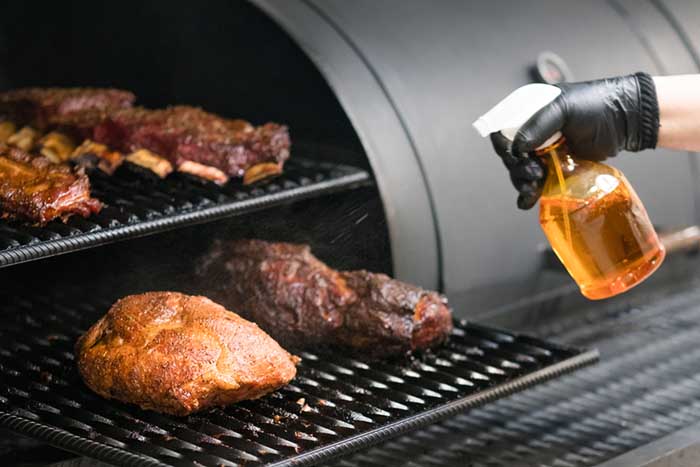 Spritzing Explained
Spritzing is a process of spraying liquid onto the meat during the smoke, helping to keep the pork butt moist and to enhance its flavor. Various foods and flavors can be used as a pork butt spritz, from apple juice to beer.
There are three significant benefits to spritzing. The first is keeping your smoked pork butt moist. The size of the impact here is debatable, however. Because pork butt is moist already, some people may find the impact of spritzing minimal.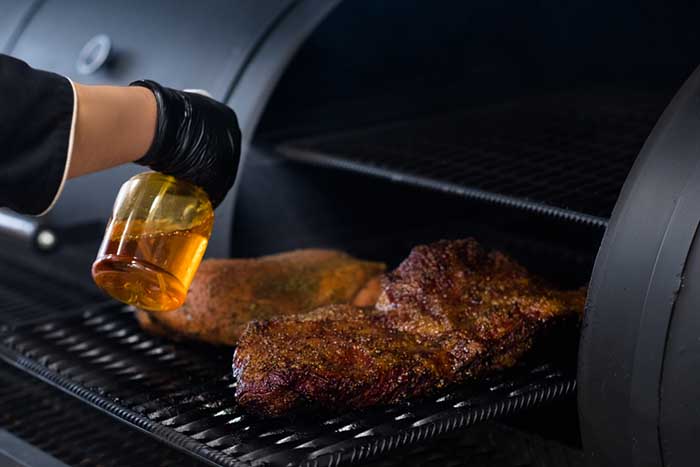 The second and most crucial effect of spritzing is flavor elevation, although not in the way you might think. While many spritz recipes may contain apple juice or beer, the flavor of these ingredients will only be slight. Instead, what these ingredients do is help caramelize and brown your smoked meat due to the high amount of sugar (especially fructose) found in these ingredients. Fructose beings to brown at around 230°F, turning its flavor into a rich, caramel-like flavor.
Smoking gives flavor to the meat because the particles in smoke stick to the meat's surface. Using a spritz takes this a step further by acting like glue, catching even more smoke particles. As the water evaporates, the smoke particles remain, leaving the pork with an even richer smoke flavor.
Finally, spritzing smoked pork butt can help it develop a smoke ring, which is the thin pink layer of meat found immediately underneath the surface or bark on low and slow-smoked meat. While this phenomenon is only aesthetically pleasing and not really important for flavor, it's a prized aim for many competition-level BBQ pitmasters.
Any drawbacks? Well, besides the obvious disruption to ambient cooking temperatures as you open, close, and re-open your smoker door to apply the spritz, the addition of liquid is an obvious disruptive factor. The added moisture can mean a longer cooking time for your pork butt, with some smoked meats cooked 225-250°F (107-121°C) sometimes taking up to 20% longer to cook according to AmazingRibs.com.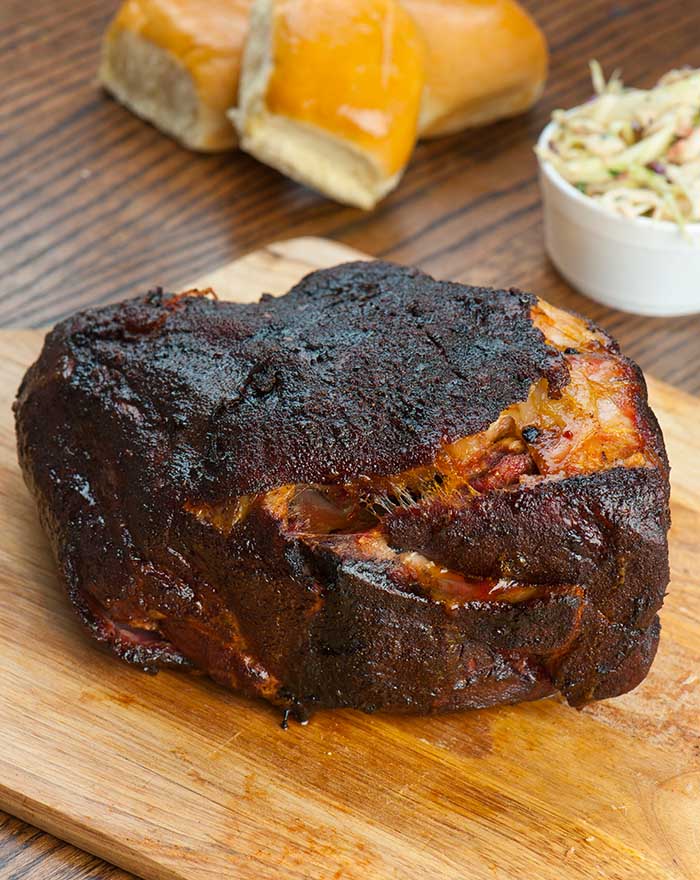 How to Make Pork Butt Spritz
Basic spritzes are easy to make. Just put whatever you use as a spritz in a food-safe BBQ spray bottle and dilute with water. Not only does the water help to dilute down the tart flavors of apple juice, it will help it to disperse out of the spray bottle. We recommend adding one cup of water for every one cup of your base ingredient.
How to Spritz Pork Butt
Don't spray your pork butt right away. Instead, wait 3 hours into your smoke to allow the pork to get a head start and through the barbecue stall, as well as allowing the pork to absorb smoke flavor and allow the dry rub to adhere to the surface. To start spritzing:
Open your smoker and spray the meat enough that it is visibly moist.
Close your smoker quickly to minimize heat loss.
Repeat every 30 to 60 minutes until the pork's internal temperature reaches 165°F (74°C).
Wrap the pork butt in aluminum foil, add any remaining spritz liquid to the packet, and continue cooking until the pork's internal temperature hits 195°F (90°C).