This barbecue smoked hot dog recipe takes one of North America's classic grilled foods to a new level. Slow smoked over oak wood, find out how to smoke this summer favorite the right way.
These smoked hot dogs are outrageously juicy with just the right amount of smoky-charr that we love from barbecue meat. This simple recipe is guaranteed to be a game changer at your next backyard BBQ or tailgate.
We have nothing against the traditional grilled bratwurst, but cooking these low and slow on over smoke takes them to a whole new level. Gone are bland and dry sausage wieners: Say hello to juicy, smoky hot dogs.
Best of all, this barbecue recipe is just as easy as its grilled counterpart. Sure, it needs a little more time but the results are well worth it. Trust us.
From dry rub seasoning to wood chip choice, and expert tips to topping ideas, this is how to smoke hot dogs. Let's get cooking.
Best Kinds of Hot Dogs for Smoking
Not all hot dogs are the same. Different brands come with different flavors and textures, and not all hot dogs are suitable for smoking.
The best kind of hot dogs best for smoking are the following:
Hebrew National Beef Franks: Most popular for smoking, with excellent flavor and grill marks
Nathan's Skinless Beef Franks: Second favor amongst smoked hot dog enthusiasts, as these franks are plump and juicy
Ball Park Franks: Favorites amongst crowds, such as baseball games
Kirkland Signature Beef Hot Dogs: Costco's juicy hot dogs for smoking and grilling
Applegate Natural Uncured Beef: An organic choice with no nitrates; the most expensive
Oscar Mayer Classic Beef Franks: Soft and slightly smoky
Trader Joe's All Natural Uncured All Beef Hot Dogs: Dense and meaty that packs a punch
Niman Ranch Fearless Uncured Franks: Mixture of beef and pork, with a mild, sweet, and juicy flavor
A few alternatives include:
Trader Joe's Uncured Turkey: A solid choice for those who want turkey with no nitrates, although these are not as juicy as other hot dogs
Lightlife Veggie Hot Dogs: Tastes like a hot dog, but with a much softer texture
In general, aim for high quality with little to no artificial flavors.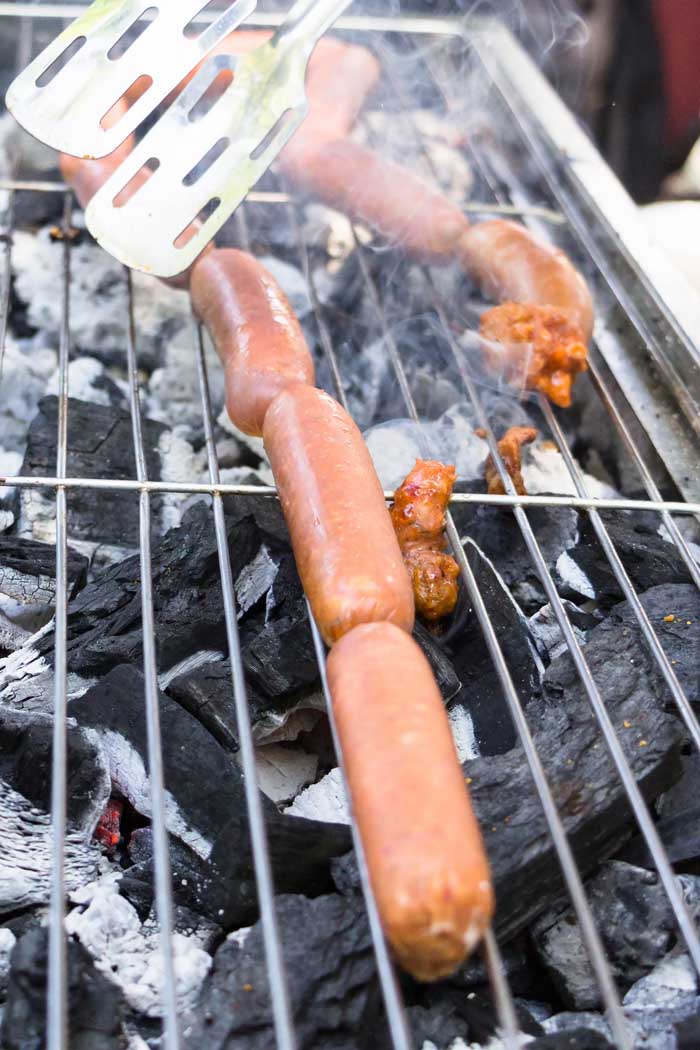 Best Wood for Smoking Hot Dogs
To achieve that juicy, smokey flavor, get the best wood for smoking hot dogs, including apple, cherry and oak. Some people blend different woods, like apple and cherry, or cherry and oak to get a stable balance of color and smokiness. However, be sure to avoid harsh woods like hickory (source).
Time & Temperature
Smoking hot dogs require patience, including a balanced temperature to evening cook the hot dog and allow it to absorb flavors. On average, the best temperature to smoke hot dogs is 225°F.
Usually, it takes about 60 to 90 minutes to smoke hot dogs. The average time it takes to cook a hot dog is just one hour, but you may need to wait longer depending on the type of hot dog, smoker, wood, and other ingredients.
Check to make sure the hot dogs are finished by testing the temperature. Ideally, you want them to reach an internal temperature of 155°F.
What to Serve Hot Dogs With
Smoked hot dogs taste delicious by themselves, but adding condiments can give it an extra kick. Some simple condiments to serve with hot dogs are:
Mustard
Ketchup
Relish
Coleslaw
Chili
Onions
Jalapeño
Mayo
Cheese
If you want to make things interesting, try these combinations:
Avocado and bacon
Pickles, onions, tomatoes
Caramelized onions and sautéed mushrooms
Salsa and avocados
BBQ sauce and onion rings
Buffalo sauce and blue cheese
Chili, cheese, potato chips
Onions, peppers, cheese
Fries (curly, cheese fries, regular or seasoned)
Baked beans, bacon, or mac and cheese
Overall, let your imagination run wild to get the best out of your smoked hot dog. You can even try making smoked hot dog burnt ends for something really imaginative.
How to Smoke Hot Dogs
Begin the process of smoking hot dogs by following these steps:
Make sure the hot dogs are room temperature for easy smoking.
Open up the hot dog package.
Pour dry rub seasoning or other seasonings of your choice into a plate. For a mix of spicy and sweet, a dry rub is preferred. Spread the seasoning evenly.
Roll the hot dogs in the dry rub, not missing any part of the hot dog.
Lay your hot dogs in a sheet pan, bowl, or Bradley rack to carry to the smoker easily.
Fire up your smoker and preheat it at 225°F. For 15 to 20 minutes, allow the smoker to maintain 225°F before putting in the hot dogs.
Fill the water pan. Optionally, you may add sliced onions or gloves of garlic for aroma.
Put in your wood chips, preferably applewood, cherrywood, or oakwood. You may use other wood choices you desire, as mixing wood chips is okay for balance.
Place hot dogs on the rack, and allow them to smoke for 60 minutes. If it isn't ready, allow for an additional 30 minutes (90 minutes total). When in doubt, grab one from the rack and take a bite. If it's hot enough, they're good to go!
Insert the hot dogs into any bun with your favorite toppings. If you're having a gathering, put condiments out separately for people to decorate their smokey hot dog to their preference. Enjoy!
Quick Tips
Ready to get going? Check out these quick tips to help you smoke the best hot dogs:
To help ensure they cook evenly, make sure the hot dogs are fully thawed and are at room temperature before throwing on the smoker
Try to leave at least an inch of space between each sausage on your smoker grates. This will help good airflow through your smoker, as well as help the dry rub seasoning set properly.
Use a digital meat thermometer to measure the meat's internal temperature and resist the urge to only go by time or appearance of the hot dogs
Leftovers
If you're lucky enough to be left with spare hot dogs, the good news is that there are so many ways to reuse them! Check out our guide to the best leftover hot dog recipes for inspiration.
Before you stash your leftovers away, let the hot dogs cool completely. Once they've cooled, pop them in an airtight container or wrap them tightly in aluminum foil. Store them in the fridge for up to three days.
Once you're ready to use them, simply wrap them in fresh foil and reheat either on the grill over medium heat or in the oven at 325°F (160°C) for about 10-15 minutes. Easy.