Easy leftover hot dog recipes. Delicious hot dog ideas from breakfast hash to taquitos, and chili dog casserole to muffins. Find your new favorite recipe today.
Whether you overprepared for your kid's birthday party or got a little carried away with the game-day snacks, it's not unusual to end up with some leftover hot dog sausages in the refrigerator.
If you're tired of the good old hot dog bun with ketchup and mustard, you'll be pleased to discover that there is so much more you can do with these versatile sausages.
These leftover hot dog recipes make the most of the classic sausage, from simple casseroles to more creative hot totchos. All easy, and all delicious. Let's get cooking!
Hot Dog Burnt Ends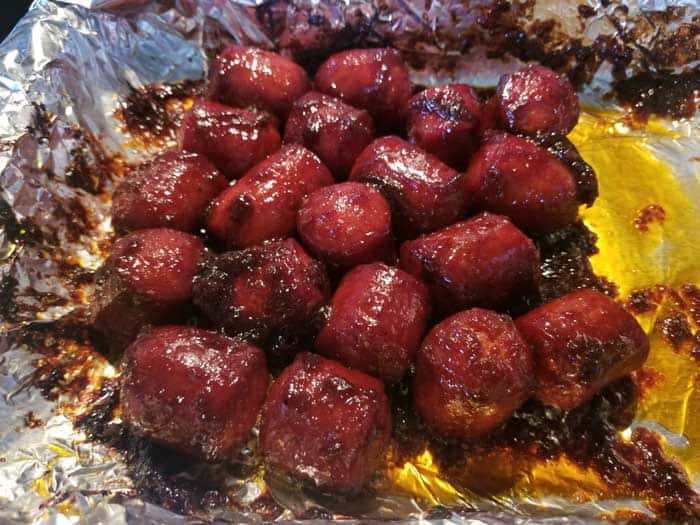 A spin on traditional barbecue burnt ends, this quick and easy party dish is sweet with a bit of spice, and will always go down a hit. Using your leftover frankfurters, these smoked hot dog burnt ends are chopped up and cooked in a homemade broth made of butter, sugar, and BBQ sauce. The end result? Juicy hot dog pieces with a caramelized and crispy outside that few will be able to turn down!
Huevos con Salchicha
Traditionally made with sausage and eggs, this spin on huevos con salchicha is a great way to start the day if you have leftover hot dogs in the fridge. Basically scrambled eggs with chopped-up hot dog sausages stirred into the mix, this recipe is quick and easy to make. For a simple breakfast, eat with toast. To take it up a notch, serve it with refried beans, hot salsa, and warm tortillas on the side.
Grain-Free Corn Dog Muffins
These corn dog muffins are sure to be a favorite in your household. Enjoy them for breakfast, include them in lunch boxes, or keep them on hand for a quick snack. These savory muffins are made with almond flour and coconut flour, combined with honey, milk, eggs, and baking soda. They can be prepared in just 30 minutes from start to finish.
Corn Dog Waffles
If you have a waffle iron, these corn dog waffles offer a unique savory twist on the traditional waffle. Instead of placing the hot dogs on top, they go inside the waffles. To prepare, mix your waffle batter, stir in cooked corn, and then, once your batter is on the waffle iron, position the hot dog in the batter before closing the iron. For an added touch, you can cut the waffles into sections and insert a popsicle stick into each one, creating a delightful culinary treat.
Bagel Dogs
If you are looking for new and innovative ways to use your leftover hot dog sausages, these bagel dogs make for a delicious snack or light meal when paired with veggies. To make the bagel dogs, you wrap a yeast dough around the hot dogs, brush them with egg, dip them briefly in boiling water, and then bake them in the oven. If you don't eat all of them straight away, you can store them in the fridge and pop them in the toaster or microwave to reheat them.
Chili Dog Casserole
How sophisticated you want to make your chili dog casserole is up to you. You could, for example, make your chili from scratch. Delicious, but also time-consuming. If you want quick and simple, this chili dog casserole has four basic ingredients – canned chili with beans, hot dog sausages, tortillas and shredded cheese. Layer the chili in a casserole dish, wrap the hot dog sausages individually in the tortillas and place them on top of the chili. Sprinkle cheese over the top, cover and bake.
Corn Dog Casserole
This corn dog casserole works well as an easy weeknight dinner, but it can also double up as a side dish when you have guests over for a barbecue. The key ingredients in this casserole are sweet corn, shredded cheese, chopped-up hot dogs, sour cream and corn muffin mix. Seasoned with mustard powder and minced chives, this casserole is bound to be a hit with hot-dog-loving members of your household!
Hot Dog Chowder
This creamy hot dog chowder can be made with leftover hot dogs and ingredients you probably already have stored in the freezer. Frozen mixed vegetables? Check. Frozen cubed hash brown potatoes? Check. Add to that some chopped onion, chicken bouillon, milk, butter, flour and fresh parsley, and you have what it takes to make a hearty chowder. Of course, you could also make this chowder with fresh vegetables, but the frozen-vegetable option is great when all that remains in your fridge is a Tupperware full of leftover hot dogs.
Lentil Hot Dog Soup
Need a spin on the traditional lentil soup? Try adding hot dogs for extra flavor. This lentil hot dog soup uses a slow cooker, but this tomato-based soup could just as easily be prepared on the stovetop. The lentils and hot dogs ensure that this soup is rich in protein, and you can adjust the amount of hot pepper sauce you add to suit your tolerance.
Hot Dog Quesadillas
These spicy quesadillas can be served with salsa and sour cream for a quick and easy meal. Thinly sliced hot dogs, shredded cheese, fresh chives and a combination of ground cumin and chili powder make up the filling for these quesadillas, which you cook in a pan. Cheesy, spicy deliciousness with every mouthful!
Hot Totchos
Ready to elevate your game-day finger food? Introducing hot totchos. These hot dog tater tot nachos are also a tempting meal option for those days when you're looking for something indulgent. Imagine traditional nachos, but with the tortilla chips replaced by tater tots and diced hot dogs. It's a straightforward yet brilliant concept.
Cheesy Hot Dog Taquitos
A slightly healthier version of pigs in a blanket, these taquitos are easy to make and oh-so-yummy. Simply sprinkle shredded cheddar cheese over a corn tortilla, place a hot dog at one end and roll the sausage up as tightly as possible in the tortilla. Secure with a toothpick and repeat until you have a baking tray full of tortillas. Brush with olive oil and bake until crisp and golden. Serve with salsa, guacamole, and sour cream.
Roasted Veggie Hot Dog Hash
While hot dogs wrapped in cheese and pastry are always going to be a hit, it's not exactly a balanced or healthy meal. A key ingredient that's missing: vegetables. If you are searching for a healthier way to repurpose your leftover hot dogs, this roasted veggie hot dog hash should do the trick. This recipe calls for potatoes, onions, carrots and peppers, but you can use any vegetables you fancy. Chop up the veggies, toss in oil and seasoning of your choice (paprika is always good), and then bake in the oven. After 20 minutes, add the chopped-up hot dogs and finish roasting.
Hot Dog Fried Rice
This is another one of those recipes that you can throw together when it seems like you have nothing left in the refrigerator. For hot dog fried rice, you're going to need your leftover hot dogs (sliced), cooked rice, frozen peas and carrots, soy sauce and some eggs. There are three steps involved in preparing this dish – frying the rice, sauteing the hot dog pieces and veg, and cooking the scrambled egg. Once you are done, mix it all together with the soy sauce, and you have a surprisingly balanced meal.
Chicago Dog Salad
If you already have grilled hot dogs, you can throw together this tasty summer salad in less than 15 minutes. Inspired by the flavors of a Chicago-style hot dog, this simple salad is fresh, crunchy, and substantial enough to be a meal. Toss shredded lettuce and cabbage together in a sweet mustard dressing and then top with red onions, tomatoes, pickles, pepperoncini and sliced grilled hot dogs.
Polynesian Hot Dogs
Hot dogs might usually be served with ketchup and mustard, but that doesn't mean that they can only be served with these sauces. These Polynesian hot dogs – which can be served with rice – marry green bell peppers, canned pineapple and hot dogs in a sticky sweet-and-sour Polynesian-style sauce.
Hot Dog Skewers
So many ideas for repurposing hot dogs involve carbs, and it is not hard to see why: carbs and hot dogs are a delicious combo. But, done right, hot dogs and veggies can be just as scrumptious. Enter the hot dog skewer. Chunks of pineapple, bell peppers, onion and hot dog sausages slathered in a spicy BBQ sauce and grilled to perfection. What's not to love? And you get to eat off a stick!